Fairview Park preview: Tom Grennan – "The Irish crowd is a different crowd. Everybody is up for it from the get-go"
Ahead of his upcoming show at Fairview Park, indie-pop superstar Tom Grennan discusses his Irish roots and his hotly awaited third album, What Ifs And Maybes, as part of our June Gig Special. Plus – we take a look at the other international and Irish acts coming to the Dublin park this summer...
Wandering around the offices of Sony Music Ireland HQ in Ballsbridge, we easily spot Tom Grennan with his mop of curly hair and brightly coloured clothes. Pop singer-songwriters tend to stand out from the crowd, though Grennan has a definite relaxed air about him for someone topping the charts. He's just returned to Dublin after a brief stint in Westmeath with his cousins, his mood laidback ahead of a packed Irish media schedule.
"I'm heading home tomorrow. Westmeath was lovely. It was good to be back with family, chilling out," he tells me in the meeting room, his pink vape on the glass table in front of him. "Just having that time to relax. I know the area pretty well anyway, so it's great to stop in."
Having performed at Cork's Live at the Marquee last summer, Dublin venue Fairview Park will mark his second major Irish outdoor show in the space of a year. What's special about it?
"It's summer!" he grins, shrugging. "Everybody's up for celebrating being outside, enjoying music and having a good time. I love an outdoor show for that reason, but then the Irish crowd is a different crowd. Everybody is up for it from the get-go. It's always amazing.
"Every day is unique. When I come to Ireland, I see that everyone is on your side from the very beginning. Sometimes England is impossible to get that kind of pace. You just have to work the crowd a bit more than you do over here. It's always fun."
Advertisement
Storming new single 'How Does It Feel' is the latest cut from Grennan's third studio album What Ifs And Maybes, which is set to be released on June 9. Premiered on Clara Amfo's BBC Radio 1 show the day of our interview, Tom seems unphased.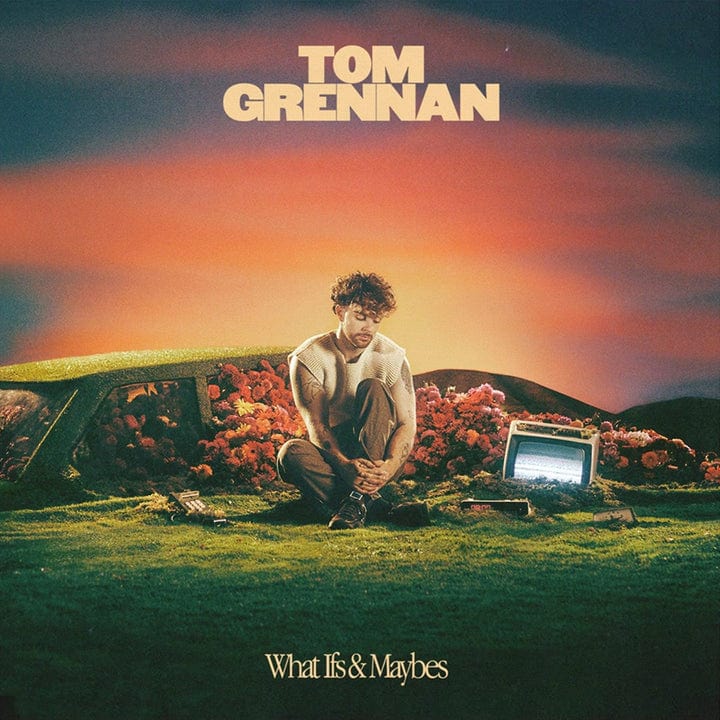 "It's happening," he says, matter-of-factly. "I've been listening to this song in the car for so long, but I just need people to take it and let it be theirs. It's a different side to me and also another taste of what the album will be. It feels good."
Grennan first appeared on the charts through his 2016 Chase & Status feature 'All Goes Wrong'.  Why are electronic artists like Disclosure sublime at launching new voices?
"They must have a good ear. Chase & Status are a massive part of what I'm doing now. They just gave me the confidence that I could do it. They heard something in my voice that they knew people would like – these musicians know their craic. I'm into different types of music. If anybody says they want to do a song, and it's the right feel and time, then I'll do it.
"KSI and Joel Corry are very different characters," he says of his more recent collaborators. "I just throw myself into things I don't think I'll be comfortable in. I like the uncomfortable, I like testing myself and seeing what works. I get on with Joel and KSI well, so it was fun."
What Ifs And Maybes is unequivocally a faster-paced album than 2021's Evering Road, with few ballads in the mix. Post-lockdowns, dance-pop tracks with huge choruses are all the rage.
Advertisement
"I don't think about the pressure," shrugs Tom. "Honestly, post-Covid and with what my other album was, I had to draw a line under it all. I was entering a different chapter of my life. I was happy I was free and I am still. Creatively, I was in a place where I could do what I wanted to do. I could finally make the music that made me feel good – that's what this album is about."
A standout track is undoubtedly the soaring, gospel-like pop anthem 'Crown Your Love'.
"Thank you very much!" responds Tom. "A Claddagh ring was actually the inspiration behind that song. My mum used to wear them sometimes. She asked if I knew the meaning behind it, and she said, 'Hold your heart in my hands and I'll crown your love forever'. I went, 'That is a serious song title!'
"Some friends and I wrote it in a session after racking our brains trying to find an idea. I explained the lyric I wanted to experiment with and they said it sounded like gold."
I'm assuming his mum heard the finished product.
Advertisement
"Yeah! Loved it. She's looking for her ten percent."
Are you sick, I wonder, of being asked about The Kooks' 2006 hit 'Seaside'? For context, Grennan revealed he was singing that song at a party when he was 18 for his friends, which effectively kickstarted his attempt to make it in the music industry.
"I hate that question now - if people ask me about it, I quit!" says Tom, shaking his head with a grin. "It's been done. We know enough about me now, we're past that. I'm three albums in now. I feel like I'm established and interesting enough to ask me about something different. Not about when I was 18, that was fucking ten years ago. I know Luke [Pritchard] and the band pretty well. They know the story and tell me to shut up about it now!"
Is there someone within the industry who offers golden nuggets of advice?
"I'd love to say there is, but I don't have anyone like that," says Grennan. "I'm a lone wolf, if I'm honest, when it comes to the industry. I've got a lot of friends who are musicians and whatnot, but I feel I'm pretty sweet with where I'm at right now. I'm happy. If I need advice or I need help with anything at all, I'd go to my missus, my mum or my family.
"In the next while, I'd love to have a number 1 record around England, Europe and further afield. Just being able to keep building, to keep progressing without falling off, is on the bucket list. I'm on my third album, and it's rare to see an artist still progressing at this stage."
• Tom Grennan plays Fairview Park on June 30. What Ifs And Maybes arrives on June 9 via Sony.
Advertisement
Who else is playing Fairview Park next month?
In addition to Tom Grennan, Fairview Park will once again be welcoming an impressive selection of international and Irish acts across June… 
Ben Howard
June 15
On the eve of the release of his upcoming fifth album, Is It? (out June 16, via Island Records), the English singer-songwriter is set to return to these shores with his first Dublin headline show in over four years. The multi-award-winning artist, who rose to prominence with the release of his Mercury Prize-nominated debut album, Every Kingdom, in 2011, has continued to impress – topping the UK chart with his follow-up, 2014's I Forget Where We Were, as well as 2021's Collections from the Whiteout. His forthcoming LP was produced by Bullion, and finds Ben exploring life in the aftermath of experiencing two mini strokes in March 2022. That June, after a month of hospital tests, he headed to the South of France during a heatwave, to record the eagerly awaited project. Ahead of the release of Is It?, he arrives in Dublin fresh from a busy run of shows in Europe, as well as two nights at the Royal Albert Hall in London.
Becky Hill
June 16
One of the reigning queens of UK dance-pop, the BRIT Award-winning artist has established herself as both a major star and an in-demand collaborator. She first turned heads back in 2012, after appearing on the first series of The Voice UK, on which she reached the semi-final. In the decade since, she's released her debut album, 2021's Only Honest On The Weekend, and clocked up acclaimed collaborations with David Guetta, Little Simz, Rudimental, Ella Henderson, Joel Corry, Oliver Heldens (on the chart-topping 'Gecko Overdrive'), Galantis, Tiesto, Sigala, and more. Earlier this month, she returned with her new single 'Side Effects' with Lewis Thompson – which has proved to be another irresistible summer anthem from the English singer. She'll also be kept busy this summer with her nine-week residency at Ibiza Rocks. And you never know – Becky might even whip out a copy of Ulysses at Fairview Park, to celebrate Bloomsday in style...
The Coronas
June 17
Fresh from performing at U.S. President Joe Biden's event in Ballina, the Irish indie three-piece are set to kick off an action-packed summer of Irish and international festival appearances with their biggest show of 2023, in Fairview Park. Last year saw the band earn another No.1 with their latest album, Time Stopped – making Danny O'Reilly & Co. the first and only self-released Irish band in history to score three consecutive No.1 albums, following the success of 2017's Trust The Wire and 2020's True Love Waits, all released through their own record label, So Far So Good Records. It's been an incredible journey for The Coronas, who first rose to prominence back in 2007, with the release of their debut album, Heroes or Ghosts. Their follow-up, Tony Was an Ex-Con, was crowned Best Irish Album at the 2010 Meteor Awards, beating U2 and Snow Patrol. They've gone on to carve out their own iconic space at the forefront of homegrown indie-rock.
Advertisement
Dec Pierce's Block Rockin' Beats
June 24
It's been a remarkable few years for the Today FM DJ, who's heading back out onto the road this summer, to bring his dazzling selection of dance anthems to the masses – after suffering a brain haemorrhage earlier this year. The show, which features a DJ set and a full live band, has built up a serious following since making the transition from the airwaves to the stage, with two sold-out Irish tours in 2022, as well as sets at some of the country's biggest festivals, and a headline show at the 3Olympia Theatre. Described as a space where "rave meets rock music", each performance conjures up its own unique energy – with tracks by the likes of The Prodigy (another Fairview Park headliner!) played alongside Nirvana and Beastie Boys. "The show is all about energy, nostalgia, and fun – it's a concert but we want you to lose yourself for a few hours," Dec says.
Aitch
June 25
After attracting the attention of Stormzy with his 2018 breakthrough hit 'Straight Rhymez', this 23-year-old Manchester artist is the UK rap star we never saw coming. Having already clocked up streams in their hundreds of millions, last year saw Aitch release his long-awaited debut full-length album, Close to Home – which featured Wexford's own New Machine, alongside the likes of Ed Sheeran and AJ Tracey. Over the course of his career, the rapper has also collaborated with Stormzy, Giggs, Tion Wayne, D-Block Europe, Pa Salieu, Headie One, ArrDee, Anne-Marie, and Ashanti, to name a few. He kicked off 2023 by winning Best Hip-Hop/Grime/Rap Act at the BRIT Awards, and recently made his eagerly anticipated return with solo single 'Round 2'. His festival appearances this year will also include Glastonbury, TRNSMT, and his hometown festival Parklife.
The Kooks
June 28
These English indie-rockers have come a long way since their first tour, supporting Irish band The Thrills. Their debut album, 2006's Inside In/Inside Out, catapulted them to stardom – scoring a BRIT Award nomination for 'She Moves In Her Own Way', and winning Best UK & Ireland Act at that year's MTV Europe Music Awards. In the subsequent years, they scored a UK No.1 with 2008's Konk, and released a string of well-received projects, including their latest, 2022's 10 Tracks to Echo in the Dark. As well as clocking up over a billion streams across various platforms, the Brighton band have played some iconic Irish shows over the years, so you can expect all the hits – which they celebrated on the 2017 The Best of… So Far compilation – at Fairview Park…
The Prodigy
June 29
One of the most successful dance acts of all time make their triumphant return to Dublin, as part of a run of Irish dates that also include Musgrave Park in Cork and Belsonic in Belfast.  Last summer saw the band embark on their first tour since the death of their iconic member Keith Flint in March 2019, with sold-out dates across the UK. Initially rising to fame in the early '90s, The Prodigy have topped the charts with the vast majority of their albums, including 1997's The Fat of the Land, which spawned the major hit 'Firestarter'. Their latest, 2018's No Tourists, saw them break the record for the most UK No.1 albums by an electronic artist, with seven consecutive No.1s. Liam Howlett and Maxim – the duo at the heart of the group in its current form –  will be joined by long-term live band members Rob Holliday and Leo Crabtree for their Irish dates. They've also hinted that there could be new music on the way, having returned to the studio…
Advertisement
Read the full June Gig Special – presented in association with MCD – in the current issue of Hot Press: