Attendees are advised to give themselves sufficient travel time, travel by public transport and to respect local residents. Tickets are available on ticketmaster.ie.
Ahead of a busy month of live music concerts, Fairview park has released a series of guidelines for attendees to follow to facilitate their attendance, and ensure their enjoyment of the concerts.
Fairview Park is set to host live shows from the likes of The Kooks, The Coronas, Becky Hill, Aitch, The Prodigy, Ben Howard, Tom Grennan and Dec Pierce's Block Rockin Beats.
Gates for each show will open at 19:00, with each show's support act commencing at 19:30. Dec Pierce Block Rockin Beats on June 24 will open an hour earlier at 18:00, with the show beginning at 18:30. No queueing prior to gates opening will be permitted, and attendees will be turned away at restricted points around the venue.
Concert-goers are advised to arrive in advance of the show starting, and to download tickets in advance of arriving to avoid delays in queues. No re-entry will be allowed.
While the concert will take place under canvas, attendees are advised to check the weather prior to arrival, and dress appropriately, including suitable footwear.
Advertisement
Concert attendees are urged to organise their own means of transport, and to walk, cycle or use public transport where possible, as there will be no parking facilities available at the concert site. Traffic and parking delays are inevitable, and attendees are encouraged to allow an extra 2 hours travel time to and from the venue.
From Dublin City Centre, patrons are advised to travel by bus or DART. If travelling by DART, alight at the Clontarf Road stop. There are several Dublin Bus services that will take you within walking distance of Fairview Park. These include the 14, 15, 27, 27a, 27b, H2, H3, 6, 130, 42 and 43.
Those requiring additional accessible requirements, such as parking, are asked to contact MCD via their website as soon as possible. You can contact them here.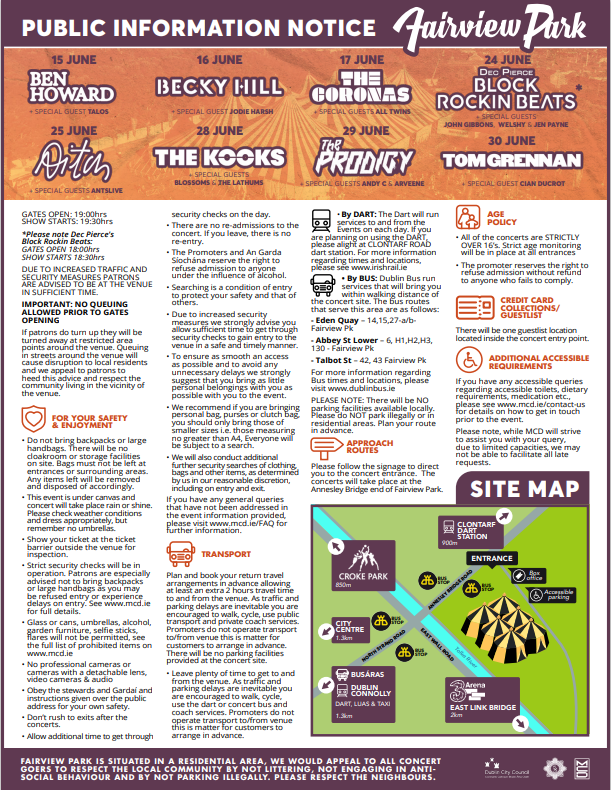 Please note that the events will employ strobe lighting, lasers, and/or pyrotechnics.
Security checks are a condition of purchasing a ticket. Some items forbidden include alcohol and outside drinks, glass bottles and cans. Sealed plastic bottles of water and soft drinks are permissible only for liquids up to 500ml. Empty reusable bottles are allowed.
Other banned items include backpacks, large bags, garden furniture, selfie sticks, air horns, spray cans, umbrellas, cameras and audio recording devices. Attendees are advised to carry as little with them to the concert as possible, in order to avoid lengthy queues.
Advertisement
Guests under 16 must be accompanied by a responsible parent or guardian. Concert Promoters and An Garda Sìochana reserve the right to refuse admission to anyone under the influence of alcohol.
Fairview Park is situated in a residential area, and concert goers are urged to respect the local community by not littering, not engaging in anti-social behaviour and by not parking illegally.
Any further information can be found via MCD's website.
Find tickets for Fairview Park Summer Series here.
Check out the full line up of concerts below:
June 15 - Ben Howard, with support from Talos
June 16 - Becky Hill, with support from Jodie Harsh
Advertisement
June 17 - The Coronas, with support from ALL TVVINS
June 24 - Dec Pierce's Block Rockin Beats, with support from John Gibbons, Welshy and Jen Payne
June 25 - Aitch, with support from AntsLive
June 28 - The Kooks, with support from Blossoms and The Lankums
June 29 - The Prodigy, with support from Andy C and Arveene
June 30 - Tom Grennan, with support from Cian Ducrot