"Dad peacefully left us where he wanted to, at home today 4pm Tuesday, June 13th 2023, after a courageously long-fought battle, surrounded by his family," his daughter Kiera Dignam has stated
Following a decade-long struggle with illness, Irish music icon Christy Dignam has died aged 63, Hot Press is devastated to report.
Aslan's frontman died this afternoon, June 13, ten years after being first diagnosed with a rare illness, amyloidosis. On January 16, Christy and his family issued a statement, revealing that he had been "cared for lovingly by family, with the support of a palliative care team" since December, after spending six months in hospital in 2022.
His daughter Kiera Dignam confirmed the sad news online today.
"On behalf of my family, it is with a broken heart that we convey the news of my father's passing, Christy Dignam," she wrote. "Dad peacefully left us where he wanted to, at home today 4pm Tuesday, June 13th 2023, after a courageously long-fought battle, surrounded by his family. We ask that you honour our family's need for privacy during this immensely painful period.
"Let us all hold him in our hearts and cherish the remarkable life of a talented singer, great story teller and amazing person. We thank you so much for your love and support shown to us."
Advertisement
Widely regarded as one of the country's most universally beloved singers, Christy's lauded vocals have soundtracked the lives of multiple generations of Irish people – with tracks like 'Crazy World' and 'This Is' having cemented their status as treasured classics in the Irish song canon since their release in the '80s and '90s.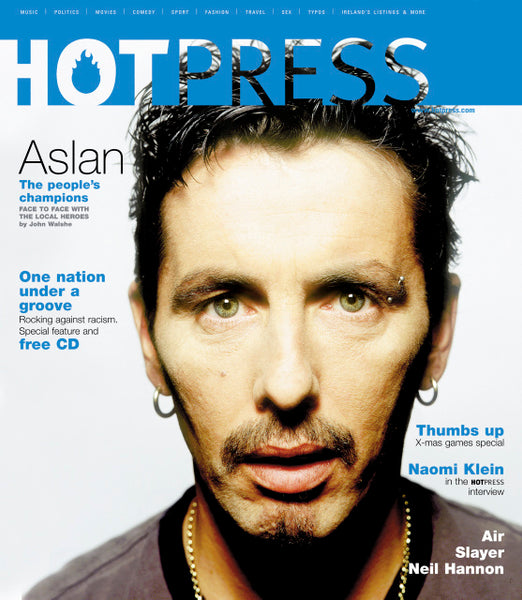 As many of his fans, friends and fellow musicians have pointed out in their tributes, Christy, who originally hails from Finglas in Dublin, will be remembered not only for his contribution to Irish music, but for his inextinguishable spirit, despite the many struggles he faced in his life.
Aslan had announced earlier this year that "Christy's health has been and is our priority" – and as such, "all future shows will be cancelled, as with Christy receiving palliative care treatment, performing will not be possible."
The band were originally set to play a highly anticipated 40th anniversary show at the 3Arena in Dublin in September 2022. On doctor's advice, however, the show was rescheduled to March 18, 2023, before being cancelled completely.
Advertisement
Despite their turbulent early years, Aslan's contribution to modern Irish music has been remarkable.
In 1986, the year Philip Lynott died, Aslan were crowned Most Promising Act at the Hot Press Awards. The award took the form of a limited edition piece of artwork, paying tribute to Lynott, which Hot Press commissioned artist David Rooney to produce.
Two years later, they were among the most celebrated of Irish rock acts, and released their classic debut album, Feel No Shame, via EMI. The album proved to be a considerable commercial success, topping the charts in Ireland. But shortly after its release, the band split up – as a result of numerous factors, including Christy's heroin addiction.
They joined forces again in the early '90s, however, releasing  Goodbye Charlie Moonhead in 1994, via BMG. The album included the single 'Crazy World', which won Single Of The Year at the 1993 Hot Press Awards. They would go on to release more studio albums, including Here Comes Lucy Jones, Waiting For This Madness To End, For Some Strange Reason and Nudie Books and Frenchies – as well as a their legendary live album, Made In Dublin, recorded over five sold-out nights at Vicar Street in 1999.
In 2021, Christy released his debut solo album, The Man Who Stayed Alive, which debuted in the Top 10 on the Official Irish Albums Chart.
Advertisement
"You know, 'Crazy World' wouldn't even be in my top 30 Aslan songs," Christy told Hot Press in 2021. "We've had songs a thousand times better and they'll never be fucking heard. So the one wish I have is that when I die people will look at our back catalogue properly, and think, 'Jesus! This band were fucking good...'"
Gerry Cinnamon is one of many stars who has expressed his admiration for Christy in the pages of Hot Press.
"I've been religiously watching everything with Christy Dignam in it on YouTube," he told us in 2020, in the midst of lockdown. "I only found out about him and Aslan the last couple of weeks. I never knew the guy existed. Oh my god man, I can't get enough of him.
"I heard him sing 'Green Fields Of France' a cappella on The Late Late Show," he continued. "I didn't really know who he was and then I was listening to it again and again. Then I started listening to Aslan and that song 'Crazy World'. He's so expressive. It's definitely a dying art, man. There's footage of them singing in a pub as well and the place is rocking. I'm just blown away by Christy Dignam."
Revisit Aslan's full Made In Dublin concert – recorded at Vicar Street in 1999 – below:
Advertisement