Album of the Year winners Fontaines D.C. on Skinty Fia: "Performing 'In ár gCroíthe go deo' in England was an incredible rush"
It was a year of often remarkable musical adventures, with Kendrick Lamar, Taylor Swift and The 1975 among the acts who delivered truly memorable albums. But rising above them all is the Irish band Fontaines D.C., whose widely acclaimed Skinty Fia has been selected as the Hot Press critics' Album of the Year. So how did the record come about? What was their approach to recording it? And how would the band like it to be remembered? We talk to bassist Conor Deegan to find out...
That Skinty Fia is a special album is not in doubt. Acclaimed as "mighty stuff" by Will Russell in Hot Press, and afforded a rare 9 out of 10 on the Critical Mass number-o-meter, it also received 5-star reviews in Rolling Stone and NME. The US-based Pitchfork loved it. In the UK, The Guardian praised its "compelling insights". And The Irish Times recently made it their album of the year.
Indeed, the LP – the third from Fontaines D.C. – has been analysed extensively in just about every major publication, in which culture matters, since it was released in April 2022. Aggregating dozens of reviews, Metacritic gives it a whacking 85 rating out of 100. Which should come as no surprise, given that the Dublin-formed outfit's debut Dogrel landed out of nowhere on the Mercury Prize shortlist; and their second offering, A Hero's Death, garnered a Grammy nomination for Best Rock Album.
Critics almost universally love the band. They have appeared on all the big US TV shows. Their tours have consistently sold out. And they have built a passionate following that just adores the band, in all its glorious, edgy and somewhat refusenik spirit.
In the world of what we used to think of as indie rock, Fontaines D.C. are a household – or perhaps that should be an apartment-level – name. But even that selective type of fame sits uneasily on their shoulders. Unlike The Stone Roses, they seem defiantly unassuming in regards to being adored.
Advertisement
You can see their point. The Fontaines learned their collective craft at BIMM in the Liberties, where they first came together as friends and music-makers. They added to their musical education – and a growing sense that they were a band on a mission – on tour with UK acts Shame and IDLES. Their upward trajectory has not abated in the interim. But what that mission might be has, if anything, become less clear with the passage of time. The pandemic intruded for a start, damaging their progress despite the rave reviews received by A Hero's Welcome.
But there was something else involved too: a suggestion of restlessness, an itch that might just need permanent scratching. By the time they created Skinty Fia, frontman Grian Chatten, drummer Tom Coll, bassist Conor Deegan, and guitarists Conor Curley and Carlos O'Connell had left Ireland to live in London – where the Irish community forms its own microcosm – giving them something of a Joycean distance from their home turf.
Much has been said about Skinty Fia's ode to the strong London-Irish bonds, to the push and pull of their homeland, a place where storytelling is revered but the arts have so often been neglected.
The result is an even more complicated relationship with place and circumstance that gives Skinty Fia its particular, bruised character.
MASSIVE ARENAS
Advertisement
Bruised but brilliant. In a fascinating year of sometimes exceptional musical output, the good news is that Fontaines D.C. have pipped Kendrick Lamar's extraordinary Mr. Morale & The Big Steppers to the title of Hot Press Critics Album of the Year. Other challengers seen off by the Irish band include Taylor Swift's acclaimed Midnights, The 1975's Being Funny In A Foreign Language and a couple of superb debuts from CMAT and Wet Leg.
As it happened, Fontaines D.C. were back in Ireland, finishing their UK and Irish tour in the Ulster Hall, Belfast on December 8th when the final tallies came in. The band were supported there by Kneecap, so we can assume that a quiet night was not had by all. I ask bassist Conor Deegan if he is still feeling dazed and confused a few days later?
"It was fun, actually," the Castlebar bassist laughs. "Kneecap showed us around Belfast and brought us to a couple of very nice spots for Guinness. We've met them a couple of times before, but it was great to see them in Belfast as opposed to London."
Would a collaboration be possible – or is that to be avoided on the basis that things might get too out of hand in the studio?
"I think something like that could happen," Conor smiles, "but I'm not sure it would be all of us, more likely just one of the band members. That would be great."
We spend a few moments discussing the Gilla Band show at Dublin's National Stadium on Friday.
"I saw them at Vicar Street after their first album, which was amazing," Conor tells me. "They're an incredible band."
Advertisement
Much like Gilla Band's incredible third record Most Normal, Skinty Fia captured the imagination in quite a different way to their previous records.
An example: my twin sister Eleanor moved to London last year. Though she hadn't previously been a Fontaines D.C convert, Skinty Fia instantly connected with her. Working in a posh café in East Dulwich, one which normally would be more likely to play Natalie Imbruglia or Mozart than the Dublin rockers, she blared out the album all day to remind her of a home she harboured conflicting feelings towards.
Fontaines D.C. suddenly flew to the top of her Spotify Wrapped. The album steadily became one of her chief comforts during a year away from her family, especially while trapped in a Jubilee-loving café, putting up Union Jack bunting while blasting out 'In ár gCroíthe go deo'. The irony wasn't lost on her.
Skinty Fia was a musical salve for people living in a place that strongly resembled their home, but didn't quite feel like it.
For every ordinary fan who has learned to love Fontaines D.C., there are musicians expressing their support of the band – which must mean a lot to them.
"The first one that comes to mind is Cáit O'Riordan from The Pogues, the bassist," Conor nods. "She was singing my praises, bass-wise. She's just a really nice person, and has always been really supportive of us, but that meant a lot to me. I really admire her.
"It's all like this modern version of things that matter as well, which is so silly. Like, the bass-player from Pixies followed me on Instagram. I'm hugely influenced by them from a bass perspective. That's kind of a nod of the head."
Advertisement
In a similar vein, Arctic Monkeys drummer Matt Helders gave a shout out to Skinty Fia last week, when The Car won NME's Album of the Year – and ahead of Fontaines D.C.'s huge support slot for the Sheffield rockers' North American tour in 2023.
"I actually hadn't heard that, but it's brilliant," Conor grins. "They're obviously a band that we really admire. The tour is going to be massive arenas of ten and twenty thousand people a night. They're a band who have never really made a mistake, as such. They've moved to a lot of different sounds, and different iterations of their music, but I really don't think they've fallen into any cheap tricks or serious missteps.
"That's really admirable for a band who have been around for that long," he adds. "Even people like Bob Dylan and the Stones have their moments where you kind of go, 'This isn't their best work'. It happens even with people who shoot so high."
They've rubbed shoulders with some of the world's biggest stars at this stage. Was there an encounter which struck Deego as surreal?
"You know the movie This Is England?" he asks me after a pause. "It was directed by Shane Meadows. We did a support tour for Shame at the end of 2018, and we were in Leeds, and Shane just came backstage and was hanging out with us rather than the main band. It was an interesting way to be introduced to these ideas of success and fame, and how people aren't necessarily behind this glass wall or ivory tower. He was really on a regular level. I'm pretty sure he brought his friend or brother backstage too, and they were just sound, normal English fellows. It was nice."
Advertisement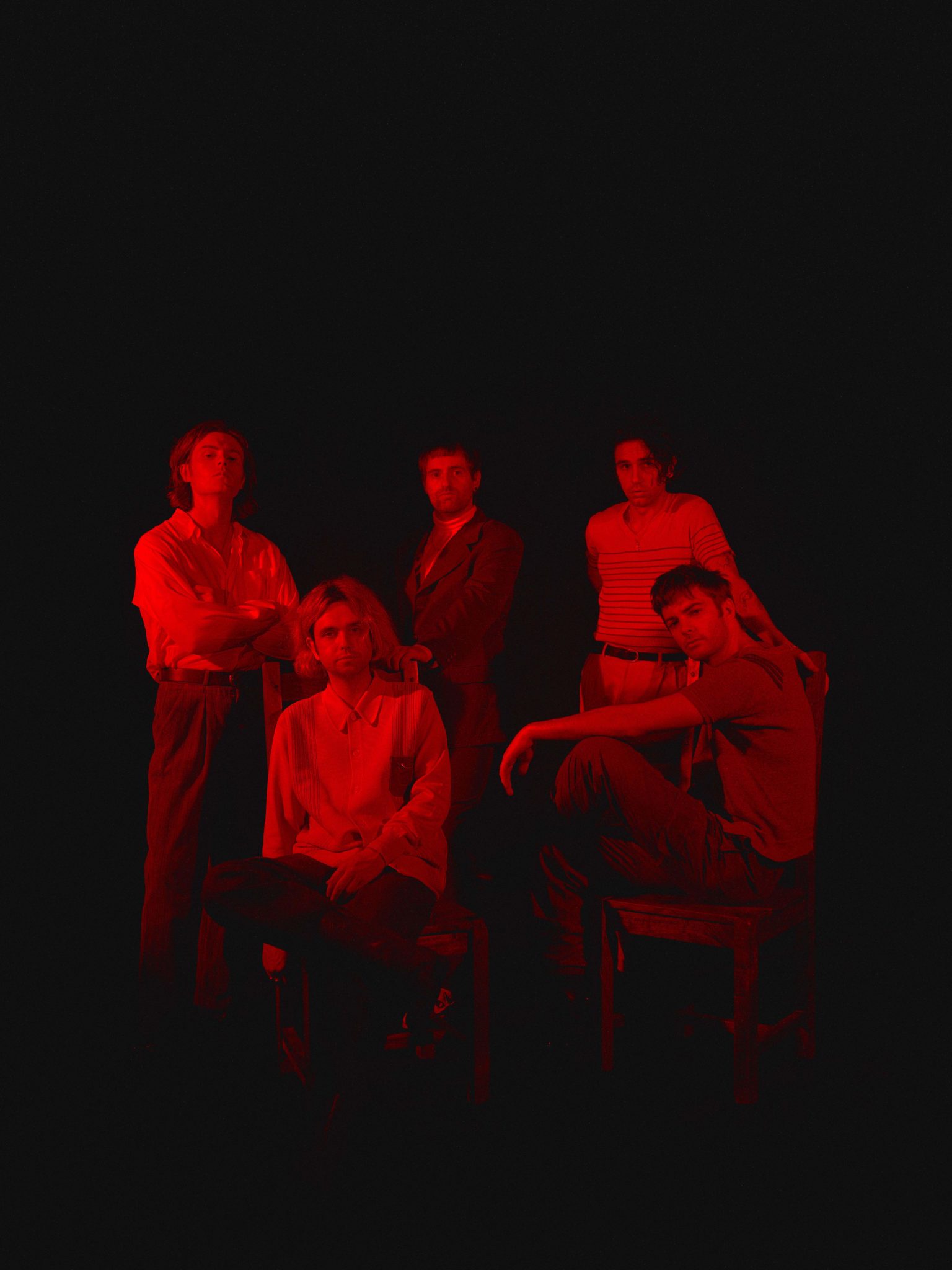 CULTURAL REFERENCES
On Skinty Fia, Deego immediately takes on the role of backing vocalist, the album opening with him and Conor Curley to the fore on 'In ár gCroíthe go deo' – before Grian declares: "Gone is the day/ Gone is the night". On a track that – to these ears – blends '90s alt-rock, with The Cure and Joy Division, the two Conors' ethereal, funereal harmonies are a real highlight.
"I'm proud of that mixture of playing bass and singing," Conor says. "Those moments where I can do things that are counterintuitive to each other at the same time. That took me a while to figure out. That gives me a sense of achievement. The bass on 'In ár gCroíthe' is extremely simple and starts off on its own, but I have to start off the singing as well with Curley. It forms a chord of its own. When we actually nailed that song – especially for the meaning behind it and what it symbolises for us – that feels really powerful."
The meaning behind the song was widely publicised. The Gaelic title translates as "in our hearts forever."
The yarn behind the song is fascinating. Back in 2020, the band came across the story of a former so called 'dinner lady', Margaret Keane, who lived in Coventry before dying in 2018, at the age of 73. Margaret had planned to have the Irish epitaph "In ár gCroíthe go deo" engraved on her headstone. However, a Church of England court ruled that the phrase could be interpreted as "provocative" if displayed without an English translation.
The court later did a U-turn and gave permission, but the bizarre – and clearly prejudiced – ruling was a spark for the five-piece, who made the epitaph into the title of a powerful song. They later met Margaret Keane's family at the graveside.
Advertisement
"We played that song on our English tour," Deego says, "in Hammersmith one of the nights, and I really got to enjoy it, instead of being worried about having to play it. The emotional rush I got was incredible. Playing a song in England, in a venue with a capacity of 5,000, and them all vibing to it, felt really important. Even on a personal, spiritual level."
There is a curious conundrum that I have never been able to work out fully. How important is an artist or a band's back story, when we start to listen to a new album? Do you need to have heard Dogrel and A Hero's Death to get Skinty Fia? Or to put it another way, if Skinty Fia had been released as their debut, would it have had the same impact?
"It's different," Conor says after a pause, "because our first album was so obviously in one particular genre. It was in the context of this wave of post-punk bands in Britain – a tribe of music that was emerging. Dogrel was empowered in that it came out in a timely fashion. But I think that if that album came out now, it wouldn't have anywhere near the same reaction, because musical tastes move on. The post-punk sound is tiring on people's ears a little bit. People want to hear a twist on it or something different.
"I feel that way," he adds. "If our third album came out in the place of our first album, I'm not sure if it would have been understood as well."
Have the band ever felt misjudged?
Advertisement
"When we were most misunderstood," he reflects, "was when we released our debut album, or even second and third singles. We were just playing in Ireland and raising a few eyebrows. There was a lot of post-funk going on – like Hiatus Kaiyote were really popular. It seemed like all the bands were playing some mad chord progressions and everyone was moving their heads in a particular way. Then, when we showed up, playing two or three chords, people didn't know what it was about. It seemed a little bit simplistic.
"We went off to the UK and they got it more," he ruminates. "It was in the context of being given a nod in Britain that we came back to Ireland and it took off here. It's really strange – you'd think that Ireland would know the cultural references more. It's no one in Ireland's fault. I'd be guilty of it as well before I realised it. We just have a level of trauma socially and culturally in terms of colonisation. It stops us from being able to independently put our own idea across first and going, 'I'm right, in spite of our coloniser or more powerful countries around us disagreeing or not casting our voice yet'. That can be seen in many realms of life, especially in Irish politics as well. In terms of music, it's there too.
"It's funny, I remember being a teenager and finding Republic Of Loose," he shakes his head, smiling. "They were incredible, and I was so excited that there was a band like that from Ireland. I remember listening to 'Comeback Girl' and checking the credits on the back to make sure they actually wrote it. 'Steady Song' was huge. I showed my girlfriend at the time, and she was incredulous. She was like, 'They're definitely American!' She couldn't believe that a band that good was Irish. But that's a mentality. We kind of dismiss Irish music as being secondary or lower quality."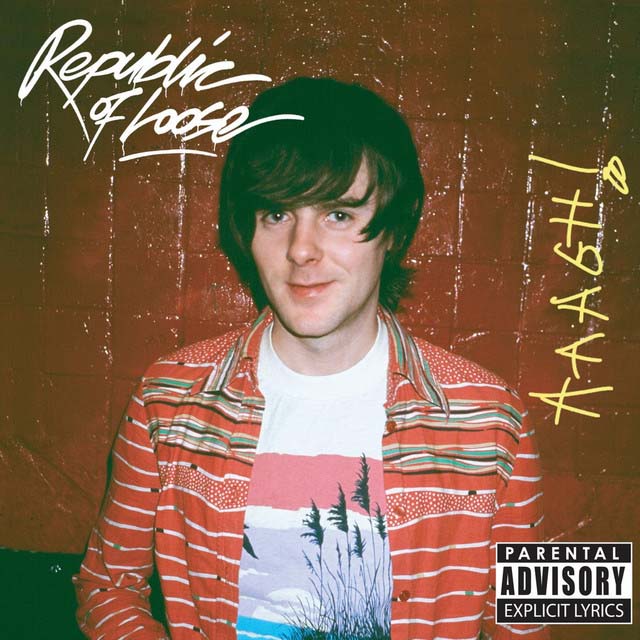 THE BIGGER PICTURE
Repubic Of Loose – among many more – were feted in Hot Press from the early days, so there might be room for a debate on that whole issue some day. Either way, creating an album about Irish identity when you have decided to exit the place was always going to lead to a few interesting responses cropping up in international media. Did the band, who often do interviews separately, collectively decide on the main points to emphasise in its promotion?
"Something that might explain how we work as a band is that we use a whiteboard when we write music," Deego starts. "We put down the song ideas on one side and then work on the structure of one song per day on the other. Once a list of songs starts to emerge, we start to see what they have in common, lyrically and sonically. 'Skinty Fia', for example. came from themes or thoughts like 'Disconnection from home', 'lost Irishness', 'leaving home', 'the loss of romanticism', etc. Each of us throws our ideas into the mix, because – while we've all had similar lives, they're probably more different than many people realise."
Advertisement
That there is diversity in the backgrounds of the individual musicians is clear. Conor Curley is from Monaghan, Grian Chatten from Skerries in Co. Dublin and Tom Coll was raised in Donegal and then Castlebar, Co. Mayo. Carlos O'Connell, meanwhile, lived further afield again, in Madrid.
"Tom was born in Gweedore in Donegal," Deego explains, "and his first language was Irish up until he was four or five. He's forgotten it all now, which is very symbolic. We got the original 'Skinty Fia' idea from a phrase that his great-aunt used to say. Then, once we know what the song is about, we can discuss it from our own angles and points of view with the media. That approach is representative of our collaborative process."
The title may have come from Tom Coll's family on his dad's side, translating in English to "the damnation of the deer", but it's generally said as a playful curse in the Gaeltacht. It would, in other words, probably be wrong to read too much into it! In the long run – their love of our great poets notwithstanding – their Irishness is only one element in the art of Fontaines D.C.
Have they any thoughts yet on album number four?
"We're really happy working with Dan Carey, in terms of production for the next album," Deego replies. "He's really open-minded and talented. Having said that, I think we're moving more towards self-production. We're getting better and better at recording our demos and getting them to a higher standard. There's obviously a huge amount of freedom that comes with self-production, but there's also value that comes from an outside perspective."
Advertisement
He puts some flesh on that point.
"When you're in the depths of making an album," Conor says, "it's often only a month after you've sealed it that you really grasp what the bigger picture is. The producer can see what it is because they're somewhat outside that process and separate, but still involved. To have someone you respect in that role is very valuable."
As for the bigger picture with Skinty Fia, well, you could talk about spirituality, the romanticisation of a place and the death, perhaps, of that very same romance. There is guilt therein as well as pride. But Skinty Fia is not just about missing your hometown or birthplace.
Distance can provide clarity. There are songs that touch on separation, assimilation, doom, mutation, anger, love and catharsis. Fontaines D.C., it transpired, were seeing Ireland anew, now that they were looking at it from afar. They observed a country of contradictions: one where they had begun to feel limited as their career progressed, but which nevertheless made them who they are: tough and tender to their collective heart's core.
It is a record that thoroughly deserves its Album of the Year status.
Advertisement
How would Conor Deegan like it to be remembered?
"I'd want it to be remembered as brave," he says, "and for its love of Ireland."
Read more interviews in Hot Press' 2022 annual issue, out now.