Lifestyle & Sports
25 Apr 19
Drinks Special: Celebrating The Spirit of Paddy with Paddy Irish Whiskey
It began when the Cork Distillery Company paid tribute to their most exuberant salesman – Paddy Flaherty – by naming their whiskey after him. Over 100 years later, Paddy Irish Whiskey is still one of the best-selling brands on the market. Hot Press hears how one man continues to inspire all those who appreciate good entertainment – and a fine tipple.
It's a story that barmen throughout the Rebel County will likely be able to recite from memory. Paddy Flaherty, who was born in the heart of Cork on Maylor Street, joined the Cork Distilleries Company as a commercial traveller in 1882. It was nearly 40 years later, in 1921, when he retired.
An extrovert in every sense of the word, Paddy's travels throughout the city of Cork, and its surrounding villages, normally ended with him making a host of friends and business deals – as well as buying rounds of whiskey for everyone in the pubs which he frequented. So sociable was the man that, before long, people began to know the drink as "Paddy's whiskey".
"There was so much love for Paddy's gregarious nature and character, that people used to call up the Cork Distillery Company and say, 'Can we have Paddy's Whiskey'," says Paddy Irish Whiskey Marketing Manager, Siobhán Costello.
Advertisement
"It got to the point where the Cork Distillery Company were so overwhelmed by the demand and love for Paddy, they felt they had to name the whiskey after him! The fact that this whiskey originated from just one man has always been a distinct point for our brand."
Spirit of Paddy
Needless to say, Paddy's Irish Whiskey also developed a reputation, based on the unique characteristics and taste of the fine amber liquid itself. The whiskey is distilled three times, using the finest-quality barley and water from Ireland's east Cork countryside. This method ensures a whiskey which is particularly light, well-balanced and pure. Its relatively low pot-still content, and uniquely high proportion of malt whiskey, ensure that Paddy is consistently called "one of the softest whiskeys on the market."
"It has that status for a reason," says Siobhan. "It's one of the most accessible and approachable drinks, and that's why customers love it so much."
The truth of that statement lies in the numbers – Paddy's has risen to become one of the top three best-selling whiskeys on the market. As the brand continues to evolve, Paddy Irish Whiskey has introduced a series of events to celebrate the life and influence of the great man, Paddy Flaherty, via the 'Spirit of Paddy' events.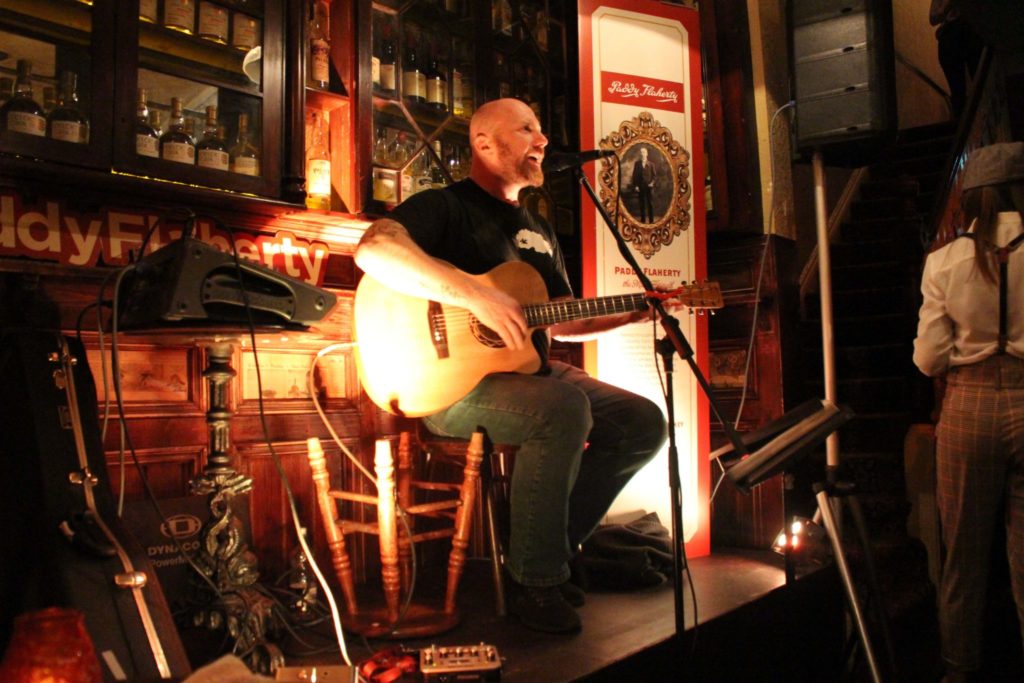 "The whole idea behind it is that we put on these events to embody the gregarious nature of Paddy Flaherty," says Siobhan. "It's a celebration of the man himself, as well as the liquid. We thought that these events would be the perfect way for people to be able to experience what Paddy is all about."
Advertisement
The first event was hosted in Rearden's Bar in Cork, with trad group Moxie and John Spillane providing the entertainment – and it was a fantastic night of ceol agus craic. A number of other events are scheduled to take place in the coming months.
Perfect Cocktails
"For each of these events, we've prepared some fantastic entertainment," Siobhan smiles. "So far, we've had the privilege of having award-winning poet Stephen James Smith performing in a very intimate event in the Palace Bar in Dublin; then we have Daithi coming up on May 23 to the Roisin Dubh. We're aiming to have a nice, specially-curated line-up for each event. What we're trying to do is capture the 'Paddys' of the areas that we visit. We want to champion the much-loved local heroes of each place where we host these events."
Siobhan stresses that part of Paddy Flaherty's lasting legacy was his ability to fuse good whiskey with providing entertainment for the people he met.
"That's what we're all about," says Siobhan. "Looking ahead, we're going to be partnering with the Cúirt International Festival of Literature. As part of that, we're going to be doing these 'Fireside Story Sessions', with Paraic Breathnach, Little John Nee, Joyce Redmond and more set to perform.
"We feel that's important, because Paddy himself was great craic and a big element of his legacy was as an entertainer and a storyteller. So part of what we're doing with Spirit of Paddy is creating a nice mix between the music and the stories, and tying it all back to what Paddy Flaherty was about himself."
With these events, and a series of masterclasses in how to make the perfect cocktails and Irish coffees with Paddy Irish Whiskey, it looks like the legacy of this unique salesman, raconteur and whiskey-lover is set to survive long into the future. Raise a glass for Paddy!
Advertisement
The next event in The Spirit of Paddy series will take place on May 23 in Roisin Dubh, Galway.
For further information on The Spirit of Paddy events and activities, follow Paddy @PaddyWhiskeyIreland on Instagram and @PaddyIrishWhiskeyIreland on Facebook.