WATCH: Robert Pattinson journeys into gritty Gotham in newest The Batman trailer
The latest trailer shows a sneak peak of Zoë Kravitz as Selina Kyle, Andy Serkis as Alfred, Paul Dano as the Riddler, and Colin Farrell's phenomenal transformation as the Penguin.
The newest trailer for The Batman promises to be the darkest, most tortured version of the iconic superhero to ever hit the big screen.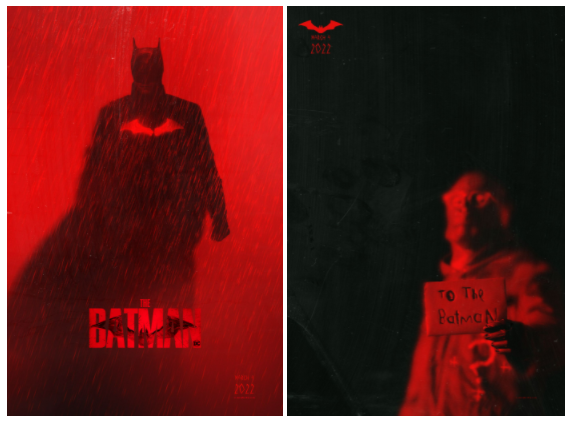 Warner Bros. and DC Comics debuted the trailer Saturday at the DC FanDome event, where the comics giant also released new trailers for "The Flash" and "Black Adam."
Directed by Matt Reeves and starring edgy Robert Pattinson in the titular role, the new film spins the classic comic in a dark new light and features many of the well-known heroes and villains fans have come to love (or, hate), including wig-wearing Zoë Kravitz as Selina Kyle aka Catwoman, Paul Dano as the Riddler, and unrecognizable Colin Farrell as crime boss the Penguin.
Pattinson will be the latest to join the ranks of other famous actors including Michael Keaton, Christian Bale, and Ben Affleck who have all worn the Batsuit.
Also starring in the film are Jeffrey Wright as Commissioner Gordon and Andy Serkis as Batman's loyal butler Alfred.
Warner Bros. has spent the last couple of years taking some of DC Entertainment's most beloved characters in a new direction focusing on more personal, and even adult-oriented stories. The Batman looks to be the latest film to follow this trend.
Advertisement
This version of Batman "doesn't have as much control over his personality," Pattinson said as he introduced the trailer. "The delineation between when he's Batman and when he's Bruce is not so clear as other iterations ... I kind of really like this idea it's a little bit out of control. He hasn't completely defined what Batman is, but he gets lost in it. Whenever he's putting it on every night, he's not sleeping, and he's becoming this quite sort of odd creature."
This is not the first trailer we have seen for The Batman movie, with the previous one unveiled at last year's Fandome. COVID-19 disrupted the movie's release schedule twice and The Batman is now set to hit theatres in March 2022.
Currently it appears the film won't stream on HBO Max for at least 45 days after release, however, there are two Batman-adjacent TV spin-off shows in the works for the platform, including one which reportedly focuses on the cops of Gotham PD.
Watch the latest trailer for the movie below.
<