The Umbrella Academy releases Season 3 Trailer with Robert Sheehan, Elliot Page and Euphoria cast member addition
"What the hell is a kugelblitz?"
Based on My Chemical Romance vocalist Gerard Way's comic book by the same title and illustrated by Gabriel Bá, The Umbrella Academy is moving into a third season. The trailer, released just today, hints at major plot upheavals and new cast additions.
The show follows an entourage of siblings born around the world at the same time, each with their own special gifts, who are united by their father to fight evil around the world and through altered time zones. Season 2 left the audience hanging, as the Hargreaves siblings fought evil in another era only to return home to major changes. The show's season 3 trailer hinted at a partnership with the new Sparrow Academy as the characters fight to defeat unknown forces – and something called a "kugelblitz."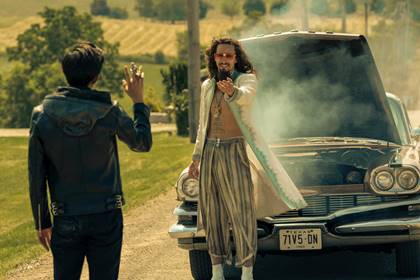 Irish actor Robert Sheehan continues his role in the show as the unrestrained and unreliable Klaus Hargreaves whose existence is often a bane for his siblings. Sheehan's outlandish portrayal of the character quickly made him a fan-favourite amongst The Umbrella Academy audience. Sheehan is also known for his acting roles in Misfits, Love/Hate and Mortal Engines, along with a list of well-received indie films.
In season 2, Sheehan's character formed his own cult while stuck in the 1960s and attempted to save his lover's life by stopping him from joining the Army leading up to the Vietnam War. Season 3 will likely play out the result of Klaus' attempts to save Dave's life, which resulted in his romantic interest only enlisting earlier.
Advertisement
Klaus also nodded to a load of infamous songs throughout the last season, from 'Waterfalls' by TLC to 'Everybody' by the Backstreet Boys, the lyrics from which Sheehan's impulsive character offers as a final goodbye to his cult. True to his Irish nature, Sheehan depicts Klaus in a painfully comedic light throughout the season as he continues to struggle despite his new cult following.
Meet Viktor Hargreeves ☂️@UmbrellaAcad pic.twitter.com/ZraQNBhfTb

— Elliot Page (@TheElliotPage) March 29, 2022
Season 3 will also highlight Juno's Elliot Page's character, formerly called Vanya and now named Viktor, who the actor announced via Twitter will come out as trans in the upcoming season. Euphoria's beloved Javon Walton will also feature in the new season, playing a new character whose name has yet to be disclosed.
The Umbrella Academy is executive produced by Steve Blackman and director Jeff F. King, Keith Goldberg, Mike Richardson, Jeremy Webb, Steve Wakefield (with UCP) and co-creators Way and Bá.
Watch the season 3 trailer for The Umbrella Academy below, premiering on Netflix on June 22.
Advertisement
RELATED