"It's a way for him to express what he's been through": The stars of 'The King Of Staten Island' on the evolution of Pete Davidson
"The Fire Inside"
Pete Davidson stars in Judd Apatow's new comedy about a twenty-four year old struggling with grief and mental health issues – a fictionalised account of what could have happened to Davidson had he not found comedy.
Roe McDermott speaks to the director and the film's female stars Marisa Tomei, Bel Powley and Maude Apatow about making a huge-hearted comedy about difficult themes.
Judd Apatow

has often made films that tackle the lives of slightly dysfunctional men in states of stunted development. He tackled middle-aged virginity in The 40 Year Old Virgin, how a snobbish manchild deals with an unexpected pregnancy following a one night stand  in Knocked Up, a comedian facing a terminal illness in Funny People; and mid-life crises in This Is 40.
In The King Of Staten Island, Apatow again examines the life of a man stuck In his ways – but with a more personal angle. Co-written with Dave Sirus and SNL star Pete Davidson, it is loosely based on Davidson's life, examining what could have happened to him if he hadn't found comedy.
Famous not only for his comedy career and years on Saturday Night Live, but also for having had a very public whirlwind romance with Ariana Grande, Davidson has also been open about his habitual marijuana use and his borderline personality disorder, for which he undergoes treatment, and has frequently spoken about the death of his father, a firefighter who was killed in 9/11, in interviews and his stand-up comedy routines.
In Apatow's reimagining, Davidson plays Scott, a twenty-four year old still living in his mother Margie's (Marisa Tomei) house and grappling with the death of his firefighter father. Determined to become a tattoo artist but lacking skills or training, Scott spends the majority of his time getting high with his friends and making questionable decisions. But when his mother starts dating a firefighter Ray (Bill Burr), it alters the family dynamic, forcing Scott to grapple with his grief and to slowly start considering his future.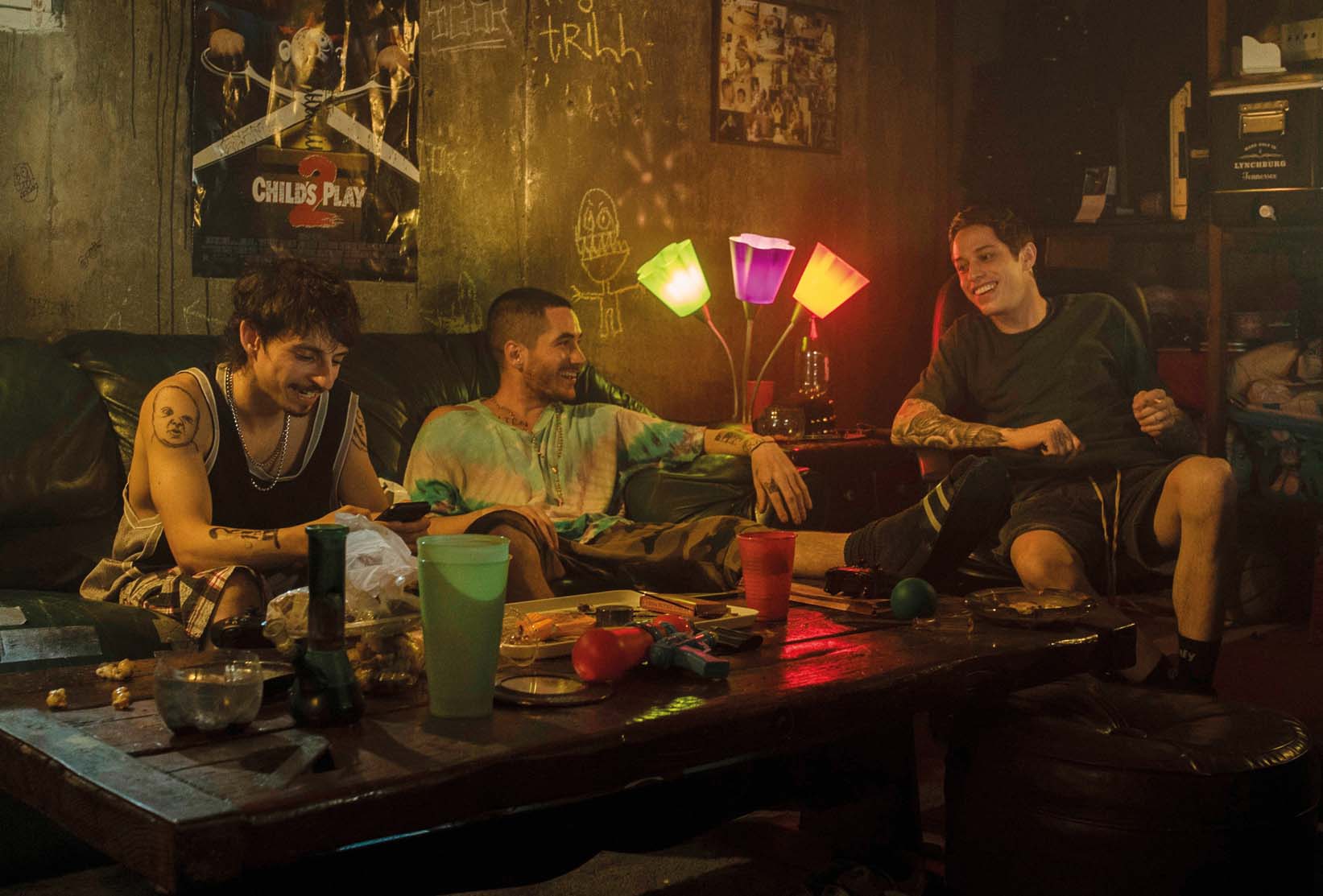 Before arriving on Saturday Night Live for the first time in 2014, Davidson had impressed Apatow with his cameo in the Amy Schumer vehicle, Trainwreck, which the latter was directing
"Amy was making me aware of comedians she liked," Apatow recalls, "and one night said, 'You've got to see this guy. He's 19 years old and crazy funny.' We watched a video of him and knew we had to put him in the movie.
"I always want to plant a flag," he adds dryly, "just so I can say I knew someone was going to be big before anyone else."
After getting to know each other on the Trainwreck set, Apatow suggested that Davidson work on a screenplay of his own.
"Pete and Dave wrote a script for me that didn't pan out," Apatow says. "Then one day, Pete mentioned that he wanted his mom to be in a relationship and to be happy. We started kicking around this idea, what would happen if Pete's mom started dating a fireman… and how would that affect Pete's character? What would that bring up? There's nothing funnier than hating your mom's boyfriend."
 The pair saw the film as being a fictionalised version of real events, in the vein of 8 Mile and The Big Sick. Davidson reckons his character Scott is around 75% himself, and Apatow worked with him to develop an arc for the fictionalised remainder.
"When we started writing together, Pete, Dave and I would spend hours talking about all of the things that Pete's been through and how he feels about it," Apatow continues. "Our story evolved out of those conversations."
The filmmaker was keen to mine the comedy there, but also interested in the healing that could happen.
"I wanted for our character to open up to love as well as having the potential for a father figure in his life."
The director felt that no one but Davidson could be this raw, in both writing and performing.
"When I first met Pete, I was amazed at how funny he was," Apatow says. "He's very advanced and mature, as both a writer and a comic thinker. It was immediately clear he's a special person. He's someone that people are interested in and sympathetic to. He's charismatic, and we are interested in his struggle. People want to know how he's doing. This movie is a way for him to express what he's been through, and how's he's fought through it."
Three key relationships in Scott's life are those with his mother Margie (Marisa Tomei), sister Claire (Maude Apatow, Judd's daughter) and love interest Kelsey (Bel Powley). Apatow believes that this character is a real love letter to Pete's mother – for what his mom has done to take care of him and what she's been through.
"It's also a tribute to his father," Apatow says. "It's a way to talk about his family, who he loves, and to pay tribute to how important they are to him."
Tomei's character is inspired by Pete's real-life mother, Amy, who was born and raised a Staten Islander herself. But the Oscar-winning actress of My Cousin Vinny and more recently the Spider-man films decided to instead just hone in on a central emotional truth about Margie.
 "Amy is a terrific person," says Tomei. "She was really an open book. I didn't base the character on her but I did want to meet and Judd really wanted us to meet. He wanted to facilitate anything that could spontaneously come up – you never know where you're going to get that magic. We had a dinner together, which was a bit awkward because there were about six of us and I think Pete was nervous about me being there and his mom being there! So no-one really talked that much, Judd was very funny and had to keep the conversation going! But we had a couple of phone calls as well, she's great. Amy's love for her son is so huge – that level of wide-open space for him to be himself was a quality I tried to bring to the role."
Margie goes through her own transformation throughout the film, allowing herself to love again after the death of her husband, and also refusing to enable her son's self-destructive behaviour. Tomei says of the expectations around Margie that: "the relationships were, in a way, very 1950s – it was like a different generation of women. I thought a lot about my grandma and of a lot of women that I know where the family dynamic is different and the son is venerated to the point where he is King, and the husband is worshipped, and everyone gets to have a voice except the female. So I kind of put myself back in time in order to relate!"
But Margie soon proves herself to be far more formidable – as do many of the women in the film.
Scott's childhood friend and love interest Kelsey is played by Bel Powley (The Diary Of A Teenage Girl, Mary Shelley), who was intrigued by the film's balance of comedy and drama – as well as the intersection between Davidson's stand-up and Apatow's sensibility.
"Pete's stand-up is quite dark as well, so I knew it was going to have a darker tone than Judd's other movies," Powley says. "I knew it was going to be hilarious, because Judd can make anything comic, and everyone in this is funny. But the basic themes of depression, drug use and grief are quite dark. Still, Judd has an amazing way of sprinkling those things throughout without it feeling like you're being hit over the head by a hammer."
As the film begins, Scott and Kelsey are sleeping together, but Scott refuses to commit and even asks Kelsey to keep their relationship a secret. Kelsey clearly cares deeply for Scott and wants to help him reach through his depression and achieve his goals – but she also knows that he has to want to evolve.
"What they find most attractive about each other is that they've known each other forever, they're each other's oldest friends," Powley says of the dynamic between them. "We imagined that they played weddings when they were little – they're destined to be together! But what is incredible about Kelsey is that she recognises all the amazing things about Scott, but she also recognises that he has some real issues and needs to change. And she's a strong woman; she's not going to try and change him or try to save him or enable him. She knows he needs to go off and deal with his shit and recognise himself before he can be good enough to be in a relationship with her."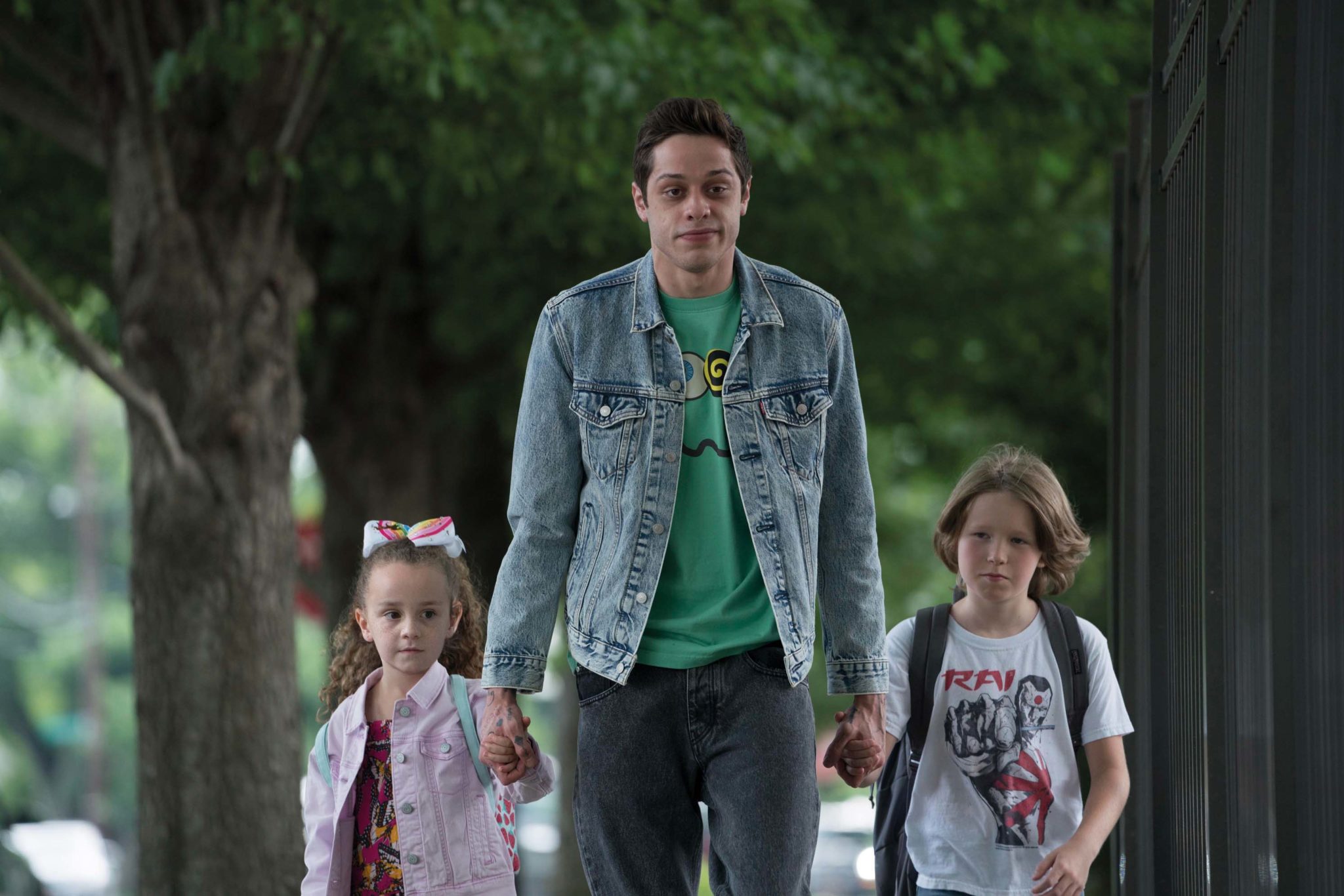 While Scott's mental health struggles aren't depicted in huge detail – and aren't even labelled, though he does indicate that he experiences mania, like Pete Davidson – Powley hopes that the film starts conversation about how they can impact on both individuals and families.
"I think my generation and even the generation younger than me are really starting to, for the first time, be open about mental health and depression. And I think it's so brave that Pete has decided to be open about his mental health issues and make it into a movie. So hopefully it really sparks up conversation amongst everyone, and especially Gen Z."
For Maude Apatow, the film was a family affair in more ways than one. She plays Scott's college-bound sister Claire, who has been looking out for her big brother for years, and is both relieved and scared of leaving him. It's the fourth time Maude has worked with her father after appearing in Knocked Up, Funny People and This Is 40 when she was a child. Being directed by her father as a working actress was a whole new experience.
"I hadn't worked with my Dad in over ten years, I think I was twelve last time and I didn't really understand what was going on!" laughs the 22-year-old. "Now I've done a lot more acting outside of my Dad and take it a lot more seriously, so it was very different. I've worked on TV, and on TV you don't have a lot of time to shoot, it all moves a a lot faster. But on this movie, my Dad liked to give a lot of time and we would start with what was on the page but then it would turn into something completely different. He's very into collaboration. Having that time is such a gift, and part of what makes working with him so much fun."
Maude admires her father's ability to blend uproarious humour with huge doses of heart, and opines that this mix is what makes his films so popular.
"My Dad always does a really good job of making comedies that are grounded and rooted in reality, and that's what makes them so relatable. He's not afraid to talk about things that might not always sound funny" – such as virginity, unplanned pregnancy, terminal illness, mid-life crises, and here mental health - "but he uses comedy to address them. When you're talking such intense issues, having a good comedic balance makes it easier."
Maude has known Pete Davidson for years through her father, and got to know Davidson's real life sister Casey during filming, but like Tomei, tried not to do a straight impression.
"I spoke to Pete and the co-writers to find out what their dynamic is, but then I wanted to drop it and make it my own, too. I didn't want Casey to feel like I was doing an impression of her; that's always something that is tricky, when you're playing someone real and you're the exact same age. So I didn't spend a huge amount of time with her before shooting, but after shooting we hung out a bunch of times and she's a good friend."
Despite the film tackling some heavy themes, Davidson filled the set with friends of his from the comedy world and from home, and created a sense of real intimacy and fun, which adds to the film's authenticity.
"Bel and I weren't in the most heavy scenes with Pete, so at least for me, the time on set was pretty light, and having that many funny people around always lightens the mood," says Maude. "For Pete, it must be weird for him to have all these people playing characters based on people he knows in real life; that's a very strange situation for him. But he never acted strange about it or uncomfortable, and he was super supportive which is why everyone could do a good job. He wasn't precious about anything, so we could make it our own. Pete was awesome, and great to work with."
The King Of Staten Island

is available to rent at home on demand from this Friday June 12th on Sky Store, Apple TV and Google Play amongst other digital platforms.
Check out the full trailer for the film below:
RELATED