Supernova Heights: Knebworth 1996 director Jake Scott on Oasis' star quality
Pre-mobile phones and iPads, OASIS played two 1996 Knebworth shows, which provided Britpop with its Woodstock moment. The magic and majesty of those gigs has been captured by JAKE SCOTT who talks to STUART CLARK about what makes Liam and Noel tick; the intensity of the relationship they have with their fans; and the other artists that rock his filmmaking world.
Christmas comes early for Oasis fans on Friday November 19 with the DVD release of Knebworth 1996, the documentary account of how the brothers Gallagher more or less defined a generation with their two nights at David Lytton-Cobbold's Tudor pile in Hertfordshire, which had previously played host to the legendary likes of Pink Floyd, Led Zepellin and The Rolling Stones.
The demand for tickets in those pre-internet days – 250,000 were sold and 2.5 million applied for – caused meltdowns in telephone exchanges the length and breadth of New Labour Britain, which had its de facto cultural capital in Madchester.
The lack of digital technology also had a huge impact on how the massive crowd interacted with Noel, Liam, Guigsy, Bonehead and oft forgotten drummer Alan as they performed the hits, the whole hits and nothing but the hits.
"There was no one holding a phone or an iPad in front of me – it just seemed easier to enjoy the gig and get lost in the moment and not having to prove to somebody that you were there", says Emma Alonby, one of the mad-for-it fans who get to reminisce in Jake (son of Ridley) Scott's viscerally thrilling film, which includes a hefty dose of social history.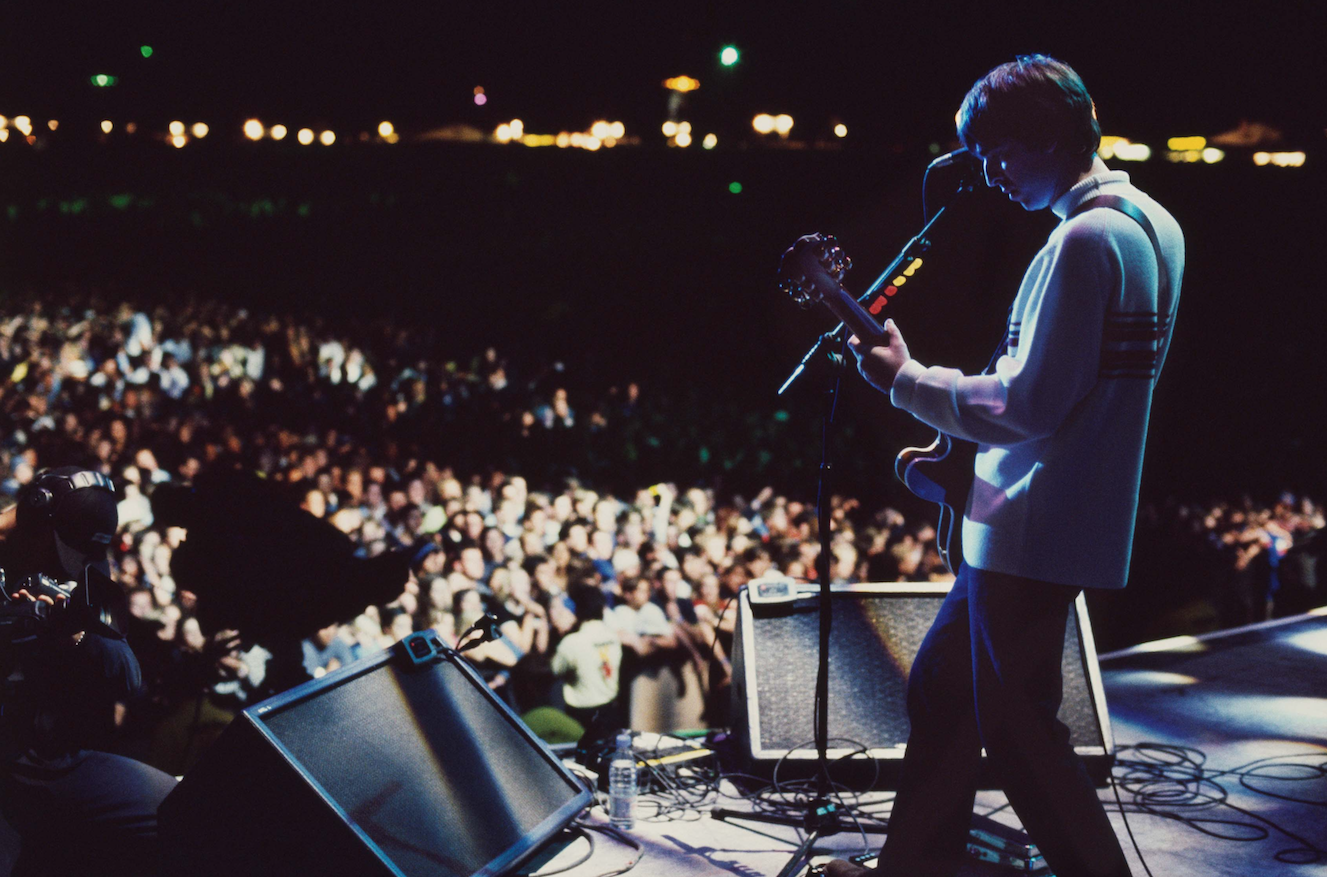 Advertisement
"Yeah, there were no phones, very few tattoos, very little dyed hair, very little piercings," Jake nods from his base in Los Angeles.
"Oasis had this 'lad's band' label but it was very equal in terms of boys and girls. I've looked at the footage intimately and what comes across is the crowd's genuine love of the band, love of the music and love of the lyrics – they know every fucking word.
"I really wanted to make the film a story about the fans and their relationship with the band and vice versa and how that symbiosis occurred over two days."
That symbiosis – or symbioasis – definitely comes across with Liam, in particular, clearly feeding off the seething mass in front of him.
The crowd may have been sorted for Es, whizz and lukewarm lager, but the tight as a duck's proverbial performance suggests that coming off stage the band would have passed a drugs test.
"The audio is off the desk and Liam's vocals are just spot on," Jake agrees. "Everything was great. During the edit for 'Cast No Shadow' is where it really dawned on me – 'Blimey, they're really tight this band, they're really good.' I mean, the musicianship is classy.
"Other than the visible intake of Guinness on Liam's part, they don't seem like spliffheads. They weren't smoking any weed or hash. I don't believe you can play like that and be off your nut. I don't see how it's possible because they're so tight."
Advertisement
Having previously shot videos for R.E.M., U2, No Doubt, Radiohead, The Strokes, The Verve and The Rolling Stones, Jake has been around a lot of charismatic front men and women. How does Liam compare?
"He's got it – and he knows he's got it. That swagger; Liam's rock 'n' roll. He has that unique charisma. He's unpredictable too, which makes you want to watch him. He's as funny as fuck in the film and just incredibly entertaining.
"The balance between him and Noel, and the evident rapport they had at the time on stage, was a lovely thing to work and play with."
Another icon he encountered along the way was Dolores O'Riordan.
"Yeah, I did the 'When You're Young' video with The Cranberries in 1996 in New York. It was in Battery Park in January, the wind was coming off the river and it was fucking freezing. The balloons wouldn't do what I needed them to and Dolores got quite grumpy with me. And understandably so because she was dressed quite lightly and in danger of getting frostbite. Despite all that, everyone was really pleased with the video afterwards."
Jake's musical Damascus moment had come in 1978 when he saw The Clash play a now legendary show in the London Lyceum.
"For me it began and ended with The Clash, really. The Slits were also on the bill, and they were both brilliant. Joe and the lads were my portal into reggae, which I became obsessed with. I don't say this critically, but there seems to be a sort of uniformity to kids and street culture now whereas in the '70s it was very tribal. I just dropped my twin teenagers off at their visual performing arts school, which is a bit like Fame. The kids getting out of their parents' cars with their guitars and paintings and sculpture projects all looked the fucking same."
Advertisement
Also a massive fan of The Jam, The Specials, Talking Heads and Johnny Thunders, Jake wanted – and has succeeded – in making a film that will still be a beered-up on the sofa staple in fifty years' time.
"Concert films are inferably tedious, but there are a handful of great ones," he concludes. "I kept going back, not to Monterey Pop or Gimme Shelter, but to Bert Stern's Jazz On A Summer's Day because of its study of the audience at the 1958 Newport Jazz Festival. The sun, the dancing on the rooftop, the bands going around in vintage cars – you're totally immersed in the experience of it. That's what I was aspiring to with the Knebworth film."
Jake's relationship with Oasis goes back to 1995 when he shot the 'Morning Glory' video,
"I loved Definitely Maybe, I thought it was a great record," he recalls. "I'd just done Radiohead's 'Fake Plastic Trees' and The Verve's 'On Your Own' videos when I got sent the track, and I jumped at it. I was setting up for it in a studio in London and the band came in to see the set. They were friendly but tanked up, and got really excited when they recognised the actor pal of mine who was helping out, Spencer Leigh, from a TV show called One Summer. Liam kept going, "That's fucking Icky, lads, it's Icky!!" I was struggling to get him out his armchair in the video – he's a stoic performer, right? – so I got a football and chucked it in over the camera, which did the trick. Sort of like a Pavlovian response!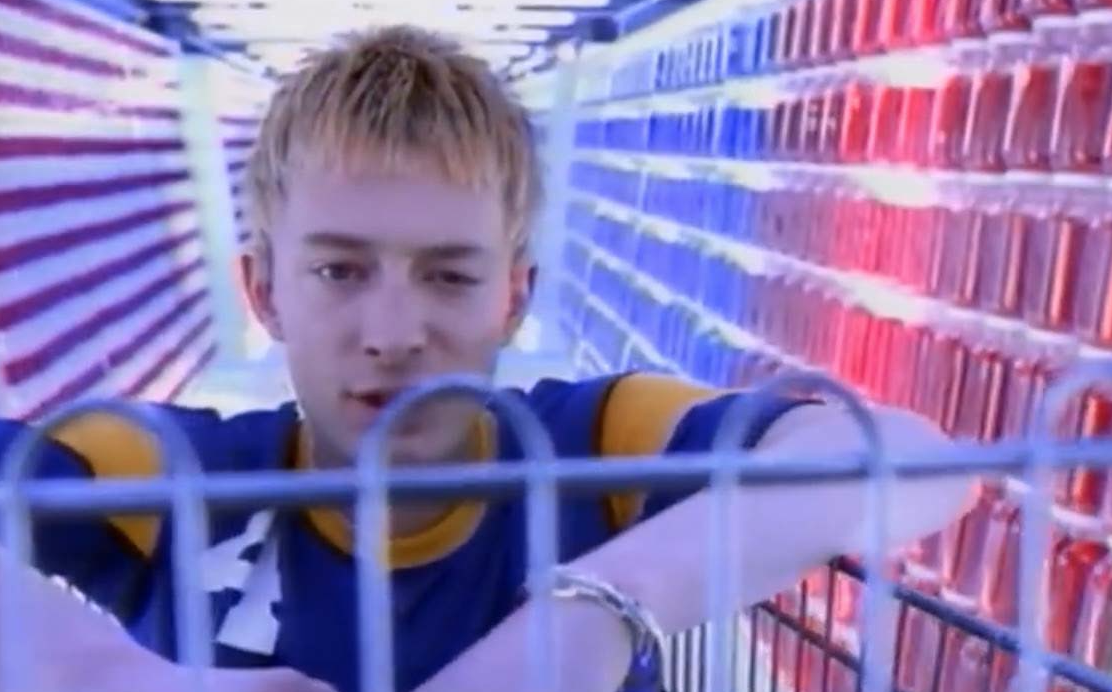 "After the ravages and brainlessness of the acid house thing and rave culture, which I grew very tired of, it was great to be working with a band that you knew were going to go down in history and influence a generation much like The Clash did."
There then followed a period of watching from the stands.
Advertisement
"I really liked Mat Whitecross' Supersonic documentary, which ended before Knebworth," Jake explains. "I'd seen them in the UK and then in New York and Los Angeles, so I knew what a shit hot live band Oasis were. I was sitting at home during Covid thinking "What the fuck do I do next?" when the executive producer, Alan McKinlay, approached me about the Knebworth film. As soon as I saw some of the footage they had, I was in. It's a story that just had to be told."
Having two nights of footage to choose from worked very much in his and the band's favour.
"'Wonderwall' is probably their most universally loved song, but I don't know if it's as loved by Liam. Watching the Saturday night performance, he seemed almost disdainful of it. Come Sunday, though, he sang it like he absolutely meant it. If I'd been able to interview Liam for the film I'd have asked him about it, but I think he felt the performance spoke for itself."
For all of his acting dumb, Liam's a smart cookie.
"They're both extremely bright guys," Jake agrees. "Noel did want to talk in the film, and we had a fantastic four or five hour chat. You can tell how proud he is of those Knebworth shows and rightly so."
I don't know if Mr. Scott's a gambling man, but does he think that in a few years' time he'll be shooting Oasis: The Comeback.
"I'd like to think that's a possibility...yeah, I'd love it," he grins. As well as satisfying the people who were there or wanted to be there, I hope the Knebworth film reaches a young audience and creates new fans. Knowing that there are loads of kids out there who want to see Oasis could be a deciding factor in them getting back together."
Advertisement
Having completed Knebworth 1996 and an equally eye-catching film about Kenyan runner Eliud Kipchoge, The Last Milestone, is there anyone else Jake would like to document?
"Two bands I love right now are Fontaines D.C. and Idles," he reveals. "Julien Temple's done two great documentaries about them, but The Clash are endlessly fascinating as is the sound system culture they turned me on to. Nick Cave is also somebody who fascinates me. When I was living in Australia with my Mum, one of her mate's sons took me to the punk clubs in Kings Cross in Sydney. We walked into this place and a band I'd never heard of, The Birthday Party, was on stage. Nick Cave at the time was like Satan and Elvis: it was so frightening and heavy. What him and Warren Ellis were doing was staggering. It still is."
• The Oasis: Knebworth DVD and live album are both released on November 16
Knebworth photo credit: Jill Furmanovsky