The Lost Brothers, Farah Elle, Daragh Lynch of Lankum, An Chéad Ghlúin Eile, Peter Fallon, Aimée Farrell Courtney, Jack Lynch and Bernadette Nic Gabhann take to the stage in this cosy, wintery production...
A new series of live performance films, called Last Call, which celebrates Ireland's contemporary folk scene is set to premiere on the Hot Press YouTube channel today, Friday, December 9th at 7pm.
Over two episodes (15 minutes each), the visual project by SoFFt Productions and Meath Arts Office showcases The Lost Brothers, Farah Elle, and Daragh Lynch of Lankum, as well as a number of talented local acts.
The films with a cosy, wintery feel were commissioned by Meath Arts Office under the Local Live Performance Programming Scheme, and shot at Kell's Courthouse in Co. Meath.
The line-up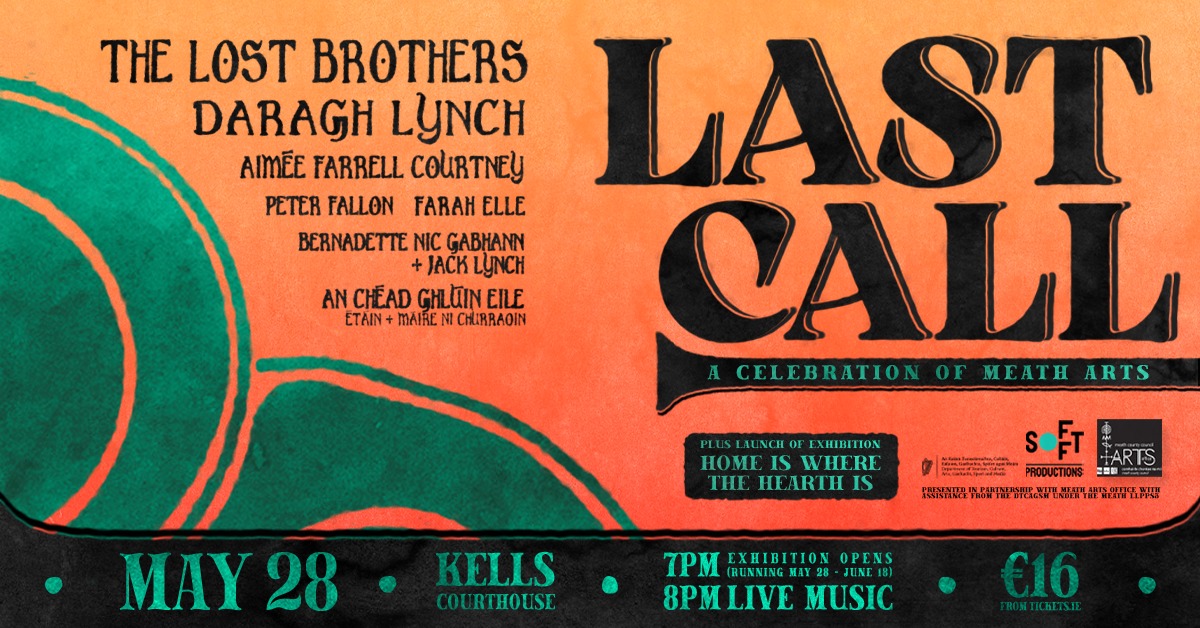 Advertisement
The Lost Brothers headline the intimate night of music and dance. The Irish musical duo, which consists of Oisin Leech and Mark McCausland, has been making music together since 2007. Their sound is inspired by a range of influences, such as the writings of Patrick Kavanagh and John Fante, the music of Billie Holliday and Patrick Sky, and the paintings of Jack B Yeats. Their latest album, 2020's After The Fire After The Rain received critical acclaim.
Hailing from Julianstown, Co. Meath, Farah Elle is a Libyan-Irish singer-songwriter known for her soulful, healing music. Following the release of her debut album FATIMA in October, she sold out her December headline show at The Workman's Cellar in Dublin.
The film also leans into Meath's strong connection to sean-nós singing with a performance by An Chéad Ghlúin Eile's (The Next Generation) Étáin and Máire Ní Churraoin. The two sisters are natives of the Ráth Chairn Gaeltacht in Co. Meath and have been singing together since childhood.
Advertisement
Their unique upbringing, deep appreciation and awareness of their heritage, and unique bond give rise to enchanting harmonies and a sean-nós singing style that has brought them all over Ireland.
Also taking to the stage is Daragh Lynch of Lankum. The singer has long been involved in an array of creative and political projects.
From punk, metal and shock-rock cabaret outfits (Cat O'Nine Tails, Knife At A Gunfight, Fuck You Written In Shit), to an unruly pan-American tour with sibling folk-punk duo Lynched, and late-night traditional music and singing sessions, he has always been drawn to the unpredictability, chaos and adventure that music brings.
Advertisement
Last Call also features poetry, dance and fine musicianship.
Local poet and publisher Peter Fallon has spent most of his life in Lennoxbrook near Kells and Loughcrew in Co. Meath. He founded The Gallery Press in 1970, aged 18, and continues to publish Ireland's finest poets and playwrights. His books of poems have been published around the world. He has lectured at Trinity College Dublin and universities in the US, and is a member of the Irish association of artists, Aosdána.
Aimée Farrell Courtney, one of the world's leading bodhran players, showcases her talent. The musician holds a Bachelor of Music degree from DIT Conservatory of Music and Drama, specialising in Irish Traditional Music. Graduating with First Class Honours, Courtney was also awarded the Leo Rowsome Gold Medal for outstanding traditional performance and the Michael McNamara Gold Medal for outstanding overall performance.
She has since collaborated with the likes of Donal Lunny, Liam O'Flynn, and Alyth McCormack, and performed in venues like The O2 Arena in Dublin and The Hermitage Theatre in Saint Petersburg, Russia.
Advertisement
Last but not least, dancer Jack Lynch performs alongside the incredibly talented fiddle player Bernadette Nic Gabhann. Nic Gabhann has travelled the world promoting the Irish arts and has played in Michael Flatley's musical and dance production Lord of the Dance.
Last Call is supported by the DTCAGSM Local Live Performance Programming Scheme and Meath Arts Office, and produced by Meath-based arts company SoFFt Productions.
SoFFT Productions are a creative team with over 40 years of combined experience who specialise in the most ambitious spectacles Ireland has to offer such as Music Town's Roof Lullabies, Celestial Bodies, The Lyric Concert and RTÉ Concert Orchestra, and RTÉ Choice Music Prize awards.
Watch Last Call: Episode 1 below.
Advertisement
Check out the Hot Press YouTube channel here.
RELATED