Hot Press is shining a light on 1985 this week, ahead of Casey's 80's throwback music video release.
July 3 is a red letter day for fans of all things 80's. In 1985, it marked the opening in cinemas of the iconic Back To The Future. Fast forward to the same time in 2019, and we saw the Duffer brothers release Season 3 of Stranger Things in a reference-filled tribute to the Robert Zemeckis-directed classic.
DeLorean in Donegal!
Next stop? Yesterday in Donegal's Mamore Gap… traffic stopped and crowds gathered on a country road, as guitarist, singer and songwriter Paul Casey – complete with DMC DeLorean – filmed and directed the video for his upcoming single 'Wide Open Road'.
Hot Press has just seen a draft preview – and it's set to be an intriguing plutonium-packed homage to Back To The Future. The songwriting sounds beautifully straight out of 1985, along with pristine production from Casey's state-of-the-art Cable Junction Studio.
Opening Scene
The video opens with Casey recreating the Back To The Future opening scene, Derry-style; film-obsessed Casey nails the 80's detail, but also brings a measure of fun to proceedings; check out the scenes, when released, with renowned drummer Liam Bradley, as the two swap places on film (Bradley seems more comfortable with guitar in hand, than Casey is behind the kit).
The Cast
Always keen to feature his supporting musicians – watch his version of In The Days Before Rock 'N' Roll, featuring Terri Hooley and friends, as part of Hot Press' Rave On Van Morrison! – Casey again brings his supporting cast into the action. Along with Bradley, we see brilliant John McCullough on synths, while Lauren Doherty turns on her 80's chic with deftly delivered lines.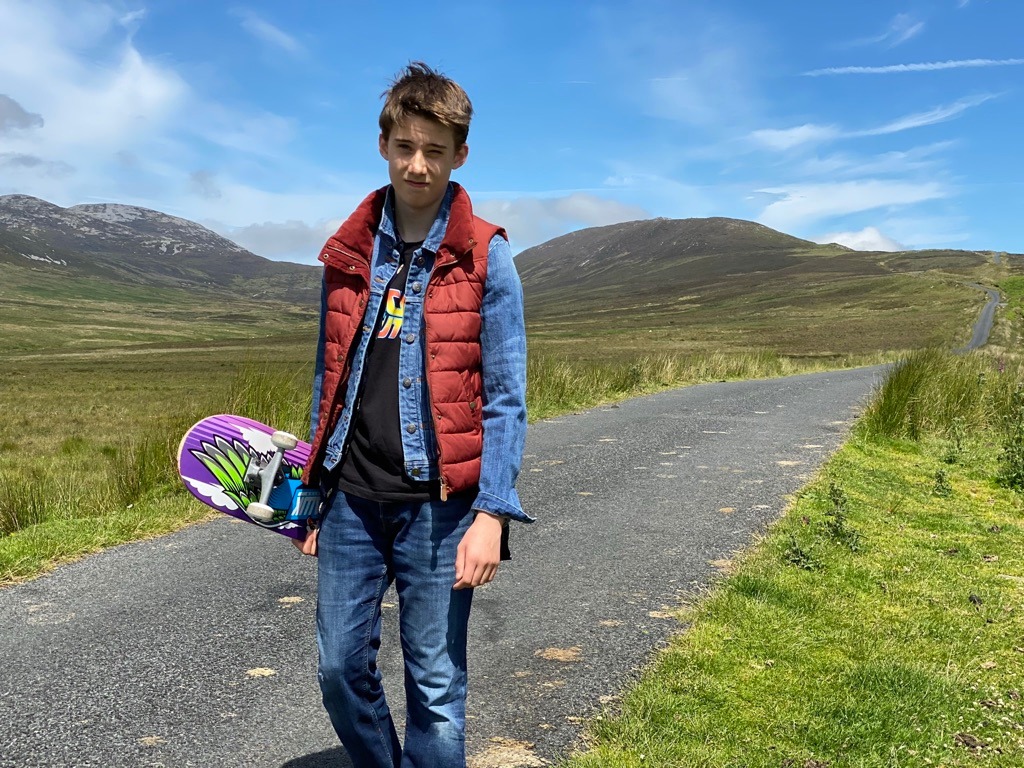 Dylan Casey shooting the 'Wide Open Road' music video in Mamore Gap, Donegal
Behind The Scenes Footage
The Behind The Scenes Hot Press Exclusive footage will be premiered later this week on Hot Press' YouTube channel, ahead of the 'Wide Open Road' video release on Saturday, 3 July on hotpress.com.
When Paul Met Huey
Back in 2005, Casey supported Huey Lewis and The News, whose songs famously formed the musical backdrop to Back To The Future. Paul has always been grateful to Huey (who also had a cameo in the movie) for the interest he showed at the time: "After my set, Huey came looking for me and we chatted for ages. He was so cool and very generous with his time and advice. I tend to see the word through an 80's lens – and usually it's a film lens, so it meant a lot. And it blew my mind that he wanted to buy my album afterwards!"
1985...We're Here All Week
Stay tuned to hotpress.com as we travel back in time all this week, to 1985. As well as Back To The Future's release on July 3, it was the year we witnessed Springsteen play Slane, U2 play Croke Park, and Live Aid was screened worldwide. And, we heard classic albums from Prince, Simple Minds, Talking Heads, The Pogues, Microdisney, The Smith and countless more...
See hotpress.com for the 'Behind The Scenes Hot Press Exclusive' footage later this week and see the 'Wide Open Road' video premiere, also here, on Saturday, 3 July.
Paul Casey's 'Wide Open Road' is released on all digital platforms on Saturday, July 10.
RELATED