Film author Wayne Byrne on Walter Hill: "He's a director of entertainment, and he's supreme at that"
The acclaimed film writer discusses his new book on the legendary Hollywood director, which covers unsung masterpieces, 48 Hrs., Eddie Murphy, Sam Peckinpah, The Getaway and more.
For film lovers, the two most essential books this Xmas are Quentin Tarantino's Cinema Speculation and Irish author Wayne Byrne's Walter Hill: The Cinema Of A Hollywood Maverick. There is actually some thematic crossover between the books, starting with the cover of Tarantino's, which is a still of Sam Peckinpah directing Steve McQueen on The Getaway. The movie was adapted from a Jim Thompson novel by Hill and represented his first major break in Hollywood.
In Cinema Speculation, Tarantino also recalls conversations he had with Hill about the latter's experience of working with the iconic Steve McQueen on The Getaway. Subsequent to that movie, Californian director Hill hit paydirt with the sublime buddy-cop action flick 48 Hrs. in 1982, which he followed up with the mega-successful sequel, Another 48 Hrs., seven years later. His other notable movies include cult favourites The Driver, The Warriors and Red Heat.
For good measure, Hill – who was interviewed extensively by Byrne for the book – had a notable involvement in the Alien franchise, and also directed the pilot of critically adored HBO western Deadwood.
Now 80, his movies have left a huge cultural imprint, whether it be tributes from influential fans like Tarantino, Edgar Wright and Nicholas Winding Refn, or 48 Hrs. being the subject of an episode in David Fincher's Netflix film appreciation series, Voir.
But one of Naas author Byrne's main objectives was to shed light on the lesser-known works in the Hill filmography, with the writer making a particularly passionate and persuasive case for Southern Comfort, Extreme Prejudice, Trespass and Last Man Standing.
Advertisement
All this and more was on the agenda when I recently caught up for a chat with the author, whose burgeoning CV also includes acclaimed tones on Burt Reynolds, Tim DiCillo and the Nightmare On Elm Street franchise.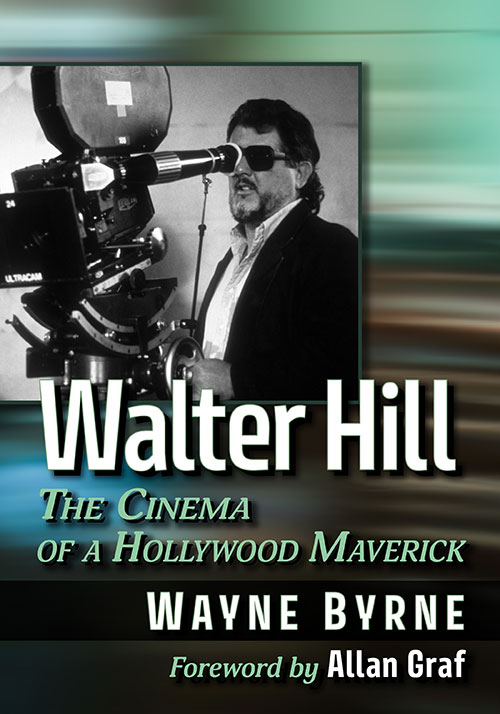 PAUL NOLAN: When was the first time you became aware of Walter Hill?
WAYNE BYRNE: It was Xmas '88 or '89. I remember there was an ad on the BBC for 48 Hrs., which they were showing on Christmas Eve. It was a clip of the famous bar scene, and I went, 'This Eddie Murphy guy seems pretty fun.' Back then, I used to get my Dad to tape any movies off the TV that I wanted to see. He was into westerns, and we never had this thing in our house of, 'That's not suitable for you.' My parents just looked at it like, 'He's into movies.'
Anyway, they taped 48 Hrs. for me that year and I watched it. They also taped Halloween 3, Lethal Weapon and a few other movies that were for mature audiences! I watched 48 Hrs. over and over – it was just one of those movies, it was fun. It wasn't one of those films that ended up being in life-changing in the way that, say, A Nightmare On Elm Street 3 did. But it certainly made me take note of the name Walter Hill.
So that led to you becoming a fan.
As I was growing up a movie lover, every now and again I'd come across a Walter Hill film, and I'd always be intrigued to watch it. Around that time, Red Heat came out, which starred Arnold Schwarzenegger and Jim Belushi. I rented that from one of the video stores in Naas and loved it; that was probably my favourite Walter Hill movie for a long time. Then a few years later I discovered Southern Comfort and Streets Of Fire, and eventually The Warriors. Walter was one of the earliest filmmakers that I became aware of.
Advertisement
When you're young, you're not really paying attention to the guys who make the movies. But his films always started with 'A Walter Hill Movie'. That kind of authorial stamp stuck with me, because every time I watched one of his films, I loved it. So I took note of his name, and over time, I made an effort to watch them. It's gas, the first time I was disappointed with a Walter Hill movie was Last Man Standing, and that's now the one that I probably consider his masterpiece!
What is it you love about the film now?
When I subsequently watched it again, I thought, 'Holy shit, everyone who's working on this is at their best.' That includes Walter, Bruce Willis and certainly Ry Cooder. I think it's Cooder's greatest music ever, and that includes his other soundtracks and solo works. It's one of my favourite soundtracks of all time. Lloyd Ahern's cinematography is superb, it's one of the best looking Hollywood movies of the past 40 years. It's a such beautiful film, and very melancholy.
I brought that up to Walter and he said, 'That's exactly what I intended the film to be.' And it's the reason Akira Kurosawa gave him the go-ahead to do make the movie. Because Walter didn't want to do a remake of Yojimbo. He said, 'I'm not that stupid to do a remake of Kurosawa, but I will do an adaptation.' He did the script with no intention of directing, and Kurosawa gave him the approval, saying, 'You got it right, there's emotion in this. It's not just an action film.'
If you look at A Fistful Of Dollars, which is an unofficial remake, it has that Leone thing of being very ironic, and detached in a way. Walter's is stylish as well, but it's certainly not ironic. It's a very serious film.
What was the moment when you really became a major fan of Hill's?
I think it was when I went back to Southern Comfort about 20 years ago – I rediscovered it on video. I'd seen it previously when I was younger, and although I enjoyed it, I didn't quite get it. When I watched it again, I was like, 'Shit, now I see why Walter is considered this legendary figure.' I think that film is definitive of his style in many ways. It's tough and economical.
Advertisement
There are some deep themes in there, but they're not intellectualised. First and foremost, Walter is a director of entertainment, and he's supreme at that. But Southern Comfort made me go, 'I need to investigate this guy on a deeper level.'
48 HRS. & EDDIE MURPHY
In particular, I'm a massive fan of 48 Hrs. and Another 48 Hrs., which I would put in the highest tier of movie-watching experiences. But would they be as important to you as they would to me?
I don't think so. I can appreciate why the likes of The Warriors, The Drivers and 48 Hrs. are probably his most celebrated works, for different reasons. 48 Hrs. was the one that blew the doors open for him, commercially speaking. Deservedly so – it's just a great, fabulous action comedy. It pretty much invented that genre of the buddy-cop movie, the mismatched partners.
Action movies up until that point in 1982, they were pretty austere. They more serious, grounded and modest. 48 Hrs. comes along and introduces heightened production values, and the use of comedy to underscore the action and violence. Of course, you go from 48 Hrs., which was a huge success, to Beverly Hills Cop, Lethal Weapon, Die Hard – all these increasingly hyperbolic '80s action movies. Apart from the buddy-cop thing, what it did for action cinema was so massive. So, I can see why that is justly celebrated.
But you have this love for the lesser-appreciated works.
If you look at something like Extreme Prejudice or Last Man Standing, that's more undiluted Walter. To me, it's the Walter I love and those are the films that he really wants to make. As he would say, every film he makes is a western. If you look at Extreme Prejudice or Trespass – which is my new favourite – or Last Man Standing, he's harking back to the filmmakers he loves of the '30s and '40s. the old Hollywood.
Trespass is basically Treasure Of The Sierra Madre in St. Louis in the '90s, with a hip-hop cast! Ice Cube and Ice-T star in it. Walter might disagree with me, but Extreme Prejudice is an obvious tribute to Sam Peckinpah and The Wild Bunch. Many people who worked on the film agreed with me, but Walter said, 'Well, you know, Sam Peckinpah was so good and made such a definitive film, that if you set a scene in a Mexican plaza where a big shoot-out happens, people are going to draw comparisons.' Still, there are several other things in there which are obvious nods to the movie.
Advertisement
You obviously felt there was a lot to mine in those other films.
To me, it's always the most exciting part of what I do. I think Southern Comfort is celebrated enough as it is; fans of Walter's, and that kind of cinema, would consider it highly anyway. I don't need to put it up there, but I would say Last Man Standing is an unsung masterpiece, and I'd also like to highlight Extreme Prejudice and Trespass.
And Another 48 Hrs.
It's severely unloved and I don't understand why! In many ways, it is identical to the first one. A lot the beats are the same, but for me, it's a more exciting film. It's better shot; I love Matthew Leonetti's cinematography. It's superb, he's very stylish. That's the movie that really introduced what I call Walter's spectacle action cinema. He works a lot with Allan Graf – who did my foreword – who's a brilliant stunt co-ordinator and second unit director.
He did a lot of the action scenes in that film. Allan always tries to do something different that you haven't seen before, and on that film, he really introduced this style of action that Walter has become known for. Everything is heightened, the action scenes are bigger. If someone gets shot with a pistol, it looks as if they've been shot with a cannon. I can see the development of Walter's style on Another 48 Hrs.
Eddie Murphy is possibly my favourite actor, and there's not doubt he has some iconic moments in 48 Hrs. He and Walter did seem to have a real creative chemistry.
Advertisement
Well, this is it. Paramount wanted to fire Eddie on the first 48 Hrs. They had no confidence in him whatsoever, and it was probably understandable in that he was completely untested – he'd never done a film before. He was so young, he'd never an acting lesson before; the reason he was hired was that Walter's partner at the time was his agent. Walter was watching Saturday Night Live one night and saw Eddie's vibrant, brilliant comedic work, and he went, 'I wonder if he would work in 48 Hrs.? We need that kind of energy.'
So be brought him in and gave him the shot, but what I've been told is that Eddie did not work well with offscreen material in a scene. Any kind of exposition, or stuff that his character is required to know but isn't right there in front of him, he didn't work well with it. That's a whole other process you have to be trained in. But Walter was never going to let Paramount fire him, because that would have looked bad on him. He's the director – it's his job to get the required performance from Eddie. If he's faltering, you have to work at it and get it.
So he stuck with him.
He said, 'We're sticking with Eddie, we're going to get this performance.' So between Walter and the screenwriter Larry Gross, what they decided to focus on was Eddie in the now, in the moment. That's where Eddie shines – he's a comedic performer, and a comedic performer lives and dies in the moment. So Walter said, 'That's the way we need to treat this – we need to film Eddie's scenes as if he's live onstage telling a joke.' That's when he's alive and electric, and that's what the honed in on: just let Eddie go.
Have your parameters of what the script requires in the scene, but within that, let him go. So in the famous bar scene where he's going off on all the white boys, let him off. I think it was take two of that scene where Walter turned to Larry Gross and said, 'We're rich. This is what we need, and this is the Eddie that's going to become a star.'
How much of that scene is improvised?
A good portion of it. Again, that was controversial with Paramount and with the producer Larry Gordon, because you have to remember he produced The Warriors. A lot of racial tension in that movie spilled over in theatres, and Paramount were kind of tentative over that scene, because he's completely unloading on the white guys. And they were going, 'This is going to cause the same problem as The Warriors, you need to cut this down.' It was trimmed down and they went, 'No, this gonna make it worse, because now the scene is more realistic and less comedic.'
Advertisement
To me, that is Walter Hill's brilliance as a filmmaker: he saw that if they let Eddie rip in that scene, that's the key to it.
That's the Eddie of SNL, but it's the film star who went on to become the most successful actor of the '80s. Only one movie he did during that decade suffered financially, which was Best Defence, the political comedy. But other than that, all of his movies were massive. Also, the Trading Places screenwriter Herschel Weingrod told me he was on the set 48 Hrs. during the filming of the bar scene, because he was there to interview Eddie and talk to him.
He said once he saw Eddie in that scene, he went, 'This is our man for Trading Places.' Also, by seeing Walter work with Eddie, he thought, 'That's the guy for Brewster's Millions'. which he also co-wrote. So he was able to see both people he would go on to work with very successfully, just by observing that scene.
SAM PECKINPAH & THE GETAWAY
Walter's big early break was writing The Getaway for Sam Peckinpah, which is celebrating its 50th anniversary this year. It's a special moment in film history.
What did Walter make of collaborating with Peckinpah?
Advertisement
I think it was Larry Gross who said he often saw Peckinpah and Walter's relationship as a father-son one, but he said the problem was Peckinpah didn't have the capacity to be anybody's father figure. Emotionally, he just wouldn't have been there. I spoke to Walter about this, and he said he admired Sam so much, but he was the kind of person, and friend, who tested you – you could never take him for granted. There was one particular test that Walter told me about.
They were working on The Getaway one day, and he went in to say hello to Sam, and his secretary said, 'Don't go in there, he's in foul humour.' Walter said, 'Why, what set him off?' And she said, 'There was something in Variety about Sam Peckinpah ripping off Arthur Penn.' Penn had made Bonnie And Clyde, the ending of which uses a very similar style to Peckinpah. And people were saying, 'Peckinpah ripped off Penn.' And Peckinpah hated Penn, so this did not sit well.
So what happened?
Walter said he'd go in and talk to him, and see if he's alright. So he goes in and Peckinpah explains the situation. He says, 'You don't think I ripped him off, do you?' And Walter goes, 'No, of course not – anybody who knows anything knows you ripped off Kurosawa!' Which didn't sit well with Peckinpah either! So he didn't talk to Walter for about three weeks after that. But Walter's point was, 'Listen, it goes back to the chain of influence.' Peckinpah and Penn were both guilty of being influenced Kurosawa, who used a similar sense of montage in his action sequences.
But Walter was very grateful for that break.
Absolutely, Walter did say it's the result of his work on The Getaway that led him to become a director, because Larry Gordon was working at Columbia when Walter was developing Hard Times. Gordon's remit at the studio was, 'You can make us whatever scripts you come across, as long as they're good, cheap genre pictures.' Columbia was in the shits at the time, so they needed cheaply made product that could be sold easily.
Gordon knew how to make good, low-budget films, but he wanted to work with Walter Hill, because at that stage, Walter was one of the top screenwriters having done The Getaway, which was a huge success. He wanted to work Walter but he couldn't afford him, so he gave him the opportunity to write and direct the script for scale. That was Walter's way into making a movie, and that became a huge success. So it's because of The Getaway that Larry Gordon and Columbia offered that to Walter.
Advertisement
Walter Hill: The Cinema Of A Hollywood Maverick is out now, published by McFarland Books.