DeWanda Wise on Jurassic World Dominion: "It's remarkable, and an absolute privilege, to work with actors who you really respect and admire"
DeWanda Wise discusses her starring role in Jurassic World Dominion, the rip-roaring new instalment in the blockbuster action franchise.
This month saw the arrival of Jurassic World Dominion, the blockbuster conclusion to the storyline that commenced all the way back in 1993 with Jurassic Park, one of several times throughout his career that Steven Spielberg created – as opposed to merely captured – the cultural zeitgeist.
The franchise's sixth outing in total, and the concluding part of the Jurassic World trilogy, Dominion is another rip-roaring blockbuster propelled by exhilarating, state-of-the-art action sequences. This time out, dinosaurs live and hunt alongside humans all over the world, but the question is if the fragile balance will be maintained – and if humans can remain Earth's apex predators.
One of the stars is US actress DeWanda Wise, celebrated for her role in the Netflix series adaptation of Spike Lee's indie classic She's Gotta Have It. In Dominion, Wise plays former Air Force pilot Kayla Watts, who aids former ex-Jurassic World employees Owen Grady (Chris Pratt) and Claire Dearing (Bryce Dallas Howard) in the dangerous mission at the heart of the film.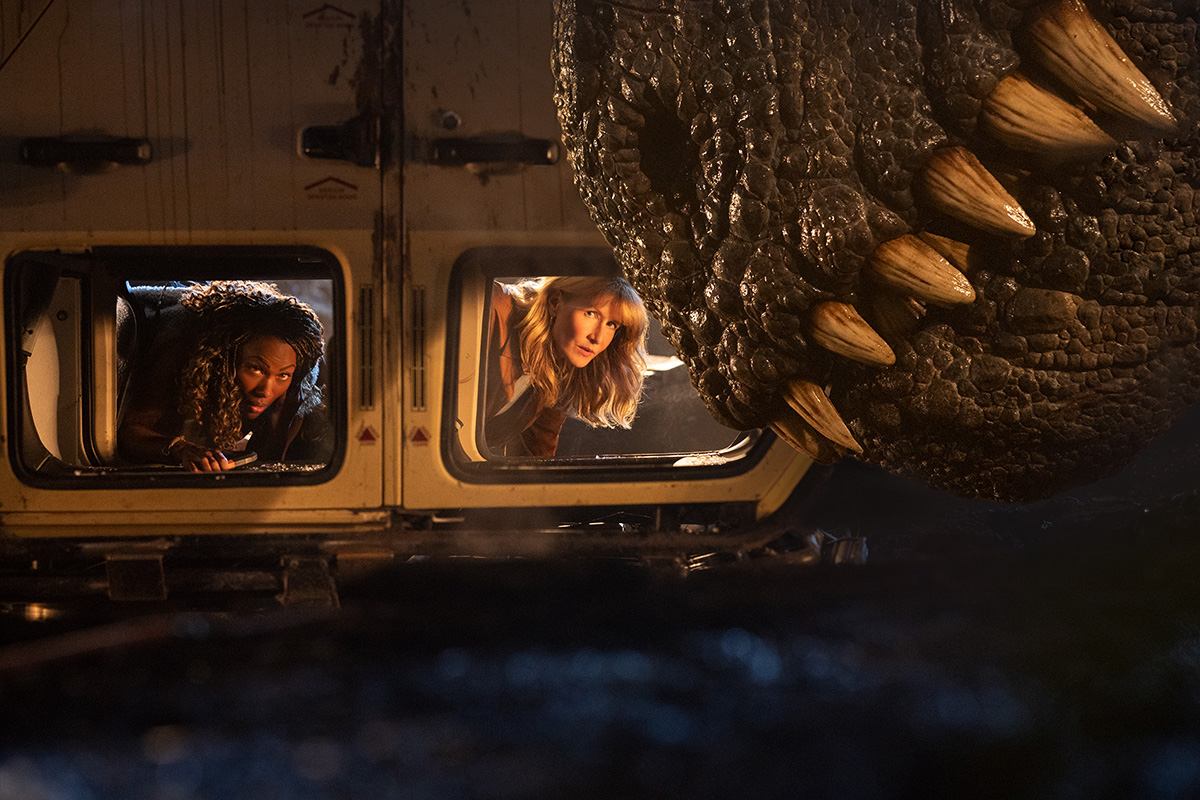 Did Wise have a relationship with the Jurassic Park movies before coming onboard?
Advertisement
"Embarrassingly, I didn't have a relationship with the first film at all," says the affable actress when I catch up with her in LA. "I mean, I did know who Samuel L. Jackson was, and I was aware that Ian Malcolm [a doctor in the series, played by Jeff Goldblum] had a black daughter named Kelly! But I hadn't seen the films until I booked the role."
How did DeWanda feel upon landing the role of Kayla – was it exciting or nerve-wracking, or a combination?
"Definitely a combination," she nods. "That's a really good question. It was exciting and it's always a responsibility – I take everything far too seriously. I have a very sensitive nervous system, so I'm very high on the neurotic scale! But I had enough time to meet any level of intimidation that I felt, and that's all you can do. As an actor, you prepare for the moment and then whatever comes, it's fast and furious.
"Obviously, I've never had an experience as technically challenging and fast-paced. On top of it, we're shooting on film, so there's a level of 'Don't waste this roll!' You had that added pressure, but I had a lot of support onset that I'm very thankful for."
Action movies can make for some of the most exhilarating cinematic viewing experiences, but do actors get to experience that level of excitement whilst making the films? Or can it be tedious at times?
"Not with Colin Trevorrow," says Wise of Dominion's director, who returns to helm the movie, having also overseen the trilogy's first installment in 2015. "It's not tedious at all. In anything you're working on, it really matters how specific the director's vision is. Colin already knew how he was going to edit the film, so there's no wasting your time. So it doesn't feel nearly as tedious as something where they're just like, 'Alright, we gotta get this coverage just in case we're gonna use it.'
"Thankfully in my career in general, I've worked with very clear and solid visionaries, who know what they want. In that respect, it's immensely exhilarating. As an actor, part of your challenge is, 'Can I hit this on the first take?' There's a sequence where Kayla and Owen are running across the ice, where he jumps and falls in the water, and she jumps and continues on. We only shot that once – I had one chance to try and get some height. We didn't have to dry off Chris Pratt a million times.
Advertisement
"That degree of athleticism, and that feeling of 'Oh, it's game time', it's very cool, I love it. That's why I'm here, that's why I do it."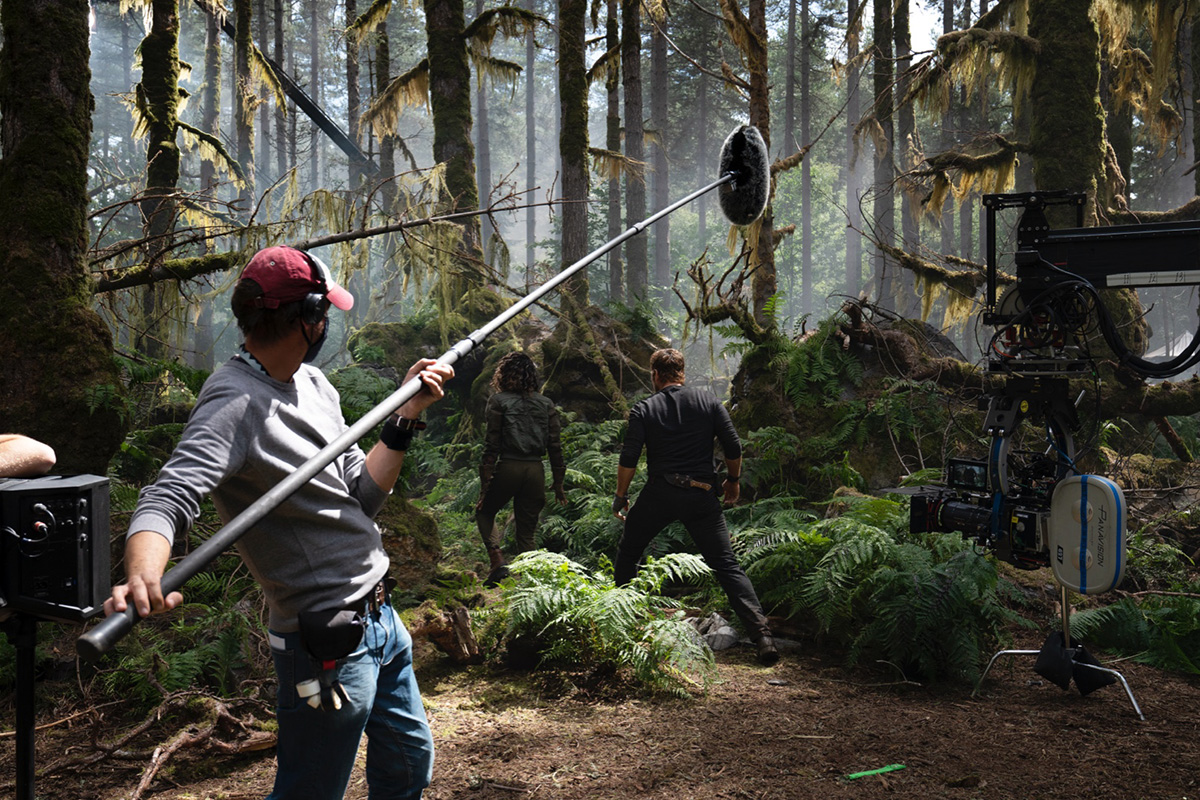 Was there a previous movie in DeWanda's CV that suggested she'd be perfect for the role of Kayla?
"I don't know why I'm here!" she quips. "I don't know what Colin saw, truly (laughs). I'll never forget, I met with him in March of 2019 and he offered me the role. I asked myself the same thing, I was like, 'Was there anything I've ever done that says he should trust me to do this?' I mean, the answer is no. I had hopes and prayers, I am an innately athletic performer. But outside of that, when I think about it, season two of She's Gotta Have It wasn't even out yet. What did you see?! I still need to ask him that – I'm so glad you reminded me to be like, 'Colin, what? Are you crazy?!'"
So how does the character of Kayla fit into Dominion's dual storylines?
"The thing about the construct of this one, is that the dinosaurs are out and living among us," says Wise. "When you think about it logistically, it's like, 'Okay, if that's the case, then all of the characters clearly need to go somewhere in the journey.' So it's a question of, who's gonna get them in and out of there? Who's it gonna be? We need someone to fly the planes, so just on basic infrastructure and story terms, it's like, 'Yeah, we're gonna need that.'"
In terms of the shooting process, what are the actors seeing whilst filming the dinosaur sequences?
Advertisement
"On this one, everything," says DeWanda. "On the previous installments, I'm not sure how much was practical and how much was CGI. But on ours, that whole sequence on the ice, there was the most phenomenal, strong-thighed puppeteer there, with that feathered dinosaur head. I just remember seeing him stretching in between takes, making sure that he wasn't going to pull anything. The bulk of what we were reacting to, we had in front of us."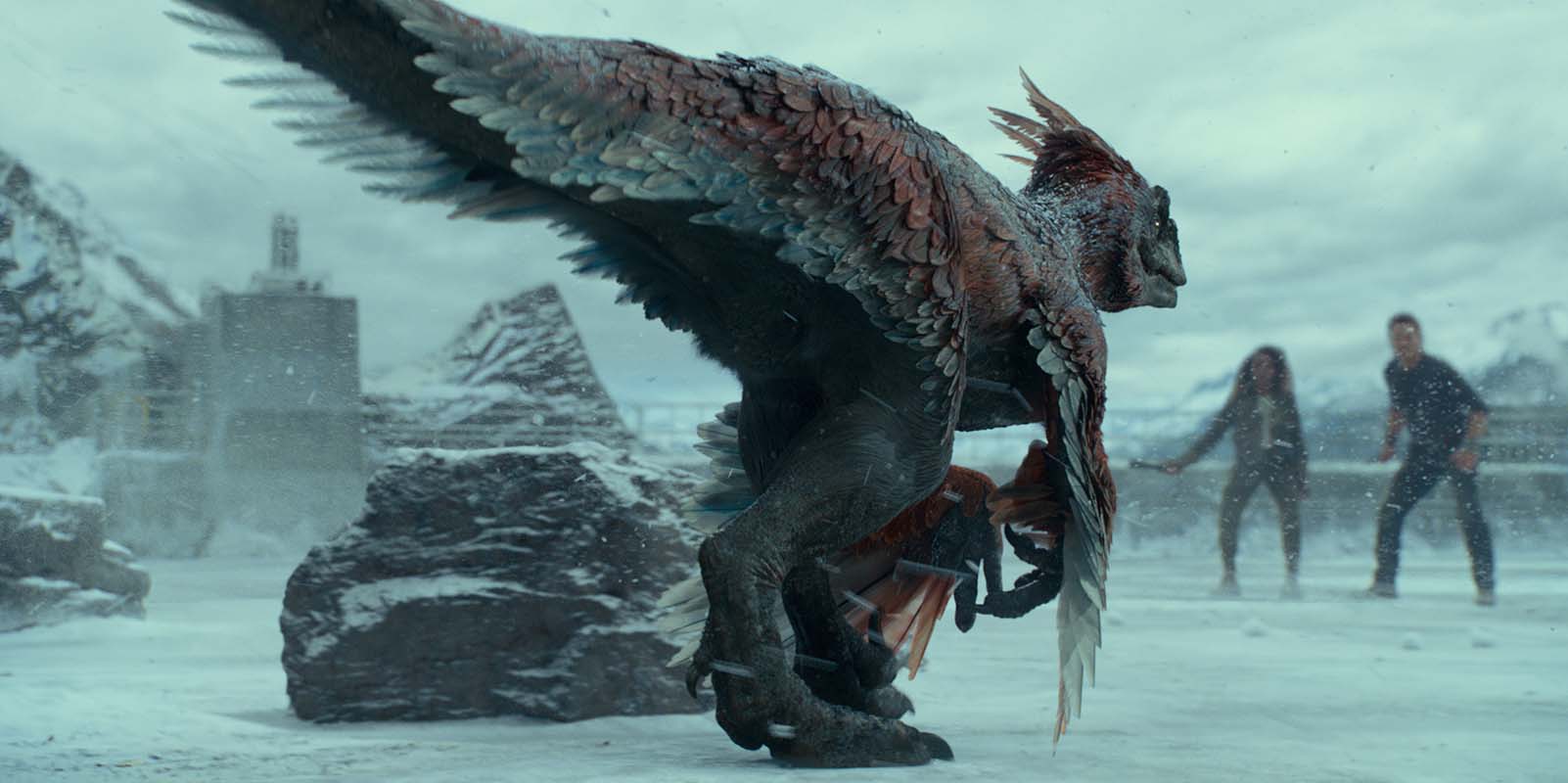 Did DeWanda meet Steven Spielberg at any point?
"I haven't met him yet, but he absolutely did have input into the process," she explains. "When I met with Colin he said, 'Just give me a couple of months.' Then it was June of 2019 and he said, 'Steven Spielberg said yes.' I just lost it. I was like, 'Oh right, you had to check!' So that was the first thing. Those characters of Ellie Sattler, Ian Malcolm and the rest, they're all his, so he was very protective of the legacy, absolutely."
Wise also got to enjoy the experience of acting with the newer generation of stars as well as franchise veterans like Goldblum, Sam Neill and Laura Dern.
"Yeah, it was fantastic," she enthuses. "I can't stop talking about this because I think it's so crazy, but I'd already worked with Sam Neill on something, which is the wildest thing. We worked together on an episode of Invasion for Apple, where we literally played partners. So FYI, Sam and I are a dynamic duo. To everyone in the world, you're welcome! We're still looking for a third thing – we're thinking vampires but we'll figure it out when we have time (laughs).
"It's remarkable, and an absolute privilege, to work with actors who you really respect and admire, who you're a tremendous fan of. And then in the process, you discover that they're as wonderful as human beings as performers, if not more so."
Advertisement
Given the extraordinary cultural impact of the Jurassic Park series to date, what sort of imprint does Wise hope Dominion might leave?
"It's a high bar," she notes. "I know what the movie meant to me; I know what it meant when I read it, and I know what it meant when we filmed it. And I know what it meant when I saw it for the first time. I'm thankful that I have that point of view, and that experience of it, for myself. It's one of the most beautiful, surprising and amazing experiences to have – and to allow yourself to have – to see what hits.
"To see what resonates, and to allow yourself as an artist to be surprised with what people latch onto. So I try not to police, premeditate or have expectations about what is or is not going to be something, because people surprise me every day with the things that they pick up on. Viewers are brilliant, really smart – this is a voracious, passionate and lovely fanbase. I'm excited that the movie gets to be theirs soon."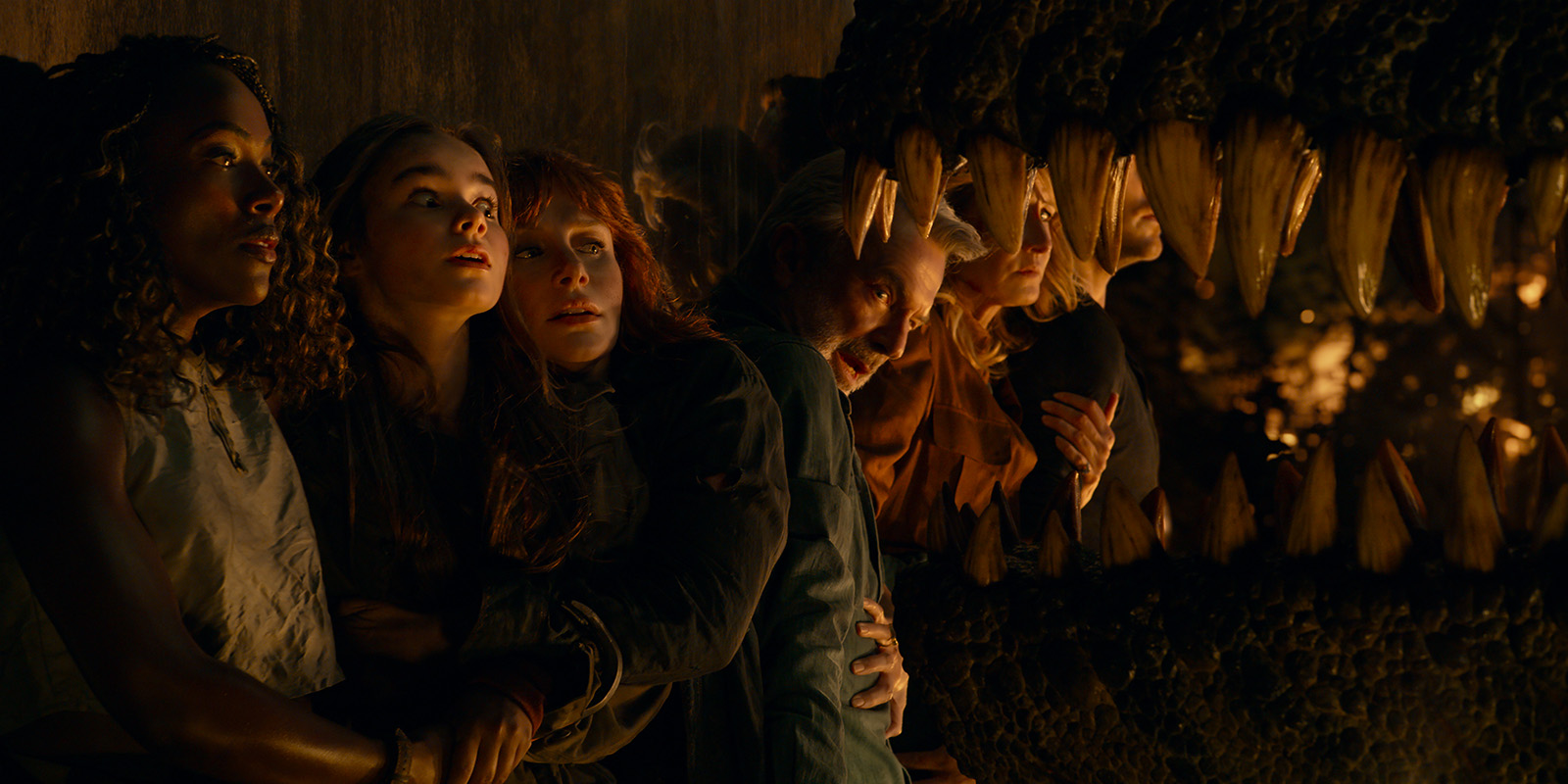 No doubt shooting the film during Covid presented extraordinary challenges, but presumably, all Wise & Co. could do was pragmatically work through the obstacles as they arose.
"Truly, that's exactly what is," says Wise. "The most difficult thing about this role for me was that Kayla is immensely laissez faire. Getting to a point emotionally and spiritually, where I had access to that level of cool, calm and collected, that was the hardest thing about playing this role. You were trying to get into the given circumstances of her life, and allow what her challenges were to be the only challenges. That's the real thing.
"They constructed this character who was really like, 'I got it', and super laidback. And DeWanda was not at the time! I was very much looking out for danger at every turn, hyper-vigilant. Having that space to be like, 'There are just some dinosaurs', it was really challenging."
Advertisement
Finally, I ask DeWanda how it was to work on She's Gotta Have It with the aforementioned Spike Lee, one of America's greatest ever filmmakers.
"It prepared me for everything," she says. "Spike moves very quickly, and that ties into what I was saying earlier, about being an actor who does have the capacity to hit it on the first take. That's something he gave me. Because he broke so many actors – and for so many of them, working with him was their first opportunity – he also taught me what it means to be a leader. What I should expect as the lead, and also what I'm supposed to be giving. How I'm supposed to be caring for the cast and the crew.
"It was an immense training ground, and if you've seen the show, you know that my character Nola is in nearly every scene. So maintaining that stamina, and keeping myself healthy and buoyant, and everything that was required for that role – maybe that's what Colin saw. Maybe Colin was just like, 'Well, if she can hold it all together there, she can come and fly a plane with Chris Pratt.'"
Jurassic World Dominion is out now.