Daisy Jones & The Six star Sam Claflin: "I probably spent too much time researching Bruce Springsteen"
Based on the best-selling novel and Reese's Book Club Pick by Taylor Jenkins Reid, Prime Video's musical-drama series Daisy Jones & The Six charts the never-before-told story of the rise and dramatic fall of a '70s rock band. Having premiered on March 3rd, stars Sam Claflin and Camila Morrone divulge the deets.
"Their music made them famous…their breakup made them legends" - so goes the tagline for the massively anticipated Prime Video and Hello Sunshine series Daisy Jones & The Six.
Both the hit Taylor Jenkins Reid novel and televised adaptation are a nostalgic trip down memory lane, exploring the explosive fame found by an iconic 1970s rock outfit (not unlike Fleetwood Mac)—from their early days through their meteoric rise to the top of the charts, and eventual breakdown.
Starring Riley Keogh as the titular character and Sam Claflin as fellow bandleader Billy Dunne, their sizzling chemistry and fiery, often-toxic songwriting relationship is one of the show's dominant storylines, while Billy attempts to stay loyal to his first love, wife Camila Dunne - played by Camila Morrone.
Advertisement
Elsewhere, Will Harrison plays friendly guitarist Graham Dunne, Suki Waterhouse as ambitious keyboardist Karen Sirko, Josh Whitehouse as disgruntled bassist Eddie Roundtree and the loveable Sebastian Chacon as laidback drummer Warren Rojas. Thus, The Six were born.
In 1977, Daisy Jones & The Six were on top of the world. Fronted by two electric lead singers, the band had risen from obscurity to fame. After a sold-out show at Chicago's Soldier Field, they call it quits. Decades later, the members finally agree to reveal the truth for a documentary tracing implosion at the pinnacle of their power.
But that's not all - the series features 24 original, addictive songs created by Grammy nominated producer Blake Mills and a number of talented co-writers. Recorded by the cast, the actors had to effectively become a real band for the drama-packed show. Given the hype around the series, how are the stars coping with endless junkets?
"So far, so good!" Claflin smiles, breezily. "It's still early days for press days, obviously. In a month, we may have a different answer."
The 36-year-old Love, Rosie actor is well aware of the fanbase already behind Taylor Jenkins Reid's best-selling 2019 book of the same name.
"There's obviously a bit of external pressure, especially with something that has a following this large," Sam replies. "Fortunately for most of us, we weren't really aware of the fanbase at the time of making this. It's now become quite apparent!"
"Personally, I hadn't read the book prior to getting the part," the Ipswich native continues, honestly. "I'm not a big reader so I don't keep tabs on what's popular month by month. Naturally, there's a bit of hype when you're taking on a role that's based on a novel - purely because you know people will always have a very clear opinion of who that character is and what they look like. I try my best to block that out and focus on the job at hand. I'm very proud of what we've done with it overall."
Advertisement
Did either of you get to meet the author beforehand?
"I didn't meet her during casting, but I know she has been incredibly involved," American-Argentine actor and model Camila tells me, warmly. "I was emailing with her yesterday. Taylor's got her hands all over this."
"I think one of the first times I met Taylor I was taking a break from work. I took my kids to the zoo in LA, and the first person I bumped into was Taylor Jenkins Reid, and she was like, 'Billy!'" Sam laughs. "I was in costume—this was an extended break—and she was like, 'What are you doing here?'. We were both with our kids!"
"When she met me, she told me I was exactly who she had envisioned," Morrone interjects. "She was like, 'You're picture perfect to what I wrote!' and that made me really happy to hear."
"She's as excited as we are that this is being made," Claflin nods. "Now, it's happening. I'm such a fan of her work and her as a person. She's been so supportive."
Advertisement
25-year-old Camila's connection to her co-star and on-screen husband is palpable from their first scene together. Billy and Camila Dunne battle plenty of barriers as the 10-episode series progresses, but their love for each other shines through.
"Yeah, we don't get on," Sam jokes of his colleague, grinning.
"We are friends," Morrone insists. "Unfortunately, we don't see each other very often because he lives here in the UK, and I live in LA. There is a kinship because we went through this journey together while filming Daisy Jones, and there's a deep love and partnership that's not put on and tried for. Luckily for us, it's just there."
"It always helps when you get along with the people that you're working with. Naturally, the sort of relationship I have with Daisy is so contrasting but it's celebrated at times," Claflin analyses. "Having this opportunity to explore the darkness with Daisy and then the light with Cami was really wonderful. The fact that they are both really brilliant actresses made it all the more easy for me."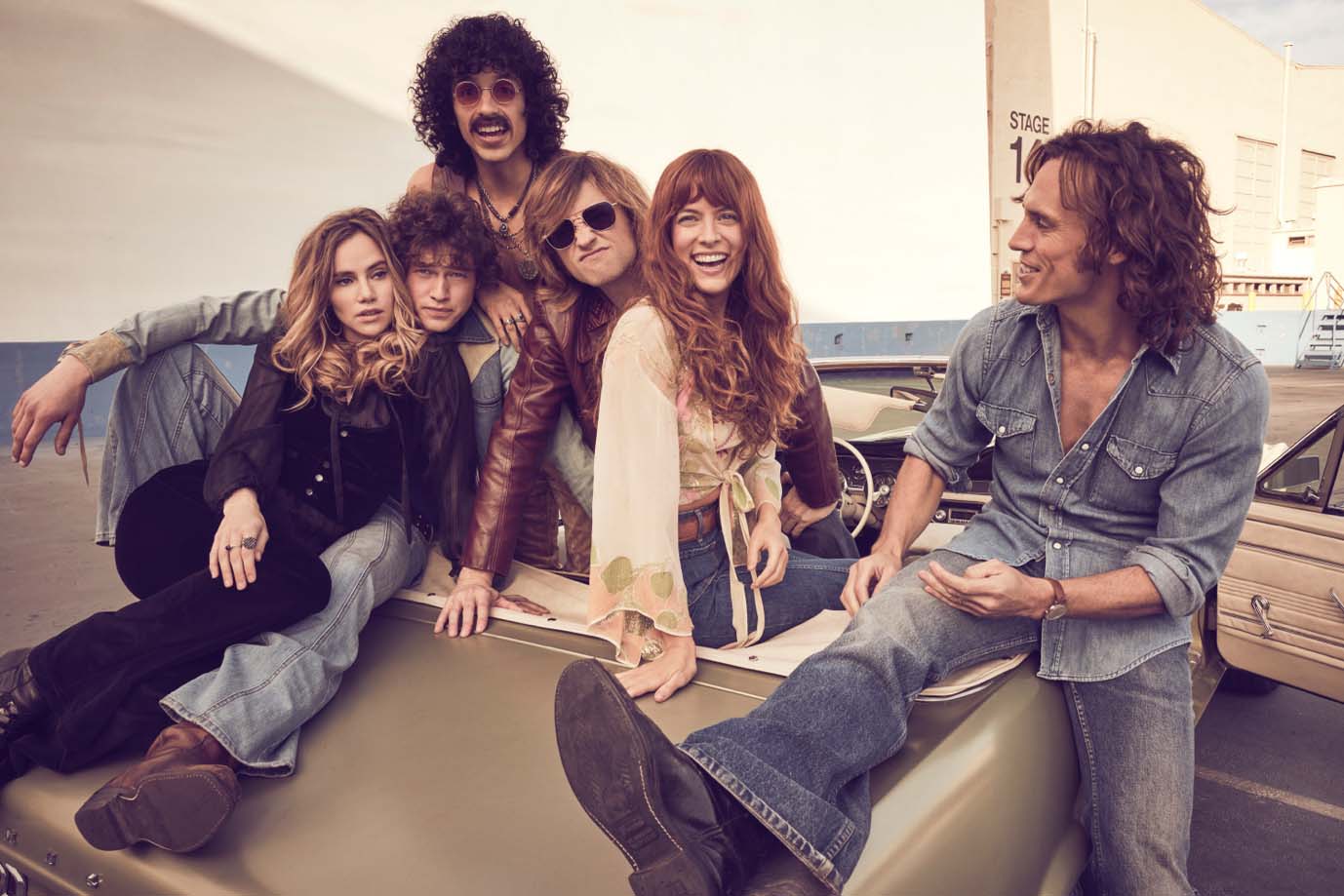 Of course, Daisy Jones & the Six was partially inspired by Stevie Nicks and Lindsey Buckingham's relationship, and their performance of the Nicks-penned heartbreak track 'Landslide' at The Dream reunion special in 1997. Were there any real life heroes, musical or otherwise, who inspired Sam and Camila?
"I probably spent too much time researching Bruce Springsteen," Claflin muses. "I read his book, watched him play live, and listened to his music. He was my inspiration for Billy with the blue collar upbringing he had. Billy's music, the way he dresses, the way he carries himself, the way that he moves around a stage, are all reminiscent of Bruce. He's become a huge hero of mine, subsequently. I wasn't that familiar with his music before this so it was nice going down that rabbit hole."
Advertisement
"I had a lot of inspirations for Camila," Morrone notes. "There was a lot of Cher in my references—just for aesthetics and looks purposes. Ali Macgraw, Jane Birken, and Bianca Jagger were some other women that I referenced or tried to emulate."
Sam Claflin's character battles his alcohol addiction throughout the series, constantly trying to hold himself back from his demons while Daisy Jones embraces hers. Tom Wright as superproducer Teddy Price and a special guest appearance by Timothy Olyphant as Rod Reyes are pivotal in his overall journey.
"I've never had an experience with addiction personally, but I've known a few people that have been through that and that are, fortunately, coming out at the other end thriving," Sam tells me, frankly. "They set me up with a sober specialist—someone who had worked with a lot of rockstars - who was able to guide them through their sobriety. I learned a lot about the history of drugs in that era."
Life on the road proves especially troublesome for the frontman.
"Billy's addiction really extends to his childhood trauma. It was definitely a lot of work. Learning that, after rehab, those thoughts never go away was a lot to take in."
Daisy Jones & The Six premiered on March 3rd via Prime Video.
The new issue of Hot Press is out now, starring The Edge.
Advertisement
RELATED