Before We Die's Patrick Gibson: On sex scenes, Ulysses, Trinity College and more
Having previously impressed in What Richard Did and The OA, Patrick Gibson gets to mix with all the wrong people in high-octane UK crime drama, Before We Die. The Dublin actor talks sex scenes, Brit Marling, Ulysses, Trinity College and lots more with Stuart Clark.
It's fair to say that talking to people like me isn't usually an actor's favourite job, but Patrick Gibson is beaming when I catch up with him in his Australian hotel room in the middle of the night, which is what 8am in the morning feels like to somebody in my profession.
"I'm quarantining for the third time for a job, so the only people I'm likely to be talking to today are you and room service," he laughs. "I got picked up from the airport in a military bus – it was all very World War Z! – and brought straight to the hotel, which under no circumstances may you leave until your fortnight's up. It's good research for when I'm in a prison movie and means I get to focus on the job ahead and make sure my lines are fully learned!"
The 24-year-old Dubliner comes over all wistful when I tell him I've just got off the DART at Tara Street, strolled down the Liffey and turned right at the Grattan Bridge on to the veritable rock 'n' roll boulevard that is Capel Street.
"Stop it, I'm feeling homesick!" he pleads. "I was at Trinity so that really is my old stomping ground. Although being 'trapped' here is entirely of my own volition, I can't wait to get back and have a pint in my local. I'll finish quarantine in a week's time and then go straight into a fortnight of rehearsals for the film I'm doing here, The Portable Door. All I can tell you is that it's based on a very funny YA novel by an English guy called Tom Holt, which I instantly fell in love with and wanted to be a part of. We're looking at a three month shoot, so I should be home in September."
Described by the Jim Henson Company who are co-producing as "a cross between The Office and Harry Potter", The Portable Door finds Gibson heading up a cast that also includes Christopher Waltz and Guy Pearce and therefore has every chance of being a massive hit.
Advertisement
While discussing The Portable Door in any detail is verboten, Patrick is free to tell all about Baptiste and Shetland director Jan Matthys' razor-sharp reconfiguring of Before We Die, the hit Swedish crime drama about a detective who helps send her drug dealer son to prison where he gets to meet all the wrong people.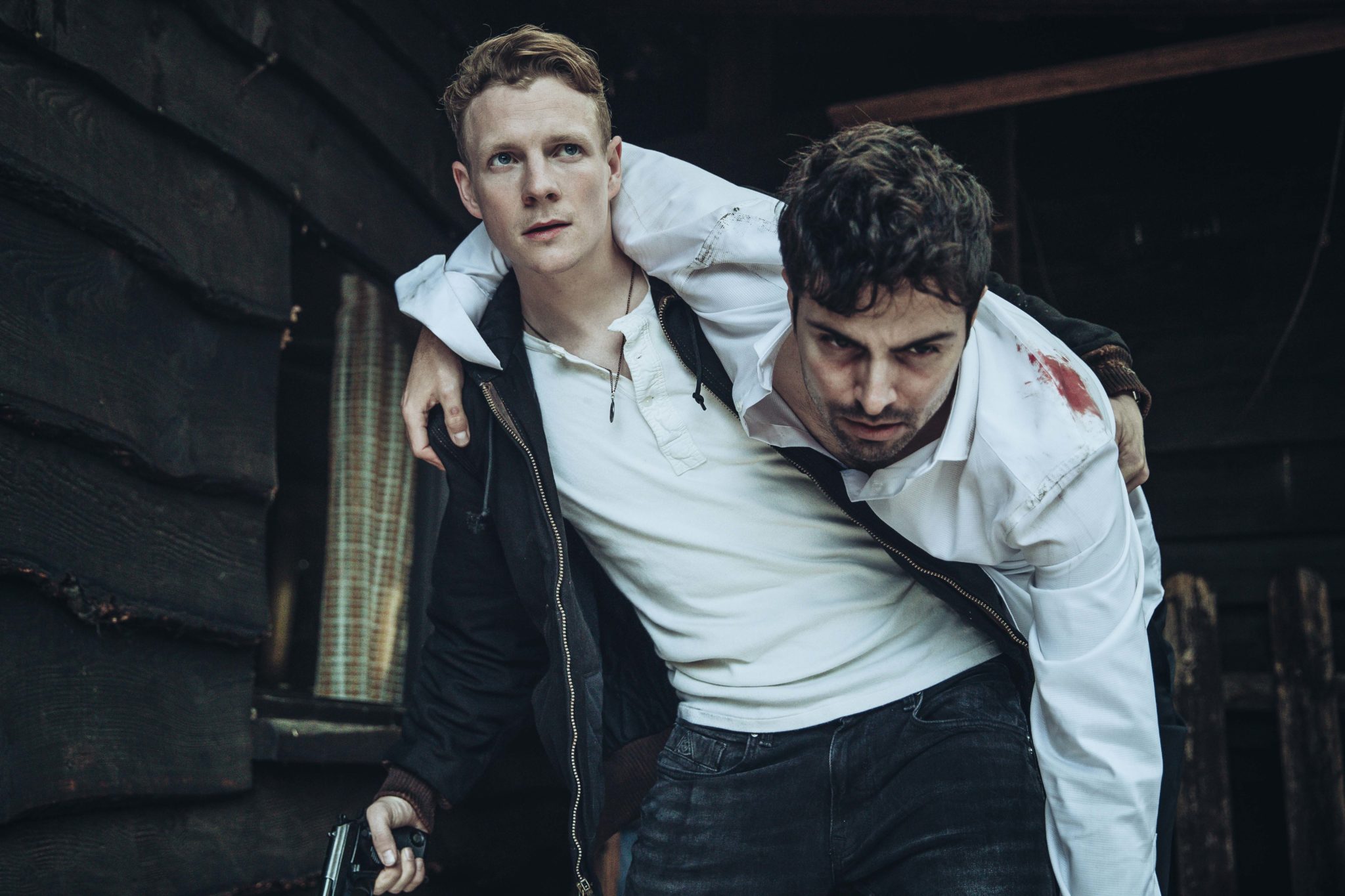 The series was brought to Irish and UK screens by our old pal Walter Iuzzolino who, in addition to curating Channel 4's Walter Presents foreign language TV strand, has also set up his own Eagle Eye production company.
"You've met Walter so you'll know what a force of nature he is," Patrick enthuses. "What got me excited about Before We Die was seeing things like Deutschland 83, which he spotted and cherry picked for Walter Presents, which I'd recommend to anybody even if you're not good with subtitles. An episode or two in and you won't even notice they're there."
As someone who once suffered from chronic subtitleitis, I know this to be true. Having signed up to Before We Die, he must have agonised over whether or not to watch the Swedish original, of which there is now a second Walter Presents season, before shooting.
"The temptation was huge but I managed to resist it, mainly because I'm hugely impressionable and would have turned up on set with a Swedish accent which, given that my character is English, wouldn't have been good," he laughs again. "When towards the end of shooting curiosity did get the better of me and I had a look, they were similar to the point where everyone's going to reckon I just copied this dude. I was like, 'Wow, I thought that was a very original choice I made but apparently not!' Plot-wise, though, there are some significant differences and things that will shock you even if you watched the Swedish Before We Die. What I'd also say is that it's not the average cop drama that you've seen before. It focuses on the emotional relationship between mother and son in a detailed way that feels very cinematic."
Patrick was delighted to get the opportunity to appear alongside Lesley Sharp, an actor whose face is far more familiar than her name.
Advertisement
"She's someone you just learn from by osmosis," he reflects. "Having been in so many hit TV shows – Living The Dream, Paranoid and Three Girls among them – she could have been all, 'Yeah, yeah, I've done this before' but every day on set she was open to new ideas and exploring stuff. We'd go for a coffee on Sunday mornings and talk about how we might approach different scenes, which for someone learning their trade like me was awesome. Lesley has a real generosity of spirit."
Gibson also speaks highly of another of his costars, Issy Knopfler who, yes, does have a headband-sporting guitarist for a father.
"Aw, she's incredible. You'd have thought from her presence and ease on set that she's been doing this for decades, but it was actually her first TV show. Which is impressive but also really annoying because I've spent twelve, thirteen years getting to where she is from day one. You want your costars to be talented, but not too talented!"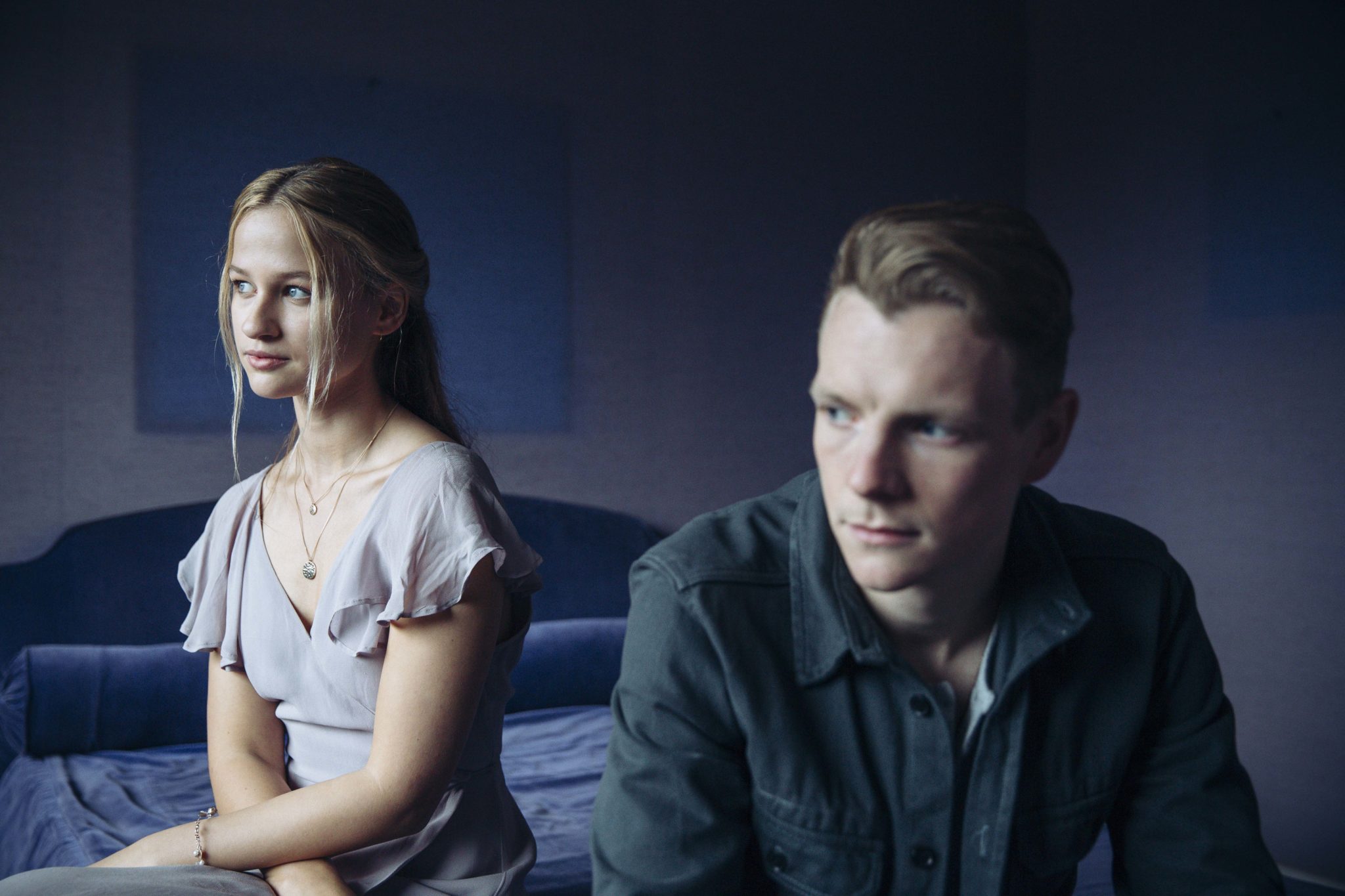 Having made his professional acting bow aged fourteen in The Tudors, Patrick was halfway through a philosophy degree at Trinners when he bagged his breakthrough role as Steve Winchell in the smash hit Netflix mystery drama, The OA.
"It was with a genuinely heavy heart that I left Trinity half-way through my course, but The OA was too good an opportunity to pass up on," he reflects. "Again, being on set with someone like Brit Marling was such an education. I had to remind myself when we were in a scene together that I was supposed to be acting too because her performances were so mesmerising."
Looking at his lengthy IMDB listing, it would seem that Patrick has gone out of his way to avoid being straitjacketed as an actor but, again, apparently not.
Advertisement
"It basically started with me having to take what I could get so there really wasn't a 'masterplan'. The exception is the meth addict I played in my last film who falls in love with a girl and brings her into his highly dysfunctional world, which was a conscious decision to stretch myself. It's an indie movie called Good Girl Jane, which is actually one of the few times I've played somebody who's Irish."
How did he research something like that?
"Man, it was pretty wild. It's autobiographical so the writer/director had mapped a lot of it out. It was so well written that it was down to me understanding the character. When you get to the seed of what made someone behave in pretty atrocious ways it kind of falls into place. But, yeah, it was full-on."
If one were to believe Normal People, all Patrick did while at Trinity was have sex.
"That is all I did at Trinity... I wish!" he roars. "If I was anywhere near as cool and romantic and sexy as that I'd be pleased but unfortunately I could never live up to Paul Mescal. I was still living with my parents who are about 20 minutes from the college, so university was really an extension of my school days."
Was Patrick peeved that, having contributed to What Richard Did's award-winning success with his turn as Jake, Lenny Abrahamson brought the boy Mescal in to have all that onscreen rumpy pumpy?
"For some reason, much more so than in real life, I've ended up doing quite a few sex scenes, which are actually the least sexy things you could imagine," he insists. "It's good now because there are intimacy coordinators to ensure that everybody feels comfortable. For audiences it's 'ooooooooo!' but when you're there on set it ain't sexy."
Advertisement
As consummate an actor as Patrick's become, there is a recent role that almost broke him.
"I did the audio book of Ulysses having zero idea of what I was letting myself in for," he winces. "Jesus, it was mad. I thought it would be a good idea to do it in a day because essentially it's just the one long unpunctuated sentence... but it really wasn't! It went on forever and because I hadn't been breathing properly I took a quick break, went to Tesco and fainted trying to buy a Red Bull."
Had he read the book before and understood it?
"No and no! I ended up having to read it twice because you couldn't wing it. I was doing it at the same time as a play, so I was prepping it inbetween my scenes and then doing a full day's reading before the next performance. An interesting experience but one never to be repeated!"
Before We Die is available now as a Channel4.com box-set. You can also watch two seasons of the Swedish original on its Walter Presents strand.
RELATED