12 INTERVIEWS OF XMAS: Lisa McGee On The Unforgettable Final Season of Derry Girls
As part of our 12 Interviews of Xmas series, we're looking back at some of our unmissable interviews of 2022. With the emotional final season of Derry Girls having aired this year, Stuart Clark got all the latest Our Lady Immaculate College gossip, as he hung out with show creator Lisa McGee in her hometown.
Derry Girls creator Lisa McGee's head is spinning like it's never spun before trying to process all the extraordinary things that have happened to her these past few weeks.
First off, there was the "Is this really happening?" triple-whammy of Lisa nearly falling off the sofa in shock when The Simpsons paid its 'Dairy Girls' tribute to the series; the bestowal of an honorary doctorate on McGee by Ulster University; and receiving the phone call, which confirmed that her beloved Smash Hits was coming back from the dead for one issue just so they can stick Erin, Orla, Michelle, Clare and James on the cover.
On top of that, Lisa is back in her hometown today for the Irish premiere of Derry Girls' third and, sob, final series in the Omniplex down the road from the extremely plush Guildhall where we're currently having a cuppa together.
Advertisement
"Out of everything that's happened, The Simpsons is the one that completely floored me," she reflects. "I read about it on a Simpsons fan page I follow and thought, 'That can't be right. They must be referring to something else.' I just kept staring at it and staring at it and staring at it because I was such a huge fan of the show in the '90s. It was only when their Executive Producer said, 'Yes, it's a Derry Girls reference' that I let myself believe it. Then some of the writers, who I really admire, got in touch with me saying they were fans. I was like, 'How are they even understanding it?'
"Another thing that blew my mind was the Derry Girls mural going up on the side of Badgers Bar on Orchard Street. It's become a full-blown tourist attraction, which is nuts too. Then there's the special edition of Smash Hits, which was the highlight of my week when I was a kid. It's been one surreal moment after another."
The first Smash Hits in sixteen years doesn't disappoint with Granda Joe reviewing the singles (Steps' 'Last Thing On My Mind' gets 2 cream horns out of 5); Sister Michael turning Agony Aunt ("I don't know, don't care and can't be bothered to try and find out," she tells in-need-of-advice Five fan Colleen; and Erin rocking some serious double denim à la B*Witched (the lyrics to 'C'est La Vie' are included).
Sticking with sartorial matters for a moment, Saoirse-Monica Jackson (Erin Quinn) steals the red carpet honours later on at the Omniplex, with a dramatic white number that on close inspection bares Sinéad O'Connor's likeness.
SPOILER ALERT!!!
Advertisement
In a rare case of things not leaking out beforehand on the 'net, the Series Three opener includes a surprise guest turn from Liam Neeson as the Garda Inspector who interviews the girls when they unwittingly get involved with the nocturnal robbing of computers from Our Lady Immaculate College.
They need an adult to be with them because they're minors and come up with the genius idea of nominating Uncle Colm who bores Inspector Neeson into releasing them without charge.
Asked how they managed to keep the Ballymena superstar's participation under wraps, Lisa smiles and says, "It's not a very good code name but we called him 'The Big Fella' for ages. You're so terrified of letting things slip that you're in a state of stress all the time. It's such a relief when it goes out because you're like, 'Thank god, I can talk about it now!
"We were on this call and Liam said that Helen Mirren had introduced him to the show, which was pretty mind-blowing. Our producer Brian Falconer, who'd made a film with him, wormed his way in, went through all the ranks and amazingly made it happen. It was really, really scary working with Liam but he was lovely."
The opening episode also finds the girls stressing over their GCSE exam results, the hope being that they'll be the first in their respective families to go to college. What were Lisa's aspirations when she was their age?
"I wanted to be a playwright or a screenwriter, which was a bit naïve because not a lot of working-class girls had been given those opportunities before," she reflects. "The local people I looked up to were the likes of Brian Friel and Frank McGuinness who write about where they're from so well, but they were men. Thankfully, that's changed a bit now ."
As admiring as she is of Messrs. Friel and McGuinness, Lisa's ultimate Derry hero is John Hume.
Advertisement
"He was just this mythical figure you saw walking around town. Whenever I was feeling a bit sorry for myself, I'd think, 'Look at what he's doing and shut up!' I was working in a polling station and got to hand him his voting card, which was a bit of a moment! He just had that indomitable spirit. Another person I loved was Mo Mowlam: what a personality! Looking back at archive footage you can see how much she cared. We owe them both so much."
THE KIDS GROW UP, BUT ONLY A WEE BIT!
As for the broader Series Three plot, you'll be delighted to hear Lisa describe it as "90% chaos, 10% personal development."
"The kids grow up… but only a wee, wee bit!" she laughs. "They still get into a lot of scrapes like you'll see in those first two episodes. They are faced with something really serious, and it's the first time they don't have the same view. They have to work out what that means for them as a group of friends. They kind of fall out but they're mostly still idiots and not enlightened people by the end of it."
Jamie-Lee O'Donnell (Michelle Mallon) agrees with Lisa's summation.
"The third series is like Series One and Two x 1,000," she enthuses. "We've completely outdone ourselves. Each episode is like a wee mini-movie, there's just so much packed into each one. The girls find themselves in crazy situations they've never been in before.
"I think people love it because it's so relatable. All over the world, if you change the accents, the relationships are still very similar."
Advertisement
Clashing schedules almost lead to Nicola Coughlan (wee Clare Devlin) having to be written out of the series, but thanks to a mad dash from the Bridgerton set to Derry major script surgery was avoided. There's been talk of a blossoming romance between Erin and James, but no intel on whether Ms. D scores her first lesbian kiss.
"It's wild and so lovely to be getting messages on Twitter from young gay teens saying it really meant a lot to them seeing that representation," Nicola told me when Clare originally came out. "I knew from my first audition that Clare was gay, and it was weird because I had no idea the other girls didn't know until they got the script for the sixth episode. It definitely informed my playing of Clare – that's why she was so on edge all of the time."
And, despite being out, proud and loud, remains so.
"Clare's still a nervous wreck," Coughlan nods. "I'd forgotten how exhausting it was to play her because it requires so much pent-up energy. She's taking life seriously, just as she always has. There's a big storyline for her this time that I can't talk about, but Lisa called me a couple of years ago to make sure I was comfortable with it."
LIFE-CHANGING FOR ALL OF US
Advertisement
Despite shooting to stratospheric levels of fame with Bridgerton, it's obvious that Nicola's heart will forever be in (cue Phil Coulter) the town she's got to know so well.
"It was so life-changing for all of us," she notes. "It was a job I got when I was thirty. I didn't know if I was ever going to have a career doing what I love doing, so that's a privilege on its own. The final season really is a love letter to fans of the show. That's why, even after three years, we all fought so hard to get back on set and do this one last time. And I hope we've done them proud."
Asked where she thinks her character will be in ten years' time, Nicola adds: "I feel like Clare probably goes to Queen's University, meets a girlfriend, falls completely in love. The girlfriend writes poetry and smokes, and drinks red wine. Clare still dresses like a giant toddler."
Coughlan isn't the only Derry Girl who's spring-boarded from the Bogside to other meaty roles with Saoirse-Monica Jackson lining up alongside Ezra Miller and Ben Affleck in imminent DC movie The Flash; Jamie-Lee O'Donnell playing one of the prison officers in ITV drama Screws; Louisa Harland (Orla McCool) following up her appearance in The Deceived with a big, soon-to-be-announced project; and David Llewellyn (James Maguire) cast as fired band member Wally Nightingale in Danny Boyle's Pistol bio-series.
"To do comedy well your timing has to be spot on, so I'm not surprised they're now getting these major dramatic roles," Lisa ventures. "It's been amazing recently going into newsagents and seeing Nicola's face on the cover of everything. We were incredibly fortunate to get the five of them. They're all super-talented and will go on to do increasingly big things."
To be a great writer you have to be invested in your characters, but I've never met anyone who's as adoring of theirs as Lisa McGee is.
"The girls are just go, go, go – they never stop to think, which is great because if they did the episode couldn't happen. The family, we've come to realise are just as mad. I love Grandpa Joe and Gerry now: their relationship and the wee adventures they go on are just so funny. The two sisters, Mary and Sarah, are incredible too and always have their own things going on. I was thinking they should run their own detective agency and solve crimes. Perhaps that'll happen one day in the Derry Girls Universe!"
Advertisement
Asked who her favourite Derry girl is later on at the aftershow party by Jamie-Lee O'Donnell, Lisa gives the same surprise answer as she gave me – Jenny Joyce.
"I always describe Jenny as being in a different show like Beverly Hills, 90210 or something. I use American-isms when she talks so it's, 'Folks and guys.' Leah, who plays her, has started giving her a wee bit more of an American twang as well. She thinks that she's the Prom Queen. I love her because she can inject a different energy into the show. It's all very Derry, Derry, Derry and then she comes in and says, 'Howdie, folks!' They all hate her, which injects this tension into the school scenes that otherwise wouldn't be there. Jenny's an absolutely brilliant character to write."
Try as I might, I can't get Lisa to confirm or deny rumours that Fatboy Slim, Dara Ó Briain and that other Derry-est of girls, Bronagh Gallagher, are also lined up for Series Three cameos. If they do, they're likely to join the roll call of characters who you'd swear were in loads of episodes but only featured once or twice.
"Father Ted, which I loved, was great for that," Lisa notes. "Watching it back for the hundredth time I was amazed how little Graham Norton is actually in it because I associate him so strongly with the show. Uncle Colm was a bit like that in Series Two – he's only in a few episodes but made such an impression – and Ms. De Brún is a classic case of a character coming in and stealing the episode. Our Casting Director, Carla Stronge, really is one of the best in the business."
OUT WITH A BANG, NOT A WIMPLE
Advertisement
The ultimate Derry Girls episode-stealer, though, has to be Siobhán McSweeney as the force of ecclesiastical nature that is Sister Michael.
"God, she's got some very funny bits in this series as does Peter Campion, AKA Father Peter who forces a friendship on Sister Michael whose eye-rolling and looking up to heaven reaches new levels," Lisa divulges.
It's all very different in real life with McSweeney saying that, "Any scene with Peter Campion is to be cherished. Just one look at him with his lovely hair! They're my favourite scenes actually, and always have been – although don't tell him that!"
The Great Pottery Throw Down host is equally gushing about her own character.
"Oh, she's wonderful," Siobhán continues. "What I love about Sister Michael is that she has a life outside of being a nun. She has an awareness of the whole world. She's not closeted away and she's not ignorant. You could argue that she's the only one with a proper handle on things. She observes the world with a cynical eye rather than getting too wrapped up in things. She's the sort of a woman I'd really love to go for a pint with."
How did it feel taking her wimple off for the last time?
"Bittersweet, really bittersweet," she admits. "It's changed my life, this experience, in so many ways. I will never not be Sister Michael. If I'm ever spoken about it will be, 'Oh, she was the nun in Derry Girls.' So that has changed my actual bones, my actual identity. I've never worked on anything for such a long period of time, and got to work on a character, and revisit them. That's so rare in our industry, so that was wonderful. Because it did take so long, we were ready to finish. It felt like the right time. If it went on for much longer it was going to be Derry Menopausal Women. And I mean that with love, and with humour. But because everything got delayed for so long, because of Covid, we've all been waiting a long time for the third season, the fans and ourselves, so it felt great to finally get it done."
Advertisement
The Simpsons nod is reflective of how well the series has gone down in the States where it's a college favourite. Indeed, I was speaking to an American student recently who's opted to spend her semester abroad in Ireland because she wants to visit the girls' Derry haunts.
"That's so funny," Lisa laughs. "It's amazing to think that people from countries like America, Mexico and Brazil, where the show is also really popular, are learning about Ireland from Derry Girls. Comedy has the power to do that because it's not sermonising or boring. It's 'We're going to make you laugh and maybe we'll sneak in a wee bit of information as well.' I know myself that if I'm intrigued by a show I'll go away and look things up and do my own research."
Lisa had always planned on Derry Girls ending after the three series with the April 10, 1998 signing of the Good Friday Peace Agreement, which she has bittersweet memories of.
"I didn't vote in the Good Friday Referendum because I was a wee bit too small and still in school, which became a major bone of contention when pupils were being chosen to go to the peace concert in Belfast that Ash, Bono, John Hume and David Trimble were at, and it was all the Jenny Joyces that got picked," she rues. "I'm over it now… no, I'm not! One of my friends who went to a different school got chosen, and hasn't shut up about it since.
"The show's about teenagers, which is quite a brief period in your life and goes like a flash, so I wanted the Derry Girls ending to feel quite final," Lisa concludes. "The Good Friday Agreement is kind of the day this place grew up, which parallels these kids growing up. It felt like the two things wrapped round each other quite well. It's the favourite thing of mine I've ever written, and I hope people like it as much as I do when it comes out."
Advertisement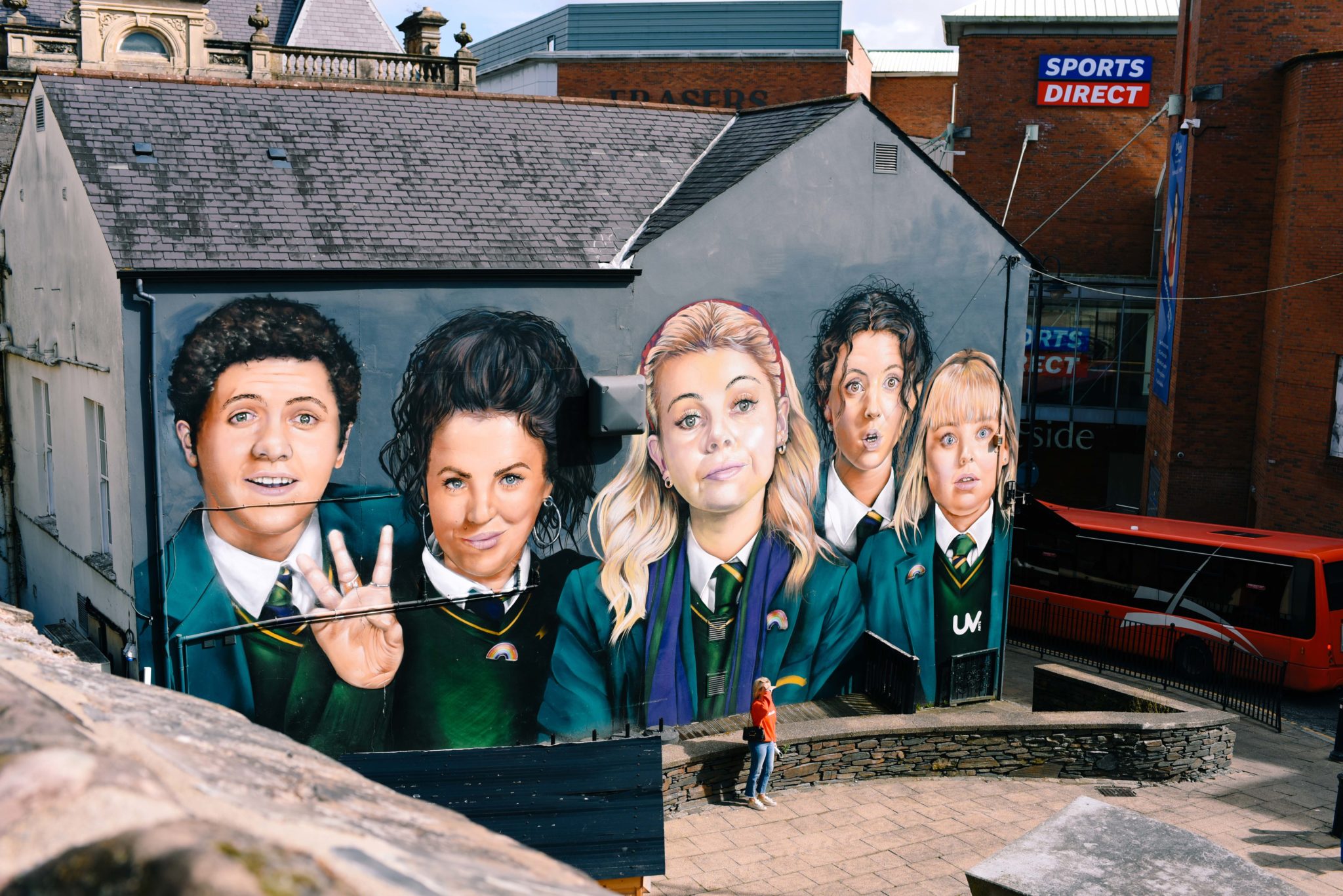 RELATED