U2 fans will be able to enjoy the craic and pay homage to the best band on the planet at the altar of The Church venue in Dublin when tribute acts play there as part of the #WelcomeToTheNorthside event, which is organised every time Bono, The Edge, Larry and Adam gig in town.
The Church will open from next Monday (5 November) with the aptly named "Hangover Quay", a U2 themed bar, which will be open for the week serving special U2 themed cocktails. See below for full details of all events lined up at the venue for next week.
As the U2 eXPERIENCE and iNNOCENCE tour nears its' final few shows a huge number of fans will be heading to Ireland over the next few days to absorb themselves in the city that gave birth to the iconic band from the northside of Dublin.
After a successful run of U2 fan events, many of these fans are starting to now consider #WelcomeToTheNorthside, at the Church Cafe Bar & Restaurant, as their base when visiting Dublin.
The event returns bigger and better for 2018 with a full week of events and a very special road trip. These events will be a key meeting point for fans from all over the world and are delivered in association with the official U2 Fans Tour and the U2 Irish Fan Club.
Advertisement
One of the world's leading U2 tribute band's U2Baby will fly in to Dublin to entertain the fans, and of course those who didn't manage to get ticket to see the real thing. Hailing from the West Side of London, U2Baby have graced stages from Monaco to Bahrain and are the U2 tribute band of choice for the world famous Cavern Club in Liverpool.
Having played the Church for U2's 40th anniversary fan party U2Baby received great praise from former U2 band member Ivan McCormick who said, "I had to do a double-take when I saw these guys take the stage... I was transported back to 1978 and the U2 Dandelion Market gigs."
Even life long friend of the band Guggi, who also attended said, "I thought U2Baby were amazing." He then joked, "I think I prefer them to U2 and it was much easier to get in!"
U2Baby will be joined by Dublin based tribute band Zooropa who are a firm fan favourite. Zooropa are four guys from the Northside of Dublin just like their idols.
They have toured in Ireland and across Europe including sell out shows at the Button Factory in Dublin. Zooropa also cover some rare tracks and B-sides that even U2 themselves have not played live.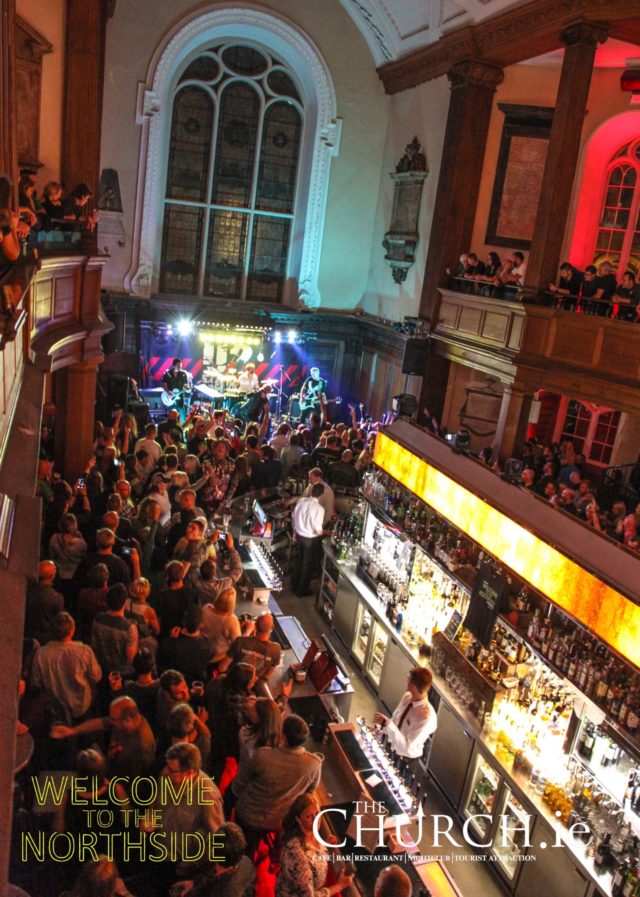 Advertisement
The week of planned events kicks off with a special road-trip to Slane, famous, of course, for U2's residency and recording of the Unforgettable Fire album and of course their later headline shows at Slane Castle that were immortalised on the U2 Go Home DVD. On Nov 4th U2Baby will play an intimate gig at Boyles of Slane.
With return bus trip included and optional tour and meal at Slane Castle it will be a memorable day for those lucky enough to have snapped up tickets for this now sold out event.
Traveling back to Dublin on 5 and 6 November, U2Baby will play pre- and after-show sets at the Church. The afternoon sets (4pm) will be rammed with hits whilst the evenings (11pm) will feature early songs from Boy and War but also will be bang up to date with songs from the most recent U2 album, Songs of Experience.
As one fan put it after U2Baby's Cavern Club gigs, "You're gonna get what you got from U2 30 years ago, the rawness... I'd pay £30, no I'd pay £40 to see this band...". However don't worry, entry for gigs at the Church is always free. Arrive early to guarantee your spot.
Mid-week, and between the U2 gigs, you can take a rest and enter the "Big Screen U2 Quiz" on the 7th. Teams of fans will compete to prove who has the ultimate knowledge of U2 and their 40+ years of history. The quiz requires tickets - see their Facebook events page for details.
On Thursday 8th DJ Eamonn Jabbawookie Barrett will host a fan meet up at the "Hangover Quay" themed bar playing an incredible array of U2 songs.
As U2 return to the stage at the 3Arena on 9th and 10th November, the incredible Dublin based Zooropa will pick up the baton to finish the week in style. A highly respected tribute they will play after-show sets at the Church on both nights.
Advertisement
"We're incredibly honoured to be chosen to support these events", said Ric Peace the singer from U2Baby. "I know both U2Baby and Zooropa are committed to delivering the most authentic experience possible outside of a real U2 gig."
THE SCHEDULE OF EVENTS:
EVENT: #WelcomeToTheNorthside
WHAT IS IT? This is Ireland's Biggest U2 Fan Meet
• 4th Nov - U2Baby at Boyles Of Slane plus Castle (SOLD OUT)
• 5th Nov - Join us at "Hangover Quay" the U2 themed Bar
• 5th Nov - Pre / After Show with U2Baby LIVE
• 6th Nov - Pre / After Show with U2Baby LIVE
• 7th Nov - The Big Screen U2 Quiz**
• 8th Nov - DJ Eamonn Jabbawookie Barrett U2 Fan Meet
• 9th Nov - After Show with Zooropa LIVE
• 10th Nov - After Show with Zooropa LIVE
Hangover Quay - U2 Themed Bar open all week with U2 Cocktails
Note: it is free entry to all of the LIVE tribute gigs
**Tickets required for U2 Quiz see events page for details