Steve Garrigan: "I've had fans tell me that a Kodaline song has helped them through a difficult time. It's amazing to experience that"
Kodaline frontman Steve Garrigan discusses the band's new live album Our Roots Run Deep, his approach to mental health, the acts who currently excite him – and why it means everything that the band's songs have been accepted into people's hearts – and lives...
Steve Garrigan must never sit still. After releasing his deeply personal autobiography, High Hopes: Making Music, Losing My Way, Learning To Live, last October, which discussed his struggles with anxiety and depression, the singer and his Kodaline bandmates are back with a new 17-track acoustic live album, Our Roots Run Deep.
Recorded last March in the Dublin 3Olympia, the LP was produced with pristine clarity by Phillip Magee and features a cross-section of the group's most treasured tunes plus three gripping covers. For Steve, bassist Jason Boland, guitarist Mark Prendergast and drummer Vinny May it signalled a deep sense of renewal. Navigating intense lockdowns, their friendship, brotherhood and love of music never wavered.
"This album is something we've wanted to do for a very long-time, it's also something entirely new to us," the band have said of the project. "It's a stripped-down acoustic show with no click, which basically means, it's very raw and unfiltered. We wanted to try and capture the energy and atmosphere of the night. It was an intimate show recorded in one of our favourite venues in the world, in Dublin city at home in Ireland. We hope you enjoy it as much as we enjoyed playing it."
Safe to say the crowd were thrilled by what Kodaline delivered. The set's highlights include the opener 'Wherever You Are', the lead track from their latest LP, 2020's One Day At A Time; 'High Hopes,' the lead single from the band's debut album In A Perfect World; and 'Brother,' a moving cut from their third studio album, Politics Of Living.
Advertisement
How does Steve prepare for a recorded gig, given the added pressure?
"That's a really good question!" he smiles. "I just prepare the same way as always. We like to do our own kind of thing in the band. My routine is trying to chill out and warm up my voice – feeling relaxed is the main thing. If I worried too much about the fact that the show is being turned into a live album, I'd probably mess up! I just try to be as calm as possible."
Given his candour about experiencing anxiety, were there any shows where nerves took over?
"I've had some iffy moments, but I've always gone on stage in the end," Steve replies. "There was one show a couple of years back. We had just flown back from Japan after doing a festival there. We went straight to Brighton for The Great Escape festival, and I turned to my tour manager and said, 'I actually can't do this'. It felt physically impossible, but I got through it.
"It turned out to be one of the best vocal performances I delivered in a very long time. It's weird what adrenaline can do. It can be a positive thing. I usually get good nerves before every show. Kodaline have been playing together for 17 years now, which is crazy. Myself, Vinny and Mark have jammed since we were teenagers, so that's why there's never totally debilitating nervousness before the gigs."
CROWD PARTICIPATION
Advertisement
Garrigan's openness regarding anxiety and depression has helped countless people in Ireland and beyond. Writing his autobiography last year with Neil Fetherstonhaugh, Steve hoped to offer some insight into the struggles that he has been through. He remains a keen observer of Ireland's treatment of mental health.
"It'd be great to see the government investing more into mental health services. The waiting lists and cost for the average person to seek care are just not good enough," he says, emphatically. "The demand for services far outweighs the supply. It's great to see people talking about it and to see schools teaching kids about the importance of self-care and mental illness from a young age. Being more outspoken and knowledgeable about these issues should help reduce the stigma."
Frontman Garrigan can still remember his first encounter with Mark Prendergast, fellow Kodaline member – who he sees as a rock solid force in his life.
"Myself and Mark met through skateboarding," Steve grins. "He knew I was a musician and singer, and I remember he could do a nose manual for ages. That reference makes no sense if you don't understand skateboarding (laughs). But that was my first impressio – that his trick was pretty cool. But Vinny was just known as a great drummer and he was in a lot of bands. He was way ahead of his age."
Almost two decades later, the quartet are an international success story, known for the soaring, sing-along pop-rock anthems and lush, yearning ballads that have topped radio and streaming charts around the globe. For their two-night intimate performances, the Dublin-based outfit utilised largely acoustic instruments, with cellist David Doyle and keyboardist/vocalist David Prendergast adding layers of texture and depth.
Kodaline's brooding turn on Michael Jackson's 'Billie Jean'; a largely a cappella rendition of Sam Cooke's soul classic 'Bring It On Home To Me'; and a snippet of the legendary 'Dirty Old Town' - popularised by The Dubliners and The Pogues - made up an eclectic trifecta of covers.
Advertisement
"Each song is a track that we had put our own spin on over the years," Steve notes. "'Billie Jean' was decided when we had to do a Top 20 cover from the past for BBC Radio Two. We hadn't chosen a song, but there was a piano in the lobby. I just sat down and that song came to mind, so I started singing it and the lads harmonised. It's one of the best songs ever written.
"Sam Cooke was similar. We were asked to do a cover and the top played song on my iTunes at the time was Sam Cooke's 'Bring It On Home To Me'. I'm a huge fan - we created our own version of it and haven't stopped playing it since. 'Dirty Old Town' is just a beautiful song."
What's his favourite track from the album?
"Probably 'Love Will Set You Free'," Steve considers. "It's a song from our second album that isn't very well known. I'm so happy with how it turned out. Our Roots Run Deep is something I'm really proud of. I hope people can feel like they're part of the show when they listen to it, because that's the core of why it was made."
How did Steve find the crowd participation?
"They were singing along massively," he reflects. "It was recorded over two nights, but we had to press 'pause' during the second one because there was a wedding proposal that went a bit wrong. I still don't know if she said yes or no! I didn't have a clue what to say. Luckily, one of our camera guys stepped in and said, 'We're gonna have to stop and start again'. Ultimately, we ended up using the recording from the first night for Our Roots Run Deep.
"The proposal was incredibly awkward. Apart from that, it flowed really well. Because it took place straight after the Covid lockdowns, people were dying to get to a gig or be in a room full of people again. That yearning was captured too, so it felt like a great show."
What about Steve's own gig-going of late?
Advertisement
"I actually haven't been to gigs since venues opened up again," he notes. "I've just been in the studio working on music. I was supposed to go to Arcade Fire, but I didn't go."
WEDDINGS OR FUNERALS
Our conversation took place the week allegations about Arcade Fire frontman Win Butler became public. Speaking to Pitchfork, three women claimed to have had sexual interactions with Butler that they came to feel were inappropriate. All three were devoted Arcade Fire fans between the ages of 18 and 23 at the start of their interactions with Butler, which took place during overlapping periods from 2016 to 2020, when he was between 36 and 39.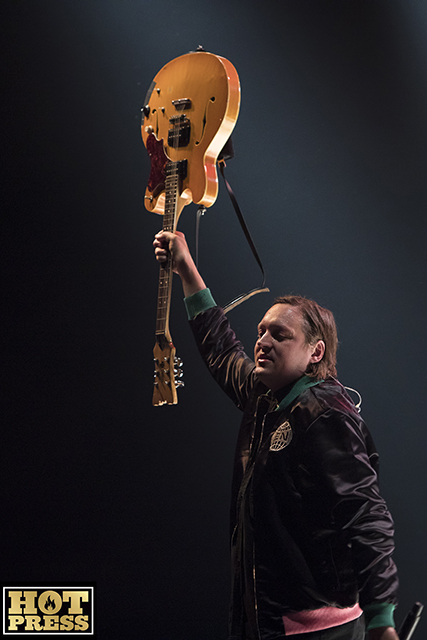 A fourth person, who is gender-fluid and uses they/them pronouns, claimed that Butler sexually assaulted them twice in 2015, when they were 21. What was Steve's reaction to hearing the claims?
"I only read about that this morning. It's pretty shocking," he responds. "It's a tough one. I love Arcade Fire - I'm a massive fan. If that is the case about the misconduct, it's hard to take the music and forget the artists, you know? It would ruin it for me."
Does Garrigan think the industry has changed a lot since the #MeToo movement began?
Advertisement
"I'd like to think so in terms of festivals and gigs," he nods. "At the same time, I've been touring with the guys and the same people since we were kids. When we tour, we're just in our own bubble so I know our crew is great. We're as nice as we can be. It's amazing to see a lot of female artists coming up in Ireland - there's more now than ever before. I love Roe in particular, she supported Kodaline a few times. She's from Derry. I know they're on a break now, but Wyvern Lingo are awesome. Their harmonies are incredibly cool.
"I have my favourite bands that I go back to all the time," Steve notes. "There hasn't been a new act that I've obsessed over for a while, but that's probably just me holding onto the music I grew up with. We were a band that started in school, so I like that trait in others. That's what U2 did. We're friendly with The Scratch – they're just friends making music together, and it's great craic.
"The Mary Wallopers' song 'Cod Liver Oil' is so quirky. They seem like a fun, authentic, cool group. Whatever comes out as a sound, it's kind of irrelevant once you're bonding while making music. That's what it's all about. There are a lot of manufactured bands out there, but honestly I'm not really into that. Then again, if the music's great, the music's great."
Having formed as 21 Demands in 2011 before renaming the band in 2012, Kodaline have built up a loyal fanbase, who frequently reveal hugely personal connections to key tracks like 'High Hopes' and 'All I Want'.
"We get a lot of messages from fans who have used our songs for weddings or funerals," says Steve. "The fact that our songs are sometimes used to remember somebody or to mark a really important moment in people's lives is incredible. To think that you've written a track, that people relate to in that way, shows the power of music.
Advertisement
"I've had fans come up and say that a Kodaline song has helped them through a very tough time in their lives. I love to hear that, especially when it's a song I would have written about a difficult time I was going through. It makes me feel like the tunes are doing some good in the world. To be able to experience that is amazing."
• Our Roots Run Deep is out now via Fantasy Records. Kodaline are touring Europe in October and November.
For more interviews, check out the new issue of Hot Press, starring The Coronas.