shame: "The band would've continued touring and reached extreme burnout if not for Covid"
"It's such a weird thing being in a band. It's so high octane and balls to the wall and then it'll just stop out of nowhere," shame's Seán Coyle-Smith tells Hot Press ahead of their two Button Factory, Dublin shows next week.
Sitting in a sun-soaked room, Seán tries his phone one more time. "Come on, Charlie," he says, setting his phone down on the desk in front of him. "He'll probably call back in 15 minutes."
Guitarist Seán Coyle-Smith eventually gives up on his efforts to track down shame frontman Charlie Steen with a resounding, "He's probably at yoga or something."
He draws on a vape fixed in his hand. The pair have been best friends since their childhood years, but their connection follows the same tight-knit trajectory the rest of the band have emulated, having all been close since they were teens.
Now, navigating through their twenties, Dead Ocean label signees shame are back with third studio album Food For Worms, which is yet another reinvention for the band who can't seem to stop evolving. The group first burst onto the post-punk scene in 2016, with songs like, 'Gold Hole' and 'The Lick' before dropping their debut, Song of Praise in 2018. Since then, the rockers have gone from strength to strength; touring, gigging, recording and performing, which hasn't always been without its fair share of speed bumps along the way.
Advertisement
But now, two years on from their sophomore release, Drunk Tank Pink, the band are about to embark on their biggest ever headline tour, which sees them take their new sound around the UK, Europe and US.
"It's going to be so nice doing a UK tour with an album just out," Seán says, enthusiastically. "Obviously we haven't done that since the first record, so yeah, I'm super excited."
The European leg of their tour sees the boys stop off at Dublin's The Button Factory, on February 28th and March 1st, after their initial date sold out.
"I was really happy we added the second night, because we just get to spend longer there. An extra couple days in Dublin? It's gonna be great," Seán says on revisiting the Irish capital.
"Hopefully the second one sells out [it did]. We've been looking to do an island tour at some point, a run of like six shows. I'd like to go back to Galway," he says of the prospective tour. "I know anyone who's done it has loved it. There's a specific run of venues everyone loves. I mean, it's not going to be the craziest money-making tour ever, but we'd all love to do it purely for the fun really."
The last time shame performed in Ireland was in 2018,  where they were accompanied by fellow so-called post-punk outfits, The Murder Capital and Fontaines D.C. Of course, the trifecta of bands all have sounds that merge and diverge as each new album is subsequently released, with Gigi's Recovery sounding nothing like Food for Worms.
Advertisement
"The last gig was in the Tivoli, and I remember when we were there, seeing the theatre room upstairs and thinking, 'Man I'd love to play here as well one day'," Coyle-Smith smiles.
"Obviously we had the Fontaines and Murder Capital supporting, which is crazy to think now. That was great, it's a pity that venue isn't around anymore 'cause that place was wicked," he grins. "We've always had a great time playing in Ireland."
With a name like his, it's not difficult to connect the Irish ties to the young guitarist. With most of his maternal family still based here, Coyle-Smith anticipates a packed show.
"I haven't seen my family over there in years. I haven't seen my godson, so the guest list will be in high demand that night I imagine," he laughs. "Pretty much just my mum is in the UK so they're all in Dublin; I actually nearly moved there when I was about 12," he says. "God knows how different my life would have been."
Were it not for a different turn of events, it's not hard to imagine Seán landing amongst the Murder Capital or Fontaines boys, but it hasn't stopped the instrumentalist from drawing on those  peers as influences.
"I think that's the great thing about this," he begins. "Your influences can change so much and there's a constant stream of people putting out these amazing albums. Every time it happens you're like, 'Oh wow this is amazing', especially that last Fontaines record. It was really, really good."
Advertisement
Advertisement
The album's title was inspired by Coyle-Smith himself, who stumbled upon the phrase in passing, bringing the idea to the band.
Advertisement
"I can't exactly remember where I read the term, it might've even been in Game of Thrones or I was reading one of those old World War Two diary books."
"Immediately I liked it, there was something so morbid about it. After everything that's happened in the past few years I just feel like it seemed the perfect title, it seemed like such a good phrase."
Obviously, for some people it's going to come across as quite morbid and depressing," he chuckles slightly before continuing, "but I kind of like the idea that you'll be buried and in the soil, decomposing and things will grow from it. I find something interesting about that."
"Ever since I've started thinking about it in that way, I've had less anxiety about that and getting older, I've kind of become almost impassive to it in recent times. I suggested it to everyone and everyone seemed to like it. We spoke to Marcel, who did the cover art and it all just kind of came together."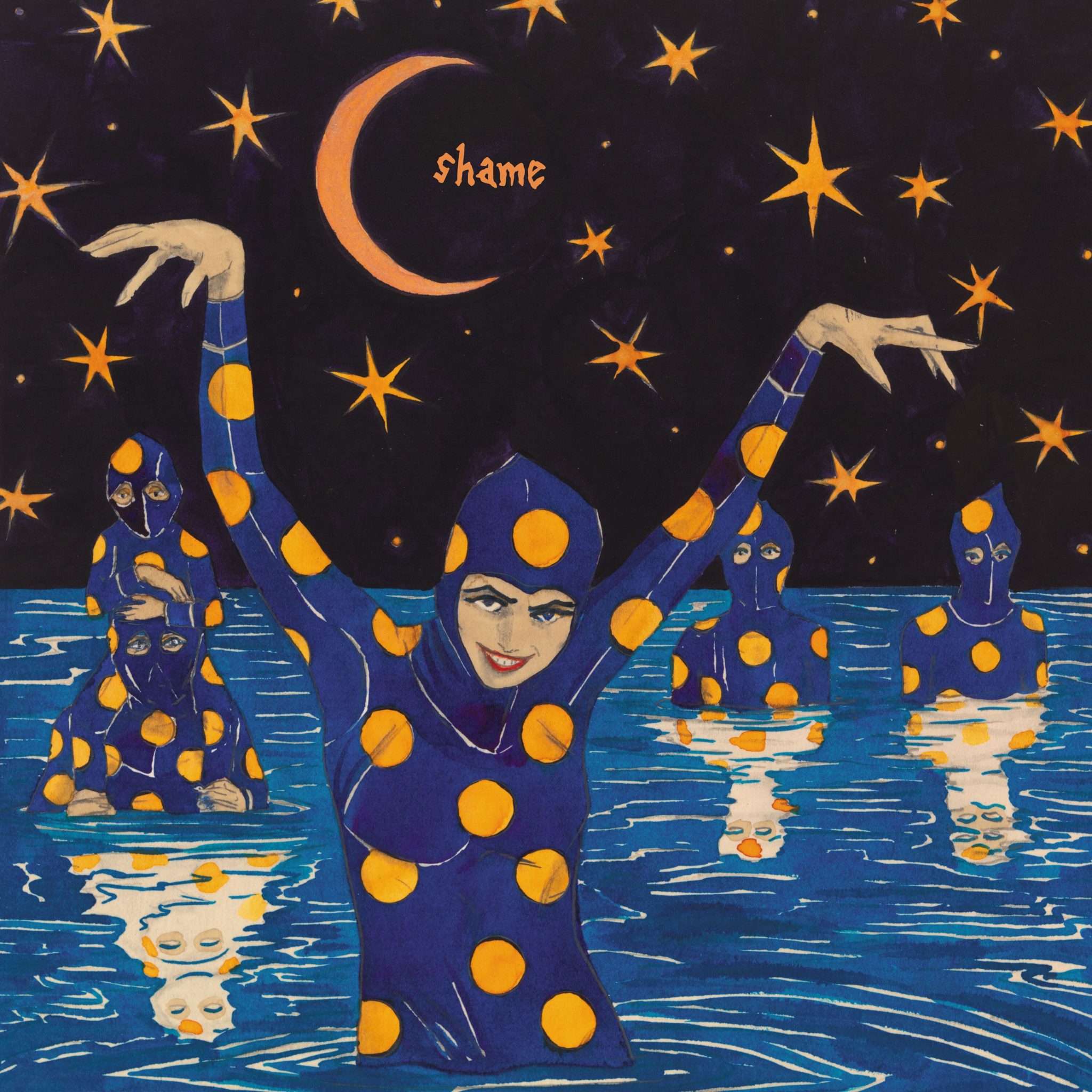 Advertisement
Advertisement
Marcel Dzama designed the stunning cover art for the upcoming release. An esteemed creative in his own right, Dzama's artwork arguably completes Food for Worms and marks the first artwork album cover for shame. "I love it, it's absolutely amazing," the guitarist heaps praise on the artist.
"We really wanted artwork for an album cover for such a long time," Seán explains. "Photos are amazing but having an actual piece of art is another thing, and Marcel is incredible and he sent us a bunch of sketches that he did after we sent him the demos for the record. We went with that one and then he put colour to it. It was the easiest process ever."
Surprisingly, artwork has been a previous source of stress for shame, often cutting it down to the last minute to pick the perfect piece which best encapsulates their work.
"In previous times, the album artwork process has been the most stressful thing about doing the album. I remember the one for Songs of Praise, our manager Bertie did it two hours before the deadline on the night before and we were all there just sitting in his apartment. A similar thing happened on the second album as well where you're at a point where you're like, 'We have two days and we have nothing'," he chuckles.
Advertisement
"Thankfully, we found something good but this time it was effortless. He did the back cover as well, which I love. All the writing is his handwriting. We got him to do the track listing too!"
The upcoming album has been a musical reinvention of sorts for the band, which, in their own words sees the band, "not delving inwards, but seeking to capture the world around them. The band are not new to evolution, but Seán confirms whether the nature of the shift was intentional.
"I think it came quite naturally. Obviously the last album is quite post punk and almost Talking Heads influence. Because there's so much of that at the moment, we got a bit bored, and we were in this kind of rut...with writing," he explains. "Not that nothing was happening, but we weren't finishing songs."
"Then we had this really quick flurry of writing," he continues. "There was a lot more of that '90s alternative music. I was listening to a lot of Jeff Buckley, which influenced my guitar playing a lot."
"I think we were keen to not do another new wave post-punk album. That's something we maybe got a bit too obsessed with on the second record," he admits. "It happened so quickly we didn't think about the sound; we suddenly just had this batch of songs."
"There was definitely an effort to not over complicate things, and focus on simple instrumentals to allow the vocals to have space so they're not just slapped on top. I'm really happy with how it turned out," he says smiling before adding, "It's got some of Steen's best performances on it."
Food for Worms wasn't an easy feat to create, with the band having recorded it through a long summer stint of performing at festivals.
Advertisement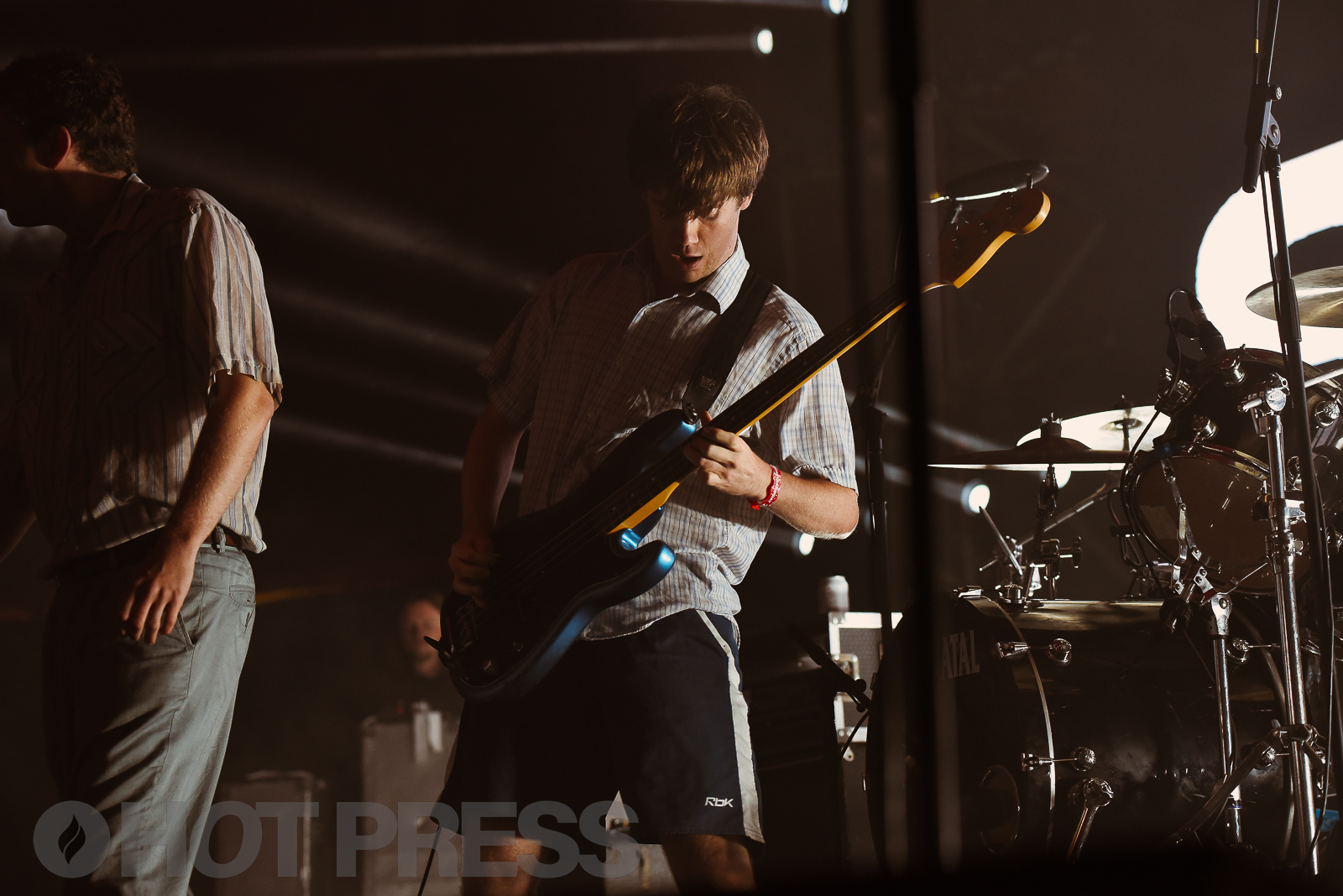 "It was a lot," he states. "Usually we were recording mid-week, and then away at the weekends. You get to a point in the recording process where you're not sleeping that much, and you're working like 14 hours a day. It's this zone where you tend to lose grip on reality slightly."
Despite the challenges, "it was good," Sean admits. "The weather was fucking amazing, we were recording all week, and then we were doing really fun shows."
Food for Worms is the band's first live recorded album, but the summer-long creative process didn't come without its pressures.
"It's definitely more tiring," he ponders. "The other way, everyone gets to focus on themselves a little bit more, which I'm not sure is entirely a good thing either. It's a difficult one. I have to say, doing the album live has made me feel like, 'God I don't want to do that again'. At the same time, I love how it turned out. Doing it again, we'd probably be better."
Seán's trepidation is not unwarranted, given it's not the band's first brush with burnout. 2018 saw shame's frontman Charlie Steen experience a tour-ending series of panic attacks.
"We were definitely conscious of that," Coyle-Smith nods. "There was a certain point where our producer Flood, who was amazing, was a sort of de facto manager while we were doing the sessions."
Advertisement
"He'd be on the phone to the label and be like, 'We need more time, this is crazy', and then he'd get us an extra two weeks."
"Festival season last summer was crazy because of the whole airport debacle," he shakes his head. "I remember after we did All Together Now, we got back to our hotel…and we had to be in the lobby at 2.30 to go back to the airport. We got there and there was a queue going around the terminal- and in the rain, and having to be back at the studio the next day. It was just absolutely mental."
The new album, which sees shame enter a new dimension of what is left unsaid, and what lies beneath the surface, in a society where both everything and nothing is possible, Seán speaks about the post-lockdown freedom that lent a hand in inspiring it.
"The second album was - lyrically for Steen - the combination of non-stop touring. That made him very much retreat into himself a little bit, and that's what he ended up writing about."
"But this time, Charlie Steen is a man who loves the pub," Seán says, smiling. "Going out and seeing friends is one of the most important things for him," the guitarist explains, "When Covid happened, I've never known a man to be more excited for the pubs to open than Charlie Steen. He's like an old man! That ended up affecting his lyrics because he wanted to write about his friends."
It's no surprise that Food for Worms, has been dubbed as an "ode to friendship" with the band having began their musical journey in their teens.
"We were in Athens and one of our Irish friends was talking to him about how there's not many songs about that subject, which is interesting. It's such an important part of everyone's lives. And of course we have such a complex friendship as well and it's a strange age being in your mid-twenties. It's a rollercoaster."
Advertisement
Seán experience of friendships in his twenties, like most of us, have guided him through the worst of times.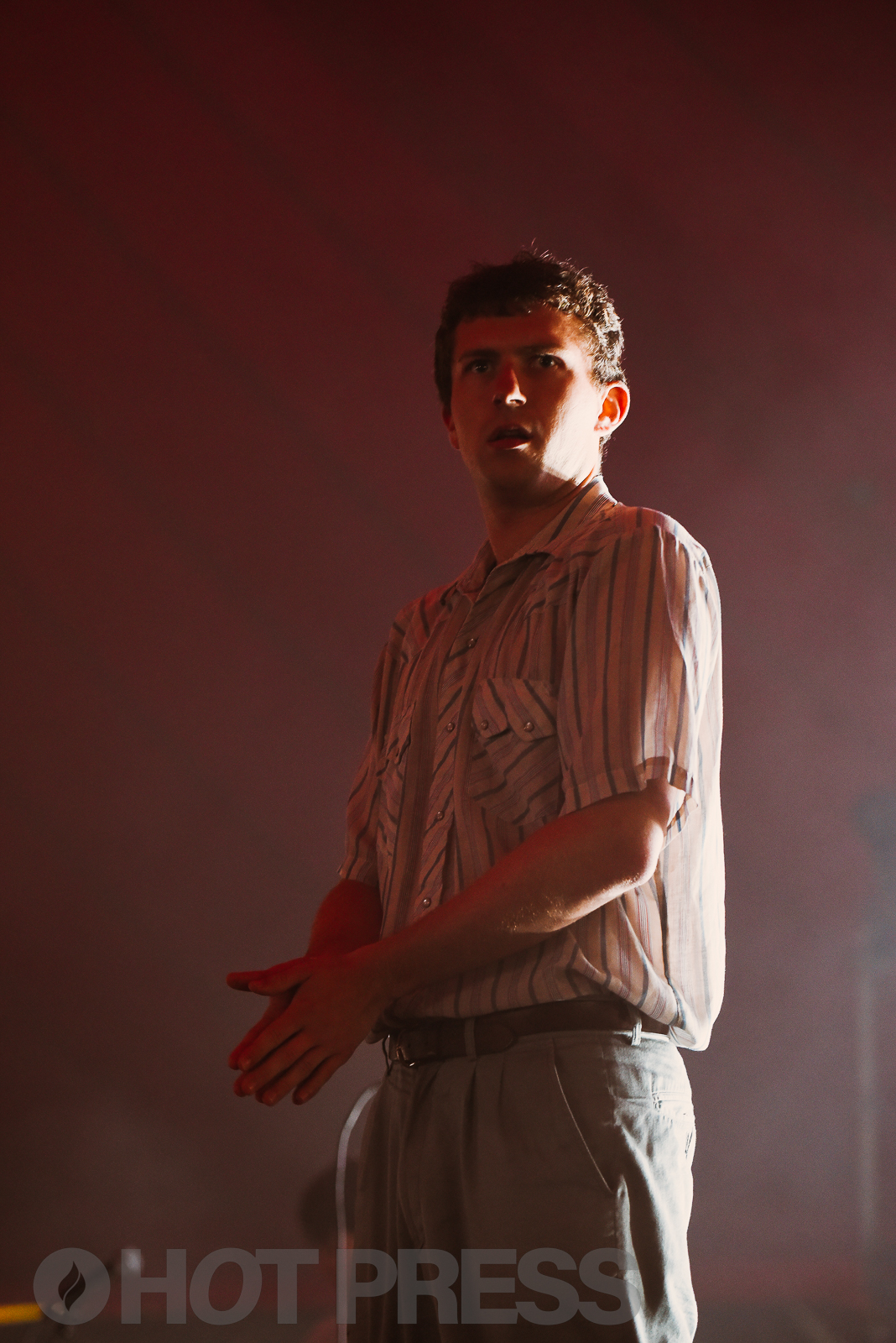 "We've all had our tough moments, especially with mental health problems. That's been the main thing," he concedes. "I know Charlie got burnt out a couple of times on tour and he was having these horrific panic attacks, and I've had my fair share as well."
"I had a really bad time just post-Covid, and I wrote 'Orchid' when I was in the worst of it. Your friends become so important in that situation. I wouldn't be here if it weren't for a lot of them. For a lot of people with Covid, they needed the break. I don't know if we'd be where we are with this album if it hadn't happened," he draws from his vape as he pauses for a moment.
"We would've continued touring and gotten to a point where we were pretty burnt out again. It was definitely a necessary stop."
"It's such a weird thing being in a band," he sighs. "It's so high octane and balls to the wall and then it'll just stop out of nowhere and you don't have a normal job to keep you busy. You're sleeping schedule's messed up and it's weird being at home after all of that, because you've just spent nine months living in hotels and meeting new people every night. Then you're just at home and end up getting super existential. What am I doing with my life? What am I going to be doing in ten years?" he laughs.
Delving into some of the record's upcoming tracks, Sean admits the recording wasn't easy, given the intimate nature of the songs' subjects.
Advertisement
"Recording it was tough,' he begins. "Sometimes with music, you can reach a moment where you put so much of what you going through in that moment into it, and you don't realise what something is about until eight months later," he chuckles, "and then it hits you."
"And that can be quite - not traumatic..." he says, a cloud of smoke dissipates from in front of his face as he puts the vape down, "But it releases those feelings a little bit."
"It can be nice, because you can put it out there and the song can become someone else's. That's what's so powerful about music. You can pour your emotions into something and then fling it off into the world for other people to listen to, but it is a weird experience."
"I like to hear about other people's interpretation of shame's music, not only lyrically but sonically and how it makes them feel. There were definitely a couple of teary moments when this album was being recorded."
Advertisement
Advertisement
Seán and Charlie's relationship goes right back to childhood, where the two have been self-proclaimed best friends since the age of eight. In an ode to his own friendship with Steen, Seán speaks of his long time relationship with the band's frontman.
"He's a very stubborn man," he begins hesitantly, with a smile. "He can be belligerent at times," he laughs. "He's intensely a very passionate person. He's also kind of a hopeless romantic," he continues. "He makes me laugh, I don't know anyone else like him. He truly is one of a kind, and he's not what people expect, which I think is a common thing for frontmen."
"They're never like what people think they are. I mean Steen live has this personality… but he's so different from that, and sharing a hotel room with him everyday, you'll wake up to the sounds of him doing yoga, making these weird grunting noises while he's doing it," he chuckles recalling the image. "He's hilarious - he's a funny man."
shame have become known for their exhilarating live performances. Seán clearly admires his friend's ability to conquer insecurities through the medium of performing.
Advertisement
"Well Charlie as I first knew him as a young teenager was slightly overweight at one point, and I think that carried over into the start of the band. That was the start of a 'fuck you' to his insecurities. 'I'm gonna take my shirt off because I'm insecure about my body weight, and this is my way of not being insecure about it anymore' - that that sums him up as a person.
"I think most people wouldn't be able to get up on stage and take their shirt off and blow that shit out of the water," he grins, shaking his head.
Food for Worms is out February 24th.
Listen to 'Fingers of Steel' below, and catch their Button Factory shows on February 28th and March 1st.
RELATED