Shakin' Stevens: "The Rolling Stones were a lovely bunch – very chatty and welcoming. Their fans liked us"
Not content to rest on his '80s hitmaking laurels – he was on Top Of The Pops fifty-six times! – Shakin' Stevens has conjured up Re-Set, a deeply personal album that finds the 75-year-young singer refusing to play by the rules. Elvis, Johnny Cash, the Stones, Little Richard and Status Quo are all discussed as he meets Stuart Clark.
If you've heard a song that sounds like Johnny Cash jamming with The Traveling Wilburys and Depeche Mode on RTÉ Radio 1 recently but didn't catch the title, chances are it's Shakin' Stevens' remarkable new 'All You Need Is Greed' single, which is culled from his equally remarkable new Re-Set album.
"Those Johnny Cash American Recordings albums were unbelievable," enthuses Shaky, whose admiration for the Man In Black dates back to the 1950s. "As he got older, the songs he chose to sing had to have a deep personal resonance – which is how I attacked things on Re-Set.
"The album is a reflection on the times and the way we live our lives," he continues. "It was prolonged by the dreaded Covid but myself, John David and (his manager and partner) Sue Davis eventually got to bang our heads together in the studio and came up with most of what you hear on the record."
Advertisement
John David being his long-term friend and collaborator who's also worked with Mark Knopfler, Robert Plant and Status Quo, more of whom anon.
Shaky's twenty-first studio album gets off to the most poignant of starts with 'George', a stripped down piano ballad that bares scant resemblance to the likes of 'This Ole House', 'Oh Julie' and 'Green Door'.
"You can almost hear me breaking down during the track – that's where the rasp comes from – because it's about a family member," he reveals. "The common wisdom is that you kick an album off with an upbeat song, but I was like, 'No, I'm not imposing any rules on myself with this record.'"
You can also hear the raw emotion in Shaky's voice on 'May', a song dedicated to his mother who sounds like she was quite the character.
"She was," he nods. "She came from a large family and had eleven children herself – me being the baby. She had a very, very, very hard time which I only found out about fully afterwards. You'd be told to take the dog out, which is when the adults did their talking. It knocked me for six when she passed away in the '80s."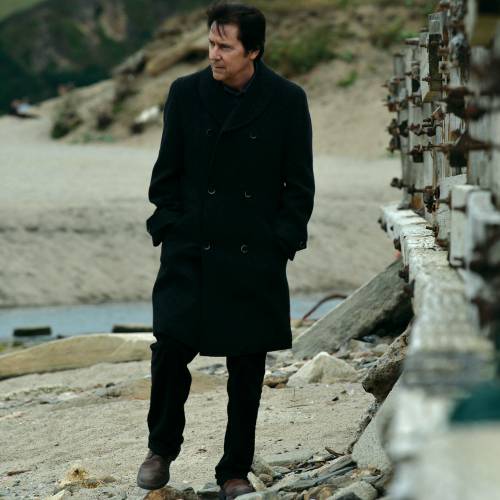 It's often forgotten that before embarking on his remarkable run of thirty-three UK top 40 singles, the Welsh Artist Also Known As Michael Barratt was a serious spit 'n' sawdust rock 'n' roller who, with his band The Sunsets, was handpicked by The Rolling Stones to support them.
Advertisement
"That was terrific!" Shaky enthuses. "It was in 1969 at the Saville Theatre in London. When we arrived at the venue, the Stones were rehearsing and playing 'High School Confidential' and other rock 'n' roll stuff, possibly in our honour. They'd sent somebody down to a university show we were doing in Wales to check us out and he went back to the Stones and their manager and said, 'Yep, great.' So we got the gig.
"The Stones were a lovely bunch – very chatty and welcoming and we went down well with their fans."
Having played him in London's West End back in the '70s, Stevens was eager to see Baz Luhrman's Elvis.
"I was the lead in Elvis The Musical from November 1977 to April '79 with packed audiences throughout," he recalls. "What the film highlighted – apart from Elvis' talent – was how badly he was managed by Tom Parker who treated him like one of his dancing chickens. That Elvis never got to perform in other countries was sacrilege, I thought."
The next rock 'n' roll-inclined film Shaky wants to catch is the tasty looking Little Richard: I Am Everything documentary, which includes Tom Jones, Nona Hendryx, Paul McCartney, Nile Rodgers, Pat Boone and John Waters among its celebrants.
Advertisement
"What a singer," he enthuses. "You look at those early Little Richard performances – the big pompadour hair, the voice, the jumping on the piano, his band with the amazing tenor sax… it was just phenomenal and, given how conservative America was in the 1950s, brave too. Radio didn't like playing black artists, so you had Pat Boone covering 'Tutti Frutti' and 'Long Tall Sally', which wasn't the same as Little Richard doing them! One of the few people who could hold a candle to him live, who I was lucky enough to see, was Fats Domino. I don't know how he did it but he used to stand at this grand piano and push it across the stage.
"Another early rock 'n' roller I loved was Chuck Berry who walked into our dressing-room once at a venue thinking it was the gents: 'I'm looking for the loo, where is it, where is it?' To turn round and see Chuck standing there was very surreal!"
It's almost impossible to watch a re-run of Top Of The Pops that doesn't have Shaky on it performing one of his mega-hits. How big a deal was the show back then?
"I was on Top Of The Pops fifty-six times, so it was vitally important to me and countless other artists," he concludes.
"A band who always seemed to be on it too were Status Quo. One of them offered me seven quid for the denim jacket I was wearing. I said, 'You must be joking, it's taken me years to get it this worn and faded' and he was like, 'Yeah, that's why I want it!' I did six shows with them in December, which was great because I was able to include 'Merry Christmas Everyone' in the set-list. You can't really do it the other eleven months of year. We ended with it every night and people went crackers!"
Advertisement
Backstage revellers on the tour included actor and comedian Greg Davies.
"No spoilers but Greg invited me to appear in the new series of The Cleaner and I was happy to oblige," Shaky concludes. "He's a lovely guy and we had a lot of fun doing it."
• Shakin' Stevens' Re-Set album is out now on BMG with plans to tour later in the year.
The new issue of Hot Press is out now.
Advertisement