Baz Luhrmann and Austin Butler on ELVIS: "Fame is not something that, if your face is involved, you can peel off easily"
Director Baz Luhrmann and star Austin Butler on bringing the extraordinary life of a 20th century icon to the big screen.
You could never accuse Baz Luhrmann of shying away from a spectacle. From the can-can fuelled razzmatazz of Moulin Rouge, to the champagne-soaked extravaganza of The Great Gatsby, to the pulsing funk of The Get Down, the Aussie director's work always has an irrepressible energy and an abundance of style.
But underneath the ruffled skirts, the remixed charlestons and the disco balls, he always explores something intrinsically human; romance, greed, The American Dream, and creativity emerging from oppressive circumstances. Who better, then, to explore the career of Elvis Presley, replete as it is with human drama, incredible music and something greater – a portrait of America in the '50s, '60s and '70s, emerging from its cultural age of innocence and into civil rights movements and increasing social unrest?
Luhrmann resists calling his film a biopic or a musical, instead arguing that it's a mix of the two, as well as a cultural commentary.
"I love Amadeus," he notes, "because is Amaedus a biopic about Mozart or a musical about Mozart? Actually, it's a story, told through music and drama about a bigger idea, which is jealousy. So I was going there."
Taking an American icon like Elvis, and tackling three decades of social evolution in America may seem like an odd choice for an Australian director, but then, Luhrmann has already explored the bohemian movement in Paris, the Roaring '20s in America. and the rise of hip-hop in the Bronx.
Advertisement
He grew up in a tiny settlement in New South Wales, where the director says he was an outsider "from everywhere!" Still, that perspective provides a humility and curiosity that he believes helps his work.
"I've always been the ultimate outsider, and so when I make a story, I have to live it," says Luhrmann. "When I make The Get Down, I can't be like, 'Oh hey I've got a friend who…' or 'I live in the Bronx, so…' I have to live it. So I definitely do the legwork: the academic stuff, the fieldwork. I had an office in Graceland for 18 months, and I hung out with people who knew Elvis. Also. I have endless creative collaborators – Austin, Tom, everyone. But I'm also making a story that traverses the '50s, '60s and '70s.
"It gets into the music and the personal stuff. And the story is a prism through which we look at all of these new cultural forces of youth, rhythm, blues, Black music, country music, gospel and fashion."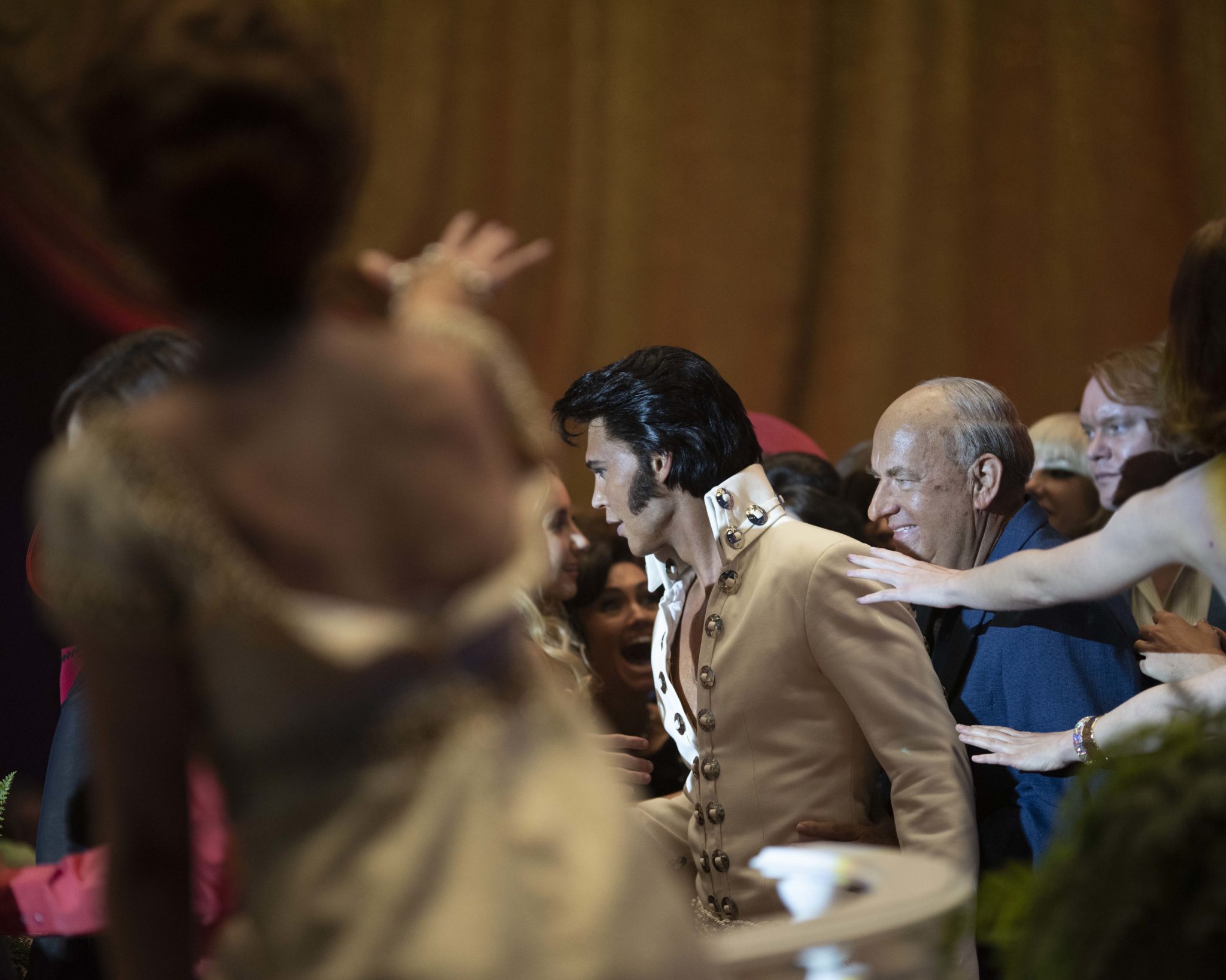 The film uses a unique perspective to tell the story, deploying Elvis's long-time manager, Colonel Tom Parker, as a narrator. An utter eccentric, Parker was born as Andreas Cornelis van Kuijik in the Netherlands, immigrating illegally to America at 17, and making his living working at carnivals, before becoming a talent manager.
Pretending that his Dutch accent was actually that of a Southern gentleman, he started managing Elvis in 1955 and became one of the most influential people in the singer's life. But his management practices were dysfunctional and unethical, and his relationship with Elvis was immensely complex.
For such an odd and suspicious character, Luhrmann could have hired anyone, but he decided to subvert expectations and cast one of the world's most beloved actors, Tom Hanks.
Advertisement
"Working with Tom Hanks, it's the first time I've done it and I don't know what the metaphor is, is he the champ of the champs, or a thoroughbred, or a Ferrari, I don't know! But he's the top of the top," enthuses Luhrmann. "And you cannot overstate what an out-there, over-the-top character Tom Parker was. Because he was never a Colonel, never a Tom, never a Parker.
"Someone from Holland, a carnival barker, he was always someone who was kind of psychologically throwing dust in people's eyes. So to get an actor of Tom's stature to go there - and also, America's favourite actor to play a not-very-nice character… I don't want to speak to your reactions, but it's like finding out your Dad is not a very nice person!
"I think it's going to be hard for some people, in the best possible way. And Tom ran towards it. There's no limit to Tom Hanks' range as an actor, but he's definitely playing a note you haven't seen before."
Of course, Hanks wasn't the only important casting choice to be made. The director had to find his Elvis – an actor who could sing and move, but also capture the evolution and descent of one of the most famous men in the world over a couple of decades. Casting the lead was a five-month process that involved meeting with actors, and chatting, singing and recording. Numerous young stars were in contention, including Miles Teller, Ansel Egort and Harry Styles.
Ultimately, Luhrmann said that Austin Butler's sensitivity in performance was what earned him the role – though Butler also came with some good references. While auditioning for Luhrmann, the actor was appearing onstage in a New York production of The Iceman Cometh starring Oscar winner Denzel Washington. The acting behemoth took it upon himself to cold-call Luhrmann and tell him that Butler had the greatest work ethic he had ever seen, and that Luhrmann would be a fool not to cast Butler. Not a bad recommendation.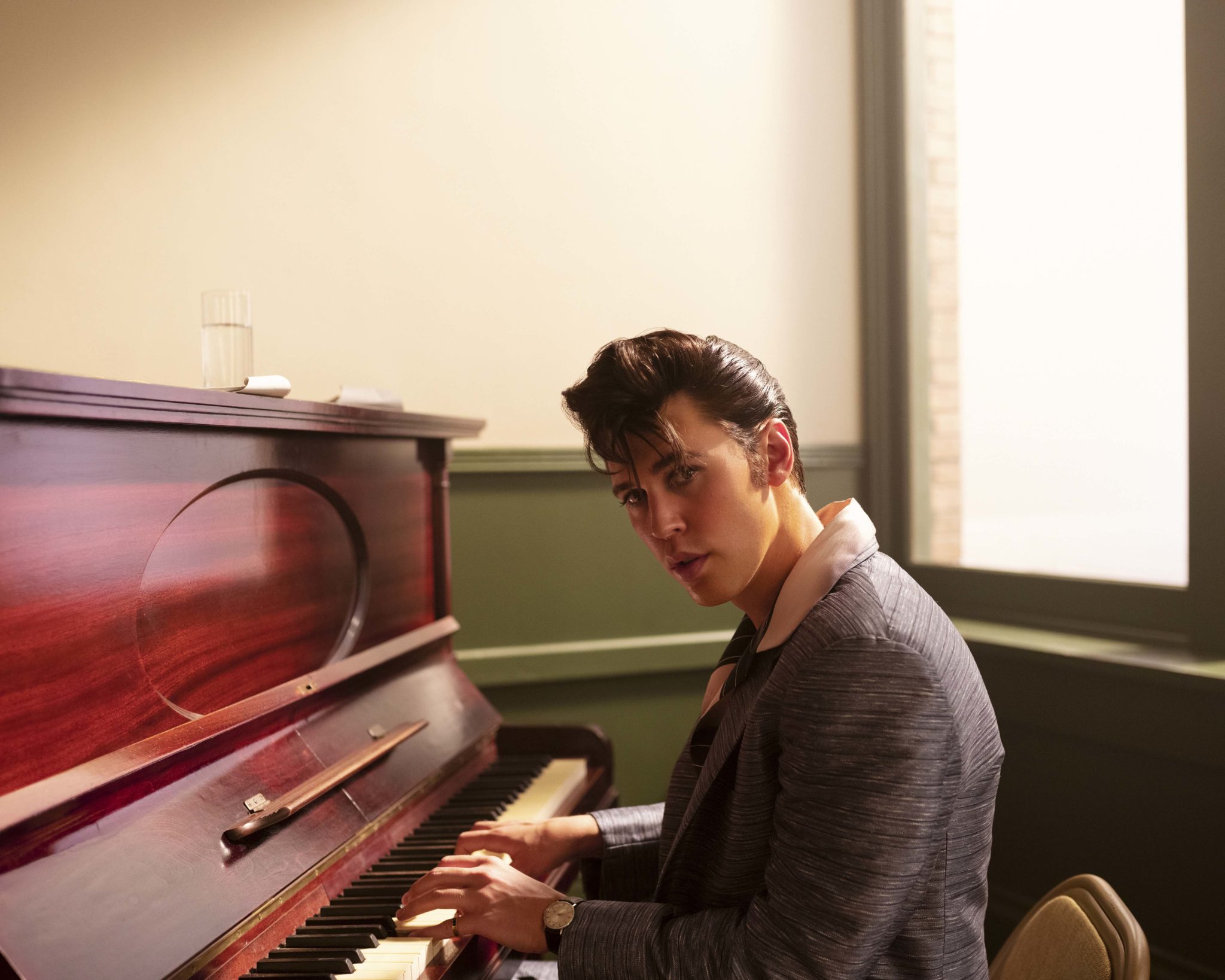 "That feels like a dream!" laughs Butler. "Denzel is one of my heroes, he's one of the greatest actors who has ever lived, just so powerful. So getting to work with him was truly an incredible experience, and then he didn't tell me he was going to call Baz, either! He just heard I was screen-testing and took it upon himself to call, and that means so much coming from Denzel, so I'm grateful."
Advertisement
Now 30, Austin Butler has been a working actor since he was a child. American audiences would know him from his appearances on Nickelodeon and Disney shows, including the Miley Cyrus vehicle Hannah Montana, but he has also appeared in The Carrie Diaries, and played Tex Watson in Quentin Tarantino's Once Upon A Time In Hollywood. However, Elvis is going to be the biggest role in his career to date – possibly ever – and he knows it.
Admitting that he felt an extraordinary amount of pressure playing one of the most famous and impersonated figures in pop culture history, Butler says he had an early moment while filming that made him feel truly connected to the character.
"I had a special moment," he reflects. "The first performance we filmed was the 1968 special, with me coming out in black leather. And we were right at the beginning of filming and I had filmed one scene before that. I was so scared. Terrified! The morning of the scene, I felt sick to my stomach - I was so scared and felt so much pressure.
"And at a certain point, it really clicked with me that this was what Elvis must have been feeling. This was a moment in his career that meant so much, it was make-or-break and it was the same for me. That was something I could lean into. I thought, 'I don't have to not feel this. In fact, this incredible pressure is something I can harness.'
"Then I walked out onstage in all this black leather and there was a moment with the audience where it clicked. I started looking into the audience's eyes, and I looked in a girl's eyes and saw her blush. I told a joke and they laughed – of course, they're extras paid to play parts!"
The sense of a creative breakthrough only grew.
"There was a moment where it became real," Butler continues. "We all suspended disbelief and it felt like I was actually on stage filming the '68 special. And I thought that this was the closest anyone has ever been to feeling what Elvis felt at that moment. It suddenly felt like I had transcended my own self - I could just feel it click. After we finish filming, I go into the dressing room and look at myself in the mirror. I'm in the black leather, covered in sweat, and it's silent. The screams have gone.
Advertisement
"The juxtaposition between those two moments - the energy on stage, then sitting in silence – I thought, this is it. The terror was still there throughout filming, but those moments just felt like magic, and made me feel so connected to him."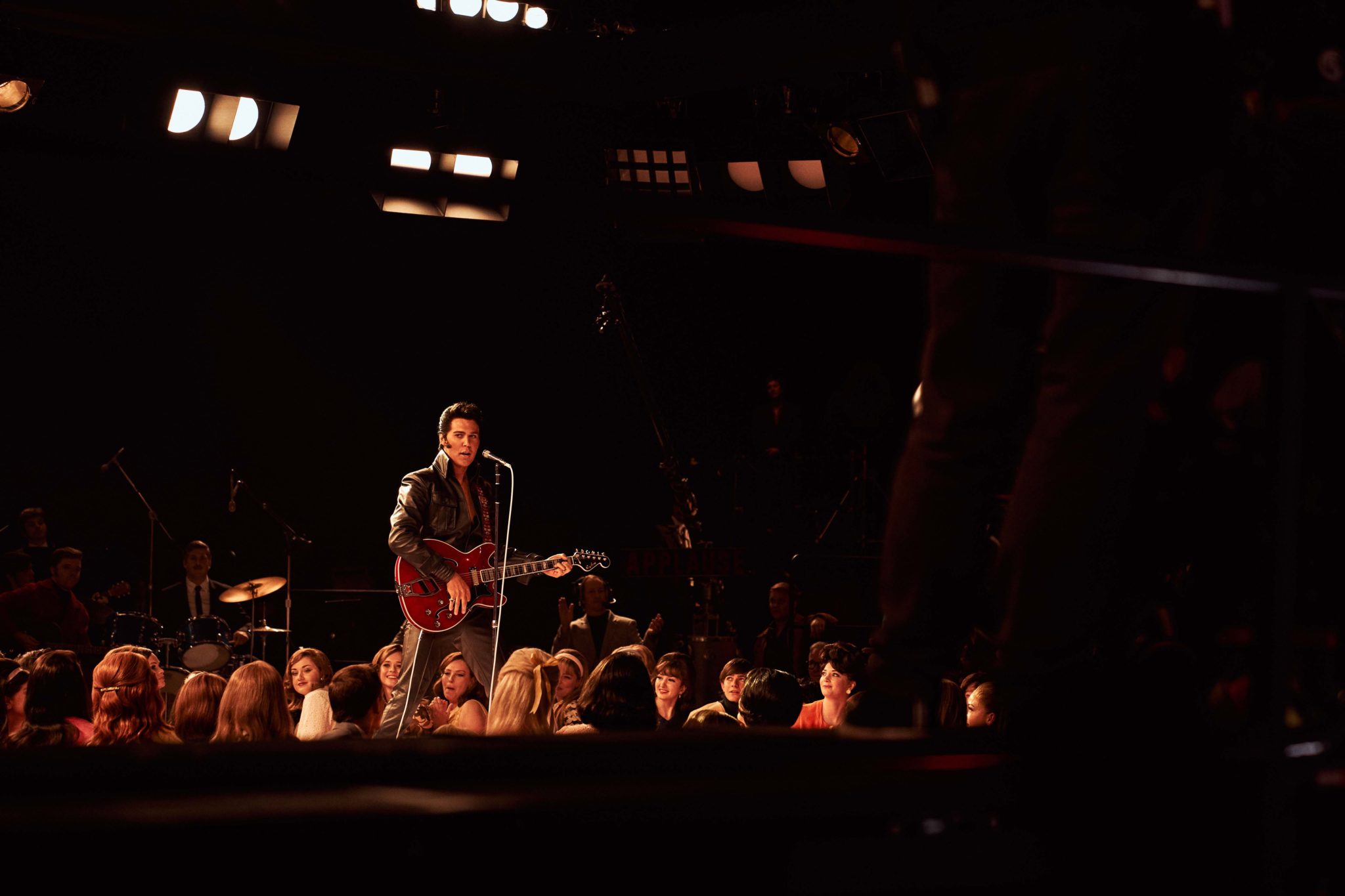 The film explores Elvis' struggle with overwhelming fame and stifling isolation, and both actor and director felt like this contrast was important. Himself now on the cusp of superstardom, Butler offers his take on the singer's travails.
"Elvis had to deal with a level of fame and a lot of things that there were no roadmaps for, without being able to look at anyone else and say 'How did they do it?'" he says. "That's a really hard thing to do, especially with that type of fame, the intensity of it. It is a cautionary tale in many ways, because an immense amount of fame can skew your perception of reality.
"I've been using the analogy of when people first went to the moon – you look at Neil Armstrong going to the moon and coming back down to Earth. What do you do with your life? You've gone to the moon! What other peak experiences are left? And I think lots of world-famous artists are onstage with thousands of people screaming your name, and then you're alone in a hotel room. What does that feel like, the juxtaposition of those two things?
"And when you're not creating, what makes your life feel like it has purpose and meaning? I've been looking at that and seeing that when Elvis dealt with it best, he reacted with gratitude and humility. And then there's times later on when things got deafening."
For Luhrmann, Elvis's exploration of the perils of fame feels like a particularly timely cultural conversation, as we are struggling to navigate a world where everybody can become famous or infamous. And yet, we have no framework for how to deal with that attention or what it does to us, individually and collectively.
Advertisement
"Younger test audiences, even my young teen, they live in a different world," says the director. "Andy Warhol said it, in the future everyone can have their 15 minutes of fame and it's come true. If you have a phone, you can be famous. It's a phenomenon now. And actually, what I think is on young people's minds is the trappings of that. We haven't lived long enough with this new kind of fame to see what happens when your followers start to fall off or they age.
"So there's a real sensitivity in younger audiences about what it is to be raised up and have followers – not to choose a Messianic journey, but to be lifted up onto a Messianic journey. Elvis was called 'The King' and always went out of his way to say 'I never called myself The King.' In fact, at the end of his Vegas show, he brought out Fats Domino and said 'This is the real King of rock 'n' roll.'
"I think Elvis once said, 'I am so tired of Elvis Presley.' The deification of Elvis was foisted upon him, and I think younger people really recognise that. Fame is not something that, if your face is involved, you can peel off easily."
Elvis is in cinemas from this Friday, June 24.
RELATED