The Last Great Rolling Stones Record
The longer the eighties went on, the worse things got for the greatest rock n' roll band the world will ever know. Their last album that could reasonably be described as a classic – still – came out in 1981, and Tattoo You, as good as it is, is mostly made up of revisited outtakes from the previous decade. The Rolling Stones argued that time didn't allow them to put a new record together as a tour was fast approaching, but the real reason was the relationship between Mick Jagger and Keith Richards, which was going through one of its cold spells.
Friends from childhood, united by their love of American music, the Glimmer Twins pretty much established the idea of what the world thinks of as a rock n' roll band. Once they had seen off The Beatles, they stood unchallenged as the self proclaimed "greatest Rock N' Roll band in the world" – despite the fact that the likes of Led Zeppelin sold far more records. Tales of their adventures are legendary – witness the hushed mythos that has grown up around the recording of Exile on Main St – still, for this writer, the greatest record of all time – in the south of France. Once they hit the seventies and they had reached the summit, the only way was down, however slow the descent. Goat's Head Soup is underrated but It's Only Rock N' Roll and Black And Blue, while both easy to love, are - to put it mildly - patchy. Richards had gone one way – the heroin that had in no small way helped him write the greatest rock n' roll songs of all time had taken hold, leading to car crashes and arrests – while Jagger had gone another, ascending, as Keith would often sneer, to the Jet Set alongside his impossibly glamorous wife Bianca. Keith was down on the corner, Mick was taking tea with Jackie O.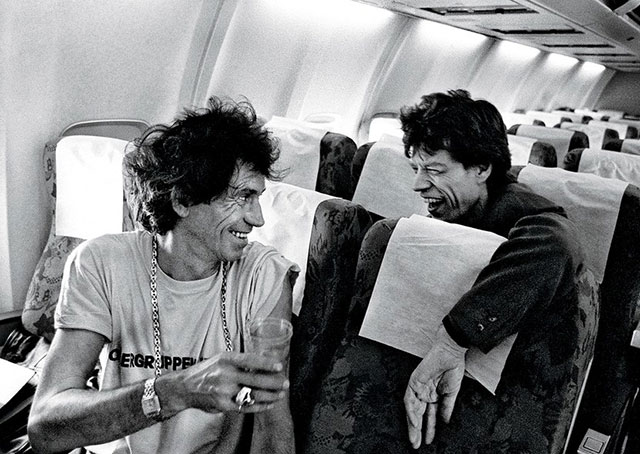 This is the fork in the road that Keef heads point at when they cry "Keith is the heart and soul of The Stones, man! Jagger's only interested in the bread!" Now, I suspect that Micheal Philip Jagger never met a pound note he didn't like, but just imagine turning up for work only to find your partner nodding out, if he's there at all. It's easy, and fun, for Keith fans, like me, to laugh at this and hero worship him for his I-don't-give-a-fuck-rock-and-roll demeanour, but imagine having to deal with that everyday?*
The final wake up call for Keith was his arrest in Toronto in 1977, he was staring down serious jail time, something had to give, and he finally started to pull back, at least slightly, from the edge of the abyss. Some Girls – recorded in the year of Keith's arrest – is the real last gasp then, given that the groundwork for Tattoo You had been done in the past. It's a howling and, more importantly, rocking response to what was going on in music, and most particularly the New York where Jagger was living, at the time. It's most famous song? 'Miss You' And who wrote that? Mick. Public opinion has long decided that Mick just isn't as cool as his old mate and, because of that, his contribution is underrated. There are two names in that famous songwriting credit.
Advertisement
The Stones would go on to make more albums, of course, with several great songs buried away on them, and there's another one on the way. What can we hope for? That they might give producer Don Was his marching papers for a start. There was a rumour a few years back that Jack White was going to work the desk for them. As fantastic a notion as that was, it was never very likely given the personalities involved. Take two of The Stones' peers, Bob Dylan and Paul McCartney. They've both made very good late period albums, but only when they've let someone else offer advice. For Bob, I'm talking about Oh Mercy and Time Out Of Mind, both produced by Daniel Lanois, and Macca allowed Radiohead man Nigel Godrich in for Chaos And Creation In The Backyard. He has said himself it was a kick in the arse. It's what The Stones need. It'll sadly probably never happen, although 2016's engaging Blue & Lonesome was a step in the right direction.
Back to the eighties. Dirty Work, released in 1986 is the band's nadir, worse even then 1967's "confused" Their Satanic Majesties Request. Keith's 'Sleep Tonight' is good, as is the Ronnie Wood co-write 'One Hit (To The Body)' but the rest is poor. The recording sessions in 1985 coincided with the release of Mick's first solo record, She's The Boss, an album Keith seemed to take as a personal insult. As Jagger was absent for a lot of the recording, help was drafted in from the likes of Bobby Womack, Jimmy Page, Ivan Neville and one Steve Jordan. Jordan, still in his twenties, was already a veteran of Stevie Wonder's band as well as Saturday Night Live, and Late Night With David Letterman. He was brought in to help out on drums as Watts, The Stones straight man, was having a bit of a wobble with the booze and the drugs, which should be a clear indication of how bad relationships had become within the band.
Jagger cited Watt's predicament as one of the reasons he refused to tour the album, but he'd probably just had enough. He went off to work on a second solo record. If further evidence is required on how bad things had become for The Stones in the middle of the decade that taste skipped then one need only look at the 1985 Live Aid concert, which took place in the middle of the Dirty Work recording sessions. While the likes of Queen and U2 made out like bandits, the greatest band of them all made a mockery of themselves. Jagger pranced through the truly atrocious 'State of Shock' with Tina Turner, while Richards embarrassed himself in a shambling, acoustic performance with Bob Dylan that would have been laughed off Grafton Street on its worst day.
Once Dirty Work was finished, Richards hired Jordan to work on the session he agreed to produce for Aretha Franklin, the recording of the title track for none-more-eighties Whoopi Goldberg vehicle, Jumpin' Jack Flash. This stands alongside Linda Ronstadt's version of 'Tumbling Dice' – which featured Waddy Wachtel on guitar, more of whom later – as one of the strongest of all Stones covers. When it became clear that Watts would not be available, Richards called on Jordan again to work on the Chuck Berry 60th birthday concert he agreed to musically direct for filmmaker Taylor Hackford's Hail! Hail! Rock 'N' Roll. It would be hard to over-estimate the debt that Keith Richards owes to Chuck Berry in terms of his playing style, but one look at the finished movie shows the account settled.
Hackford has spoken about it in interviews since, confirming that Berry lived up to his reputation and was extremely difficult during the production, especially with Richards, going so far as trying to change song keys during the final concert. Jordan and Richards bonded in this boot camp scenario.
At a loose end once filming was completed, adrift from Jagger who bottomed out with the almost irredeemable Primitive Cool (almost, 'Party Doll' is a great song), and encouraged by Jordan, Richards decided to do the one thing he had always sworn against – record a solo album.
Advertisement
Richards and Jordan started to work together in private, moving slowly towards a record. After a meeting with the record company, they hung out with Tom Waits – Richard's guitar had featured on his 1985 masterpiece Rain Dogs and Waits' gargle is buried somewhere in the background on Dirty Work - who played them an advance copy of his Frank's Wild Years. The pair took inspiration for Waits' freewheeling attitude, determined that every decision they would make with regard to the album would be from a purely musical standpoint. Commercial considerations wouldn't come into it.
Presented again in a sparkling anniversary edition, Talk Is Cheap was the result, Keith Richards presenting his case, his claim as the musical heart of The Rolling Stones. It's a pretty convincing argument. Co-writing with Jordan – Richards has always said he prefers this kind of set-up to writing alone – Keith came up with the strongest set of songs and riffs he'd managed in years and, set free from trying to write with Jagger's voice and The Stones in mind, he was able to indulge himself, creating the kind of roots rocking compendium that's fit to stand beside his other band's best work.
Jordan and Richards were joined by the core team of Wachtel on second guitar, Neville on keyboards and Jordan's mate Charley Drayton – another Dirty Work veteran – on bass. In addition to this motley crew – christened The X-Pensive Winos after Richards caught them quaffing some rather pricey Lafite Rothschild with his name on it – other musicians were brought in as needed, for as Jordan comments in the beautiful accompanying book, "I mean, basically, it's Keith Richards. You can get anyone you want, right?"
The record begins with 'Big Enough', a James Brown style funk workout, so who else are you going to call but Bootsy Collins and Maceo Parker? If you're going to write a song that reeks of Souther soul like the gorgeous 'Make No Mistake' then you may as well take the tapes to Memphis and get Willy Mitchell and the Memphis Horns to work on it. Got a perfect reproduction of fifties rock n' roll like 'I Could Have Stood You Up' then why wouldn't you call up Chuck Berry's original piano player Johnnie Johnson – the man that Richards had rescued from bus driving retirement for the Hail! Hail! Rock N' Roll! Movie - and fly him in, and while you're at it, give Mick Taylor – yes, that Mick Taylor – a shout too?
Advertisement
Side one is a flawless representation of Richards' musical soul containing as it does those three aforementioned tracks and perhaps the album's two stand out cuts. 'You Don't Move Me' addresses the Jagger-shaped elephant in the room, taking swipes at what Richards saw as his mate's detrimental commercial concerns over a savage acoustic guitar, while 'Take It So Hard' is just a classic. Introduced with the kind of five-string telecaster riff that made Richard's name in the first place and has inspired a million tennis racket in front of the mirror poses, it is the sort of thing the Stones were knocking out with insolent ease during their golden period which so many bands have tried to copy since. Apparently, the song was done and dusted on the first take, which makes it even more remarkable. "Hold on!" you might cry. "What about Keith's voice? He's not exactly Pavarotti!" No, he isn't, and that's the point. His well worn croak fits the material perfectly. A man, as Clint Eastwood once memorably told us, has got to know his limitations, and Richards and Jordan produce the record around the voice, calling in former LaBelle Sarah Dash to prop it up when needed.
Turn the record over for more of the same, the riff rock of 'How I Wish' and 'Whip It Up' and the more tender-hearted Richards that became a feature on later Stones albums in 'Rockawhile' and 'Locked Away'. The album closes out with 'It Means A Lot', a lesson in the sinewy, stop-start, signature guitar playing that Richards owns.
For this reissue, there's the usual extra disc of outtakes and, for once, these are not just barrel scrapings that fans will listen to once and then place on the shelf to gather dust. Any "song" with 'Jam' in the title is usually to be avoided like an ex-lover but it's that rollicking Johnnie Johnson piano that makes the 'Blues Jam' workout worthwhile. Johnson also features on a dancing run through Little Walter's 'My Babe' and a suitably down-and-dirty go at Eddie Taylor's 'Big Town Playboy'.
As a young lad I can remember the late, great Bill Graham's review of the album in this very magazine. Bill didn't seem to get much out of it, referring to it as a good learning tool for aspiring rhythm guitarists – and indeed it would be - but not much use for anything else. Then, as now, I respectfully disagree. Every Rolling Stones album that has been released since Tattoo You has been referred to somewhere by someone as "a return to form, and their best since 1970 whatever" only to be filed away once the flurry of press has died down, never to be heard of again. Talk Is Cheap stands outside of that, it's a record that gets better as time passes.
Forget all the stories, forget the fights, forget the sex, forget the drugs: here's the rock n' roll.
Advertisement
* While I've been thinking about these things for thirty years, and felt affronted by the more ungentlemanly invective in Keith's book, I must point you at Bill Wyman's – no, not that one – excellent article on slate.com which imagines Mick's response to his pal's book. He argues Jagger's case better than I ever could.