Rowan: "Watching Arctic Monkeys at Glastonbury in 2007 was a pivotal moment, I knew that's what I wanted to do"
As they gear up for the release of their debut Does It Make You Happy? album, Irish indie-rockers Rowan discuss forming during Covid, their unique sound, childhood cover bands, happiness and their thoughts on space travel. Photography: Miguel Ruiz.
While waiting for our Hot Press photographer to find the perfect lighting during a photo shoot at King's Inn Park, I join Rowan for a game of Stick-Foot. The incredibly complex pastime consists of three steps: pick up a stick, kick with your foot, repeat.
"We're professionals at Stick-Foot," lead vocalist Dylan Howe proclaims, after giving a small twig a formidable punt. "Maybe we'll just do this from now on," he grins.
It would be a shame for the members of the rising Cork-based trio to give up their musical careers now, just as their highly anticipated debut album is set to explode onto the Irish music scene on May 6. 
After releasing their first EP No One Is Safe Here in November of 2020, Rowan have quickly become one of the biggest new Irish acts around. Last year, they signed an exciting deal with Los Angeles-based record label Beverly Martel, and worked with legendary producer Tim Palmer (U2, Pearl Jam) on their upcoming album.  
The band's name comes from the Rowan tree, a native plant species in Ireland that has deep ties to the nation's history and mythology. Its name in Old Irish is li sula, which means 'delightful to the eye'. They describe their unique sound as: "quite energetic, indie, and festival-orientated. We use melancholic folk lyrics but with a more upbeat soundscape." 
Advertisement
Before the pandemic, the group had settled into comfortable work as session musicians, touring and playing with various artists. As individuals, they worked with the likes of The Stunning, Little Hours, and The Frank and Walters. When the world shut down and the band was forced to shelter in their homes, they collectively decided that it was time to embrace their musical independence. 
"We'd been playing together in various other formats, and with lots of other people, and I feel like we were kind of fumbling to really get at what we wanted," Dylan notes. "We were doing work we weren't super-heavily invested in, and I feel like even though lockdown put a stop to everything, it really gave us a chance to see clearly what makes us happy – being in this band and making this music." 
Like it did for so many artists, lockdown gave the members of Rowan time to reflect on what they truly wanted, and to write their debut album.
"A lot of this album was born out of time," says drummer Fionn Hennessy-Hayes. "We spent it at opposite ends of the country. Dylan was in Cork, I was in the midlands, and Kevin was in Donegal, so we spent a lot of time on Zoom calls. When we finally got into a room, we just created this live energetic sound."
 
The trio were able to keep each other from succumbing to lockdown lethargy through constant communication and creative exchanges: "We challenged each other to write a song a day for about a month, and the album kind of came from that process." 
Advertisement
The record, due out in May, is full of indie-rock jams that move confidently from intimate to soaring, and provide a harmonious landscape for Rowan to confront deep-seated emotions with a sense of honesty. It's a central theme of Does It Make You Happy? and is especially prevalent on songs like 'I Don't Wanna Talk'. 
 
"Talking about feelings is a very new concept to me," Howe admits. "That song especially, I was going through a horrible year, and Fionn and Kevin wanted to give me a thought-provoking line. They sent me 'I Don't Wanna Talk', and within an hour, I sent them back the full song. It just poured out of me."
What does the 'it' in the album title refer to? 
"The meaning is different for different people," Fionn responds. "I think it would be unfair for us to describe what the 'it' is. As an album title, the purpose was for it to mean something different for whoever reads it. Dylan wrote the lyric and that absolutely means something very specific to him." 
Fionn cites these different interpretations as one of the band's greatest strengths.
"Something interesting about the way we write is that Dylan might bring an idea, and it means something to Kevin, so then he added his context to it, and I added mine. Nothing has just one meaning, because each of us progresses it."  
One of the album's most touching tracks is 'Youth And Youthood', a heartfelt ode to adolescent mischief. 
"It's a nostalgic reminiscence. Looking back and wishing you were back there, and how some of the things you had then are dead and gone essentially."
Certainly not gone are Rowan's musical ambitions. Kevin Herron and Hennessy-Hayes used to be part of a two man (or two boy) cover band when they were growing up in Cork. 
"It was 17 years ago I think," Fionn says sheepishly. "I was 13 and Kevin was 12. We were even writing songs back then, but they will never see the light of day (laughs). But our influences back then are the same as they are now. It was Arctic Monkeys, Bombay Bicycle Club and The Libertines." 
Advertisement
In fact, it was seeing Alex Turner & Co. at Glastonbury in 2007 that inspired Fionn to start making music.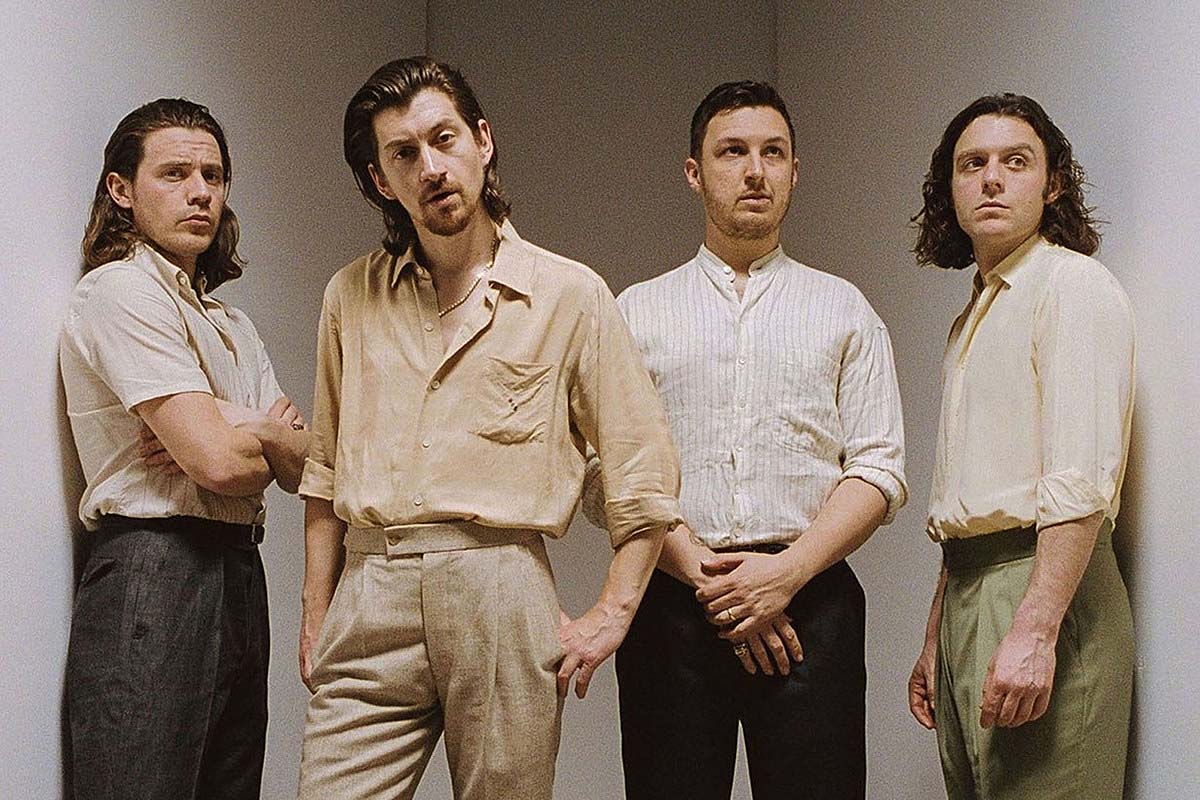 "I remember sitting and watching it with my brother," he marvels, "and it was a pivotal moment for me. Seeing them live made me say, 'That's what I want to do.'"    
One of Does It Make You Happy?'s most intriguing songs is album opener 'Apollo', which features the voice of Charles Duke, space capsule communicator for NASA's Apollo 10 mission to orbit the moon.  
"We really love movies like Interstellar," Howe says when asked about the choice of sample. "I was thinking musically of launching the album – like shooting something out into space. We wanted our debut LP to be a lot like that, because we worked really hard on it. For the sounds, I spent hours looking through archival footage just seeing what would work and tried to put a story together."
The band is even open to one day making their own voyage to the stars.  
"I'd do it," says Herron. "I'm afraid of heights and that's pretty high, but I'd definitely go." 
Advertisement
Fionn, however, stipulates certain preconditions for his hypothetical trip.  
"I'd like to do it in such a way that it doesn't cost millions – like if it became as accessible as getting a taxi. Not the way Bezos and the others are doing it, because that just seems like a big pissing match."   
The band are currently writing songs for their sophomore album and looking forward to touring Ireland and the UK. Though Rowan might not be boarding a rocket ship any time soon, their future is surely going to see them ascend to great heights. 
• Does It Make You Happy? is released by Beverly Martel Music on May 6. Rowan play Coughlan's, Cork (May 4); Whelan's, Dublin (6); and Monroe's, Galway (7).