Putin assumed "that Ukraine would cower and that the West would be divided," White House national security adviser Jake Sullivan said.
In a state-of-the-nation address this morning (February 21st), Russian President Vladimir Putin has vowed to "systematically" press on with Moscow's offensive in Ukraine.
Meanwhile, US President Joe Biden will meet with NATO's eastern flank allies in Poland today to bolster Western support for the area.
Just a few days before the one-year anniversary of the military invasion by Russia, Putin's speech threatened: "Step by step, we will carefully and systematically solve the aims that face us".
Putin accused the West of being "completely" responsible for escalation, claiming that territories in Europe and the US "want to be done with Russia."
The address comes a day after President Biden made a surprise visit to Kyiv on Monday, February 20th. At his visit, he met his Ukrainian counterpart, Volodymyr Zelenskyy, to show North America's support.
Advertisement
One year later, Kyiv stands. Ukraine stands. Democracy stands. America — and the world — stands with Ukraine.

Рік потому Київ стоїть. Україна стоїть. Демократія стоїть. Америка – і світ – стоїть з Україною. pic.twitter.com/6i02u3aFgd

— President Biden (@POTUS) February 20, 2023
After his visit to Ukraine, US President Biden made his way to Warsaw in Poland. His visits to both countries should solidify Western unity as Ukraine and Russia prepare to launch spring offensives.
"The responsibility for fuelling the Ukrainian conflict, for its escalation, for the number of victims… lies completely with Western elites," Putin said today. "They are not hiding their goal – to inflict a strategic defeat on Russia. It means to be done with us once and for all."
The conflict, considered the most significant war in Europe since World War II, has already claimed tens of thousands of lives. In addition, the war has devastated Ukraine's infrastructure system and damaged the global economy.
"I thought it was critical there not be any doubt, none whatsoever, about US support for Ukraine in the war," Biden said as he stood with Ukrainian President Volodymyr Zelenskyy in Kyiv before departing for Poland." "The Ukrainian people have stepped up in a way that few people ever have in the past."
Today, Biden will meet with Polish President Andrzej Duda and deliver a speech in the Royal Castle garden in Warsaw, highlighting the central European country's and other allies' commitment to Ukraine over the past year.
Advertisement
White House national security adviser Jake Sullivan said Biden would state in his Warsaw speech that Russian President Vladimir Putin had wrongly assumed "that Ukraine would cower and that the West would be divided" when he launched his invasion.
"He got the opposite of that across the board," Mr Sullivan said.
Even though Biden aims to use his whirlwind trip to Europe to bolster Ukraine and its allies, the White House has stressed that there is no clear end game in sight for the war, stating that the situation on the ground has become increasingly complex.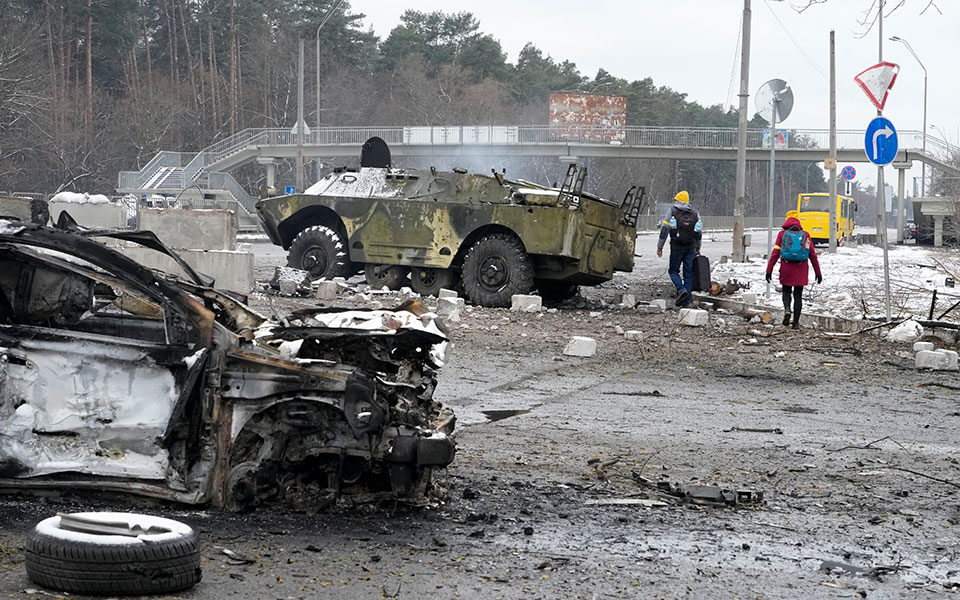 On Sunday (February 19th), the administration revealed that it has new intelligence suggesting that China is now considering sending Moscow lethal aid. Since the military intervention by Russia on  February 24th last year, China has remained on the sidelines of the conflict.
Secretary of State Antony Blinken said it could become a "serious problem" if Beijing follows through.
"To be able to succeed on the battlefield," in the months ahead, Biden and Zelenskyy discussed capabilities that Ukraine needs, Sullivan said. Zelenskyy has been pushing the US and European allies to provide fighter jets and long-range missile systems known as 'ATACMS'. Biden has declined to provide theses so far.
Advertisement
With no end in sight to the war, the anniversary represents a crucial moment for Biden to strengthen European unity. Moreover, the US President is reaffirming that Putin's invasion was a frontal assault on the post-World War II international order.
The White House hopes that President Biden's visits to Kyiv and Warsaw will help to strengthen US and global resolve.