The Dublin jazz/soul/rock outfit have been recording with Dan Fox of Gilla Band at Sonic Studios, Dublin. Check out their 17-minute performance in the UK's Isle of Wight below.
Dublin six-piece genre-blending band Fizzy Orange stopped by Studio 5A in The Isle of Wight to record a live session with Coach Party's Guy Page, with the full session premiered by Hot Press below.
Filmed by Silas Gregory (Chalkpit Cassette Club), the headline gig took place at Strings Venue in June 2022, arranged by local promoters Ears Peeled with a string of local bands.
Fizzy Orange packed their bags full of Dublin city soul, earning a well received reception on the English island (home to Wet Leg).
Opening with their new single 'Rise and Shine', the 'Cafe Continental' and 'Oh Carling!' musicians have a nostalgic funk, groovy sound that's made for live performance.
The latest single from the lo-fi group marks their soulful eighth release. 'Rise and Shine' was recorded with Dan Fox (Gilla Band) at Sonic Studios, Dublin and mixed and mastered by long-time collaborator Karl Barnes. The track is Fizzy Orange's attempt at a Rocksteady Reggae groover.
Advertisement
"Think Studio One, Alton Ellis and Delroy Wilson," the band suggest. We're loving the brass section, breathing fun and life into the track with a playful, laidback charisma that's getting them noticed.
As with all their singles so far, 'Rise and Shine' was recorded with analogue equipment, and mastered straight to 2" tape.
"That was nice," vocalist/guitarist Kevin tell their Isle of Wight audience after their opening number. "We came all the way from Ireland to do this show."
'Surf Song' is up next, a soon-to-be-released offering with '60s drum beats paired with addictive indie riffs that stick in the brain.
"Don't know what to really think about it / Don't know what is true / Going through the motions, lost without it / But I'm still here with you," Jack croons as brass sections like sax are introduced.
'Rita' is a fresh, down-tempo number that the public have also yet to see land on streaming services. "Rita, can you tell me where it all went wrong?" Kevin sings above down-tempo beats and guitar lines.
Recent single 'Cafe Continental' picks things up a notch, penned about their Dublin hometown, before a "kind of untitled", sunny-natured new song.
Advertisement
"Guys behind the camera, guys driving us around, guys giving us tents...thanks very much," they declare as the laidback set concludes. All in all, quite the show.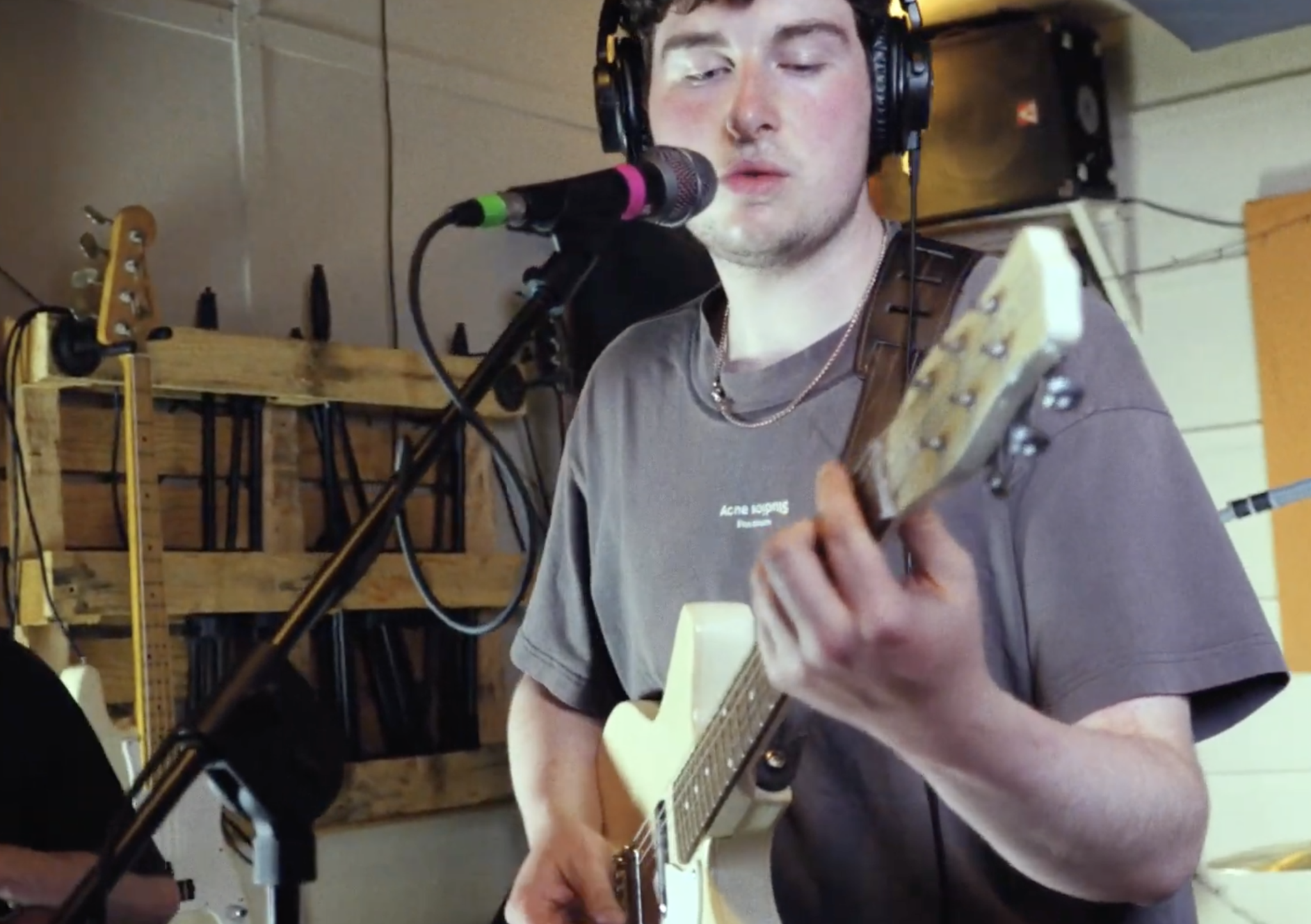 "We sent an email to a venue (Strings) on the Isle of Wight, asking if they had any slots on the first weekend in June," Fizzy Orange's Eoin tells Hot Press of Studio 5A.
"We were all in London that week and were chancing our arm somebody might pick us up for an Isle of Wight festival slot, that was only a few weeks away.
"We had no luck. Venue and festival fully booked. Not too surprising really. But thought we best shoot our shot. A few weeks later we got an email from a local promotion project 'Ears Peeled' saying they had the booking on the first Friday in June. They were keen on our sound and said they'd move around the show so we could headline the Friday night. With some local Isle of Wight support, Romy Helen and Froglands PK. We didn't know a sinner or a soul down there but Ears Peeled looked after us to no end.
"Our six Dublin heads rolled off that ferry to a very tropical looking island, as it was mid heatwave," Eoin continues. "Lost and confused we were quickly scooped up and got a full tour of the island by our beautiful chauffeur's Jay and Zak. Ears Peeled got us a session in Studio 5A with Guy Page from Coach Party. We drove down and set up in the studio. We didn't have long as we were heading straight to soundcheck for the gig that night in an hour.
"But credit to Guy and Ears Peeled we were set up had headphone mixes in no time. All of a sudden the camera was rolling (operated by Silas Gregory). We hadn't exactly prepared a set for this but we thought we'd get some practice in of some newer tunes before the gig that night. It was impromptu decision making and a very relaxed atmosphere. We got the tracks all down in one take and packed up quickly as we had to make a move onto the gig venue.
Advertisement
"We didn't think much of it, a relaxed warm up jam really," Fizzy Orange recall. "But when we saw the footage back in Dublin we were well impressed with the audio and visual job the guys had done. We've only just released the first of these new tunes 'Rise and Shine' as a single this week. So looking forward to getting the rest of the tracks fully out there soon! The gig went well and we were soon invited back in August. No hesitation we got back down and played another headline show to end our summer run in the UK."
Fizzy Orange are due to announce London and Dublin live performances before the end of the year, along with a heap of new music.
The sextet take influences from the likes Ween, Connan Mockasin, Hall & Oates, Roy Ayers, The Isley Brothers, Erykah Badu, Lou Reed, The Durutti Column, MBV, Jaco Pastorius, Sun Ra, Junior Byles, Paul Brady, The Beatles, The Beach Boys, Paul McCartney's solo albums, Thin Lizzy and The Boomtown Rats.
Their recent tracks have been influenced massively by Northern Soul, but they're not tied to any genre in particular.
"We've been pushing ourselves to be a bit more creative with our lyrics," they told Hot Press in June 2021. "We just got back from a two-week recording session in Leitrim, writing songs about male sex workers, cowboys, religion, the Christian Brothers schools, the Irish music scene, relationships, and the frustrations of living in Dublin. We don't have a consistent message behind our tunes, we usually make the music before the lyrics. We always like to try something new, whether that's a reggae-inspired track, bossa nova instrumental or good old rock 'n' roll. We try not to take ourselves too seriously, either."
Check out the performance in full below.
Advertisement