Listen to some of our favourite new Irish tracks of the week below.
Presh & Rosie Timmon, 'Fly With Me'
New York City-based Irish singer-songwriter Rosie Timmon has joined forces with Presh, a new electronic music pseudonym of Dublin-based producer Aisling Jarvis, on collaborative track 'Fly With Me.' The electronic dance number explores a surreal escapism from reality. Written during Covid-19 in a moment of uncertainty, Timmon's infectious hooks allow the lyrics of chaos to really drive home. Presh has been involved in numerous musical endeavours over the last decade, performing and producing alongside her mother Moya Brennan while also working with her brother Paul as pop duo BANYAH.
Cherym, 'We're Just Friends'
Derry pop-punk trio Cherym have announced their new EP, Hey Tori, with a brand new single - 'We're Just Friends'. Set for release on 30th September 2021 via Alcopop! Records, the project features their previous single 'Listening To My Head' and will arrive ahead of their October tour with cheerbleederz. Of the single, drummer Alannagh Doherty says: "This is a song we wrote after spending some time thinking about life and some of the positive aspects of it, like relationships we've had that we can look back on, or the relationships that have yet to come. It's a cheesy tune about being in a very wholesome relationship with your soul mate (if you believe in that sorta stuff) and just finding who you want to be with."
Curtis Walsh, 'Picture Perfect'
Advertisement
Following on from his February 2020 collaboration with Anna Pancaldi ('Bend'), Irish artist Curtis Walsh is continuing his pursuit of rich and vibrant pop soundscapes with 'Picture Perfect'. Using an instantly memorable hook, the summer jam sees him take his captivating aesthetic to the next level. Speaking about the new release, Curtis says, "I remember the first summer in lockdown when everyone was unsure about how long it would be until we were able to leave and travel again. I was just sitting in my bedroom one day and the sun was beaming through my window, but I just had to stay put. It was extremely frustrating, so I sat down and made a track about how all this lockdown has made me want to do is go out on holiday and just enjoy my life for as long as I can, and with the people I care about around me!"
KK Lewis, 'Petals'
Taken from her brand new Dreaming EP, 'Petals' sees the Dublin busker using electronic production and calm beats to offer a jazzy, neo-soul rendition of a heartbreak track. Lewis' new project also features recent tracks 'Loop Now', 'Good Enough' and 'First Bus Home', but 'Petals' is a gorgeous standout. "This EP represents a skeleton of KK Lewis. Every music explores a special model of me, revealing a brand new story and a brand new sound. It highlights the confusion and insecurity I felt throughout my teenage years, not feeling snug sufficient to be myself. This mission follows a journey of self-discovery and creates a basis for my sound to develop from," the artist said, of the Celeste-sounding EP.
Lucy Blue, 'Taxi Driver'
Hot for 2021 Dublin star Lucy Blue is bringing the timeless approach of classic singer-songwriters into the modern age. Lucy recently signed to Columbia Records, and is enjoying a major 2021 – featuring collaborations with big-name producers like Justin Parker, Fred Again, Two Inch Punch and more. Her recent Fishbowl EP saw her live up to her praised potential. The London-based talent shared the beautiful EP tracks 'Your Brother's Friend' and 'See You Later' and 'Snow in Toyko', offering a bedroom indie sound like that of Clairo and Beabadoobee. On 'Taxi Driver', enjoy her soft vocals and gorgeously poetic lyrics.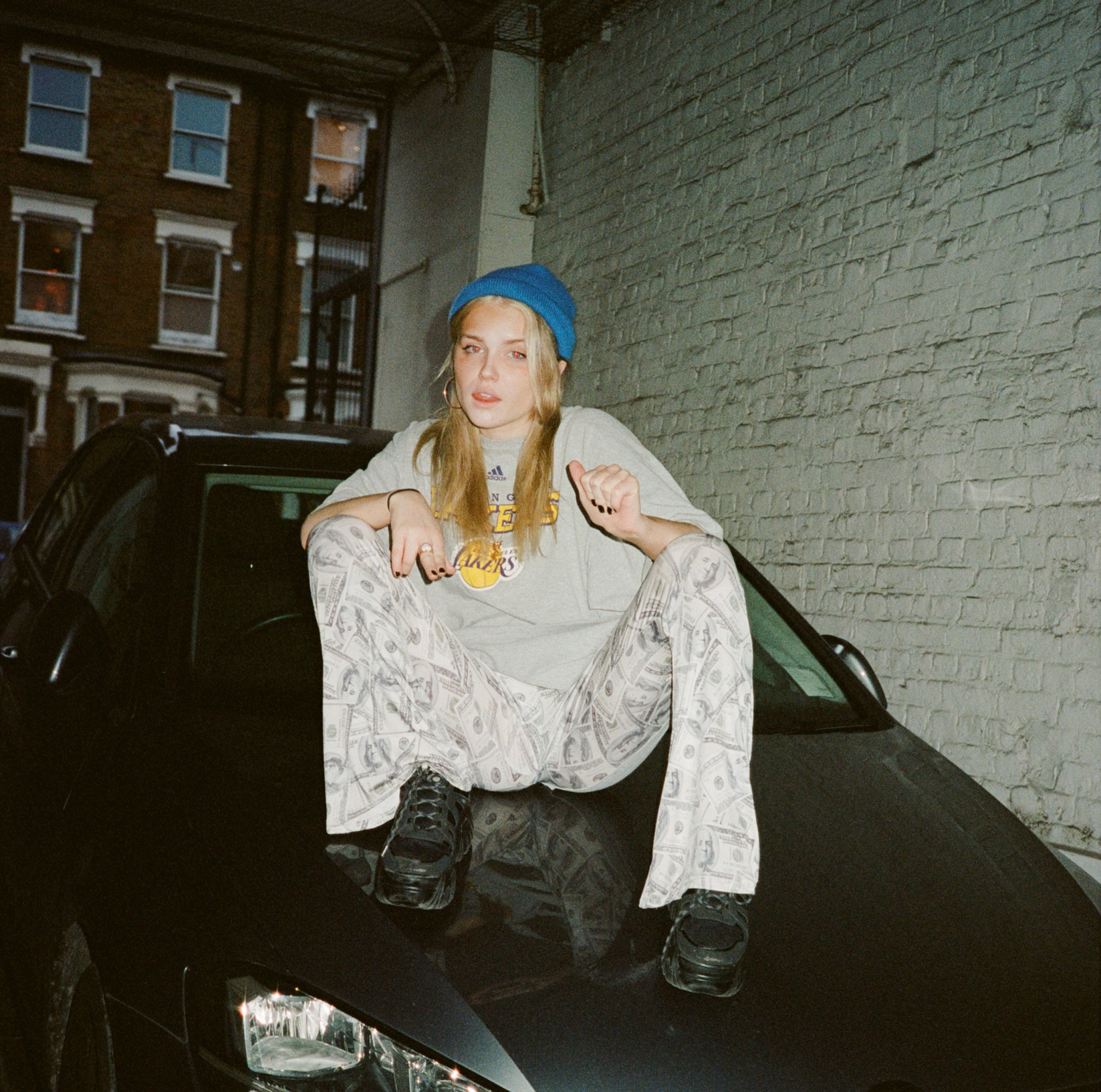 Ra Gerra, 'Out Loud'
Advertisement
New Vessels, the debut album from Ra Gerra - the Irish electronica/hip-hop duo consisting of producer Kobina and rapper and singer MuRli - has landed today. The Amsterdam-based Kobina and Limerick-based MuRli have forged a partnership to produce melodic, shifting music with emotive clarity and immediacy, with recent tracks 'Terrified', 'Pressure' and 'Indecisive' building up anticipation. On 'Out Loud', MuRli (Mawuli Boevi) brings stunningly evocative lyrics and incredible technique while Kobina (Seán Arthur) lays down atmospheric beats and unique instrumentals.
Laytha, 'What Will I Gain'
Niamh Carney and Philana Nolan's indie folk project Laytha have released their first track, 'What Will I Gain'. The idea for their stunning debut came from a Laura Marling interview, where she talked about the idea of writing a song for her younger self. 'What Will I Gain' is a yearning for the version of yourself you want to be, wondering how – or if – you can let go of the things that influenced you most growing up. Laytha are County Fermanagh's best kept secret, and their twin harmonies are eerily complimentary. The pair first performed under the name Taobh Eile, meaning 'other side', before changing their name in 2019.
The Academic, 'Not Your Summer'
Westmeath outfit The Academic have shared their new EP, Community Spirit - was written and recorded by the quartet during lockdown. The band returned in 2020 with their EP Acting My Age, their first release with new label Capitol Records after their 2018 debut album Tales From The Backseat. 'Not Your Summer' explores unapologetically walking away and wanting to leave something worthwhile behind, with Craig's raw yet easygoing vocals as the cherry on top. "I'd spend a lot of time during lockdown working on my production chops," Craig said in a statement, "trying to get the most out of the little equipment I had. The band put their faith in me to take a stab at producing this. Whilst it's definitely super DIY, it's been a cool experience."
Cooks But We're Chefs, 'Resting On Laurels'
Dublin 8-piece ensemble Cook But We're Chefs are bringing their jazzy soul and funk style to the forefront once again on their new track 'Resting On Laurels'. With a full-length album dropping in September, their previous singles 'Sunshine', 'Tough Frank', 'Stella Maris' and 'Tembé Road' truly laid out their potential following a sleuth of live shows - including Body & Soul, Trinity Ball and The Bernard Shaw. Lush R&B vocals and gripping background instrumentals overlay the track, which speaks of letting someone go (for now) so that they can develop fully as a person.
Advertisement
Jordan Run, 'Eloise'
Aaron O'Sullivan (AKA Jordan Run) has returned with gorgeous new offering. 'Eloise' is an emotive song focused on themes of perseverance and loss, which is especially poignant given the world's current chaos. The versatile West Cork man draws influence from the likes of Hozier and Ben Howard with a unique twist, showcasing a powerful songwriting gift and production prowess. "'Eloise' was written about someone who had been struggling with their physical health for a very long time," JR told Hot Press. "I was following this person's story on Instagram for over 12 months, and going through some personal things myself, but the more I followed her journey, I became inspired by her strength, positivity and overall mindset."
Tebi Rex, 'Deadman II'
Following a host of virtual festival appearances and a star turn on the Normal People soundtrack, Irish hip-hop duo Tebi Rex have returned with their latest single, 'Dead Man II'. The track touches on political themes and uses heavy, driving, rock-inspired guitar lines to express its frenzied frustration. Carrying the torch from previous singles 'Oh It Hurts' and 'Hanging With Trees', the track reveals another aspect of the group's latest narrative – a story with an enigmatic tree at its heart, guiding the protagonist through a journey full of challenges and redemption. 'Dead Man II' paints a glib picture of modern Ireland – touching on political themes and including musings on austerity and racism.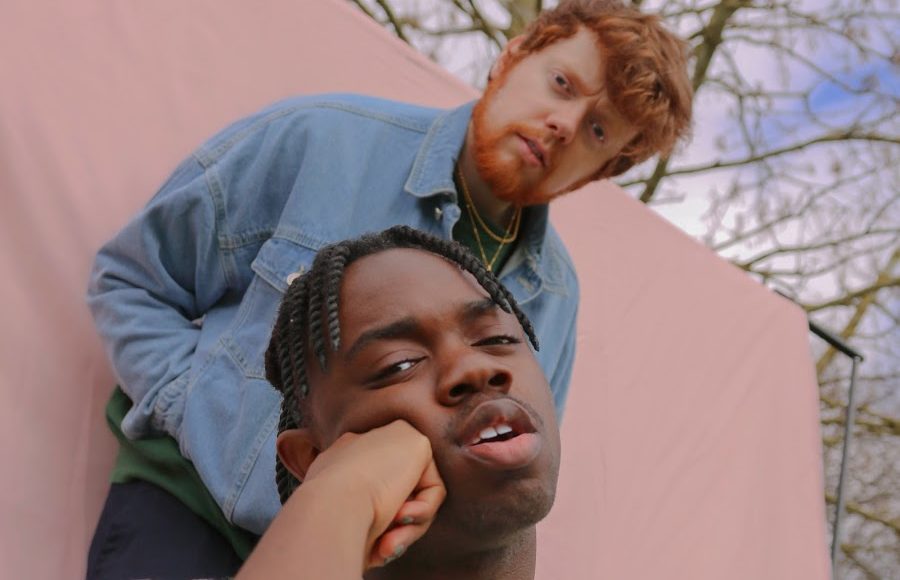 Parnell March, 'Therapy'
Originally from the small village of Camlough in Co. Armagh, Perth-based Dylan Galloghly, (Parnell March) has emerged as one to watch with finely-woven electronica offering 'Therapy'. The lead track from his forthcoming debut album, Ozone Parade; 'Therapy' focusing on how, "connection, agency and affection are primary human needs that also generally align with successful psychotherapy," the song's accompanying video – which touches upon body image and wellness, as well as psychological and psychiatric treatment – is stunning. "The video attempts to highlight modern day adult anxieties that are increasingly becoming issues for children," said the musician.
Advertisement
Floor Staff, 'Empathize'
Dubliner Anthony Donnelly keeps the momentum from 'Aspiration' going with a brand new single. He is now gearing up for his debut record, Attention, after a four year hiatus. The musician's introspective style is evident on the track, as he continues to showcase the talent that saw his first release, The Good Luck EP, showered with accolades in 2016. 'Empathize' is about feeling "guilt in relationships for allowing them to continue when, perhaps, our heart isn't really in it anymore. "There's often a thin line between being strong, trying harder to appreciate something and letting that person and relationship go because it's truly the best thing for both parties in the long run."
Reuben Hester, 'Time Of My Life'
Enniscorthy act Reuben Hester's new summer dance-pop anthem was recorded in Berlin by ENIAC aka Robert Borrmann, producer of Tomcraft's UK No. 1 classic club crossover hit 'Loneliness'. As he releases party track 'Time Of My Life', Hester has been passionately working on his live show, which is set to hit venues this autumn. Settling for a time in Amsterdam and Berlin, Reuben Hester's fabled street performances across European cities stopped traffic. In 2020, Reuben showcased his songwriting on BBC One Television's Little Mix: The Search, performing 'Sold My Soul'. The track was written in memory of his father, who had passed away following a drug overdose at the age of 55.
Odd Morris, 'The Once Was Enough'
Rising Irish band Odd Morris have shared their new single, 'The Once Was Enough' - taken from their upcoming EP, Cityscape the Ballet, out this September. Speaking about their debut EP, the band says that it will explore "the overwhelming emotions of day-to-day life in the city, that trigger the urge of removing oneself – or escaping – the performance of the everyday." They add: "Everyone knows how it feels to feel estranged, everyone has their dark days. Part of the process is feeling like you're the only one, but we're all more connected than we think. We didn't want to shy away from the feelings of heartbreak and insecurity, even if it's difficult to be so open."
Tung in Cheek, 'Psychonaut'
Advertisement
Dublin Post-Indie 4 piece Tung in Cheek have shared their latest single, 'Psychonaut'. An upbeat summer jam with hints of The Smiths and The Stone Roses, the song serves as a release from the darkness of the last year. Upbeat post-pop bass lines collide with psychedelic guitar effects, evoking the influences of Dope Lemon, Outkast, and subtle house music references in their sound. Formed in 2019, Tung in Cheek is composed of three former members of The Klares, a group who experienced a successful stint under the guidance of MCD Productions. Andy Burke, Chris Brady, Eoin O'Shea and Jordan Lawless have been hard at work since then.
Lonesome George, 'The Lying Devil'
A band of songwriters and traditional musicians from Belfast with a talent for weaving activism and social philosophy into their wholesome and engaging version of folk-fusion, the summer of 2021 sees Lonesome George steadily releasing tracks from their new album as we wait for live music to re-enter the building. 'The Lying Devil' is a meditative and calming track, with songwriter Myles McCormack expressing the inspiration behind the song: the Catholic Church and the spiritual confusion of young Irish generations.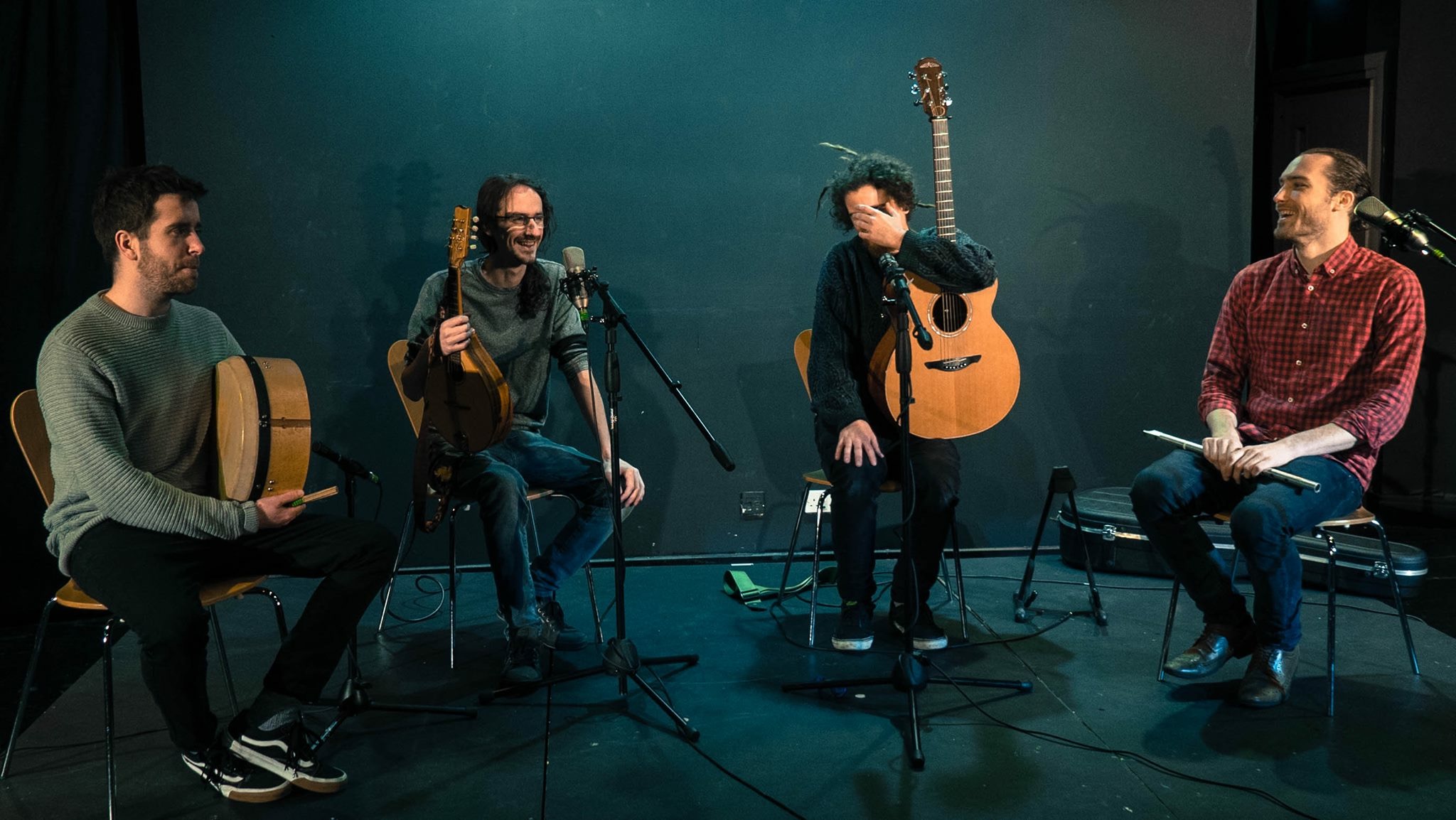 Greyface, 'Dead Men (Don't Walk in Circles)'
Alternative pop rockers Greyface have shared the follow up to last month's 'Underground Star' in the form of genre-bending track 'Dead Men (Don't Walk in Circles)'. Speaking of the new single, the band comments: "'Dead Men…' is our third single and features 'Tadhg' on piano accompaniment. It serves as a defining rock-opera moment within our upcoming EP, backed full-force by distorted guitars, and expressive rhythms and riffs. The track swells providing orchestral backing to match intimate piano-lines, and whispered vocals, which gradually develop the song into a power-ballad."
Elephant, 'Nova Scotia'
Advertisement
Elephant, the musical project of Dundalk-based multi-instrumentalist Shane Clarke, has returned with the second single from their upcoming album. Clark has once again teamed up with long-time collaborator and producer, Joseph Edwards. Featuring the impressive rhythm section from the Belfast-based Robocobra Quartet, 'Nova Scotia' echoes the 80s influence from Elephant's previous LP, 88. Percussion is the only constant – driving the song forward, smooth synth lines, jazzy flourishes on keys, interesting bass lines, and philosophical lyrics come afterwards, winding meandering melodies throughout.
George Hutton, 'One Shot'
Having shared stages with Glen Hansard, Phil Coulter, Hozier, Moya Brennan and more Hutton launched his solo career with the release of Chapter One in 2018, followed by Home in 2020. Featuring strong lyrics and a powerful chorus – and with the driving four-to-the-floor building into an epic bridge – 'One Shot' has all the elements of a pop classic. The gorgeous new video was inspired by the life of George's father - once a professional footballer who received his first and last international cap in 1968, when the Northern Ireland team beat Scotland 4-2.
D.Lewis featuring Sarah McTernan, 'Summer Love'
West African/Irish R&B-pop artist D.Lewis has joined forces with Clare singer-songwriter and former The Voice of Ireland contestant Sarah McTernan on an energetic new track. Raised in Ireland from the age of 16, D.Lewis has drawn on all aspects of his fused cultural background to create his distinct sound, predominantly by using African/US and Irish/UK pop mainstream sensibilities. With a degree in bioscience and chemistry in AIT, D.Lewis wrote the song recalling a typical summer romance, with all the positive, feel-good vibes that go with it. Drawing influences from Tinie Tempah, G.R.L to Demi Lovato and Lil Nas X, he has amassed over 300,000 streams on his Spotify channel thus far.
Andre Fazaz x Nikz x Kebz, 'Mamacita Go'
Having already established themselves as one of the most captivating forces in Irish music, Drogheda's A92 are back with a new high-energy release 'Mamacita Go'. Produced by Menvce, the drill collective's Andre Fazaz, Nikz and Kebz join forces for a track that officially kicks off this summer's festival season. Take a look at the visuals from Yung Kobi below.
Advertisement
Goldie Bron$on, 'Dial' [prod. by Uwmami]
Cork City's Goldie Bron$on continues to mark himself as a serious one-to-watch on 'Dial' – a new collaboration with Dublin producer Uwmami. The genre-blending track follows 'Far Apart', the first single released under his current moniker. Goldie has already built up a following through his busking and Instagram covers, and with 'Dial', he looks poised for a major breakthrough.
Pretty Happy, 'Sudocream'
Art-punk trio Pretty Happy continue to push their creative boundaries on their new Sluggers Bridge EP, out today. Among the standouts on the project is their new single 'Sudocream' – which draws on Cork's rebellious traditions with an approach that switches between fast-paced, jagged guitar and melodic spoken word. The brilliantly bizarre track once again marks Pretty Happy as one of the country's most dazzlingly original acts.
Daniel Whelan, 'Bastille Day'
Carlow artist Daniel Whelan explores questions of love, identity and power on 'Bastille Day', a track that moves powerfully between Dublin and France. Released earlier this week to mark the French holiday, the single marks Daniel as a captivating talent, and is set to featuring on his upcoming EP, Beautiful Torture, produced by Cian Hamilton.
Advertisement
Listen to the Hot Press 'New Irish Songs To Hear This Week' playlist below:
RELATED
Lifestyle & Sports
31 Mar 23