Love On Tour comes to Slane Castle: "Harry Styles is very aware of the welfare of his audience"
With over 80,000 fans expected to descend on Slane Castle this weekend, for the first live show there since 2019, featuring megastar Harry Styles, attendees are urged to give themselves at least 3 hours additional time before arriving in Slane. And also to wrap up well for the night-time cold!
Organisers held a press conference at Slane Castle yesterday ahead of Harry Styles' anticipated performance, which will take place this coming Saturday.
The former One Direction member's Love On Tour show is a sell-out event, with over 80,000 fans expected to descend on Slane. Styles will be supported by Dublin rock band Inhaler, as well as the hit-making British Indie outfit Wet Leg.
Among those who spoke at the press conference were Garda Chief Superintendent John Dollard, Garda Superintendent Martina Noonan, event controller Eamon Fox of MCD, and the son of Lord Henry Mount Charles, Alex Conyngham. The press conference was hosted by Justin Green, director of PR and marketing at MCD.
"Treat it like going to the airport, plan your route in advance, plan your transport, and allow yourself plenty of time," Green urged gig-goers, echoing his sentiments of the Marlay Park shows and Longitude Festival 2023.
Green added: "If you are travelling to the concert, give yourself at least an additional 3 hours travel time to and from the venue. Car parks at the end of the night will empty on rotation, so you will spend a long time waiting for car parks to empty. That is part of the safety procedure."
Advertisement
Garda Superintendent Martina Noonan explained what the operation means to the Gardaí.
"All roads are leading to Slane this weekend," she said. "We have over 80,000 people coming on Saturday. We will have a major Garda policing plan in operation for the event. Our aim is to keep people safe, and ensure that they enjoy the day. Gates will open at 2pm, and early queueing will not be permitted.
"We want to ensure people are aware that it will be a long walk from any car park or bus car park to the site," she added. "We recommend people travel by public transport, but if coming by car that they use evntz.ie for suitable parking."
Supt Noonan was clear about the scale of the operation.
"We will have a full capacity of Gardaí. Around 300 Gardaí will police this event from Friday evening. There will be a sufficient amount of Gardaí and supervisors throughout the whole day Saturday. All roads through Slane will be closed, with no through traffic allowed after 7am on Saturday morning. All details of our Garda policing plan are available on the Garda website."
Advertisement
The event controller in charge of safety and security Eamon Fox addressed the media.
"My aim is to get everybody to Slane safely, get everybody to have a good time, and get them home safely," he explained. "This is a new audience for Slane. The profile of the audience is 90% female, probably in the age range of 18-28. Many are coming to Slane for the first time. This will have a whole new generation come to Slane, because it is a pilgrimage, it is an experience. It's a lifetime experience, even for Harry Styles.
"We have mobilised the biggest private bus hire in the country, to get fans to this event. We've put on services to take up to about half the audience, about 40,000 people on buses. We've shuttles running from all over the country, and we have additional car parking spaces to cater for the rest."
Eamon Fox also urged fans to download tickets in advance of arriving at Slane.
"Download your tickets before you get here. We have upgraded coverage, but if you put 80,000 people in a field, you may not have the coverage."
Fox also gave important advice, encouraging attendees to dress appropriately for the weather, and be aware that temperatures will drop once the sun goes down on Saturday evening. That is a particularly important point, given the age range of the audience...
Lord Henry Mount Charles was not present at today's press conference, but his son Alex Conyngham is an experienced hand in these matters.
Advertisement
"Dad is sadly not here today," he explained, "but he is here in spirit, and I can assure you he is very much aware of exactly what is going on, as he always has been. We hope he can be here for show day. On behalf of the family, we're delighted to be back."
Alex continued: "It's a new generation of fans that are going to be coming to Slane. This could be the first concert for some of the attendees, and we're delighted that Slane will be their rite of passage into live music."
Alex also warned fans to be wary of the River Boyne, and not to swim in the waters under any circumstances.
"The River Boyne is a magnificent backdrop to the gigs, but do not be fooled," he said. "It is a dangerous river. I would encourage everyone to stay away from the river on the day, it is something to be wary of. Admire it from a distance. Do not get in it."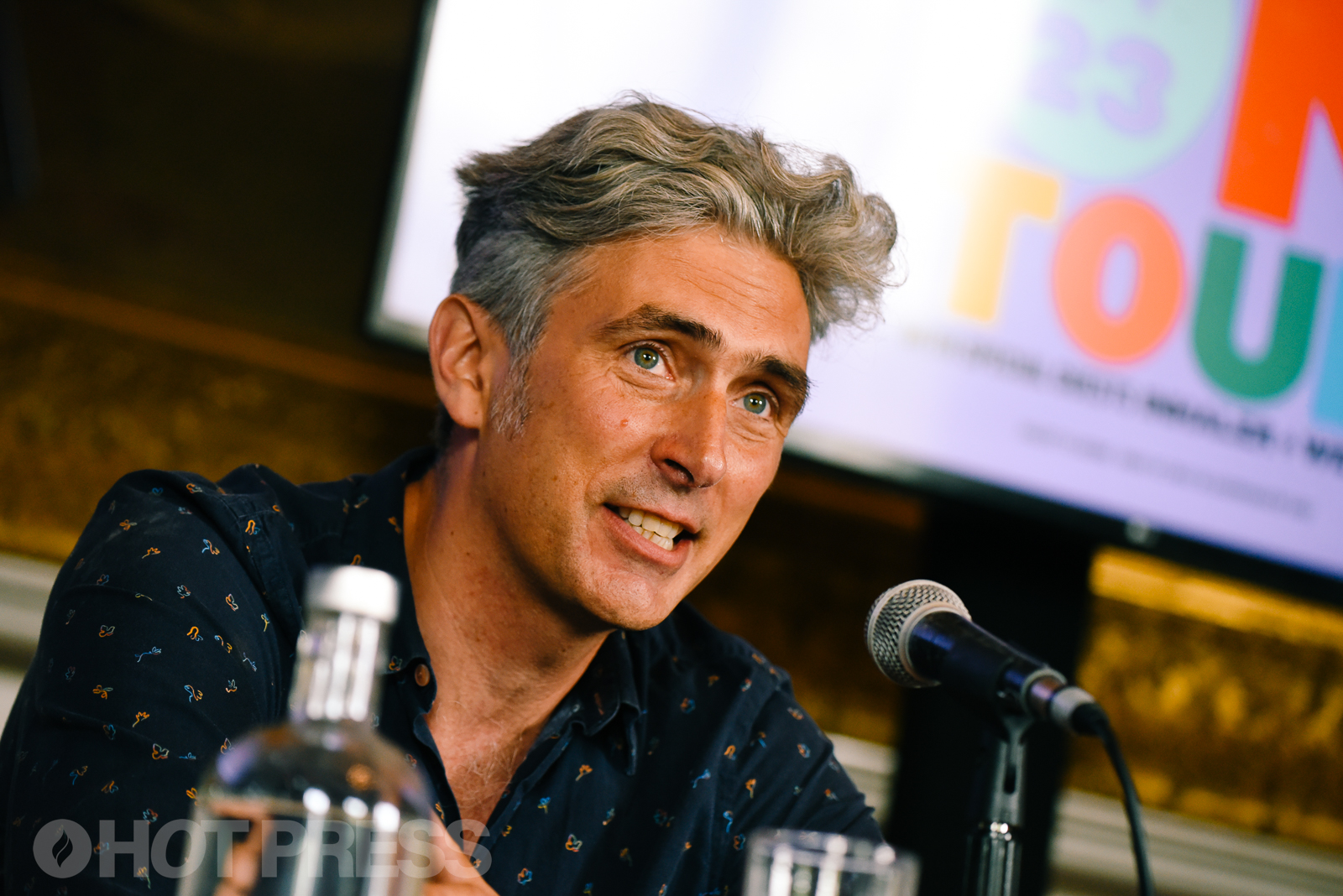 In relation to the concert's environmental impact, Alex explained: "We encourage as many people as possible to use public transport, and with private transport, we encourage as much carpooling as possible to lower the carbon footprint from transport. That's probably the primary carbon footprint associated with the event, is transport, so we've done what we can to mitigate that."
Eamon Fox said: "We try to use recyclable and reusable products as much as we possibly can. Rest assured we also re-use signage and the stage from previous years, so we conserve and reuse."
Advertisement
Fox stressed the importance for audience members to stay hydrated during the gig, with concert officials allowing attendees to bring empty reusable water bottles.
"We allow people to bring reusable plastic bottles. Harry Styles is very aware of the welfare of his audience," Fox explained. "They come and queue, and sitting in the sun on a hot day, don't move. Some people come, they don't leave the barrier and they don't move for food, so we have to put measures in place. While I would normally be saying 'you can't bring this, this and this', you can bring a water bottle, and we do have water on site."
Attendees are urged to bring an empty reusable water bottle, with multiple water points across the venue, and are also allowed to bring a small bag. There are also 10 customer care points located across the venue, in each car park, and on the outskirts of the town.
Attendees are instructed not to bring folding chairs, large backpacks, glass, cans or metal reusable bottles, umbrellas, professional camera equipment, alcohol or illegal substances,. No animals are permitted, other than registered working dogs.
Harry Styles' concert on Saturday will be the first concert in Slane for four years. Metallica were the last band to play a headline show at the iconic Irish venue that has previously hosted the likes of Queen, David Bowie, The Rolling Stones and Madonna.
Inhaler's lead singer Eli Hewson is also set to perform at the venue in which his father Bono has already played three times with U2, headlining shows in 2001 and 2002.
Information about Saturday's concert can be found on www.Evntz.ie.
See www.garda.ie for a full travel management plan.
Advertisement