Rock'n'Roll & Whiskey: A trip down memory lane with the founder of Slane Irish Whiskey
"Music flows through Slane, as much as the river and now the whiskey does," says the man behind Slane Irish Whiskey. And he knows what he is talking about!
"We're thrilled that in addition to next summer's concert, which is Metallica in June, we've got people visiting Slane all-year round now to see the distillery and learn about our history."
That's Slane Whiskey co-founder, Alex Conyngham, as he treats us to a guided tour of their distillery and visitor centre, which are based in and around the historic set of buildings that previously made up the estate's stable yards.
Lovingly restored to facilitate this new chapter in their storied lives, the buildings are the perfect environment in which to savour Slane's signature Triple Casked Irish Whiskey.
"The best distillery tours for me are the ones where you're taken in and out of the buildings, as we do here," Alex enthuses. "There's lots of being able to smell and taste. You go through every step of the process from the mashing to the fermentation, the distilling – and then ultimately the maturation. You finish off with the best bit, which is a sample of the whiskey and an informal chat about it. Afterwards, we've two bars where you can enjoy a cocktail and, tying into the music, stick on your own vinyl."
Blasting out of the speakers the day we visit are The Rolling Stones, one of the elite club of artists who've headlined Slane twice.
Advertisement
"The Stones' first Slane was in 1982, but Mick had actually visited a few years earlier," Alex reveals. "My dad got a call from my grandfather, saying, 'I've got someone coming to dinner. I think he's called Michael Jigger...' Dad was like, 'Do you mean Mick Jagger?' and sure enough it was! He and dad hit it off straight away. Fast forward to 82' the two of them went for a few jars in the castle's own nightclub where a local spotted Mick and proceeded to say, 'Did anyone ever tell you you're the spit of that Rolling Stones fella?' which he found hilarious!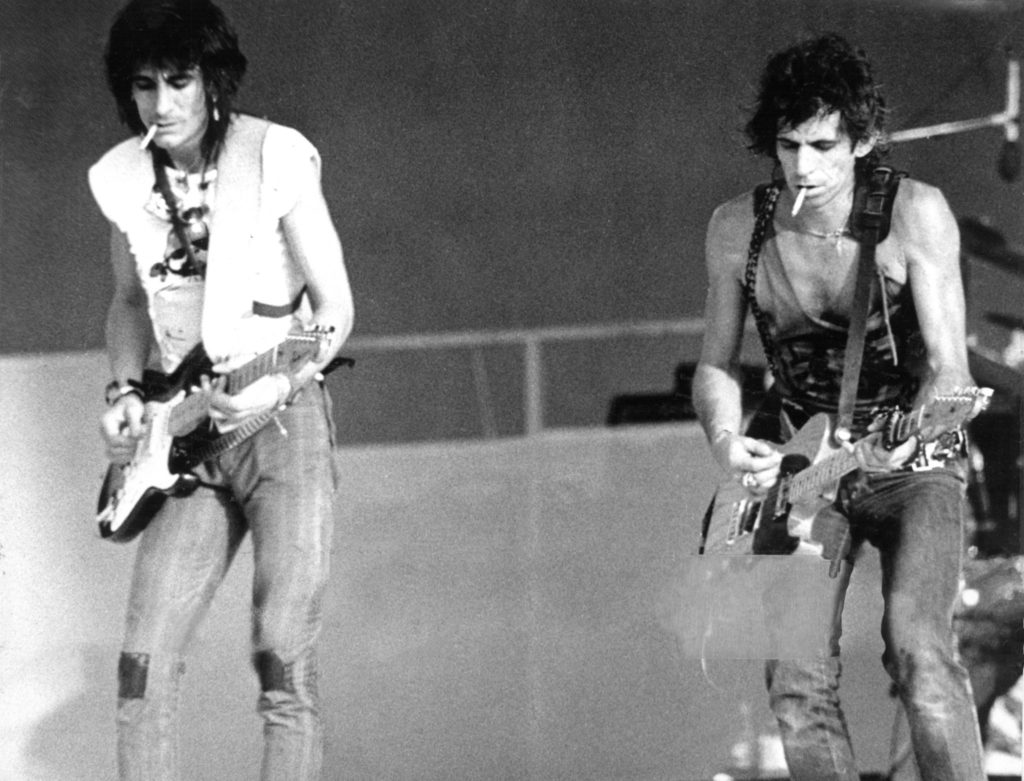 "I remember watching the '82 show from the balcony of the house and nearly killing myself trying to catch one of the balloons that were released at the end," he continues. "A few people thought, 'Can they conjure up the same magic again?' when the Stones returned in 2007, but it was a sensational gig." We'll drink to that: a glass of Slane Irish Whiskey of course!
Queen's visit to Slane in July 1986 was also a stormer!
"What I remember most about that concert was Freddie Mercury's energy and this amazing guitar solo from Brian May while Freddie was doing one of his famous costume changes," Alex recalls. "Somebody who has that same larger than life persona as Freddie is Robbie Williams. He was so good when he appeared as third on the bill to The Verve in 1998 that Dad immediately said, 'We've got to get him back next year as headliner!'
"Robbie's a born entertainer who really captivated and charmed the crowd – and indeed my kid sister, who he played football with backstage before the show!"
As nimble as Robbie is on his feet, in the shoe-shuffling department he was no match for 2005's star turn, Madonna.
"Dad really wanted a female artist to headline Slane," Alex reminisces, "and who better than the Queen of Pop whose choreography was mindblowing. I'd seen stilettos being worn before in the Slane VIP area, but not in the crowd. It was a different type of Slane, but one that worked perfectly."
Advertisement
When Hot Press asked its journalists, past and present, to vote for their all-time favourite Irish gig, Bruce Springsteen & The E Street Band's 1985 Slane extravaganza won by a landslide.
"The sun was splitting the rocks, Bruce and the band were in top form and the crowd, which was by far and away the biggest he'd played to at that point in his career, went wild," Alex recalls. "The night before, he'd played his entire set inside the castle to a few people including dad. A couple of years ago, Bruce brought his family to Slane, to relive some of the memories of that amazing gig, which was lovely.
Talking to Hot Press in the run-up to their 2015 headliner, Dave Grohl said the Foo Fighters had been itching to play Slane for years, and considered it a badge of honour to eventually do so.
"That's very decent of him to say so," Alex smiles. "Many of the artists who have played Slane – Stereophonics, Red Hot Chili Peppers and Kings Of Leon among them – have said what a special gig it is. There's something about being in a field as opposed to a stadium, with the backdrop of the Boyne and the woodlands and the castle floating above it all and then, of course, there is the bonus of the Irish crowd."
In 2017, Guns N' Roses were the first band to be presented with a bottle of Slane Irish Whiskey after headlining there. You imagine a sip or two will also be had next summer when Metallica, a band who've been known to cover 'Whiskey In The Jar' in honour of Philip Lynott and Thin Lizzy, do the Slane honours.
"Music flows through Slane as much as the river, and now the whiskey, does!" Alex concludes.
For more information, go to https://www.slaneirishwhiskey.com/
Advertisement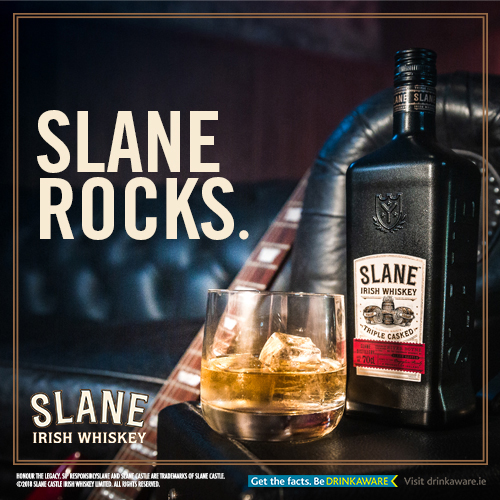 Honour the Legacy. Sip responsibly. See https://www.drinkaware.ie/ for more details.
SLANE and SLANE CASTLE are trademarks of Slane Castle. ©2019 Slane Castle Irish Whiskey Limited. All rights reserved.