Kim Gordon to launch her IMMA exhibition with a live performance and an interview this weekend
The ground-breaking artist's solo exhibition runs from July 27 to November 10. Photo: David Black.
Legendary multi-disciplinary artist Kim Gordon is coming to IMMA in Dublin this weekend to launch her new solo exhibition, She bites her tender mind. Featuring a series of new works, including previously unseen paintings, drawings and ceramic sculptures, alongside a glitter installation and an immersive video projection, the exhibition is set to run from July 27 to November 10.
This Saturday, Gordon is set to celebrate the opening of She bites her tender mind with two sold out events presented by IMMA: Artist Conversation: Kim Gordon and Sinéad Gleeson and An Evening with Kim Gordon.
Taking place in the offsite venue of the Light House House Cinema, Gordon will discuss the making and thinking behind her exhibition with Irish writer and broadcaster Sinéad Gleeson. The talk, which takes place from 1pm to 2:15pm, offers a rare chance to gain insight into Gordon's extraordinary creative process.
Later in the evening, Gordon will relocate to the beautiful surroundings of the IMMA Courtyard for an intimate live performance. Kicking off at 7pm, the evening will feature Body/Head, an experimental electric guitar duo made up of Gordon and Bill Nace, as well as performances by poet Elaine Kahn and guitarist Heather Leigh.
One of the most prolific artists of recent decades, Gordon's work crosses boundaries between visual art, music, writing, fashion, film and performance. As well as her work with Free Kitten and Body/Head, she is synonymous with the iconic band she co-founded in 1981, Sonic Youth. Together with founding members Thurston Moore and Lee Ranaldo, Gordon features across Sonic Youth's 15 studio albums.
Advertisement
The recent paintings in She bites her tender mind contain references to the ancient Greek poet Sappho, with the exhibition taking its titles from of one of the poet's works. Other pieces in the exhibition include the ongoing Noise Painting series, depicting the names of experimental and noise groups; the From The Boyfriend series that use denim mini-skirts as paint surfaces turned on their sides and presented as minimalist art; and word paintings that refer to 'hashtag culture'.
For more information, see imma.ie.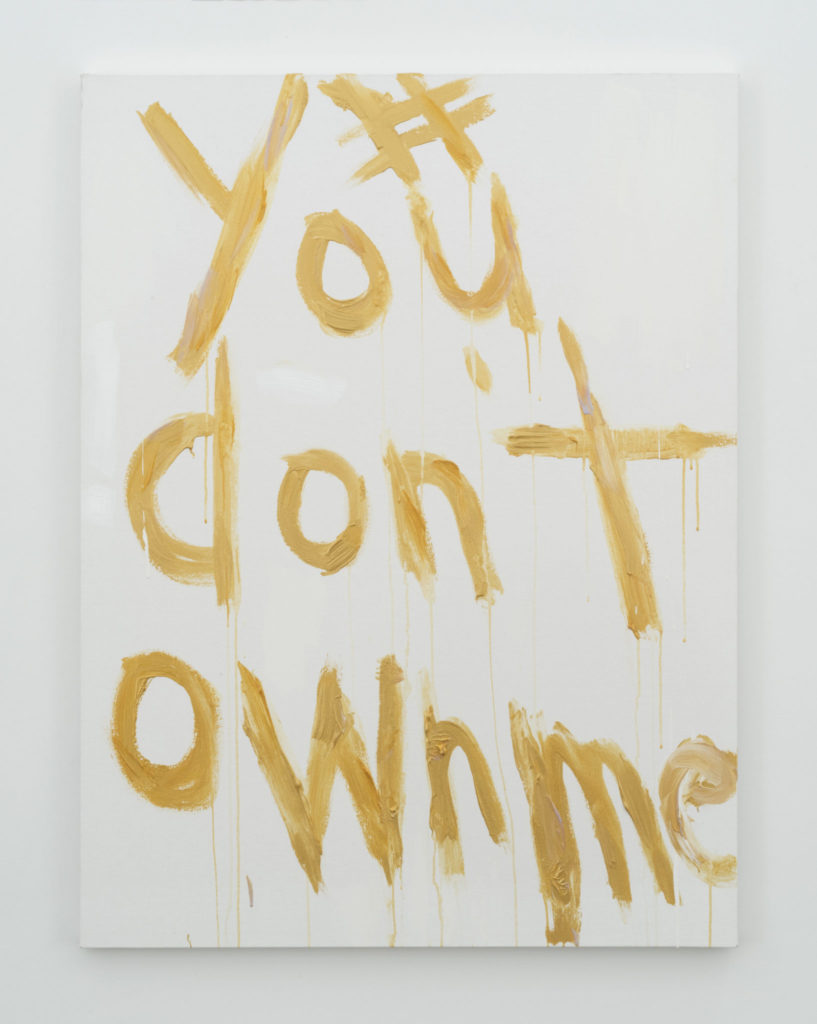 Kim Gordon, #Youdon'townme, 2017, Acrylic on canvas, 48 x 36 inches (121.9 x 91.4 cm), © Kim Gordon, courtesy 303 Gallery, New York