Tickets for this year's Ireland Music Week showcase are available on eventbrite.ie from €40.
Ireland Music Week has announced the 50 new and emerging artists that will showcase at IMW 2023 at the beginning of October.
The festival returns with the international-facing showcases and conference in October 2023. The conference elements will take place across the four days, with the music showcases taking place over two nights – Thursday October 5 and Friday October 6.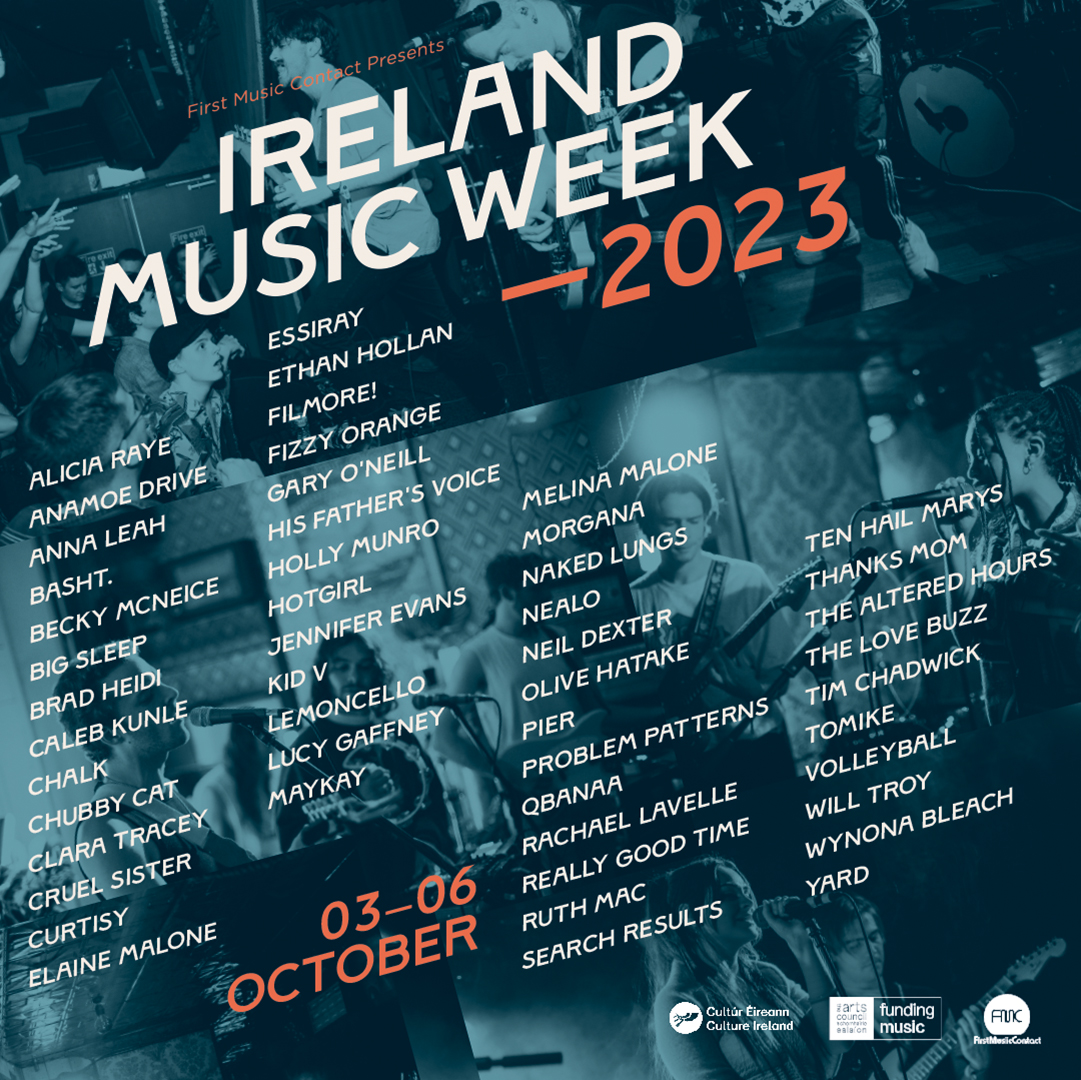 The showcases will take place across six stages in The Grand Social, The Workman's Club, and another venue that is yet to be announced. Lost Lane will once again be the festival hub and location for the conference during the day.
Sharon Barry, Director, Culture Ireland said: "The 50 artists that will feature in this year's Ireland Music Week have a vital and valuable opportunity to engage with the international music industry. We look forward to a celebration of new musical talent in October."
Advertisement
Since its inception in 2003, Ireland Music Week's showcase has given a platform to some of Ireland's best-known acts. Previous IMW showcase acts include The Coronas, Hozier, CMAT, David Keenan, Denise Chaila and Fontaines D.C.
This year, applications began in February, with nearly 600 acts applying to play at the internationally renowned music showcase. The acts were then chosen independently by an external panel of international and Irish industry professionals.
Speaking about this year's crop of artists, the IMW team said : "Every year the quality of new acts that submit for IMW astounds us. We are incredibly excited to work with these 50 artists to help kickstart their international journey. We are witnessing a golden age in Irish music and it is so exciting to be a part of that."
Ireland Music Week is also part of Keychange, a pioneering initiative which aims to see music festival line-ups achieve a 50/50 gender balance while investing in the next generation of women artists and artists from underrepresented gender minorities.
Get tickets to Irish Music Week 2023 here.
Find the full list of Irish artists below:
Alicia Raye
Anamoe Drive
anna leah
Basht.
Becky McNeice
Big Sleep
Brad Heidi
Caleb Kunle
Chalk
Chubby Cat
Clara Tracey
Cruel Sister
Curtisy
Elaine Malone
ESSIRAY
Ethan Hollan
Filmore!
Fizzy Orange
Gary O'Neill
His Father's Voice
Holly Munro
hotgirl
Jennifer Evans
KiD V
Lemoncello
Lucy Gaffney
MayKay
Melina Malone
Morgana
Naked Lungs
Nealo
Neil Dexter
Olive Hatake
Pier
Problem Patterns
Qbanaa
Rachael Lavelle
Really Good Time
Ruth Mac
Search Results
Ten Hail Marys
thanks mom
The Altered Hours
The Love Buzz
Tim Chadwick
Tomike
Volleyball
Will Troy
Wynona Bleach
YARD
Advertisement