There's much more to Ian Broudie than footie anthems, as his brilliant Tomorrow's Here Today memoir proves. He talks The Beatles, rock 'n' roll first loves and punk Liverpool-style with Stuart Clark.
If your sum knowledge of Ian Broudie is that he's that bloke who sang 'Three Lions' with Baddiel and Skinner, you're in for a bit of a surprise this month when his Tomorrow's Here Today: Lightning Seeds, Football And Cosmic Post-Punk book hits the shelves.
For contained within its 352 pages is one of the greatest rock 'n' roll stories of the past fifty years, recounted with a warmth, wit and wisdom that is unmistakably Liverpudlian.
While London is always regarded as the epicentre of Britpunk, there were just as many mavericks to be found by the River Mersey during the late '70s, as Broudie fondly recalls when we hook up at Electric Picnic.
"We'd get chased around Liverpool city-centre just for having slightly tight trousers on back then," he laughs. "A bunch of us used to gather in Mathew Street, which at that time was a bit of a wasteland with loads of old warehouses.
"I was there one day with my brother's guitar, which I was taking to be fixed, and amidst this pile of rubble came across a strange place called the Liverpool School of Language, Music, Dream and Pun. There was a guy outside, Peter Halligan, who said, 'Everyone's welcome, come on in'. So, I did and ended up playing guitar in a play there called the Illuminatus Trilogy. Through that I got to know one of the other people in it, Jayne Casey, and the stage manager, Bill Drummond, who suddenly I was in a band called Big In Japan. That's how I went down the rabbit hole!"
Advertisement
Big In Japan's voluminous ranks also included Holly Johnson, future Teardrop Explodes man David Balfe, Budgie who later joined Siouxsie And The Banshees and Clive Langer who's subsequently produced the likes of Hothouse Flowers, Madness, Morrissey and Elvis Costello.
Irish readers may be tempted to skip the Three Lions chapter but the story of how Ian came to co-author the Greatest Footie Song of All Time is almost as cracking as Gazza's dentist's chair goal against Scotland at the 1996 Euros, which the "It's coining home!" ditty soundtracked.
Broudie's no Little Englander, though, with his main allegiance being to the Democratic Republic of Scouseland and its patron saints, The Beatles.
"I was born in 1958 in a place called Menlove Gardens, which is just round the corner from Menlove Avenue where John Lennon was from," Ian explains. "It was all the same schools like Quarry Bank Grammar. Up until the mid-'60s, they were very much a Liverpool band that the whole city was proud of. It was the music and the football too with the Kop singing The Beatles' songs. At some point they turned into a London Saville Row group and felt a bit distant, but as a kid they had a very direct influence on me and my elder brothers who had all the records."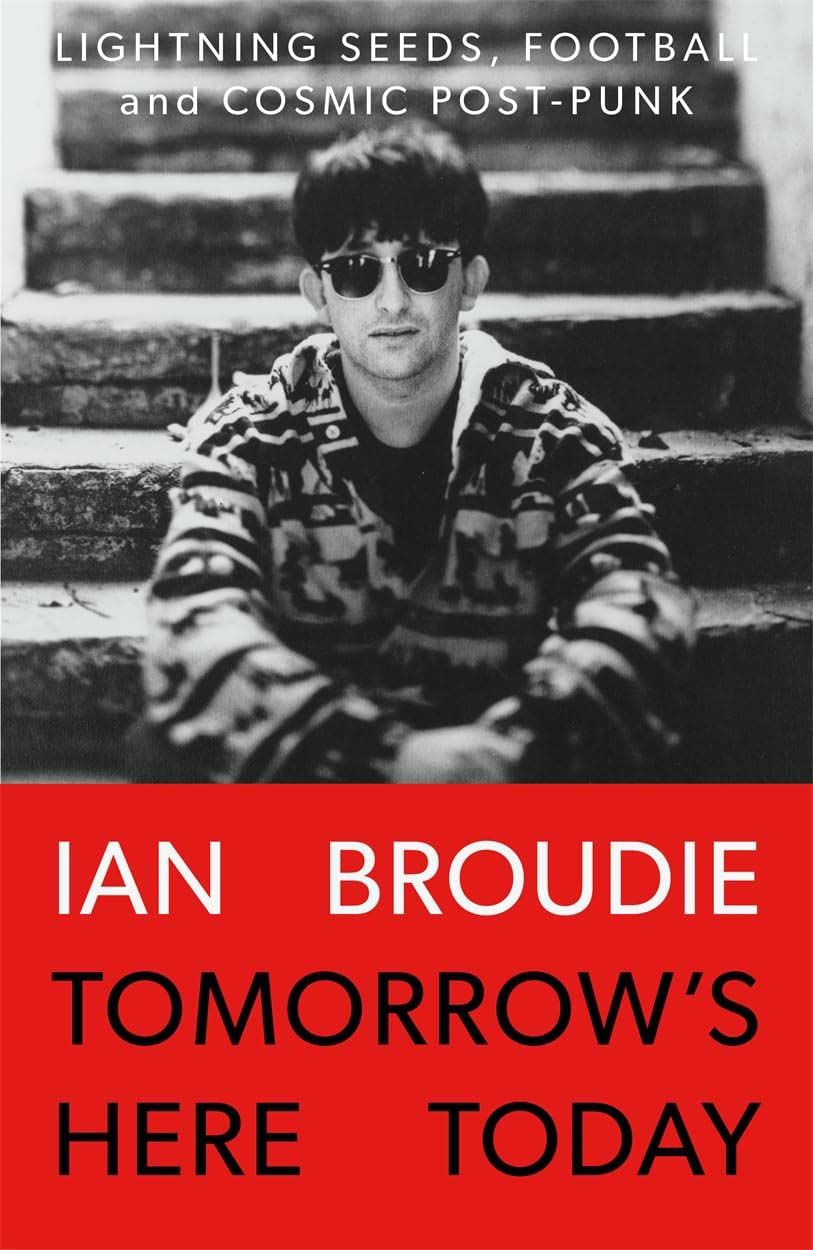 Advertisement
As big a Beatles nut as he was, it was a Fab Five who made Broudie want to be in a band himself.
"I know everyone says this, but I really did love the Velvet Underground as a kid," he maintains. "I was a bit of a misfit until punk happened and I got to see all the bands in a little venue in Liverpool called Eric's. In return for helping them load the gear, I'd get to see the gig for free. It'd be the Sex Pistols one night, The Stranglers the next."
With other Eric's regulars including Julian Cope, Pete Burns, Ian McCulloch and Pete Wylie, it was quite the place to hang out.
Finally, it's worth noting that Tomorrow's Here Today comes with a disclaimer.
"Yeah, I say, 'This is how I remember it'," Broudie confesses. "Will Sergeant from the Bunnymen, who's also got a book out, was phoning me up to fact check and vice versa. After a few of these calls, I realised our memories of the same thing are totally different. They're all true, just processed differently."
Tomorrow's Here Today: Lightning Seeds, Football And Cosmic Post-Punk out now, published by Nine Eight Books.