The Dublin musician's third studio album The Sweetest Part will feature singles 'Circles', 'Jealous', 'Greatest Hits', 'Kingdom', and title single 'The Sweetest Part'.
Irish musician Gavin James is set to release his third studio album The Sweetest Part this Friday, July 22, and to celebrate, the singer will be doing in-store signings in select locations.
Having earned 1.8 billion streams at Spotify, 1 Diamond record and 45 Platinum and Gold records across the globe, a number one album in Ireland, a sold-out world tour and live shows with Sam Smith, Ed Sheeran, Niall Horan and James Blunt, Gavin James is ready to release his next chapter of work.
Following this release, James will travel around Ireland for album launch gigs and in-store signings of The Sweetest Part. See locations and dates below.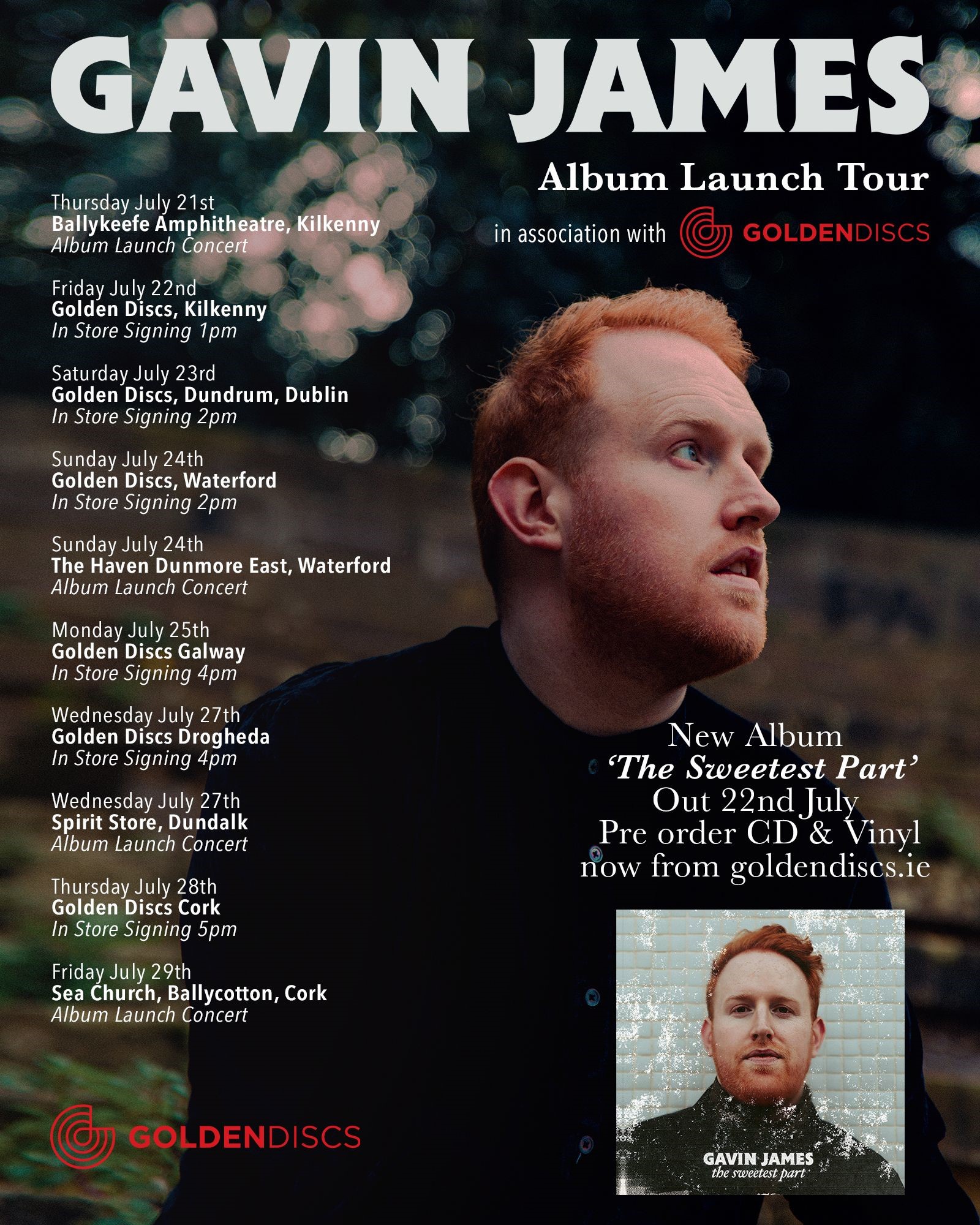 The album, which will explore "the highs and lows of love and relationships", was written and produced by the Irish singer-songwriter alongside some of pop music's most highly regarded names – including Ivor Novello-nominated songwriter Mark Ralph (Years & Years, Clean Bandit, Jax Jones), Fiona Bevan who co-wrote One Direction's number 1 hit 'Little Things' with Ed Sheeran, Patrick Pyke Salmy and multi-Platinum awarded Richard Muñoz (Zoe Wees), Ollie Green (Freya Ridings, Lewis Capaldi) and Jimbo Barry (The Script).
Advertisement
The lead single 'Novocaine' was co-written by Ryan Tedder, the lead vocalist of OneRepublic, as well as songwriter and producer for acts like Adele, Beyoncé, Miley Cyrus, Lady Gaga, Ariana Grande.
Previous to the album launch, the musician released a selection of singles from the album; 'Circles', 'Greatest Hits' (which spent weeks in the Top 5 at radio in Ireland and Top 5 in Switzerland) as well as the title single 'The Sweetest Part', which was written and produced by Gavin and Kodaline guitarist Mark Prendergast.
It's clear Dubliner Gavin James has come a long way from his early days busking on Grafton Street.
The Sweetest Part is out on July 22, via Good Soldier/AllPoints. You can pre-order the album here.
Stream a selection of singles from The Sweetest Part below.
Tour Dates 2022:
Advertisement
Jul 21 Ballykeeffe Amphitheatre, Kilkenny - Album launch concert
Jul 22 Golden Discs Kilkenny - 1pm Instore signing
Jul 22 Whelan, Dublin – Album launch show
Jul 23 Golden Discs Dundrum - 2pm Instore signing
Jul 24 Golden Discs Waterford - 2pm Instore signing
Jul 25 Golden Discs Galway - 4pm Instore signing
Jul 27 Golden Discs Drogheda - 4pm Instore signing
Jul 27 Spirit Store, Dundalk - Album launch concert
Jul 28 Golden Discs Patrick's Street, Cork - 5pm Instore signing
Jul 29 Sea Church, Ballycotton, Cork – Album launch concert
Aug 5 Expofacic 2022, Portugal
Aug 13 Revival Festival, Ireland
Sept 22 Bostheater, Amsterdam, Netherlands
Sept 25 Derry Millennium Forum, Northern Ireland
Oct 01 Galway Leisureland, Ireland
Oct 02 Belfast Ulster Hall, Northern Ireland
Oct 21 Sligo Knoknarea Arena, Ireland
Oct 29 Wexford Spiegeltent
Dec 03 Gleneagle INEC Arena, Ireland
Dec 29 Royal Theatre Castlebar, Ireland