Forest Fest Special - James: "Iggy came on with blood on his bare chest, leather pants, horsehair tail between his legs! I got punched by a bouncer"
Prior to James's highly anticipated headlining slot at Forest Fest, frontman Tim Booth sits down next to Will Russell to discuss Iggy Pop, touring Ireland with The Smiths and serenading Bono.
Tim Booth is talking to Hot Press the day after two-sold out hometown shows at the 02 Apollo in Manchester, as part of the James Lasted 40th anniversary tour. A new album, Be Opened By The Wonderful, featuring orchestral reworkings of James' biggest hits and some choice rarities drops this June, just in time for the band's sole Ireland date headlining Forest Fest in July.
Judging by countless rave reviews of the tour, fans are in for a red-hot James set, complete with 22-piece orchestra and 8-piece gospel choir.
"Wild, both of them were wild," a relaxed Booth almost whispers, when I ask him about the Apollo gigs. "These are not like gigs, these are something different. There is something sacred about them, the intensity and emotions that go with them are quite hard to digest really."
Advertisement
That's saying something, as James concerts are fabled for their intensity.
"Massively more so than usual," Tim confirms. "There's something else going on. Yes, James gigs are usually profoundly uplifting and intense. But this enables us to go into our back catalogue and find the hidden gems we don't normally play. We do a nine-minute slow version of 'Moving On' – you can see a lot of people in tears and some nights we're in tears.
"There's quite a few songs like that, where it's hard for us to get through them. It's very beautiful and joyful, you can hear a pin drop. When we played Glasgow, we were scared the audience weren't getting it, because normally Glasgow is the most riotous audience. And there was just an unearthly silence for a good hour.
"I kept going, 'Uh, you alright? Are you okay out there?' Because it's a big venue, you couldn't really see. And they would just erupt. They were getting something they hadn't bargained for, that they hadn't anticipated."
I expect selecting songs for the new album was something of a Sophie's choice.
"Me, Jim [Glennie, founding member of James] and Joe [Duddell, orchestra conductor] really worked it out. The tour we're playing represents 40 years of James. Joe had to respond to the songs, because he was doing the heavy lifting, of translating them to the orchestra. Joe knows us well; his arrangements are just right. They stretch an audience, but they don't lose an audience. Chloe [Alper] in our band also worked with the choir – she must take credit for that."
Advertisement
Remarkably, the new version of 'Sit Down' is even more powerful than the original, something I wouldn't have thought impossible.
"My father-in-law died in the first wave of Covid," Tim reflects. "The nurse Face Timed us when he was choosing to come off the ventilator. And he asked me to sing 'Sit Down'. And I did, literally an hour before he died. So that song has a different resonance for me now. It's kind of brought it alive again.
When we wrote that song, after 20 minutes, we were laughing so much we had to stop playing, because sometimes you know when you're bringing through a big song. And that was one of those occasions. The song was really a thank you to Patti Smith and Doris Lessing, at some level for making me feel less alone in the world. Doris Lessing is an author who has deeply affected me.
"I was lucky enough to hear Patti Smith's song 'Birdland' on the night I thought my father was going to die. It's a song about a boy losing his father. The impact of a 16-year-old being reached out to, across the Atlantic, by a thirty-year-old is a major reason I became a singer."
Advertisement
Lessing's later writings were greatly influenced by Sufism, which Booth's dancing has always possessed an element of.
"Unconsciously," he explains. "I was 16 and at a Victorian boarding school. I would lock the study door, put on music and throw myself around the room and just go wild. I hated the place I was in and wasn't very happy. I also had an inherited liver disease, which was undiagnosed and I was sick all the time. That was my way of releasing my frustration, anger, sadness and grief. And it kind of went from there. I'd go five nights a week to the Hacienda in Manchester before people turned up, throw myself around for two hours and then go home."
Talking of the Hacienda, James are often associated with the Madchester scene, but they in fact pre-date it by over half a decade.
"We weren't Madchester," nods Tim. "We formed a few months before The Smiths did. We got grouped in with that scene because we took the Happy Mondays and Inspiral Carpets on tour, and The Stone Roses did a gig supporting us. Suddenly the scene was there and we got lumped in with it.
"We didn't want to be, because we felt a scene only lasts two years, and we knew we were going to last longer than that. We were always so bloody minded. Peter Saville did all Factory Records' album sleeves, but we wanted to design our own sleeve. Jimmy from our band ended up doing the sleeve with felt-tip crayons the night before the release. And it ruins their catalogue.
"I mean, you can see their catalogue and its absolutely homogeneous – then there's the one sleeve made with felt-tips the night before by Jim!"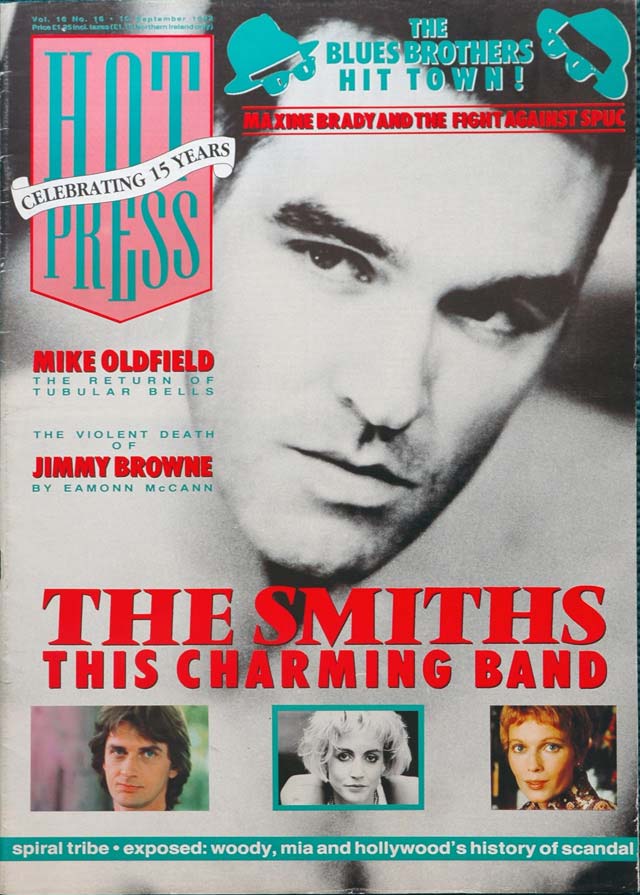 Advertisement
Over the years, James have made many visits to Irish shores.
"We toured Ireland with The Smiths, which was amazing," recalls Booth. "Our little campervan broke down outside Derry. We were left it at the side of the road and managed to hire a minivan for the rest of the tour. So somewhere is our beautiful little 1950s tour bus that we paid two grand for. Also, I remember an amazing gig in Ireland.
"I arrived at the venue and someone said, 'Oh, there's a letter from the U2 people for you in the dressing room'. I didn't open it because I was so focused on the gig. During the gig, I climbed up onto the balcony and sang into a box and climbed back down onto the stage.
"That night when I got back to the hotel, I opened the letter and it's from Bono saying, 'I'm going to be at the gig. It's my friend's birthday, would you dedicate 'Sometimes' to them?' Turns out it was their box I'd sung into! Complete error, but it worked out okay!"
It turns out on of Booth's first gigs was Iggy Pop at the Apollo in 1977 – and now here he is, full circle.
Advertisement
"Insane," he grins. "Yes, Iggy Pop was the other reason I think I became a singer. That gig was very pivotal for me. At that Victorian boarding school, they let us go and see a concert. Myself and these guys Ralph and John said we'd like to see the White Riot tour by The Clash. Punk hadn't started, so they didn't know what punk was.
"We were public school boys dressed in school uniforms, going to Wolverhampton to watch The Clash, The Jam, The Buzzcocks, Subway Sect and The Slits. And then we were allowed to do it again. So, we told them we wanted to see this Iggy Pop guy. We finally persuaded the church organist Roger Parks to take us.
"We ditched him when we got past the security, and Iggy came on with blood on his bare chest, leather pants, horsehair tail between his legs, fucked! I got punched by a bouncer. It was glorious!"
James play Forest Fest on Friday, July 21. Be Opened By The Wonderful is out now.
Read our full Forest Fest feature in the current issue of Hot Press:
Advertisement