Snow Patrol's Gary Lightbody: "For years after Final Straw, we were still thinking. 'We're not supposed to be here. All this is a giant mistake.'"
Twenty years after achieving commercial lift off with the newly rereleased Final Straw, Gary Lightbody tells Stuart Clark about how they went from the humblest of indie roots to becoming one of the biggest bands on the planet. Madonna, Pink, Bob Geldof and Glen Hansard all make cameos as he does...
Fuck me, how did that happen? In what seems like a twinkling of an eye, Snow Patrol's breakthrough Final Straw album is turning twenty and yours truly is recalling his July 2003 review of the aforementioned twelve-tracker.
While spot on with my 9/10 rating and prediction that Gary Lightbody & Co. would be making their Top Of The Pops debut sooner rather than later, I spectacularly managed to overlook the song, 'Run', which did indeed lead to Snow Patrol's first visit to BBC Television Centre in West London.
"That was back when I was reading every single scrap of press and I remember that review – yours was one of the very best ones, so thank you for that!" laughs Gary who's kicking back at home today in Bangor. "I don't read them anymore but 9 out of 10, that's a belter, mate! That's the thing about Final Straw, it did get really good reviews."
What was 27-year-old Gary Lightbody's mindset going into London's Britannia Row studio in February 2003?
"Excitement but also anxiety," he recalls. "I've been very anxious my whole life and am now coming to terms with it. I've done a lot of work on it intensively these past five years, but back then I was a big ball of anxiety. So I was probably worried about all sorts of things that I probably didn't need to be worried about.
Advertisement
"We were recording for the first time in London with a new producer, Garret 'Jacknife' Lee, and had six weeks which was way too long to make an album. Our last one, Wildness, took seven years of course but back then it was days in the studio, not weeks.
"So many things about going in to record Final Straw were new, and thusly fuelling my anxiety, but Garret very quickly put my mind at ease by his ability in the studio. I think we were the second major label record he'd done after Kasabian's Reason Is Treason and his own stuff with Compulsion. Even then he was a consummate professional who could get into the weeds of minutiae but also had the bigger picture in his head – whereas I was probably stumbling from crisis to crisis. So the 27-year-old Gary was probably a bit erratic."
But, as we'll reflect on shortly, in the songwriting form of his life.
The rapport between Gary and Jacknife, who's subsequently worked with the heavyweight likes of U2, R.E.M., Biffy Clyro, Robbie Williams, Taylor Swift, Neil Diamond and The Killers, was instant.
"I went to the small studio he has in London where we played records – we'd be halfway through something he'd stuck on and I'd go, 'Yeah, but what about this one?!' – bounced off each other and had a moment of fission or some other chemical reaction between us," Gary smiles. "I went back to the rest of the band and said, 'This is him, we've found our guy'. Whether he had a masterplan for that record I'm not sure, but from that day on I had so much confidence in Garret and none of it was misplaced."
Advertisement
It's fair to say that Snow Patrol had been through some lean times before their late 2002 signing to Polydor.
"I sold a lot of my record collection – which was incredibly painful – to pay the rent and afford luxuries like food," he winces. "One of our nadirs was a gig in a High Wycombe strip club attended by at best ten people. There'd been ten years of struggling, which I look back on now as a plus because it tested our mettle as a band and meant that whatever could possibly go wrong had already gone wrong by the time we went in to record Final Straw. Which isn't to say that they didn't go wrong again! We referred to ourselves as 'Team Crap', so that might give you some idea of the head space we were in."
With Jacknife acting as their George Martin, Snow Patrol quickly nailed the song which guaranteed that they'll never have to step foot in a strip joint again. Well, unless they want to...
"Getting 'Run' right felt really special," Gary enthuses. "I still didn't think it was a single. People had said, 'This could be on the radio if you shorten it' but I was determined that it was going to be six minutes. It can be different things within that time period, but this is how long the song needs to be in order to live its full life. Friends of ours who'd come down from Glasgow and across from Belfast were like, 'Oh yeah, that's a good one!' There was a sense of everything connecting."
'Run' had actually been rattling around for a couple of years.
Asked whether it was another bedsit creation, Gary says, "Yeah, I wrote it in my room in Glasgow, thinking about wanting life to be different. It was four o'clock in the afternoon, pitch black and totally bleak with sheet rain coming down – which is par for the course in Glasgow! The sun comes up for about 25 minutes and then goes back down pretty quickly, so 'Light up, light up…' was me in various ways wanting to escape the gloom. I was not expecting it to work but it kind of did."
Advertisement
With the lead single, 'Spitting Games', stalling at no. 54 in the UK – "It was still the highest we'd ever been in the charts and we got to make a video with a big film crew," Gary mitigates – releasing a slow-building epic as the follow-up didn't appear to be the safest bet.
"'Run' wasn't meant to be a single but Jo Whiley, who was on BBC Radio One at the time, took a chance and played all six minutes of it in December 2003," he resumes. "As the old radio cliché goes, the phone lines lit up and then we released a four minute version in January – a compromise, I know, which went straight in at no. 5 and then the album was rereleased and it went top three.
"We then started playing a lot of TV shows, Top Of The Pops among them, which didn't really seem real. We'd be there in our jeans, t-shirts and trainers – God bless the record company stylists for struggling through life with me – while the biggest acts of the day were dripping in designer labels.
"For years after Final Straw, we were still thinking. 'We're not supposed to be here. All this is a giant mistake, it's a different band that was meant to be successful and we'll have to go back to playing to ten people'. It was imposter syndrome on a grand scale. We might have been drinking too much but we didn't arrogantly feel we belonged there – quite the opposite."
If memory serves me correctly, it wasn't long after 'Run' had charted that Gary was to be found sitting cross-legged on the Whelan's dancefloor having a four o'clock in the morning acoustic jam with Glen Hansard.
"Very possibly," Mr. Lightbody deadpans. "I don't know if it was Whelan's but the first time I met Glen we slid down on the floor with our backs against the bar to have a chat because we couldn't hear each other standing up. We had a good, long chat while people were ordering their drinks. Glen's one of the best ever."
Advertisement
Success also beckoned in the US where a Late Night With David Letterman appearance was pivotal to Final Straw's success.
"Of all the late night shows and hosts, Letterman is my favourite. He got a rep for being a bit standoffish with some of his guests but he was always so nice to us and had a little bit of a chat as well, which was thrilling."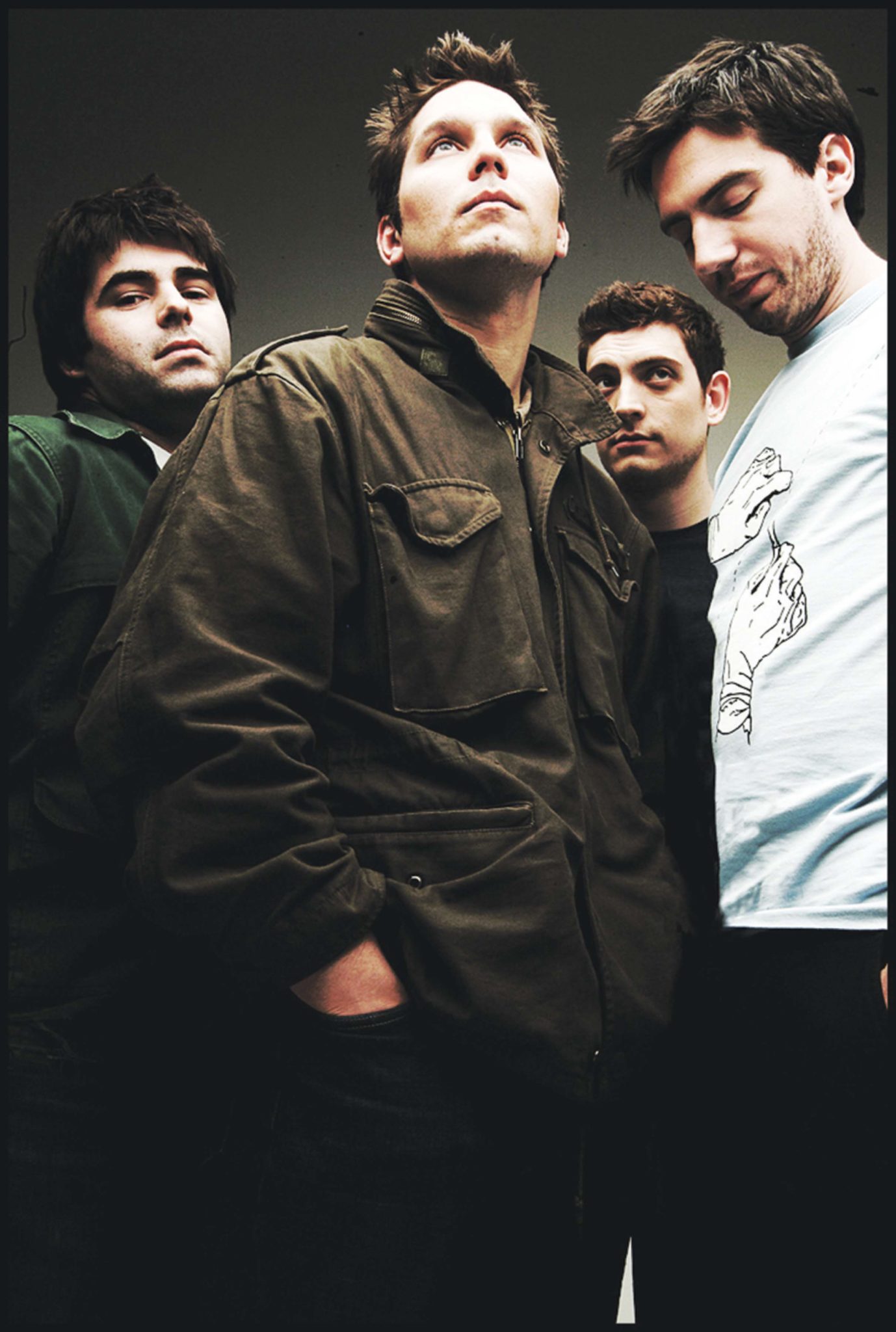 Listening to the Final Straw 20th birthday reissue – in shops now, kids, with a whopper 23 bonus cuts – it's noticeable that the demo versions of standouts like 'Chocolate' and 'Spitting Games' are far more delicate than the indie rabble-rousers they morphed into.
"Most of the songs were written in my bedroom and then brought to the rehearsal room so, yeah, a lot of them started ballad-adjacent or in some delicate form," he notes. "I kind of like that because it shows the versatility of any music, not just Snow Patrol's. I love it when people do cover versions that are different to ours. I really enjoyed the Reworked album and Reworked tour, which were two different reworkings of our songs. It showed that we've got that in us - things can just change and shift and move and nothing's really ever set in stone. When you say, 'This is how this song is and has to be forever' you're left with something that gathers dust in your hand. I'd rather be indelicate with the songs and let them be whatever they are in the moment.
"We could have recorded the Final Straw songs six weeks, six months or a year later and they'd all have been different in some way and that's the way I like it. It's a moment in time."
On the back of Final Straw's success, Snow Patrol got to support U2 on a portion of their Vertigo tour and join May 2005's global Live 8 extravaganza.
Advertisement
"All sorts of peculiar things started happening like Pink coming to one of our shows in the UK, watching from the side of the stage and telling us afterwards that Final Straw was her favourite album at the time," Gary says, still looking incredulous. "The Live 8 experience of staring out at a field with 250,000 people in it, never mind the millions watching at home, was mind-blowing. Years later in the documentary, you can see how hard Sir Bob fought for us to be on that show. It was really moving, actually, because certain people didn't think we belonged there.
"One thing we realised in that moment is, yes, I'm not sartorially very up to date but maybe don't – as one review put it – look like you've just strolled out of the Students' Union at 3am. It didn't help that we were on after Madonna who had a choir of fifty people all dressed in beautiful white flowing gowns. There's a balance between being comfortable in the clothes that you want to wear and making some kind of an effort!"
The 20th anniversary re-release of Final Straw is out now.
Read the full Student Special in the current issue of Hot Press – out now: