Ezra Williams: "If I knew how to talk about these situations in words, I wouldn't be writing music about it"
Brimming with diaristic lyrics, Ezra Williams' debut album Supernumeraries explores insecurities, human interactions and expressions of intimacy and love in all its complex forms. Ahead of the June 16th release via lauded indie label AWAL, Hot Press picks their brain on all things CMAT, Other Voices, intense fanbases, privacy and more.
Sitting down with the unassuming Ezra Williams ahead of their photoshoot, the 21-year-old Wicklow musician appears calm ahead of the release of their long-awaited debut album. A project years in the making, perhaps their gentle, down-to-earth attitude stems from their habit of taking each day as it comes, be that with interviews, shows or forthcoming record releases. Quietly self-deprecating and humble, it's not hard to see why Williams has grown their own fanbase almost entirely organically since the YouTube days as a 15-year-old.
"I've had a pretty good experience of the music industry so far," Williams tells me, smiling. Perhaps their creative control and studies in Cork act as a sort of protective shield. "I've no horror stories. I don't know what'll happen when the album comes out in terms of my life changing, I just go with the flow. I've gotten past any nerves I had about the album, because it's been finished for a while. The memories have faded a bit, so I'm excited for it to be out.
"My mam has the album saved on her phone, she listens to it a lot," Ezra adds, describing the support at home. Their parents are based out of Greystones, where Supernumeraries was partially written. "She can sort of psychoanalyse me through my music. Mam sends me on different things, like when 'Deep Routed' and 'Until I'm Home' were added to Niall Horan's Breath of Fresh Eire playlist on Spotify. She texted me, 'I always thought he was a lovely young man'," Williams laughs. We've all heard the same comment from our mams, then.
Advertisement
The songs first took shape in the toilets of Dundrum shopping centre, and on the DART. Mostly self-produced, with contributions from Ezra's friend Jacky O'Halloran, it was recorded at friends' houses, and in the seomra at the bottom of their parents' garden.
Williams is currently gearing up to start their second year of studying contemporary applied art - ceramics, glass and textiles - in Cork's Crawford College. For Ezra, their music and lyricism is all part of the same creative process as working with hands on materials.
"I feel like the art I make meshes into the music," Williams says, tentatively. "I wouldn't be able to just write and do nothing else creative. Even when I was songwriting during Covid, I was always sculpting something out of clay or painting. I need something else at the same time." Ezra painted the striking, maroon red Supernumeraries artwork, if you haven't guessed already. A lot of the track titles reference the human body: blood, skin, teeth. "It just kind of happened that way. Teeth were a big thing in my art at the time," they observe.
"I've never felt this type of cold / Make me warm / Make me full," Williams opens the album on 'Skin'. "Look right through me, baby / You'll never hold me the way she held me." Throughout the album, there's consistent imagery of skin (peeling, picking), bleeding, hands, sensory experiences of touch and temperature. Angelic vocals sit on top of stripped back guitar melodies across the board, without much tainting of the project's vulnerable purity.
This achingly raw introspection is partially why Ezra's 'My Own Person' earned a sync on Netflix's Heartstopper soundtrack, garnering millions of streams and charting Nick Nelson's own journey of exploring his sexual orientation and identity. It came after Ezra's spare early releases, candid vignettes over minimal strums on EPs: 2019's IS IT and Stuck (2021). Supporting Orville Peck, Jungle and Pillow Queens; racking up over 80 million Spotify streams across a handful of independent releases and Other Voices doesn't seem to phase them. You get the feeling that the musician's nature is absolutely bulletproof to fame.
"I'm a private person, very subdued," Ezra remarks. "I prefer the music drawing the bridge between myself and a separate space. I think people see musicians and presume they're crazy partiers and go out all the time. I literally do nothing but knit," they grin, with a shrug.
Advertisement
"I can also be kind of annoying in the sense that I don't like giving a lot of personal context to my songs," they add, when we discuss the trials of doing media as an introvert. "People sometimes will try to tease it out of me, but I just don't want to. If I knew how to talk about these situations in words, I wouldn't be writing a song about it. When I don't give enough context, people make up their own. A few publications said 'Bleed' was about my experience in relationships and being on the Autism spectrum - which it's not about."
There's also the struggle that confessional songwriters with young audiences face, whereby fans send massively raw messages to a musician whose work has moved them in some way.
"Yeah, that's one of the reasons why I don't respond," Williams nods. "I always read messages, but I never reply. It used to be this weird situation of one sided conversations, because the person felt like they knew me. They'd share so much about their life, as if I was their therapist. It became a lot, so I had to stop. I had this moment when I was about 15, where I had this small following on YouTube. It was the closest I've ever gotten to having an actual fanbase. It's nowhere near as intense as it was back then.
"I'm lucky that I got to experience that in a small way, because I noticed that I wasn't a fan of that style of communication. I now know how to interact with people or not, so that sort of thing doesn't repeat itself in a way where people feel like they have unlimited access to me. I remember I was in a not very public relationship around that time with someone, and when she and I broke up, people were sending her hate. I was like, 'We're teenagers, get a life!' It's weird - I'm chronically online, but never interact. When someone comes up to me in person to tell me that they like my music, usually they're the type of person I'd hang out with."
It's not just music fans approaching Ezra with praise, but her contemporaries too.
Advertisement
"I've met CMAT a few times. She approached me first, which I wasn't expecting!" they smile. "We were doing Mutations Festival in Brighton a year or two ago. We went to see her set because I'm a huge fan. We were standing around waiting for the next act to come on, and CMAT walked in and was like, 'I know you'. She told me she watched my TikToks, which is amazing, because my entire page is full of weird Spongebob content. Spongebob dry heaving in a corner of a dark room - that's what my TikTok seems to be this week.
"I'd love to collaborate with CMAT," they muse. "I'm obsessed with her. NewDad are also incredible. I've met them a few times at gigs. I'm so bad I'm networking and talking to people and making friends," Ezra shakes their head. "I'm the worst at it. Even at the Glastonbury festival's Emerging Talent competition, all the other people in my band decided to talk to people, and I had a nap in my car. I'm always afraid that I might come across as rude or something. I get so tired at gigs, I'll be like, 'These people are cool but I have to go'."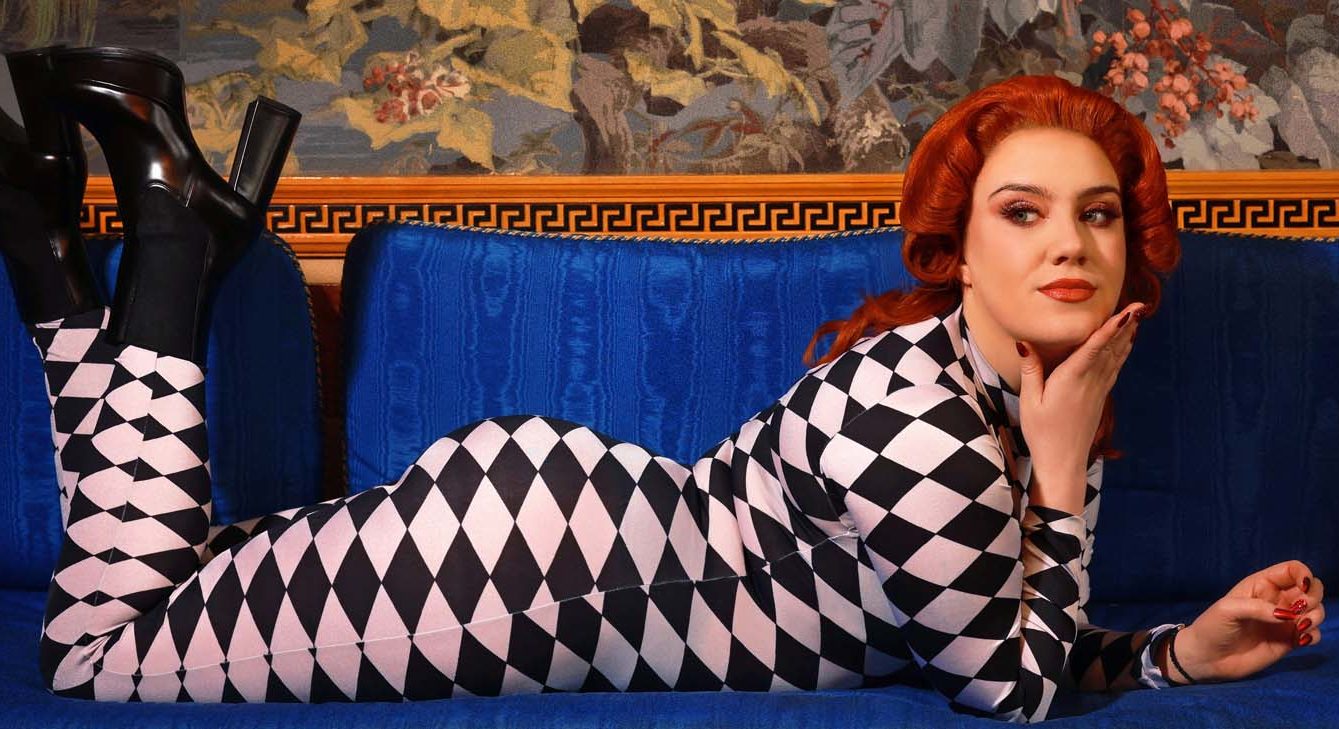 Maybe it adds to the mystery?
"Hopefully mysterious in a good way and not in a stuck up way," Ezra laughs. How did the collaboration with Sammy Copley come about, given the car naps?
"Sammy Copley and I were in the same era of YouTube. I found him through a cover we both did of the same song, when I was 14. About a year later, one of my best friends did an acting camp thing during the summer, and became friends with him. I pretended I didn't already know who he was," Williams laughs. "We got to know each other then and did YouTube videos when we were 16 or 17. I just really love his music and his voice.
"I wrote 'Until I'm Home', and I knew I wanted to have someone like Sammy on it," Ezra recalls, brightly. "He has a song called 'Turtles All The Way Down', which I listen to all the time, and I texted him about putting his vocals on the single. He agreed, which was nice! I produced all the songs except for '17' and 'Just Not Mix', which Jackie O'Halloran did."
Advertisement
Williams recently took part in Other Voices' Anam programme in Kildare with Anna Mieke.
"Mum watched it online but my dad got to watch it in person, because he was the one with the car on the day driving our stuff down," Ezra tells me. "It was really cool. I've never been to the Castletown House. Getting to perform in a really fancy room was kind of daunting because the chandeliers were low to the ground. I was afraid I was going to hit one if I moved my arms, but I'm not that tall. My brain just tells me I am! There was an area beside the green room that I just snuck into and sat on the windowsill to knit for ages."
What kind of career offer would make Ezra put the knitting needles down for a moment?
"An NPR Tiny Desk session. That's when I feel I'll have truly made it."
Supernumeraries is released tomorrow, June 16th via AWAL.
Advertisement
Read more Hot Press features in the new issue, out now.