Damien Dempsey on Station Sessions: "We have to do everything we can this Christmas"
The Donaghmede singer-songwriter discusses his upcoming performance for Iarnród Éireann's Station Sessions, alongside Focus Ireland.
While Covid has caused the live music industry to grind to a laboured halt, Damien Dempsey has had no shortage of work keeping his hands full in 2020 – including his highly anticipated performance for Iarnród Éireann's Station Sessions, in aid of Focus Ireland.
For the series, which will be streamed digitally over three consecutive nights in December (8-10), Dempsey will feature alongside iconic Irish acts like Mary Coughlan, Mick Flannery, Mundy, Eleanor McEvoy, Mundy, Emma Langford, and more – performing from train stations nationwide in order to raise vital funds for Focus Ireland's urgently needed services. Dempsey has been a vocal advocate for social housing throughout his years as an artist, holding Dublin's homelessness organisations close to his heart.
"We couldn't do carols this year, but I was chuffed to be asked to take part in the Station Sessions," he tells us. "It was great to perform at Pearse Station as my Da and Grannie came from just around the corner, and some of the drivers of the passing trains were shouting their support out the window."
"The set up was great with the big carpet and piano, and the Iarnróid Éireann staff, film and sound crew and team at Focus Ireland were very friendly and efficient. They did an amazing job, as they only had a small window of time between the oncoming trains to shoot and record. I also got to see some of the brilliant soul music of Erica Cody, which was a treat, al all in all it was a good experience."
"There's around 8,000 people who are homeless at the moment, and these homelessness organisations pushed the Government to enact an eviction ban to get figures down from 10,000 people," Dempsey says. "There's going to be another recession, and a lot of people have lost their jobs, so those figures will be rising again soon. We have to do everything we can this Christmas, so those people can have their dignity back and their needs met.
Advertisement
"A lot of people work hard but just can't afford to rent at the moment, and it's driving people into despair, into the streets and into massive debt," Dempsey continues. "Our society shouldn't be like this. There was massive public housing built in the '30s, '40s and '50s; some great artists came out of those homes as a result. It's disgraceful in this day and age to have 3,000 homeless children."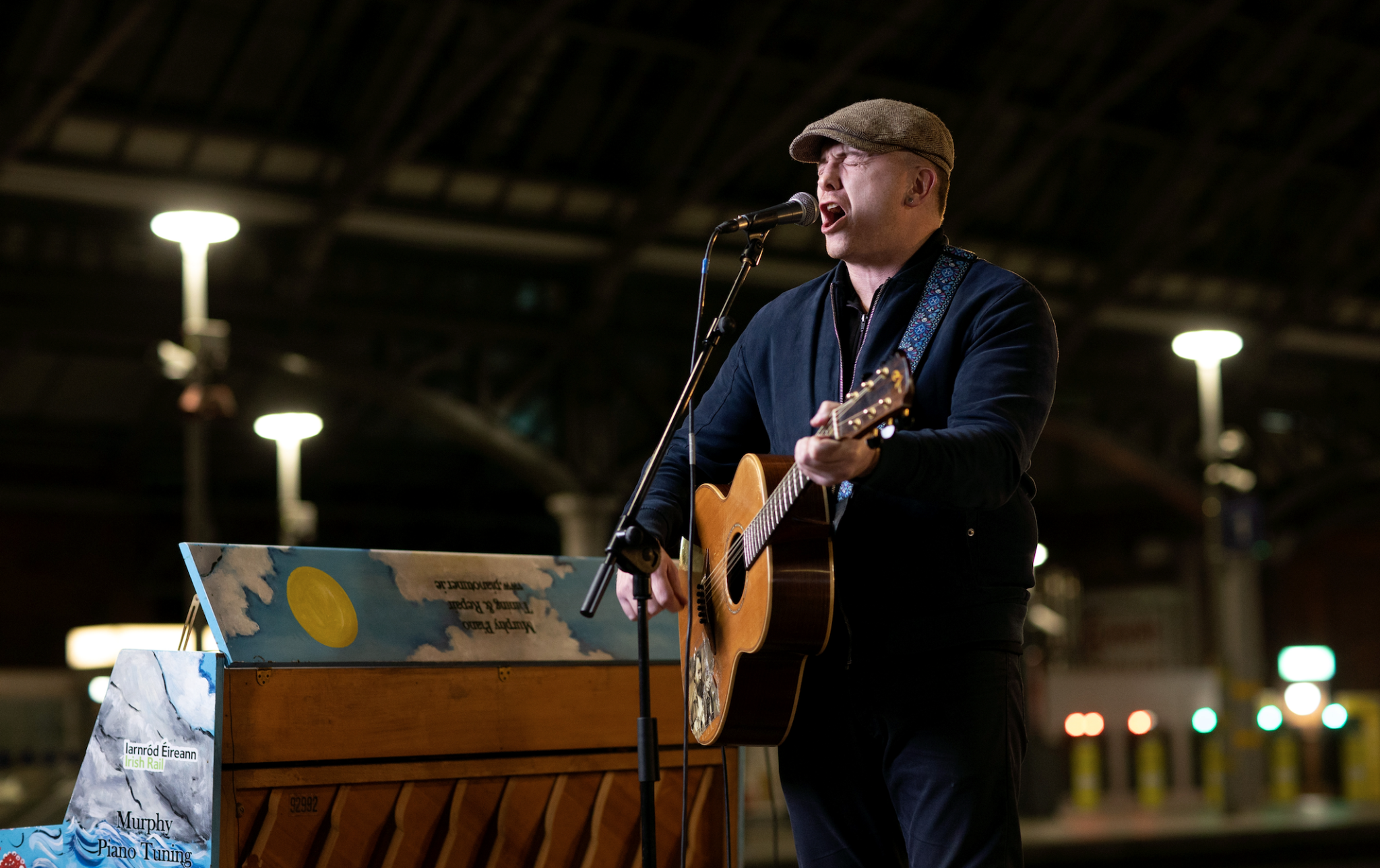 One long-running dilemma facing Irish artists is how to continue to create during recession times – when the bills are building up and the live music industry is facing trouble as a result of the pandemic.
"As artists, if we can't gig then we can't get money to feed ourselves or perform our art," he reasons. "It's going to push people away from creativity. The price of rent in Ireland has been sending people to Berlin for a long time. There's a huge community of artists over there from this country, and they're embittered and angry. We bring in a huge amount of revenue to Ireland, and yet the possibility of giving us a minimum wage is only being discussed now. Landlords are able to charge exorbitant prices, and there are plenty of representatives in Dáil Éireann who are looking after their landlord friends and relatives, rather than sorting out social housing."
Despite an unprecedented year of struggle and sacrifice for many, Dempsey hopes to finish on a high note.
"I'm trying to create a setlist of positive songs that everyone can sing along to for my Christmas one-off show on December 23rd, to give us a jolt of hope," he says. "I think people are feeling optimistic on account of the vaccine news. Our ancestors have been through worse, so we have to keep the chin up. It'll be weird playing without a crowd - I'm used to playing venues like Vicar Street but I've got a good imagination. I'll be visualising people singing their hearts out in their houses, and I'll be belting out the tracks like there's no tomorrow. It'll be the lockdown sing-song of the century!"
Following his Christmastime virtual performances, plans for a possible ballad album are on the horizon for Dempsey – who released his last album, Union, in 2018. The work featured powerful contributions from the likes of Imelda May, Maverick Sabre, Kate Tempest and Finbar Furey, who joined him in singing close-to-the-heart covers and reworkings of his original songs. The acclaimed singer-songwriter has toured with major names in his lengthy career, including Morrissey and Sinéad O'Connor – but who would he enlist as his own support act from the Irish industry's seemingly endless crop of rising talent?
Advertisement
"I was hoping that Pillow Queens would open for me at the Iveagh Gardens in July, but if they get too big by the time we can perform again, I'll open for them instead! I'm absolutely strung out on their new debut, In Waiting. It's honestly one of the best albums I've heard. I'm loving it. There's a lot of healing in their lyrics and the vocals are just unbelievably uplifting. The production is world class – Sarah Corcoran and Pamela Connolly are incredible singers. I can't wait to see one of their live shows when all of this is over, because those tracks are anthemic."
Always conscious of the social and political landscape of his native land, it seems strangely fitting that the musician has returned to his roots in a turbulent time to find his sense of creative zen.
"I've tried to stay positive and get back to nature," Dempsey says. "The outdoors have been helping me a lot – as a creative person, you can easily lose yourself there. I found some lovely forest walks near Howth - you can see the Hill of Tara and the Mourne Mountains on a clear day. Musically, I've been songwriting as much as I can as well as working on a theatre piece."
"I was commissioned by the Abbey Theatre to write a one-man show, so I just threw the kitchen sink at the script," he adds. "Graham McLaren, Director of the Abbey Theatre, saw Bruce Springsteen's Broadway show and asked me to do something similar to give my following an insight into who I am. I'm just waiting for the right time to perform it, but it may have to be delivered to an empty theatre, unfortunately. The Abbey will film it and put it up for the fans to see. I'll be talking about everything; from how I got into music and where I came from to my school days and adolescence years."
Watch Damien Dempsey perform live from Pearse Station as part of Iarnród Éireann's Station Sessions on the Focus Ireland Facebook and YouTube channels at 8pm on December 10.
RELATED
Lifestyle & Sports
27 Jun 23