Body & Soul's 2022 line-up features Róisín Murphy, CMAT, Mogwai, Pillow Queens, Sampa the Great and more
Body & Soul will be hosting an array of international acts over the Summer Solstice Weekend, June 17th through 19th.
Body & Soul have released the first glimpse of their 2022 lineup, featuring heavy-hitters Róisín Murphy, CMAT, Mogwai, Yves Tumor and Pillow Queens.
The festival will run across the Summer Solstice weekend of the 17th through 19th of June, at the Ballinlough Castle Estate in Co. Westmeath.
After selling out early bird tickets without announcing the headlining acts, festival attendees are sure to be thrilled to see the incredible lineup of talent at this year's show.
Taking the main stage will be Roísín Murphy, who will give a special Saturday night performance of her fifth solo album, Róisín Machine. Also gracing the stage will be Mercury Prize winning Scottish post-punk bank Mogwai — whose infectious performances of As the Love Continues will close out the festivities Sunday night.
Ballinlough Castle will also host poet and MC Sampa the Great, funk-pop artist Remi Wolf and former Hot Press cover stars Pillow Queens and CMAT — who will be showing off her chart topping album If My Wife New I'd Be Dead.
Further performances across the weekend include Welsh electronic musician Kelly Lee Owens; soul singer Lee Fields; synth-pop duo Magdelena Bay; poet and avant garde performer Sinead O'Brien; post punk powerhouse Yard Act; alt-pop group Soda Blonde; and house music productions from Berlin-based DJ Sofia Kourtesis.
Advertisement
The psychedelic rock sounds of The Altered Hours are also set to grace the festival, alongside feminist post-punk act M(h)aol, Irish producer Fears and Welsh garage-band The Bug Club.
In addition to the range of musical performances, Body & Soul will also play host to artist Aoife Dunne, whose large-scale, immersive digital installations will create the woodlands gallery. Serving up brunch within the garden walls will be Candy Warhol's Mockie Ah drag haus and cabaret, which will give an incredible live show paired with delicious food by Food on Board.
The Body & Soul Festival will run from June 17th through 19th. More information, including further lineup announcements, can be found at their website here.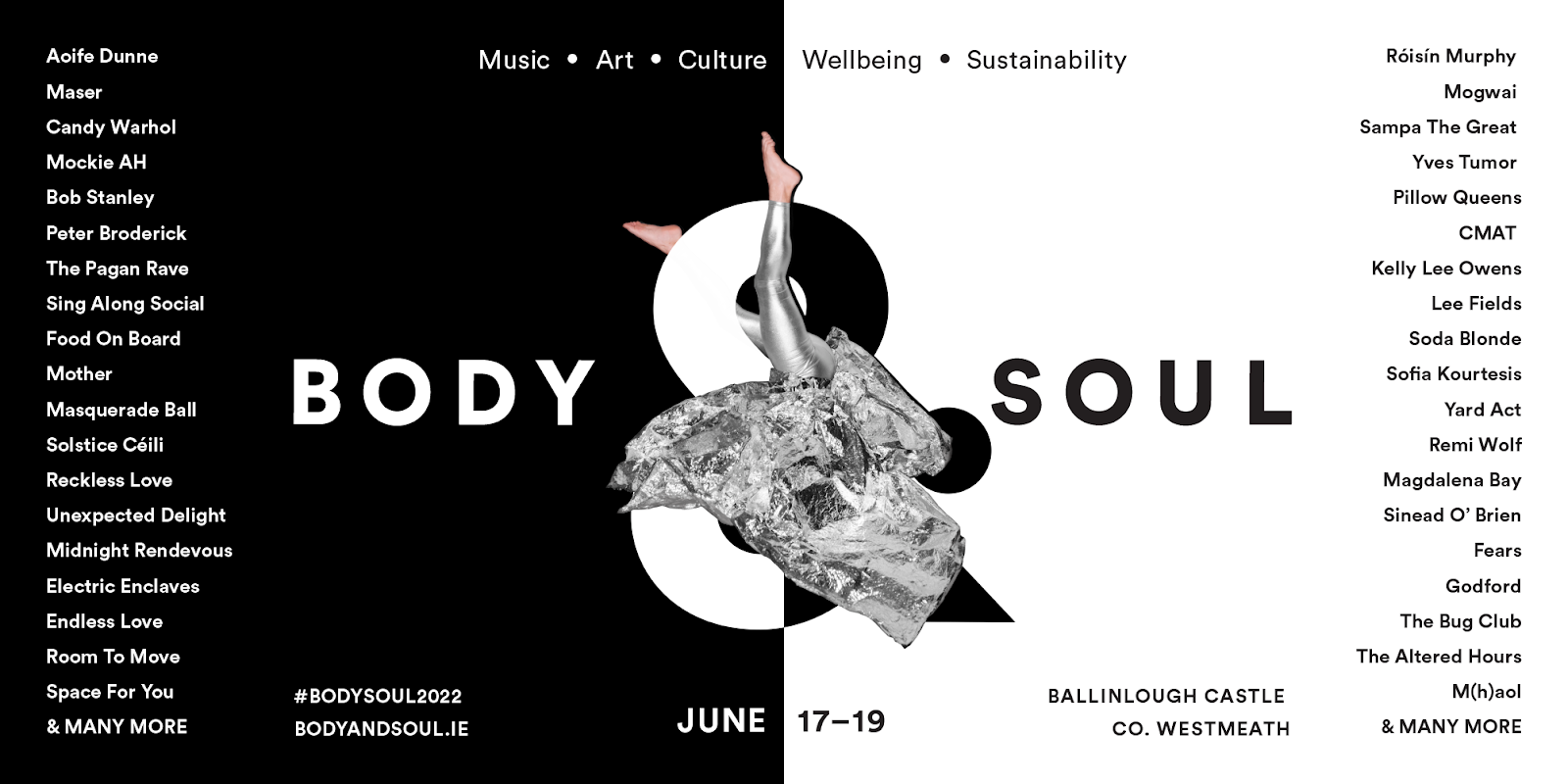 RELATED