Bat Out Of Hell's Glenn Adamson: "It's definitely the most physically and vocally demanding thing I've done"
After a number of successful productions, including stints in New York and the West End, Bat  Out  Of  Hell: The Musical arrives in Dublin at the end of this month for a hotly anticipated run. Paul Nolan meets one of the show's stars, Glenn Adamson.
Having caught a recent showing in Newcastle's Theatre Royal, Hot Press can confirm that Bat Out Of Hell: The Musical is a rip-roaring affair. The show makes spectacular use of the album trilogy dreamt up by the late Jim Steinman, and unforgettably sung by the iconic Meatloaf, who sadly also passed away earlier this year.
Set in a post-apocalyptic Manhattan, Bat Out Of Hell boasts brilliant choreography and set design, including innovative use of a video screen courtesy of director Jay Scheib. Inspired by Peter Pan, the narrative focuses on the rebellious Strat (Glenn Adamson), leader of The Lost, a group whose DNA froze at 18, causing them to remain perpetually young.
He falls in love with Raven (Martha Kirby), daughter of tyrannical industrialist Falco (Rob Fowler) and his tormented wife Sloane (Irish actress Sharon Sexton). With Falco prepared to use deadly force if necessary to protect Raven, the scene is set for some truly epic drama, mixed with memorable comedic moments and - of course - several electrifying show-stoppers.
When meeting Glenn Adamson in a quiet backstage meeting room a short while after the matinee performance, Hot Press' first query concerns the supremely physical nature of his performance - presumably it's a major departure from anything he's done before?
"It's definitely the most physically and vocally demanding thing I've done," replies the softly-spoken Peterborough native. "You look at Meatloaf's vocal range and it's huge anyway. He sang three octaves, so on paper, he's an opera singer. On top of that, our director Jay Scheib thought, 'What's more impressive than the vocal range people already know of Meatloaf?' And it's to do it and be as physical as you possibly can.
Advertisement
"People are watching acrobatics mixed with those vocals, to take it even a notch higher. So yeah, it is exhausting. By the end of the week, you're like, 'My legs!'"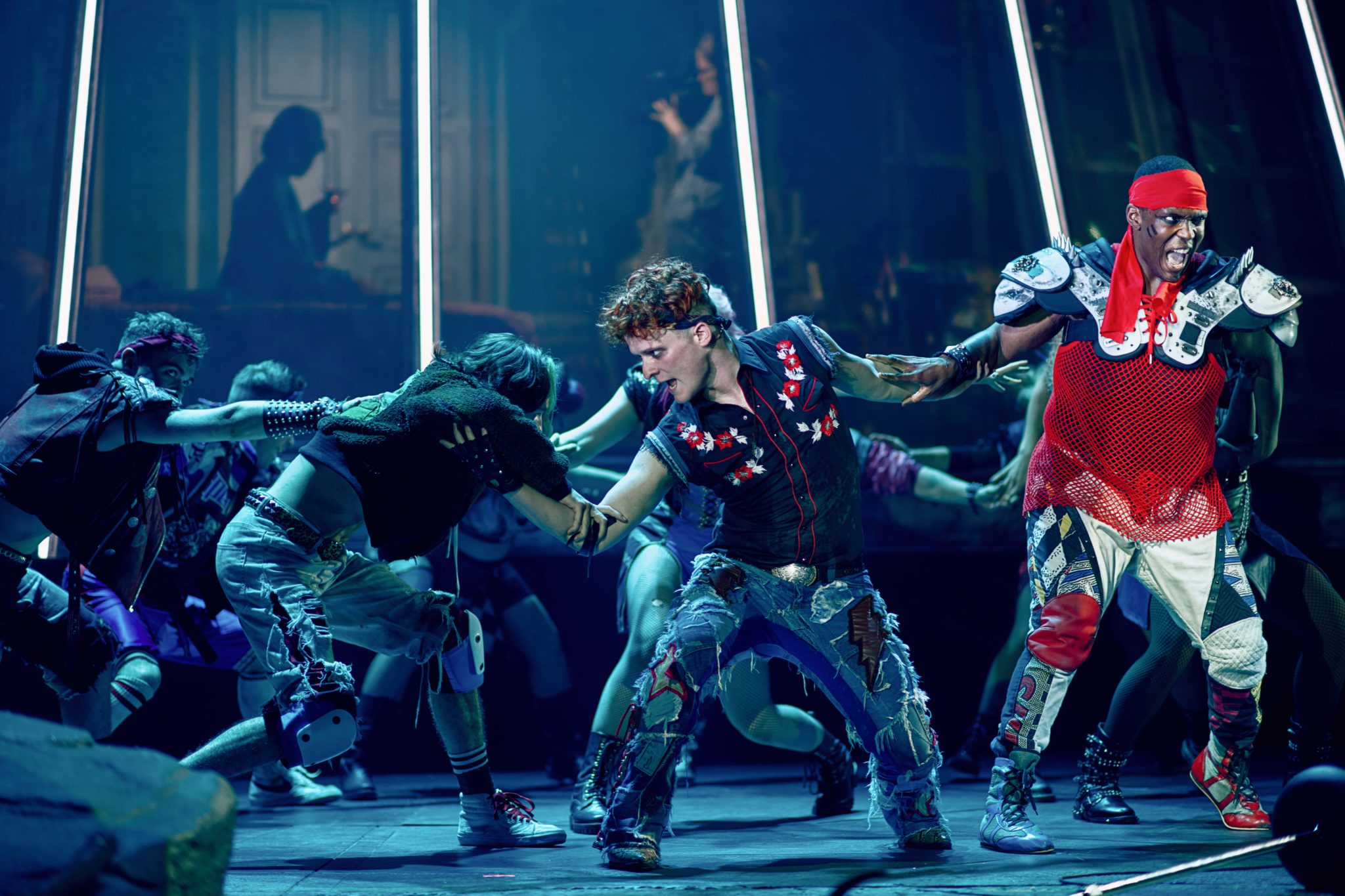 As it happens, Adamson landed his part right before the pandemic.
"Just before Covid, me and Martha Kirby got the US tour," he reflects. "We were in rehearsals when everything hit. They shut everything down in America so we never got to do it there. At the time Bat was in London, I was doing Green Day's American Idiot musical, which I went to Dublin with as well. We toured that and went to Australia and New Zealand as well.
"I remember being in Dublin, in my taxi, the Bat Out Of Hell tour was announced. I rang my agent straight away and said, 'That has to be my next job! I need to do it.' Bat or We Will Rock You were the two in my head - I loved them. A couple of weeks after I got back from Oz, I auditioned for Bat Out Of Hell and the rest is history."
Rock icons are a clear influence on the Strat character, whose leather-clad look owes something to Jim Morrison. At the end of the first act, meanwhile, his topless, blood-smeared appearance strongly recalls Iggy Pop.
"Iggy is the entire reference for Strat," nods Glenn. "We watched so much of him from at all ages, and there is a bit of Jim Morrison in the second act as well. We give nods to Meatloaf but we wanted to steer away from being a tribute act, so we utilise other rock legends. It's this idea of Peter Pan meets Iggy."
Advertisement
The use of the video screen adds another fascinating dimension, with the treated visuals often taking on a dreamlike feel.
"That's Jay's thing," notes Adamson. "He's known for that and that's what Jim brought him onboard for. One great thing he thinks is that when you watch musicals, they're in these huge spaces, and you don't necessarily have the connection with the actor that you do in TV and film. There, you can see in their eyes. But in theatre, that's not possible and that maybe leads actors to sometimes switch off.
"But you can't in Jay's shows, because there's still a camera in your face. They're blowing you up, so if your eyes are not alive and you're phoning it in, the audience will know. It keeps you on your toes every day to make sure you're active and engaged, so I actually love that he's done that. Also, it removes to need the need to play everything out falsely like you normally see in theatre - it means you can turn your back and the camera will pick up a face."
The post-apocalyptic look of the show actually recalls Mad Max: Beyond Thunderdome, notably a film that also took inspiration from Peter Pan.
"The show references a lot of '80s music videos," explains Glenn. "It has that over-the-top, false, blurred kind of look. You can see nods to different stuff. Like, in Raven's room, the camera and the candles allude to the video for Celine Dion's 'It's All Coming Back To Me Now'. Anything with a candle is very Jim Steinman."
How long did it take the cast to nail the show in rehearsal?
"I think they gave us two weeks the first time, and the three weeks the second time," recalls Glenn. "It's not very long. In lockdown, the one gift we did get was the training. I knew I needed to work on my stamina so I thought, the time could be quite good. We opened in Manchester last year on September 9, and we only started rehearsals on August 11, so it was a quick turnaround to put such a massive show together."
Advertisement
It remains a show with very unique challenges.
"I still don't find it easy to do at any point," says Glenn. "It's so variable and these are such big songs to sing. You really feel the pressure of giving them Jim and Meat's music, you want to do it justice every single night. It's really hard when you have anything wrong with you, whether that be a cold or what have you.
"But you know, the show has done really well and post-Covid it's done even better. People are looking for shows like this, party nights out, where they can feel 18 again and just let rip. They love it. It's been really interesting taking it out of the London market, touring it and seeing how it well it does, especially in the north. We do brilliantly in Scotland and somewhere like Newcastle, and I imagine we'll do really well in Ireland too.
"In previous jobs, I've seen shows like this do well in those cities and it's happening again. These are places where people love their music."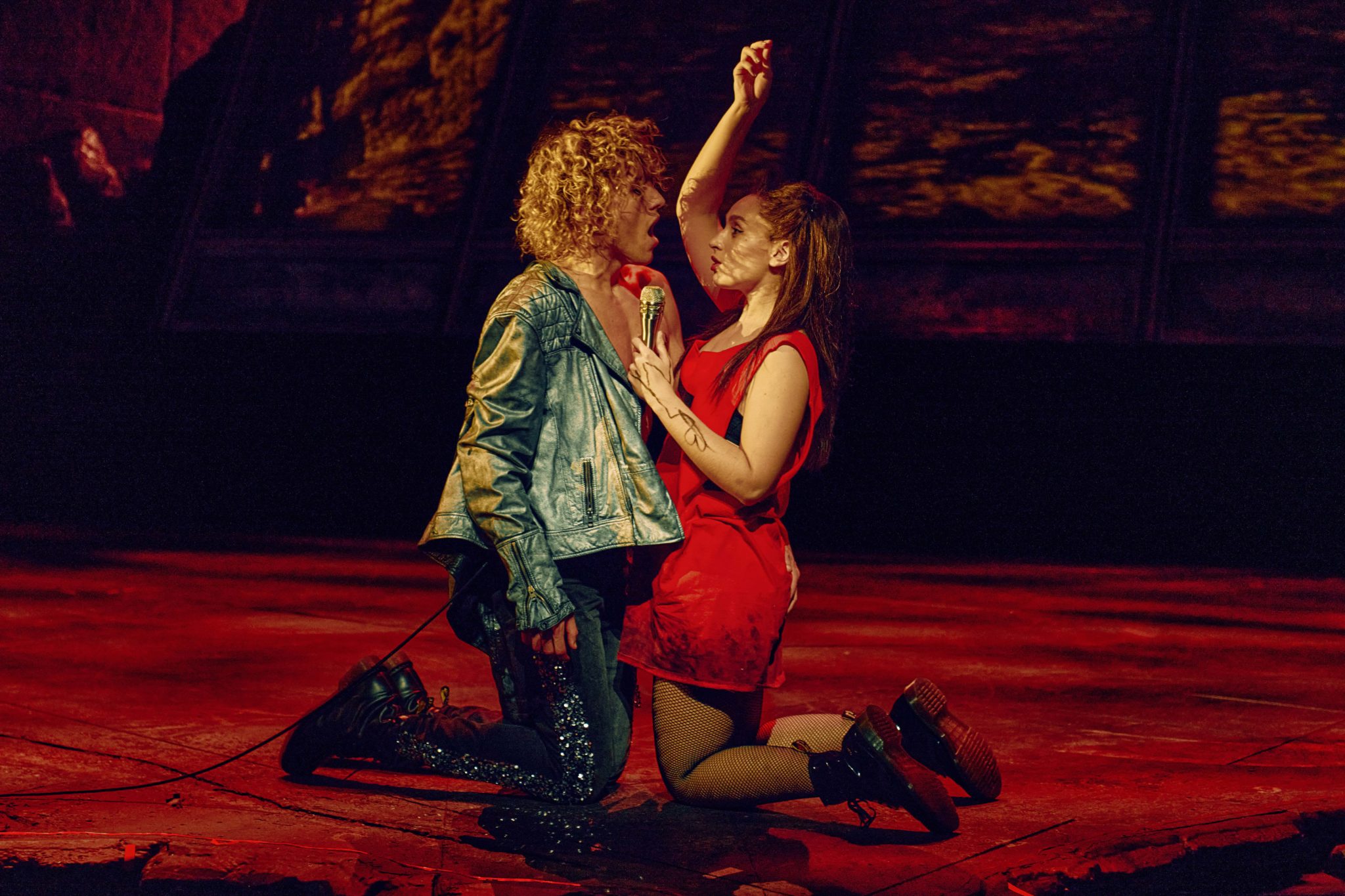 Certainly, there was an incredible buzz in the audience during the show Hot Press caught, with everyone up on their feet cheering and clapping by the finale.
"I always say, it's a musical for people who don't like musicals," Glenn observes. "If I'm in it, it's a musical for people who don't like musicals!"
Advertisement
Of course, the choreography and singing - not the mention the presence of the camera - ask different questions of the cast than a standard theatrical production.
"It does change every single night," considers Adamson. "Meatloaf used to say, you'll never see him do the same song twice. You could ask him to the do the song 10 minutes after he'd finished it and he'd give you a completely different version. So we try and keep that element,  while still making sure we're in the right space, in the camera line and so on. You have technical considerations but you also have freedom within that.
"It's like a playground, you see us jumping on and off everything. It changes night after night, as long as you've got people who feel safe with that."
Finally, having mentioned Meatloaf's passing earlier this year, I ask if Glenn ever had any interaction with him.
"No, never," he says. "When we came onboard he was unwell and then we lost him at the beginning of the year, so we never actually met. Sharon and Rob did actually both get to meet him, when he came over to watch the London production. He was eagerly awaiting to see if they did it justice – and they did, he was really proud of it."
• Bat Out Of Hell: The Musical plays at the Bord Gais Energy Theatre, Dublin from August 30-September 10.