Why Is St. Mary's Home Beside Planned New National Maternity Hospital Being Closed By Sisters of Charity?
The decision to close St. Mary's Home, which is owned by the Sisters of Charity, is causing huge disquiet among residents and their families, as well as among staff. So what is really going on? And why are elderly people being evicted? Well, the land on which St. Mary's stands is right beside where it is planned to build the new National Maternity Hospital. So is it just an example of opportunism on a grand scale?
On the third day of June 2020, at about ten minutes past one, directors at St. Mary's Nursing Home (Telford) in South Dublin, convened for a meeting.
It was a quiet day at a nursing home that, remarkably, had successfully managed to shield its residents from the petrifying reach of the coronavirus throughout the pandemic.
"Everything seemed fine, we had no clue what was about to happen," Joan Kiernan, who works at the centre, recently recalled.
CAREFUL AND CONSIDERATE
Later that same day, members of staff at the nursing home received an email from the General Manager, William Corkery. He was informing them of the closure of the Home. The axe would be coming down, they were informed, by the end of the year.
Advertisement
In the email, Corkery explained that the decision had been taken by the board, because current HSE funding was insufficient to meet regulatory and statutory standards for the centre to operate at 'full capacity'.
Retaining staff had proved challenging, the 'script' read, and lack of funding had made it difficult to meet standards set by the Health Information and Quality Authority (HIQA) to ensure residents' safety.
"It is with enormous regret that," Corkery wrote, "owing to insurmountable funding issues, the Board has taken the extraordinary difficult decision to slowly wind down the operation of the nursing home in a careful and considerate manner."
What followed, however, was shock, heartbreak – and then fury. This, it appears, is not the end of the story. Not by a long shot.
ASYLUM FOR THE BLIND
St. Mary's Home is located on Merrion Road, in a generally wealthy suburb of Dublin, adjacent to St Vincent's Hospital campus on the South side of the capital city. It was formally established in 1868 by the Religious Sisters of Charity, as a type of 'boarding school' for the blind, where Braille was taught for the first time in Ireland.
St. Mary's is currently divided into two units, Loyola and St Oliver's; combined, the two units can accommodate 58 residents. There are 'independent' and 'assisted' living arrangements in place at the centre, depending on the physical well-being of the individual residents.
Advertisement
When the decision to close it was announced, St. Mary's was Home to 35 women, some of whom are visually impaired or what is termed 'legally blind'. Some residents are former pupils of the blind school who enrolled as small children and never left. Among these are people who stayed on to work there, caring for child residents and pupils of the school.
This does not seem to have been a place where a culture of abuse existed. Breda O'Sullivan, a visually impaired woman from Wexford, who studied at the blind school and stayed for four years afterwards to 'mind the children', described her time there as 'very, very good'.
O'Sullivan, who is now in her seventies, told Hot Press that some of her friends and a few of the nuns, who used to be her teachers, are now themselves residents of St. Mary's. She mentions Sister Mary, 'who used to teach us, Braille'.
"I was very upset to hear that they're closing St. Mary's," O'Sullivan said. "Some of them there would be very old. The nuns would obviously be older than I am. Not that I can see how old I am."
I could hear that she was having a good laugh at that.
O'Sullivan's sons, Martin and Kieran, are also both visually impaired, and her grandson has 'sight problems'.
A computer graduate, Martin O'Sullivan now works at a tech company. As a kid, he attended St. Joseph's School for the Blind in Dublin – now St. Joseph's School for Children With a Visual Impairment. An intelligent youngster, he felt that the school didn't encourage pupils to follow their dreams.
Advertisement
"It was like, you know, 'we don't have high expectations for these people'," he recalls.
"Martin can fix anything for you," Breda O'Sullivan says, proudly.
THE SISTERS OF CHARITY
While, as a school, St. Mary's seems to have had a good reputation, it is not far from the old Magdalene Laundry in Donnybrook. At least three of the residents at St. Mary's Home are believed to have been formerly 'institutionalised' in that squalid dumping ground.
The Sisters of Charity ran Magdalene Laundries for profit. There, 'fallen' women and girls – prostitutes and single women, who had become pregnant in relationships, one-off sexual encounters or as a result of rape or sexual abuse – laboured all day for nothing. In the eyes of the Roman Catholic Church, and the nuns, it was a form of permanent penance. In truth, the Magdalene Laundries were prisons by any other name, a form of religious gulag, the operation of which will always be an indictment of the way in which the Roman Catholic Church exerted its power in Ireland.
The Sisters of Charity wholly own St. Mary's. The nuns are represented on its Board of management, although they claim to have curtailed their involvement in the operation of the centre. The land on which St. Mary's stands was originally donated to the 'Archdiocese of Dublin' by Sir Richard Martin, an Anglo-Irish landowner. Later, other land donations expanded the size of the site.
In theory, St. Mary's is run according to the ethos of the Sisters of Charity, which are set out in terms that will stick in the gullet of anyone who carried out forced labour in the laundries the order ran: "Dignity, compassion, justice, quality and advocacy." The organisation's objectives include "pious care of sick and dying in private houses and public hospitals."
Advertisement
These are not, however, 'poor nuns'. In 2018, the congregation had a gross income of over €8 million, according to the Charities Regulator website.
The Sisters of Charity also owned the adjacent land on which both St. Vincent's Public Hospital and St. Vincent's Private Hospital stand – and on which the State hopes to build the new National Maternity Hospital.
Looking at a map of the area is chastening. Far from being 'poor' – and in need of 'charity' – the nuns have been sitting on a vast piece of prime real estate, in one of Dublin's wealthiest areas. Land there – including that on which St. Mary's stands – will fetch a very high price indeed.
Perhaps, the nuns are ready to cash in. Or is there a different play afoot, the real shape of which will only emerge in time?
As those who have been following the tortuous negotiations in relation to the National Maternity Hospital will know, the St. Vincent's Health Group was formed as the vehicle to control the two hospitals on the St. Vincent's campus. The Sisters of Charity stepped down – officially at least – from any involvement with the board of SVHG, in July 2017.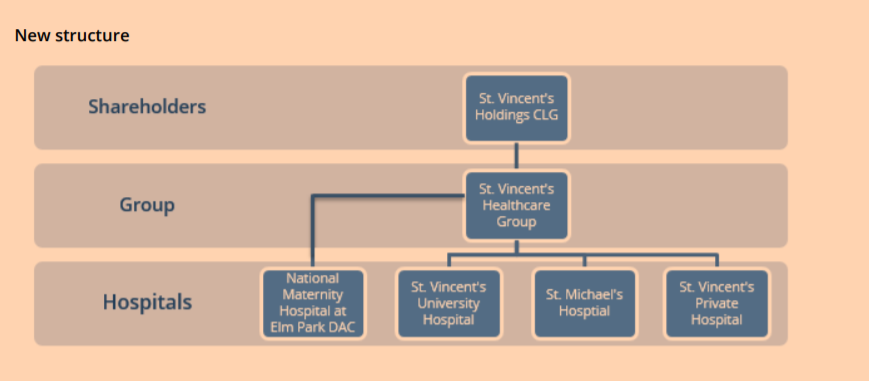 The saga is complicated – but of vital national importance, which was obscured badly in the original negotiations conducted by the Department of Health, regarding the ownership of the site; the possible building of the National Children's Hospital there; the ownership of that hospital; and the ethos and governance structure under which it would be run. Vital issues in this regard have still not been satisfactorily answered – but the process is grinding on anyway, to who knows what ultimate end.
In May 2020, the Vatican finally green-lighted the 'transfer' of St. Vincent's Hospital lands, said to be worth about €200 million, out of the ownership of the Order. In theory, this would allow the congregation to 'gift' it to the State (an expression used in a press release issued by the Sisters of Charity) – although that does not seem to be what is happening.
Advertisement
The new Vatican permission is being interpreted as enabling "the completion of transfer of ownership of the St. Vincent's Healthcare Group site from the Congregation to a new, independent, charitable body to be called St. Vincent's Holdings CLG." As a holding company, the new company supervises the operation of St. Vincent's Healthcare Group – which itself will apparently exercise control over the operation of the National Maternity Hospital.
Thus, for now, the approval given by the Vatican seems to pave the way for the planned relocation of the National Maternity Hospital.
Whether this is a good thing or not is a matter for debate. Many activists and health professionals, including renowned obstetrician Dr. Peter Boylan, are opposed to the plan to locate the National Maternity Hospital on land owned by either the nuns or their lay proxies unless very strict hands-off agreements are reached.
"I wholly support a move to Elm Park," Peter Boylan has said, "but only if the hospital maintains completely independent clinical and corporate governance in the interests of safe care for women."
There is a very real concern, therefore, that giving any role to the ancien regime at St. Vincent's Hospital – reconstituted as St. Vincent's Holdings CLG and acting through the St. Vincent's Healthcare Group – in the NMH will lead to inevitable conflict with the lawful operation of abortion services there, whether by stealth or via a carefully orchestrated campaign of 'conscientious objection'.
What is fascinating, meanwhile, is that the decision to close St. Mary's came just a month after the Vatican approved of the manoeuvrings around St. Vincent's.
What is going to happen to the Centre after its closure? A spokesperson for the Sisters of Charity told Hot Press that there is no immediate plan. However, what we can say for sure is that – if the plan to build a new National Maternity Hospital across the field goes ahead – then the land has just become hugely more valuable…
Advertisement
LIFELONG PALS
Back at the centre, the decision to close the Home is gradually being put into effect. This, of course, may also be part of a strategy. Don't make it too dramatic. Shunt residents elsewhere on a softly-softly basis. It is a classic tactic of the Roman Catholic Church and its institutions. But the effect, sadly, is the same.
Staff in St. Mary's tell us that saying fresh goodbyes to residents, every week, is taking a hard psychological toll.
Maria Capocci has worked in St. Mary's for over 15 years. She explains that former pupils of the Blind School are being forced to bid farewell to their lifelong pals, and that it's 'heart-breaking' to watch.
"Some of them are childhood friends," she says. "They lived all their lives side-by-side, and they have to be separated now.
"Imagine if you and I were in school together," she adds. "We lived together in our teenage years until we were adults, and then in our elderly years – when we probably needed each other the most – we were ripped apart from each other. That's what's happening."
Capocci says that she doesn't know where the residents actually go, but she fears they won't find it easy to adjust to whatever new environment they are plunged into. She is worried that the 'ladies' will catch the coronavirus, or experience depression.
Advertisement
"Wherever they're going," she says, "they have to be isolated for 14 days – and that in itself could be traumatic for them. We're fearful that some of our residents won't survive."
"It's absolutely horrible to watch them go. It's giving us stress and anxiety," Joan Kiernan adds. "So what must it be like for them?"
One woman, still a resident – whose eyesight had rapidly deteriorated in recent years – is now 'full of anxiety'. "She doesn't know when she's going to be evicted," Joan says, "because that's what is happening. They are being evicted."
The coronavirus threat is real: another woman was due to be transferred to a different home, but a coronavirus case was identified there. That news added to an already growing sense that evicting these long-term residents is extremely hard to justify, all the more so when the place is owned by what claims to be a charitable organisation.
It adds to the widespread sense of foreboding: for blind residents, adjusting to a new environment may be extremely challenging, since not all nursing homes are equipped to serve them.
"We offer a very unique service," one staff member, who would prefer not to be named says. "We have residents with a variety of disabilities as well as blindness and visual impairment, but we are specially designed, and staff are trained, to care for the blind."
Some staff members are convinced that management wanted St. Mary's to fail, to free up the land, making it available for prospective sale or transfer.
Advertisement
"They brought in the new managers over the last 18 months," Joan Kiernan says. "I don't think they were put in place to try to make St. Mary's work – which I believe it can."
The staff feel embarrassed, arguing that no matter how hard they fought to keep the centre free of the coronavirus, throughout the pandemic, the public have read in news coverage of the closure that St. Mary's "was not fit for purpose."
"They made us look bad," Joan Kiernan says.
"We went through the recession, and we got through it all, we pulled together, now we're going toward a bigger recession, and I think our elderly are being pushed aside," Maria Capocci says.
WORRIED ABOUT THE FUTURE
Joe Brabazon's house is two kilometres away from St. Mary's. His wife Kay has been living in the Home since August 21, 2019. Being so close, Brabazon would occasionally drop by unannounced to see Kay. Things always looked as good on those casual visits as when he paid a scheduled visit.
Kay is in a wheelchair and grapples with Alzheimer's Disease. Or as Brabazon puts it, her brain disobeys her.
Advertisement
"I would ask her 'do you want a glass of water or an apple', and she would say, 'no', but she would reach out to get it," he explains.
As yet Kay is still in St. Mary's: Brabazon doesn't know how his wife would react to relocation. He also fears that he won't be able to visit her as frequently.
"I drive for now, but who knows if I will still be driving in 12 months," he says.
He also worries that in the process of relocation, or as he travels to see Kay, wherever she is evicted to, one of them would catch the virus and die.
"I'm 83, my wife is 81," he reasons. "At this stage, we have no resistance. If we catch it, it's a death sentence."
Brabazon said the care at St. Mary's is 'excellent'. His wife is happy there. Like many others, he doesn't believe that so called 'funding deficiency' is the real reason behind its imminent closure.
"I'm worried about what the future holds for my wife," he says.
Another man whose wife is a stroke patient in St. Mary's, with rapidly growing cancer, points to what he describes as the hypocrisy of the Sisters of Charity.
Advertisement
"If you look at Sisters of Charity's website," he says, "their 'mission' is about human dignity, compassion etc. It's very hard to reconcile that with what's happening here. For a charitable organisation to act that way is not acceptable."
He says he is 'disgusted' with management at St. Mary's, for toying with the future of his wife and other residents.
"They suggested that they are going to help me in every way," he says. "I'm waiting on that, to see what happens."
Staff at the centre are most concerned, however, about the well-being of those residents who have no families to support them.
On this issue, a spokesperson for the Board of Management at St. Mary's has told Hot Press that "those residents who don't have any families are a ward of court, and we deal closely with their nominated contacts on all matters relating to their welfare."
HIQA AND THE HSE
The primary reason given for the closure of St. Mary's is a lack of funding to meet quality standards set by HIQA.
Advertisement
In their most recent reports, HIQA inspectors raised issues around governance, management and the lack of space at St. Mary's. HIQA was satisfied with the way Loyola was run, but there were concerns about the St. Oliver's unit.
Following renovation work, however, HIQA had found the premises at St. Mary's to be 'substantially compliant' with regulations.
"Equipment was mostly being stored appropriately," HIQA's 2019 report states, "however a small dining room was used inappropriately to store catering equipment and large recliner wheelchairs. Signage and the display of information for residents had improved."
The inspectors noted that "staff were always courteous and respectful of residents' communication needs. Healthcare assistants were also supporting residents with activities until the activity worker arrived in the afternoon."
Staff accuse management at St. Mary's of not addressing problems around governance and management deliberately, by refusing to cooperate with HIQA.
A spokesperson for HIQA said that the organisation does not comment on individual cases.
The spokesperson for the Board of Management at St. Mary's, however, insisted to Hot Press that HSE funding was insufficient for meeting HIQA requirements, adding that "Currently the Nursing Home is operating at 60% of capacity… No further admissions are being accepted."
Advertisement
According to the Charities Regulator website, for the period between 31 Dec 2017 and 31 Dec 2018, the gross income at St. Mary's was €5,975,458 and their expenditure was €5,736,031. They received €4,775,768 from Government and local authorities, while €1,199,690 came from other sources.
For their part, in answers to questions posed by Hot Press, the HSE was clear that, in their view, there was a lack of engagement on the part of the Board of Management of St. Mary's (see full HSE answers below).
"No formal request for additional revenue funding was received (from St. Mary's)," a spokesperson for the HSE said, "albeit a proposed capital investment plan of circa €1.3m was received as an estimate to upgrade one element of the service on site. In that context the HSE outlined its protocols associated with seeking unplanned capital and advised the Board that it was willing to engage jointly with HIQA to review the specific nature of the plan and potential timeframe for such an investment. It was also evident to the HSE that St. Mary's had access to restricted funds to the tune of €0.600m which would contribute to the overall costs of the project."
To add further spice to that argument, in July, the HSE announced that an extra €1,000,000 in funding grants to support older people was made available, as part of an initiative by Jim Daly, the then-Minister for Mental Health and Older People.
With all of that bubbling just beneath the surface, staff and relatives of the residents at St. Mary's are urging the Government to step in, and to "stop the eviction of residents." They want the ownership of St. Mary's to be taken from the Sisters of Charity – a lengthy process that might also require a battle with the Vatican.
In June, People before Profit TD, Richard Boyd Barrett, also criticised the Department of Health for not getting more heavily involved.
"There was no Covid cases at all in there, which suggests that it's not a bad place, and yet they're saying they have to close because they can't afford to come up to HIQA requirements," Boyd Barrett said in the Dáil.
"To me, that's unacceptable, that the Sisters of Charity, for reasons best known to themselves, are going to close down a nursing home for the vulnerable, the blind and the elderly for whatever reason. That shouldn't be allowed to happen."
Advertisement
Members of the Save St. Mary's Home Campaign have written to Minister for Health, Stephen Donnelly TD, exhorting him to stop the closure.
WORKERS' RIGHTS
Meanwhile, relations between managers and staff at St. Mary's – there are 80 full-time staff at the Home and 15 volunteer workers – have become more difficult. Staff say that the directors actively avoid direct communication with them. The Board of Management insist that this is not true.
Joan Kiernan says that she is not sure whether or not her contract came with a redundancy package, but either way she fears for the future.
"Myself and two other colleagues had a meeting [with the managers]," she explains. "The way we see it, they couldn't answer any of our questions: we've had no proper responses whatsoever from them."
Uncertainty also shadows two non-European nurses at the centre, for whom permission to remain in the country depends on their work permits.
Brian Condra of SIPTU tells Hot Press that the union is in an 'ongoing' negotiation with the management to "minimise job losses" and to explore the possibility of redeploying members to other areas of the health service.
Advertisement
"SIPTU members in St. Mary's Telford have a longstanding and proud tradition of providing exemplary care for vulnerable residents and patients in the facility," Brian Condra says, adding that SIPTU is 'deeply concerned' about the recent developments at the centre.
The Board of Management at St. Mary's, however, state that they are 'in regular contact' with 'every member of staff' to explore options "which might be in the interest of the staff and this would include redeployment to other locations and relevant work permits."
"This is our priority at this time," a spokesperson for the Board of Management says.
Perhaps – but, amid the confusion and the growing fury among staff at St. Mary's, one elderly resident phoned Breda O'Sullivan in Wexford, promising to keep in touch following a move to a new facility.
"She said, 'I'll ring you when I get settled in, if I ever settle in'," Breda says.
And she shrugs sadly. What, her eyes ask, can you say to that?
• To add your name to a petition launched to save St. Mary's Nursing Home, visit https://www.change.org/p/h-s-e-save-st-marys-nursing-home-merrion-rd
Advertisement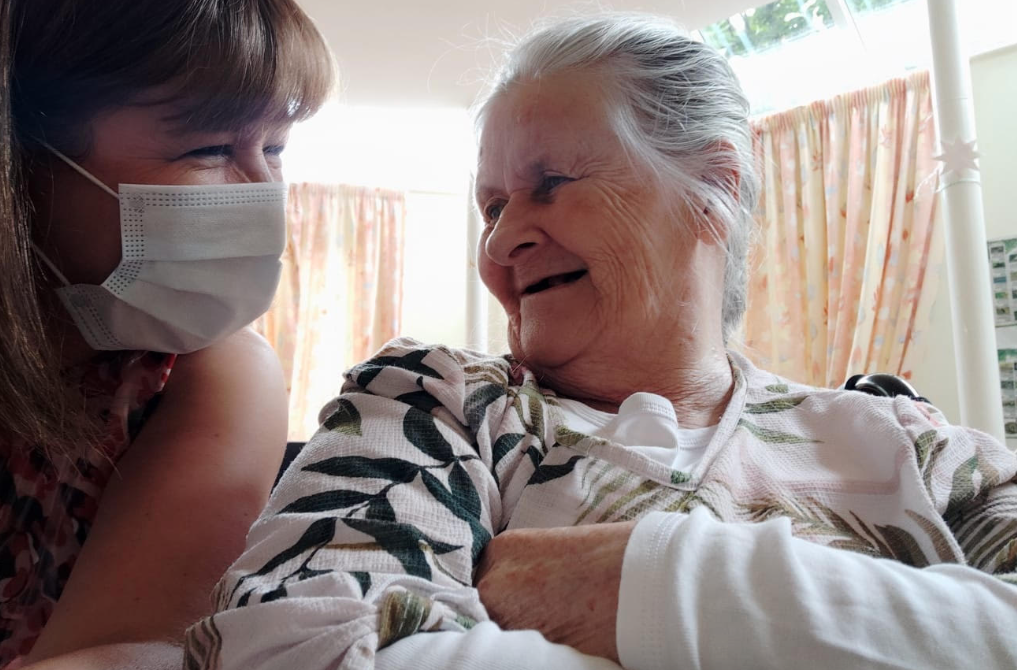 THREE ANSWERS FROM THE HSE
Hot Press put three questions to the HSE concerning issues to do with St. Mary's Home. As you will see, the answers are very carefully worded. But they do seem to imply that HSE managers are not convinced that keeping St. Mary's open is top priority for the owners…
1. Since one reason for the closure has been cited by the managers as a lack of sufficient funding from the HSE, I would like to have a statement from you in relation to that.
HSE Community Healthcare East (CHO6) were advised on the 3rd of June 2020 by the Board of St. Mary's Centre of their intention to invoke a voluntary closure of the older person's residential unit before 31st December 2020. The HSE asked the Board to consider all possible options to enable services to continue including a joint approach to the Health Information and Quality Authority if the Board felt that such an engagement was appropriate and beneficial. At a subsequent meeting, the HSE re-affirmed its commitment to the continuation of services and advised representatives of St. Mary's of the obligations that the HSE had in terms of any/all future capital and revenue investment at that centre.
2. Can the HSE step in and stop the closure and transfer of residents which has already started?
The HSE cannot step in to stop the closure of St. Mary's as its Board of Management took the decision to invoke a voluntary wind down of the facility and is therefore fully responsible for the relocation of its residents. The facility is owned by the Sisters of Charity and the current Board of Management have executive authority over the service. The HSE will engage with St. Mary's and family members where requested to support the seamless transition of the residents to alternative residences via our Local Placement Forum.
Advertisement
3. Did the managers ever apply for more funding to the HSE?
The Board of Management at St. Mary's provided detailed financial projections to the HSE outlining concerns it had regarding the governance/sustainability challenges of the service given the regulatory and capital investment obligations it perceived as imminent. No formal request for additional revenue funding was received albeit a proposed capital investment plan of circa € 1.3m was received as an estimate to upgrade one element of the service on site. In that context the HSE outlined its protocols associated with seeking unplanned capital and advised the Board that it was willing to engage jointly with HIQA to review the specific nature of the plan and potential timeframe for such an investment. It was also evident to the HSE that St. Mary's had access to restricted funds to the tune of € 0.600m which would contribute to the overall costs of the project.