KIM PORCELLI, a New Yorker in Dublin, remembers the beautiful view from the top of the world
"There are architects who believe that all buildings must be 'strong.' The word 'strong' in this context seems to connote 'powerful' – that is, each building should be a monument to the virility of our society. These architects look with derision upon [our] attempts to build a more friendly, gentle kind of building…
"The World Trade Center should… become a living representation of man's belief in humanity, his need for individual dignity, his belief in the cooperation of men, and, through this cooperation, his ability to find greatness.'
– Minoru Yamasaki, architect, World Trade Center
[photographed above: the New York Skyline photographed by Simon Roche, 1999. Copyright Simon Roche/hotpress.com]
"Symbols of American wealth and power," apparently. That's why they were chosen. That, probably, and the ghoulish ease with which they could be run through by stolen airplanes.
My little one-horse town – that is, the 'exotic' sub-locale from which your correspondent, er, springs – is directly across the water from Manhattan. Staten Island, it's called, somewhat fancily. Strictly one-horse, trust me, except that years ago they removed the horse too. In the dismal, sepia-tinted, gas-shortage-and-recession '70s, oddly, it was nicer: in the photographs, we are dreaming in front of trees, navigating pretend baby buggies down brand-new streets and over tender brown earth, a great big blue sky above. Staten Island: untainted nearly-rural splendour right near the scary urban jungle, perfect unspoiled place to raise a family, in New York but not of it.
Advertisement
The reality, as any suburbanite will tell you, is that we spent the whole of our youth dreaming of the moment when we would fuck right off out of there. Especially because, as we grew up, the trees gave way to a mini-hell of low-rise prefabs, endless condominium 'communities' and strip malls – as well as, in deranged contrast, garish, high-walled Sopranos-style safe havens for Mafiosi and privately-patrolled mansions belonging to the more media-reluctant of our local baseball stars.
We used to joke about how Staten Island was where civilisation ended, where culture went to die: that, if you blew it up, the only losses world culture would sustain would be that of a 1932 art-deco movie theatre (boarded up) and a Tibetan art museum (closed). Worst of all, Staten Island was, and is, home to the largest single garbage dump in the world. Several miles long, its odour can be detected from a half hour away, and – so the urban myth ran – it was visible from space.
So you'd hang on for the weekend, and you'd get the ferry to Manhattan, and you'd rush through the deck to grab one of about fifteen outdoor seats at the front. And then, for a half hour – buskers playing, shoeshiners shining, the air smelling of bagels, newsprint and cigarettes, your head full of museums and cafes and cool record shops, your matte-brown nowheresville receding behind you – you'd watch as Manhattan moved slowly toward you out of the fog like a dream-city: there's the grey and distant point of the Empire State Building, there are the shining graceful scales of the Chrysler Building, and, much more clearly, there are the Twin Towers, impossibly tall against the sky, the tops of them ending abruptly, jagged, missing in the clouds, gleaming whitely, blindingly in the sun like new silver.
They were full of world-class financial experts, exactly the people you'd want to kill if you wanted to fatally cripple a city and country's financial power. But they were also full, stuffed full of people for whom a crappy desk job in the Twin Towers, or a stinking cleaning position scrubbing out the toilets in Windows On The World, or a shitty unpaid internship sorting mail for some legal firm in the eightieth floor, meant that you had somehow overcome your shady, gauche, desperate past life as a no-hoper, an immigrant, a suburban nowhere man, that you had gotten out and become a real person, that you'd arrived.
Advertisement
They're stopping the rescue mission now. Now, it's a cleanup; and the rubble is being carted off, 45 thousand tons of it so far. It's all going to the rubbish tip on Staten Island, where it will be sifted through one last time – for evidence, for firemen's clothing, for pieces of people – and then buried in the landfill.
Switching from the television to the newspapers was a mistake. That's where you learn the truth, where the unphotographable is revealed.
"Today, we are all New Yorkers", I blurrily remember reading somewhere, as we watched locals behaving unthinkably bravely, queuing with food and water, giving blood, comforting each other, picking through a horrid moonscape of ash-white rubble with bare hands, taking off fire helmets in order to crawl beneath thirty-foot razor-shards of twisted metal. Carrying out pieces of familiar bodies, wading through blood-soaked mud. There's no way we can all be New Yorkers, if this is what it means. Not even those of us who are. How many of us would be this noble in hell, this unimaginably brave?
This is going to be something that just keeps weeping blood, refuses to clot. Just when we thought it was okay to take the bandages off, more comes. Everyone is okay. Wait. Did you hear? A cousin who lost his three best friends and 700 – seven hundred – of his workmates. A friend of a friend who had only been working there a few months. Oh, didn't you know she had started there? Yeah. Oh God. New York always knew danger, race clashes, senseless violence and unrest, but nothing like this.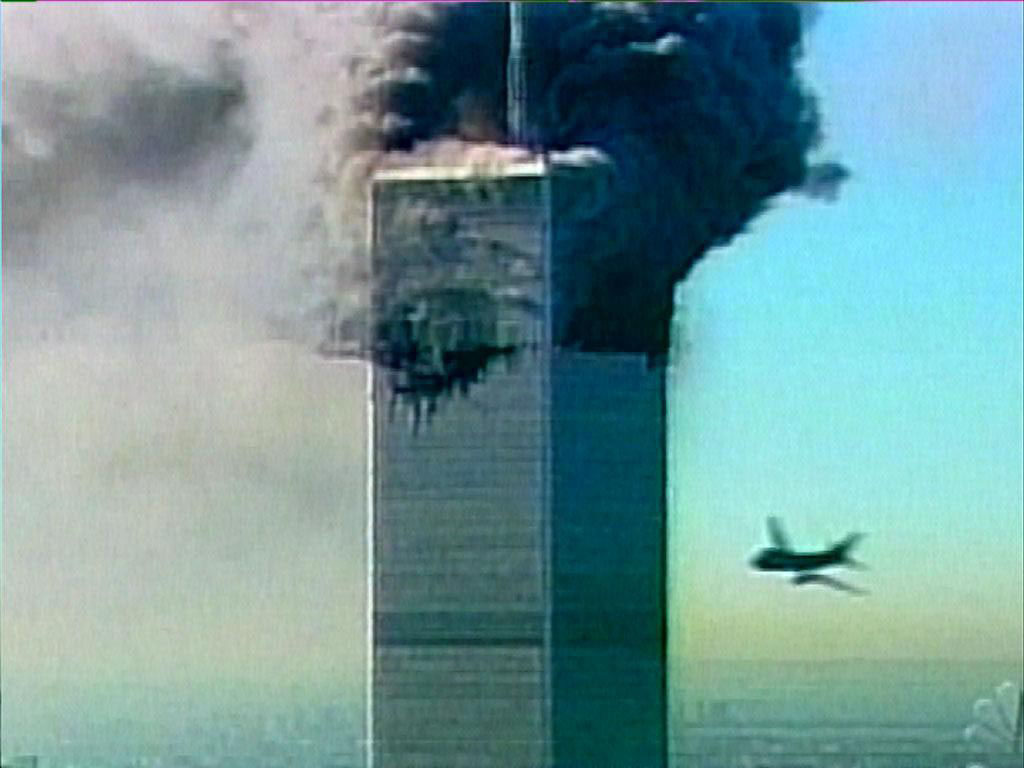 Television image of an airliner as it approaches the towers of the World Trade Center, September 11, 2001. The aircraft crashed into Tower 2 (obscured) just instants later as Tower 1 burns after being hit minutes earlier by another hijacked airliner. Both towers collapsed to the ground a short time later. An aircraft was also crashed into the Pentagon near Washington this morning and another airliner crashed near Pittsburgh, Pennsylvania in an apparently related move. REUTERS/Courtesy of NBC NO SALES, NO ARCHIVE
The oft-made parallel with Omagh, the kind of grief that runs through a town, eventually touching everyone, like poison in the water, is apt. Except that I can't get my head round the number of dead, and if anything it's bleeding right round the world to friends of mine in Chicago, Tokyo, Dublin; and my family are far away, e-mailing me emergency numbers ("just in case"), sounding tired; and my sister in midtown is still fleeing home in tears after yet another bomb scare, and I, in Dublin, feel helpless, stupid, unimaginably lucky, alone.
Advertisement
You feel like an idiot. To still be wrecked and shaken after four days, having not personally lost anyone, feels obscene. So you go sign the condolence book for the people who did.
This helps a lot, not least because it knocks you out of self-centredness, out of your own localised grief. The sixty-odd nationalities that have lost people notwithstanding, the number of bouquets and candles here, and of truly beautiful letters, to lost friends, to the Irish infant Juliana, and "to the American people", is astonishing. But there are more than a few that seem to be addressed to New York itself, or to an abstract idea of what the city is, using language that feels as if someone really popular, someone beloved, is in hospital.
Postcards of Manhattan and photographs (taken from atop the Empire State; snapped blurrily from cab windows) are taped to the railings. On one: "New York: Hold your head high".
On another: "I went to New York for the first time earlier this year, and I spent five days walking around looking at all the beautiful buildings. I really enjoyed myself. I'm so sorry about what has happened. See you soon."
Signed in the condolence book at the Mansion House, in a flamboyant teenage hand: "New York: fucking crap what happened. Stay cool".
And in downtown Manhattan, as reported by TIME magazine. Seen among the thousands of notices and homemade flyers on every wall and shopfront, the sinister wallpaper made up of smiling photographs of the lost. A postcard of the Twin Towers. It reads: THEY ARE MISSING. I AM LOOKING FOR THESE TWO GREAT BROTHERS OF NEW YORK.
Maybe grieving over a maimed city is something we do because, unlike trying to imagine the infernal horror visited on twenty thousand of its residents, it's something a human mind can comprehend. Maybe it's because massive feats of the human imagination, like a work of art, a piece of music or a beautiful building, are meant to remind us that anything is possible in this world, and now that a darker kind of "anything" has happened, our world is different, grim, frightening. Maybe it's because – like any great city – New York kind of belongs to everybody.
Advertisement
We didn't know there was an observation deck. I found it by accident. We were skulking around looking at souvenirs (snowglobes, postcard books, I-heart-NY rock candy, giant novelty pencils, tiny novelty spoons) and I found a single narrow escalator, and grabbed my visiting Dubliner friends. It wasn't signposted, so we expected to find ourselves in an employees' area or something and were strictly going up in a spirit of naughtiness. Then, we noticed, eerily, that there was nothing waiting for us at the top. It was just dark blue. It was when the quality of the air changed that we knew it was the night sky we were looking at: and we realised, with something close to panic, that we were heading outside.
You realise instantly why they named the rooftop bar Windows On The World: it isn't out of any kind of New-York-as-be-all-and-end-all arrogance, where to view New York is to view everything. It's simply because this is physically higher than any mortal who is not in an airplane belongs. The perspective – suddenly being on top of this great hulking thing that you recognise so well, atop it, outside it, its brother staring monstrously at you across a chasm a few hundred feet wide, a mast sticking still further up into the dark blue sky – it's all wrong, not at all the way it's supposed to look, unnatural, enough to make you ill.
The urge to simply halt, say excuse me to the tourists coming up behind you and lay down on the floor, is immense. But you don't. You look fearfully across as your stomach rebels, grasping railings, and stare World Center One in the eye, peer darkly through the glass into its top windows, where the lounge is, all jewel tones and flickering light and crowds of people dancing. And, as your breathing begins to return to normal, a small private plane glides blithely beneath you. And the horizon seems absolutely endless: massive, dark and glittering. And the air tastes pure, and the sky is so clear and blue. And the world looks so beautiful.