Listen to some of our favourite new Irish tracks of the week below ahead of Body & Soul and Sea Sessions!
Two Door Cinema Club, 'Wonderful Life'
The Bangor indie band are back, announcing today that their forthcoming fifth studio album, Keep On Smiling, is due to land on September 2nd via LOWER THIRD [PIAS]. 'Wonderful Life' is a nod back to the pure rush of Two Door Cinema Club's early output, with indie-pop infectiousness and an addictive chorus. Those trademark guitar riffs and layered, soaring vocals from Alex Trimble feel fresh and full of hopeful energy. The outfit's 15-year, multi-platinum selling career is entering a new era.
Biig Piig, 'FUN'
Dropped as BBC Radio 1's Hottest Record in the World earlier in the week, the electro-pop banger features the Ireland-raised, London-based producer and singer-songwriter's trademark smoky vocals. The blistering 'FUN' follows up on the producer's recent collaboration with fellow NiNE8 Collective member Lava La Rue's single 'Hi-Fidelity'. Infused with captivating electronic synth elements and a drum 'n' bass beat, Biig Piig's sultry, angelic vocals bring the song to life with flair.
Speaking about her latest single, Jessica Smyth (aka Biig Piig) describes it as "about bickering with a partner, and being sick of it. 'FUN' is also about how you can bring out a childish part of each other when no one else really gets that part of you, the good and the bad. No one gets under your skin or pushes your buttons like the ones you love the most."
Advertisement
Ailbhe Reddy, 'A Mess'
The boisterous new single from Reddy follows April's 'Inhaling', which marked a comeback for the Dublin indie sensation. The tongue-in-cheek video which accompanies the infectious track was directed by CLTV's Georgia Kelly. A more up-tempo number for the musician, there's joy and resounding choral voices but Ailbhe's is amplified front and centre as she reflects on insecurities.
"'A Mess' is about not feeling good enough in a relationship and examining old patterns and habits," Ailbhe Reddy explains. "It's about feeling fed up of going around in circles, while focusing on a throw away comment that 'no wonder it was such a mess'."
Kynsy, 'Point of You'
Dublin-based Kynsy (Ciara Lindsey) recently treated us to her first new single of 2022 in the form of 'New Year', but she's back with another expressive, black-and-white video to keep us on our toes. Fun-filled dejection anthem 'Point of You' has all the characteristics of a radio-ready pop song, but explores the underbelly of trauma and the darker side of relationships. The breakthrough Dublin indie-pop artist takes inspiration from the harmonies of the Beach Boys and the Beatles and pushes them into uncomfortable corners with overly compressed drums and glitchy keys.
Advertisement
Kynsy says, "'Point Of You' is me trying to work my way through the different sides of romance, happiness and disappointment. It's about being stuck in the same cycle of falling in love with people who don't or will never love you back and the feeling of tiredness that comes from attempting to have romantic relationships with people that never go your way.
April, 'That Feeling'
The Irish alt-pop artist has dropped new single 'That Feeling', which follows her EP When it Comes To You from earlier this year (via Atlantic Records UK). The earnest new track explores the notion of wanting to move places, meet new people and get out into the world all by yourself, using twinkling synths and lush instrumentation to make her points. Harmonised, textured vocals and warped, airy electronics brings it to life.
Speaking about the single, April says: "'That Feeling' is about being independent. A lot of my coming songs are roughly based around this feeling - it wasn't on purpose, but I suppose it was how I was feeling. It was written post-relationship, about when after a long time of relying on somebody for happiness and reassurance in yourself, you find new confidence in yourself."
FYA FOX, 'Busy'
The alt-pop artist of the moment is back with a summer single, full of poignancy and drama. FYA collaborated with Simon Francis and Kristoffer Platt to co-write 'BUSY', with production by Simon Francis and Matt Weir. With pop princess vocal powers for days and a driving drum beat, gospel-fuelled harmonies and impressively soulful melodies make sure the song sticks in your head. Catch FYA FOX at the Workman's Cellar on November 5th.
Advertisement
"I was trying to grieve but was so angry, I suppose all the emotions you feel when trying to come to terms with a sudden loss," FYA explains. "Even though I was in a really weird, dark mindset I didn't want this to be a ballad or anything. I suppose throughout lockdown I felt like everyone was having a shit time and you kind of put on a brave face to cover it up."
Maverick Sabre & Jorja Smith, 'Slow Down' (James Cole remix)
Marking a decade since the release of his chart-topping debut album Lonely are the Brave, New Ross-raised soul artist Maverick Sabre originally shared his collaboration with Jorja Smith on his 2019 album When I Wake Up. The viral hit was remixed by Vintage Culture and Slow Motion the following year, gaining over 187 million streams thus far, but now James Cole has put his spin on 'Slow Down'. With house and disco-fused bassline beat propelling the track forward, Smith and Sabre's sultry vocals still steal the show.
Tomike, 'It's Like' (1000 Beasts remix)
1000 Beasts has teamed up with Afro-Irish musician Tomike for a remix of 'It's Like' ahead of their appearance at Body & Soul Festival this weekend. Fresh from playing Primavera Pro and releasing debut album Naruda in April, Cork's Cian Sweeney, aka 1000 Beasts, is back with another banger. 'It's Like' originally arrived in 2021, with smooth jazz mingled alongside R&B and neo-soul harmonies. 1000 Beasts' touch adds plenty of electronic elements, as to be expected, but retains the heart.
Advertisement
With a change in pace, quickening drum beats and warped synths curate an otherworldly atmosphere. Silky melodies and gorgeous, lush instrumentation elevates Tomike's voice to perfection. Catch the pair at Body & Soul Festival this weekend.
Clara Tracey, 'Baby Witch'
Originally hailing from Fermanagh but now spending her time between Paris and Dublin, Tracey unveiled a beautiful new single yesterday via Pizza Pizza Records. 'Baby Witch' is a folky, jazzy song about the hedonistic feeling of falling in love and the danger of letting yourself fly so high. With noodling guitar lines and comforting, ethereal lyrics; it's another lovely gem from a unique talent.
About the song Tracey, says: "I wrote this song soon after I moved back to Dublin from Paris. I was living in a shabbier than chic flat above a shop called Bohemia and we thought it was paradise. In the middle of all there was this new love story. Baby Witch is about trying to just let yourself love someone even when it feels like your hands or mind might be tied."
Moncrieff, 'Ruin'
Advertisement
The Waterford alternative pop artist recently signed to German label Energie Musik, and plans to release an EP later this year. 'Ruin' is light in its hooks and melodies, infusing some elements of folk simplicity and universal lyrics to grab audiences. The confessional track decries the breakdown of relationships, and his difficulty in opening himself up to new connections. His vocals are booming, powerful throughout with layers of harmonies to build up the crescendo of the epic chorus.
Melts, 'Signal'
Taken from the Dublin band's riotous new space-rock, psych and garage-infused debut album Maelstrom - out today on Mother Sky - 'Signal' is all pace and Robbie Brady's magnetic synths. Frontman Eoin Kenny's nostalgic-sounding vocals and punchy delivery take the glorious rock number to the next level, with the brilliant new project produced by Daniel Fox. Melts' members all hail from former capital city bands that should have hit the big leagues, and somehow the five-piece have connected the final piece of the noise-rock puzzle. The results are thrilling, sci-fi themed and aching to be performed live.
Stephanie Rainey, 'Remember Who Your Friends Are'
Since releasing new music in 2021, the Cork singer-songwriter has seen her songs embraced by a new generation of fans. Armed with a new collection of songs that speak of her transformation from emerging pop star to established artist, 'Remember Who Your Friends Are' is a '90s-influenced classic in the making. Written in Los Angeles five days before the entire world shut down because of Covid, the single is an uptempo, live sounding track with a hook for the ages.
"'Remember Who Your Friends Are' is one of my favourite songs," Rainey offers. "I love it because while it feels quite uptempo and happy, the song is also a reminder to remember who your true friends are - who can you count on when the hard times roll around and you need people to help you - real friends and authentic people are there for the good and the bad. It's important."
Advertisement
Célia Tiab, 'Creamy'
The Belfast-based, French singer-songwriter is gearing up to unveil her debut EP on July 22nd via Softboy Records. 'Creamy' marks only her second outing as a solo artist, following last month's debut 'BIBIBI', and acts as an ode to Cork's glorious pints of stout in cosy pubs. Full of warmth and soulful, laidback vocals, it's goes down as well as a refreshing glass of Guinness in the summer.
Introducing 'Creamy', Célia says: ""It encapsulates the loving feeling I had when being in Cork, imagining being in a bar with someone you start having feelings for, and finding myself in an awkward position when wanting to express my new feelings for this person who may be indifferent. I tried writing lyrics that would be as descriptive as possible, while still allowing room for interpretation."
SELLÓ, 'Irish Girls' (feat. Reggie)
Ireland's drill scene has been blowing up since 2018, and Clondalkin talent SELLÓ is a major reason for that. With short, murky bars and punchy beats, SELLÓ taps fellow drill maestro Reggie (sometimes known as Reggie B, hailing from Dundalk) for an ode to the lovely girls of Éire. And why wouldn't they? Shouting out cities like Dublin, Galway, Limerick, Sligo, Cork, Louth and more; the ridiculously catchy track has all the charisma of the nation's drill premiers and more. UK and Irish artists from the genre - along with trap, grime, hip-hop, etc - have recast the concrete-hard beats from Chicago and beyond with nebulous, darkly atmospheric soundscapes. The results go instantly viral.
Lisa Murray, 'if i ever see you again'
Advertisement
Murray's synth-heavy and harmony focused sound shows her ear as a producer, with pop melodies and bold lyrics. The sassy new single was inspired by a text conversation between the singer-songwriter and a friend during the pandemic, when Lisa was pursuing her Masters degree at Berklee College of Music.
"During a zoom lecture at the beginning of the pandemic, I was texting a friend from my class. We were making plans for when life got back to normal and in the midst of our conversation I jokingly said 'if i ever see you again'. It immediately clicked with me as a song title." says Lisa. "So I turned off my camera and muted my mic and sat down at the piano and wrote the chorus there and then."
Daire Patel, 'Pretty Sweet'
Following 2022 single 'Blue' (his first since 2020's 'Summer in the City'), Kildare singer-songwriter Daire Patel is back with an introspective banger. His usual sound combines a hip-hop feel with a lo-fi bedroom pop air, oozing Mac Miller and Easy Life energy. His take on growing older is one we can all relate to, but his voice sounds stronger than it ever did before.
"The song is about coming to terms with growing up, getting older and accepting that in life things don't always go the way you hoped they would," explains Patel when reflecting on his newest release. "The lyrics 'I wake up I go back to sleep' which form the backbone of the song is just a commentary on how I was living my life at that point. A lot of the song however is more so about coming to terms with growing up, getting older and accepting that in life things don't always go the way you hoped they would."
Advertisement
Jessie Buckley & Bernard Butler, 'We've Run The Distance'
The duo's debut album For All Our Days That Tear The Heart landed today. Destined to become a live favourite, 'We've Run The Distance' a spirited and irrepressible track that builds from tender beginnings to a euphoric crescendo. Buckley's raw, strong vocals are layered in the build up to the gorgeous chorus, which emphasises the storytelling mingled with rock approach the duo are taking. The opulent richness of Jessie's lower register, reminscent of Karen Carpenter, commands the song.
Robocobra Quartet, 'Chromo Sud'
The Belfast outfit have shared a video for the nine-minute track, taken from their new album, Living Isn't Easy (out today). The project arrived via Deptford-based label, First Taste Records. 'Chromo Sud' also comes on the heels of their acclaimed singles 'Wellness' / 'I Love You' and 'Heaven' / 'Night', providing insight into Ireland's abysmal housing crisis. The track sees the band let their jazz flag fly with screaming saxophone, encircled by breakbeats and synth bass.
Speaking on the single, Ryan says, "We originally wrote the instrumental as part of an improvised performance at the Belfast Film Festival live scoring the 1968 experimental film called Chromo Sud. The name stuck and it became a Robocobra song proper. This is the one where we let the jazz hang out."
Silver Owls, 'Sleeping Giant'
The second single from their widely acclaimed debut EP Serpentine, 'Sleeping Giant', is a blend of frenzied, melodic, indie rock. The anti-war song was also written in response to what is happening in the world right now, in Ukraine and outside Europe. The song is played at spitfire intensity and calls for people to rise up and do what they can to stop needless violence, and to focus on more pressing issues facing humanity.
Advertisement
Silver Owls feature John 'Haggis' Hegarty (vocals, drums) and Eddie Butt (guitars, bass) - both founding members of Irish indie stalwarts Emperor of Ice Cream. Hegarty has released music with Speckled Doves, Band of Clouds and Gammy Origami while Eddie is a member of dark wave act Arctic Lights.
Don't Tell Mum, 'Wandering Star'
The Irish indie rockers are set to release her highly anticipated debut EP Running Riot, with the focus track 'Wandering Star' acting as the standout anthem of the project. Whilst their sound takes influence from the likes of Catfish & The Bottlemen, Arctic Monkeys and The Wombats, their own style is built upon with driving rhythm and hook-filled melodies.
The track is filled with lead singer John McCabe's powerful distinctive vocals. 'Wandering Star' begins with soft and delicate vocals before energetic drums, driving bass and loud and heavy guitar riffs make themselves known. The exciting quartet are proving they're a band on the rise with a bang.
Gavin Fox, 'If I Could Survive This'
The Dublin singer-songwriter wears his heart on his sleeve, and even more so on his brand new single. The poignant track holds nothing back, like ripping the most personal pages from his diary. 'If I Could Survive This' is full of hope, but revisits some of the hardest moments of his mental health journey.
Advertisement
"I told my wife, 'I'm completely lost.'" says Fox, "I was 40 years of age, and I had never really identified with my true self. I was known for being a really confident guy, but it was just an image I created for the outside world. It wasn't until my career took a turn that I realised - I had no idea who I was. I never had."
The Zang!, 'SELLOVE'
Chris Molloy, aka Belfast artist The Zang!, will launch his LOOPS EP at Belfast's Sunflower Bar and Live Music Venue on Saturday, June 18th at 8pm. Hot Press premiered the project yesterday, which includes opener 'SELLOVE'. The track has a captivating, driving yet simple guitar riff anchoring the song. It has elements of Skinty Fia-era Fontaines D.C., with more of a DIY tempo. Across 11 minutes, LOOPS strives to create a cinematic universe, both otherworldly yet surprisingly familiar in its short span.
Pat Lagoon, 'Let the Sun' (feat. Harriis)
The Waterford hip-hop sensation's first single of 2022 and the latest track we've heard since 2021's 'DETOX' and 'COMMON SENSE', summer bang 'Let the Sun' should be racing up the charts. Namechecking Hot Press (and GQ, but still...), the chilled out anthem also litters in plenty of Irish references - like splitting the G on a pint of Guinness. Pat Lagoon's infectious flow and mixture of vocals with easygoing raps captures a niche in the market that the likes of Monjola and YjellowL are also jumping on. This one will be playing on repeat for the next few months.
Advertisement
MR PINK, 'Catastrophe'
After dropping gripping debut single 'Beat Down, Broken' last year and 'Bleed Me Dry' earlier in 2022, indie rockers MR PINK are back with a new banger. The quartet - composing Nathan Kearns (22), Rory O'Shea (22), Ethan Crossen (20) and Jonah Rennicks (22) -have only been writing together for two years but they've got their sound absolutely nailed down already. Making a name for themselves with high energy riffs and rhythm that evokes the guitar flair of Nirvana, Arctic Monkeys and Queens of the Stone Age; their third single is all youthful energy and relatable themes. Watch this space...
Columbia Mills, 'Nevada'
Since 2014, brothers Fiachra and Uisneagh Treacy found like minds in Ste Ward, Paul Kenny and Mick Heffernan in Bray, Meath and Dublin. 'Nevada' follows fellow 2022 singles 'Heart of a Nation' and 'Addiction', arriving on the heels of their 2020 album CCTV. Building in pace with snarling guitar riffs and a propulsive drum line, the warped vocals and indie-rock, Bowie-like melodies are bound to get you itching for a live show. Sleek production and uplifting messaging make it a hit.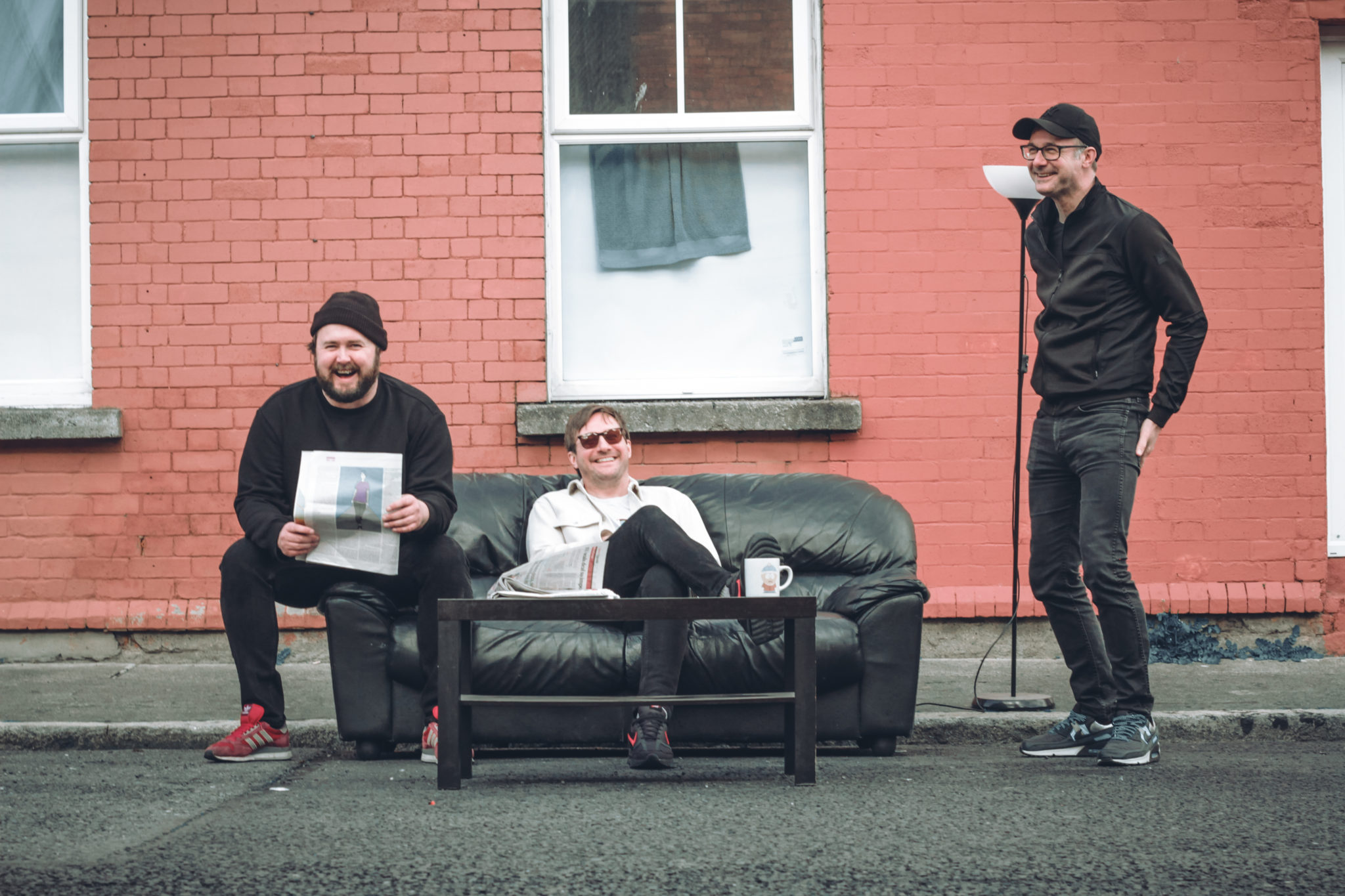 Yard, 'Auto Erotic'
After 'Lawmaker' dropped earlier this year, the fascinating group have been gaining attention in all the right places - and for good reason. With a sound entirely their own, Yard bring 'Auto Erotic' to life with otherworldly, haunting electronics and industrial moods. Taking influence from fellow Irish noise wranglers (who shall not be named needlessly), the Dublin quartet are going their own way. 'Auto Erotic' yearns to be played in front of a warehouse audience late into the night.
Advertisement
Micah, 'Shatterproof'
Glam-pop is revived in Micah's new single, after 2022's 'Stranger' further placed a spotlight on the singer-songwriter with belter vocals. She's released a string of singles since 2017, but 2022 is set to be a big year for the Irish musician. 'Shatterproof' was produced by Cruiser, while German-based Christoph 'Hadl' Hassel polished the track with his incredible ear for arrangement. Delving into themes of depression, anxiety and breakups, the power ballad deals with the breakdown of a toxic relationship.
The Collision., 'DBTR'
Rising Offaly alt-pop group The Collision. have dropped their debut EP Latent Pulse today featuring the band's signature energetic sound and distinctive, vibrant songwriting style. Made up of Ciaran Brennan his cousins Diarmuid and Seán Brady, alongside their friends Connor Rice and Callum Bergin, The Collision. released their first single 'Little 22' in 2020, followed by 'Swing' later that year.
Opening to the familiar sounds of seagulls and crashing waves, title track 'DBTR', with its catchy chorus, infectious bassline and groovy beat, is oozing with all the hallmarks of a classic summer dance anthem.
Listen to the playlist in full below.
Advertisement