To cap off the year, Hot Press are looking back at some of our most read articles of 2021. Springtime in New York - from the remarkable official Bootleg Series of Bob Dylan albums - is, as it transpires, another richly rewarding collection that includes numerous previously unheard or unreleased songs, as well as stunning versions – and 'pre-writes' – of songs that we are familiar with. For fans of the man, it is a cornucopia of riches. Originally published in September.
The poet laureate of rock 'n' roll… who was written off as a has-been by the end of the '80s, and who suddenly shifted gears and released some of the strongest music of his career beginning in the late '90s. Ladies and gentlemen, please welcome Columbia recording artist Bob Dylan.
— from Bob Dylan's regular concert intro, early 2000s
It is autumn in New York already, with the leaves turning russet and gold in Central Park, the fountain in Washington Square too chilly to wade in (when the cops aren't looking), and the geraniums grown long and leggy in window boxes. However, Bob Dylan's new release in his ongoing box-set "official bootleg" series is not confined by the calendar's seasons. Springtime In New York: The Bootleg Series Vol. 16 (1980-1985) will be released on September 17.
The five-cd deluxe version, with almost four and a half hours of music, includes five previously unreleased original songs, works in progress, alternate takes, and a slew of covers of songs you mightn't have expected Dylan to wish to warm up with in a rehearsal, let alone include on a record. 'Cold, Cold Heart' or 'Angel Flying Close to The Ground'? Sure, Dylan has always loved Hank Williams and Willie Nelson, and both these covers are grand. But 'Sweet Caroline'? Yeah, that 'Sweet Caroline'. Just you wait.
Dylan's records of the time-period in question — Shot of Love, Infidels, and Empire Burlesque (there's also a little Street Legal, 1978 and Knocked Out Loaded, 1986) — have received little critical notice compared to, say, his records from 1974-76 or 1965-66. Infidels was and is popular, and there is a stunningly good new book about its composition and more by Terry Gans, Surviving In A Ruthless World: Bob Dylan's Voyage to Infidels (2020). Most of the 80s, though, gave rise to the snarky "written off as a has-been" that Dylan enshrined in his stage performances years later. Springtime In New York shows everyone just how wrong they were to have participated in that write-off.
Advertisement
LOVING SWEET CAROLINE
Anything that starts with a 1980 rehearsal take of a Street Legal song, 'Senor', is great with me. This completely underrated song is rippling, and righteous. The melodeon sound of the keyboards, in the genius hands of Willie Smith, at the beginning gives way to Dylan's voice, which is joined by other instruments, then the chorus. David Mansfield, a veteran of Dylan's Rolling Thunder Revue tour at the ripe old age of nineteen, lends his grace to the mandolin here. "This place don't make sense to me no more," is a heart cry for the world.
The rehearsal warm-up songs done by Dylan, his band, and backing vocalists are so varied and surprising. A rough start on 'To Ramona' immediately gets better as everyone joins in, a round-the-campfire feeling that imbues the whole album. Many of the musicians assembled here had been with Dylan on his "Gospel Tour" of 1979-80, including Fred Tackett on guitar, Tim Drummond on bass, Jim Keltner on drums, and Regina McCrary (then Havis) and Carolyn Dennis (later Dylan's wife) as backing singers and Dylan's sometime duet partners. They know each other well, and it shows on this version of Dylan's 1964 song. He, and they, give it a mariachi gospel band flavor. 'Mary of (in some versions, from) the Wild Moor', featuring Dylan alone with McCrary on vocals, with Tackett's elegant mandolin underlying Dylan's guitar and McCrary's autoharp, is one of my favorite songs on the bootleg.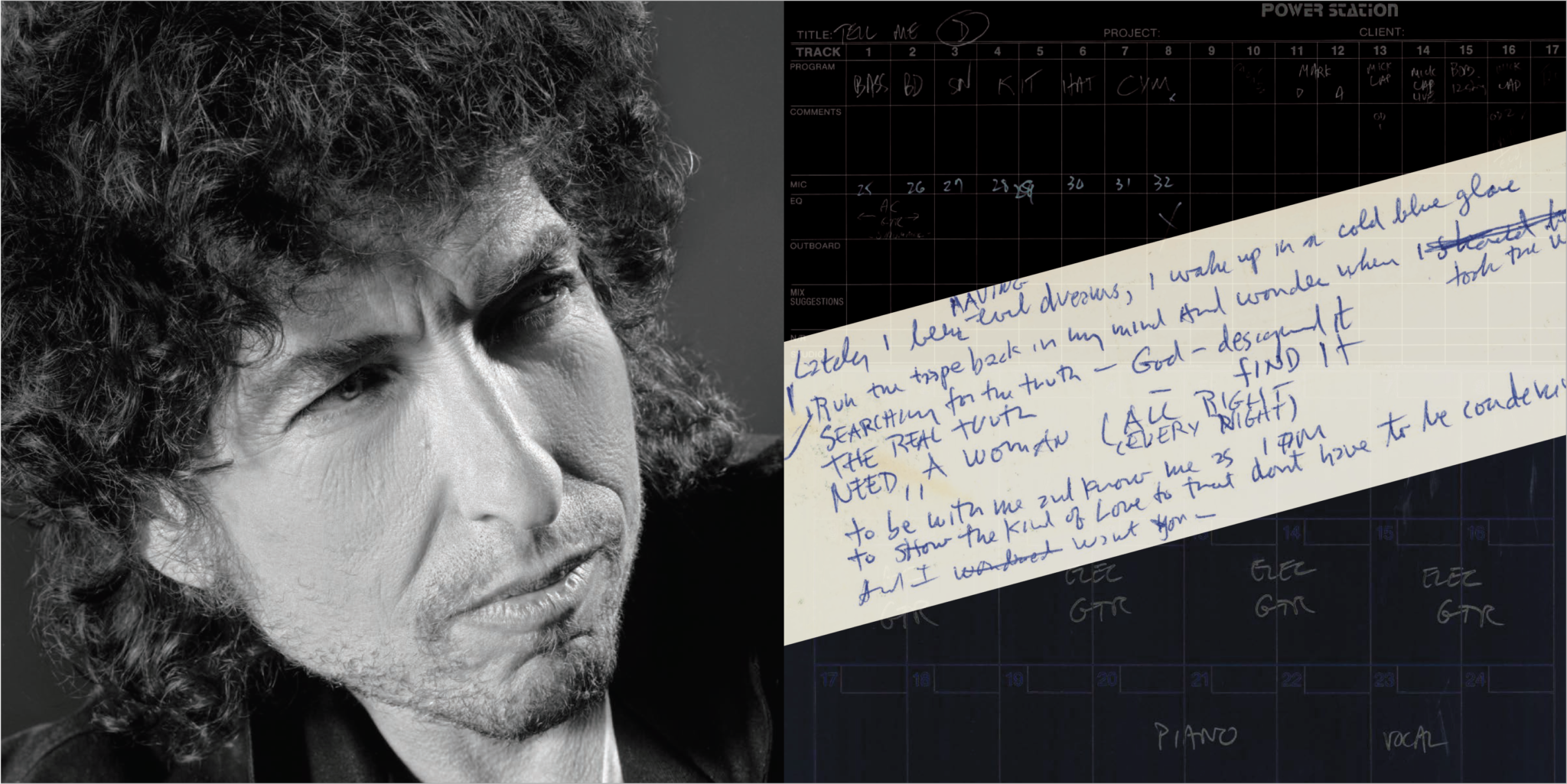 'Need A Woman' is a carpe diem song that is astoundingly self-referential in this early version, about "a man of understanding" who needs a woman, and not any particular one. But, man, you can full-tilt boogie to it. "I know a virtuous woman's hard to find but they can't be obsolete," Dylan sings with a grin in his voice. The laughter at the end shows that they know they nailed it. Dennis, her mother Madelyn Quebec, and the late, great Clydie King provide the vocals and handclaps that propel this song, and answer the question of whether you need a woman with a resounding 'yes'.
Shifting back to covers, Dylan leads everyone through a dizzying array. 'A Couple More Years', with its lyrics so suited to Dylan, is written by Shel Silverstein and Dennis Locorriere, a/k/a the good Dr. Hook. 'Mystery Train', in a Shot of Love out-take from May 1981, is a slow, chugging, pulling out-of-the-station beat. The funky drumming on this one belongs to the double-team of Keltner and Ringo Starr. 'This Night Won't Last Forever' is smooth and pretty; Dylan sings the refrain as if he thinks the night will indeed last forever. But all his heart is in the "I need some hope for a bright tomorrow." Dave Mason's smash hit 'We Just Disagree' has a tentative start, but swells into its refrain: "So let's leave it alone, cause, we just don't see eye to eye, There ain't no good guys, there ain't no bad guys, there's only you and me and we just disagree." Dylan liked to cover end-of-love songs.
I've waited decades for this 'Sweet Caroline' to be released. We've known about the richness of Dylan's 1980 sessions at Rundown Studios in Santa Monica for decades: Olof Björner posted the details of the recordings long ago. And 'Sweet Caroline' doesn't disappoint, despite the millions of covers. and singathons and sporting events you've heard it ast, in the years since then.
It's a gas. Dylan sing-speaks the start, with a shuffling drum and the ooo-ooooos of his backup singers. The "touching hands" rising lines are almost scary and threatening with the boom-boom drum: and then all glory breaks loose with the women taking over the chorus of 'Sweet Caroline'."
Advertisement
'Fever' is similarly slowed-down and just as passionate. It sounds to me a bit like 'Blind Willie McTell', in its pace, in spite of a raggy collapse of an ending.
'Let's Keep It Between Us' is a cross between a croon and a dirge, something Dylan does increasingly well. A tale of a couple threatened by what outsiders say, it's a sort of textbook song for every Dylan song-relationship. 'Abraham Martin and John' is a most perfect duet: Clydie King's rich voice wraps around Dylan's nasal tenor, both complimenting and carrying it. His piano-playing has never been better than it was in that moment, and you can hear it in every track from the 1980 rehearsals.
HERE COME THE ORIGINALS
The songs left off Shot of Love — as is also true of Infidels — make an astounding album all on their own. Disc Two, all out-takes save one alternate mix of 'Lenny Bruce', proves that. 'Angelina', unreleased for a decade, sparkles in the version here – Keltner's gentle drums and Carl Pickhardt's keyboards deserve special mention. Listen closely to the lyrics for you won't have heard the song on The Bootleg Series Volumes 1-3 (1991) as it's sung on Springtime In New York.
A rocking, rolling out-take from May Day, 1981, has been reported earlier, in Mojo and other publications, as being the Everly Brothers' 1965 hit 'Price of Love'. No, sirree. It's an original song of Dylan's own, with the same title, never heard before or since. I listened with increasing surprise and delight. Two dollar, one dollar, whataya pay? How much you got on ya today? "Ahhhh, price of love, goin' up…." That's Benmont Tench along with Pickhardt on keyboards, and Steve Douglas on saxophone. As McCrary, King and Quebec dissolve into happy laughter as the take fades out, you join them.
'Let It Be Me' is indeed the song the Everlys recorded in 1960. Dylan and King, though, follow the Glen Campbell-Bobbie Gentry duet of 1969 in their vocals. Tench's quiet keyboards on the instrumental break are beautiful. The cover of Hank Williams's 'Cold, Cold Heart' has exactly the honky-tonk Western-saloon Saturday night sound that would characterize Dylan's "cowboy band" for much of the 1990s and 2000s (as did his stage costumes, from the sombrero to boot-heels).
Willie Smith's church organ opens 'I Wish It Would Rain'. Dylan's voice is excellent, passionate and full, trying, though not quite reaching, for a Temptations falsetto on "crying eases the pain." The background vocals by Dennis, McCrary and King are more powerful than any of the fine instrumentals. The sudden ending is classic Dylan in the studio. Smash, cut, on to the next, or an umpteenth take of the same.
Advertisement
And now here come the originals, the Dylan songs you've heard only by chance or not at all. In his admirable liner notes, Damien Love sees the unfinished 'Don't Ever Take Yourself Away' as a Caribbean riff based in 'Romance In Durango', and he's right. This out-take was on the new version of Hawaii Five-O in 2011, and featured in an album of songs from the television show. 'Fur Slippers' is spectacular: good old down-and-dirty, she-done-me-wrong blues. According to B.B. King, who recorded the song in 1999, Tim Drummond, who plays bass here, composed the song with Dylan.
'Borrowed Time' is another spontaneous gem, an original, guitars like ringing a bell, a skiffly beat running away from the singers. The instrumental break is free and happy as a puppy let off the leash in a big green field. When Dylan rhymes "color tv" and "dignity" I giggled with sheer glee.
'Is It Worth It?' has the tune and rhythm of his gospel days — which aren't over, by the way, and which did not begin with the "Gospel Tour" but long, long before. The emphasis in this draft-of-a-song is on Dylan's voice, rapping along with the guitars and bass. He cracks up at the idea of having (only?) $50 on Central Park West, then carries on spinning out words and phrases, with the back-up singers and a flippy little keyboard line that morphs into a reggae bubble.
'Yes Sir No Sir' is electric but stunted, an original song you can hear Dylan working on, as the instruments help. He shapes a tune before he has the words — the women singing 'Hallelujah' sound like the only lyric he's sure of. "Grabbing phrases, stretching sounds and sending them sailing in a tattered, plaintive wail, he sounds like he's singing into the face of a storm," says Damien Love.
'Lenny Bruce' is one of the prettiest elegies Dylan's ever written and sung. This sounds like it was recorded in a church, with the choir slowly joined by more and unique instruments — particularly David Campbell's courtly viola.
CUTE PAIR OF BOOTS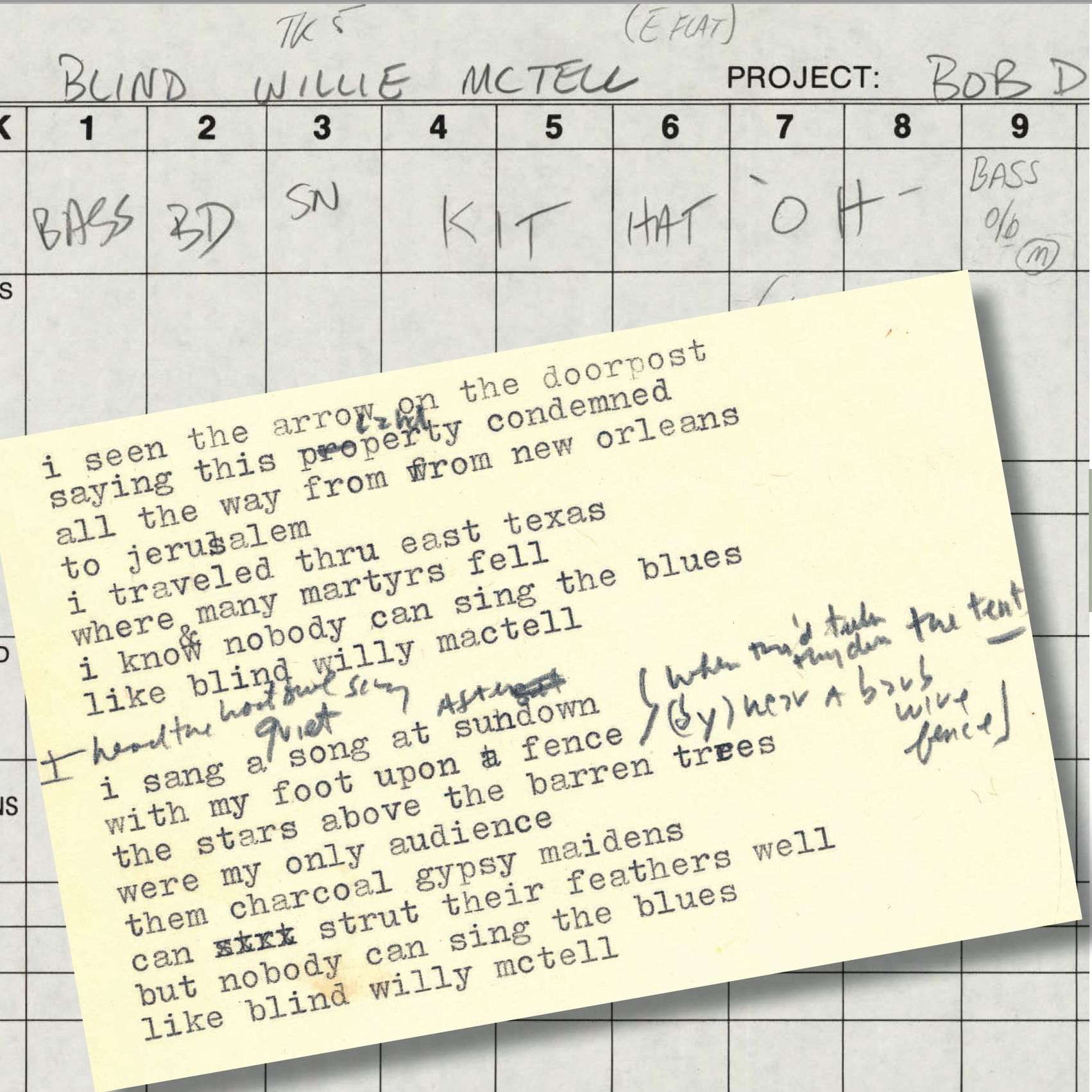 Advertisement
Now we've come to Infidels, and Disc 3 knocked me flat. The original 3M digital tape master of 'Jokerman', followed by an alternate take of 'Blind Willie McTell', that glorious song left off Infidels only to become one of Dylan's best-known and loved? I literally had to stop listening after the first two tracks and go for a walk, then come back and listen to 'Blind Willie McTell' again. And again.
You hear the gentle piano, Dylan's own, to start. The vocals in this version are so different. The strong words, the tickle of a theme from 'Saint James Infirmary'. Sly Dunbar and Robbie Shakespeare slide in on drums and bass, Mark Knopfler's swinging guitar rising and falling along with Dylan's voice the way the best guitarists working with Dylan — G.E. Smith, Larry Campbell, Charlie Sexton — are so well able to do. One of Dylan's best vocals on the record reveals itself slowly.
The harmonica stepping in – the way he's always used it, to keep his breath connected to the sound of a song when he is not singing – is both another instrument and vocice. As he sings, you know yet again that it's all about the phrasing. Dylan is a master of phrasing, as he's shown for decades, well before his albums of American Songbook standards.
A slow, lounge-lizardy and increasingly gorgeous 'Don't Fall Apart On Me Tonight' fits the lyrics well. It rises to anthem heights in the middle. "Do you remember Napoleon Street / We worked till the others were dyin'" — or is it "were dined"? Clark Gable still puts his life on the line. The second take is boppier, harmonica-fueled from the start, closer to the album version. There's no St. James in this song, yet. It's still Napoleon Street! We might be in New Orleans, or in another of dozens of towns where both street names exist.
'Someone's Got A Hold of My Heart' is an early draft of the song that would become 'Tight Connection To My Heart (Has Anybody Seen My Love)'. For another singer-songwriter, this would be a track they'd have been glad to release. The slow rocker suits Dylan's voice so well, and the lyrics in progress are a joy to listen to.
'This Was My Love' floats back in time, as if escaped from Triplicate or Shadows In The Night or Fallen Angels. Remember, please, that on those "Sinatra covers" albums, Dylan was doing nothing that he hasn't done, and loved, for years. His rendition here of the Jim Harbert composition is sincere and fine. The Mexican guitar, in the hands of Mark Knopfler ¬– or is it Mick Taylor? – makes the song, as surely as Charlie McCoy's did the album version of 'Desolation Row'.
Advertisement
'It's Too Late', released a few weeks ago to acclaim via Bob Dylan Vevo on YouTube – a strummy, jangly, fable cabled together with lyrics that have heaps of internal rhyme and alliteration, even for Dylan – sounds like it came straight off Desire. Eventually it's shaped into 'Foot of Pride', but the 'Too Late' songs are much better, I think. Compare the version of 'Foot of Pride' also on this bootleg, with its faster electric burr, completely different vocal, addition of the foot in the refrain, and creepy dark feeling. In any version, the lyrics slice and sting.
"Sing me one more song about your summer romance
Or maybe that one about your one-night stand with Errol Flynn
In these times of compassion when conformity's in fashion
Say one more stupid thing to me before the final nail's driven in."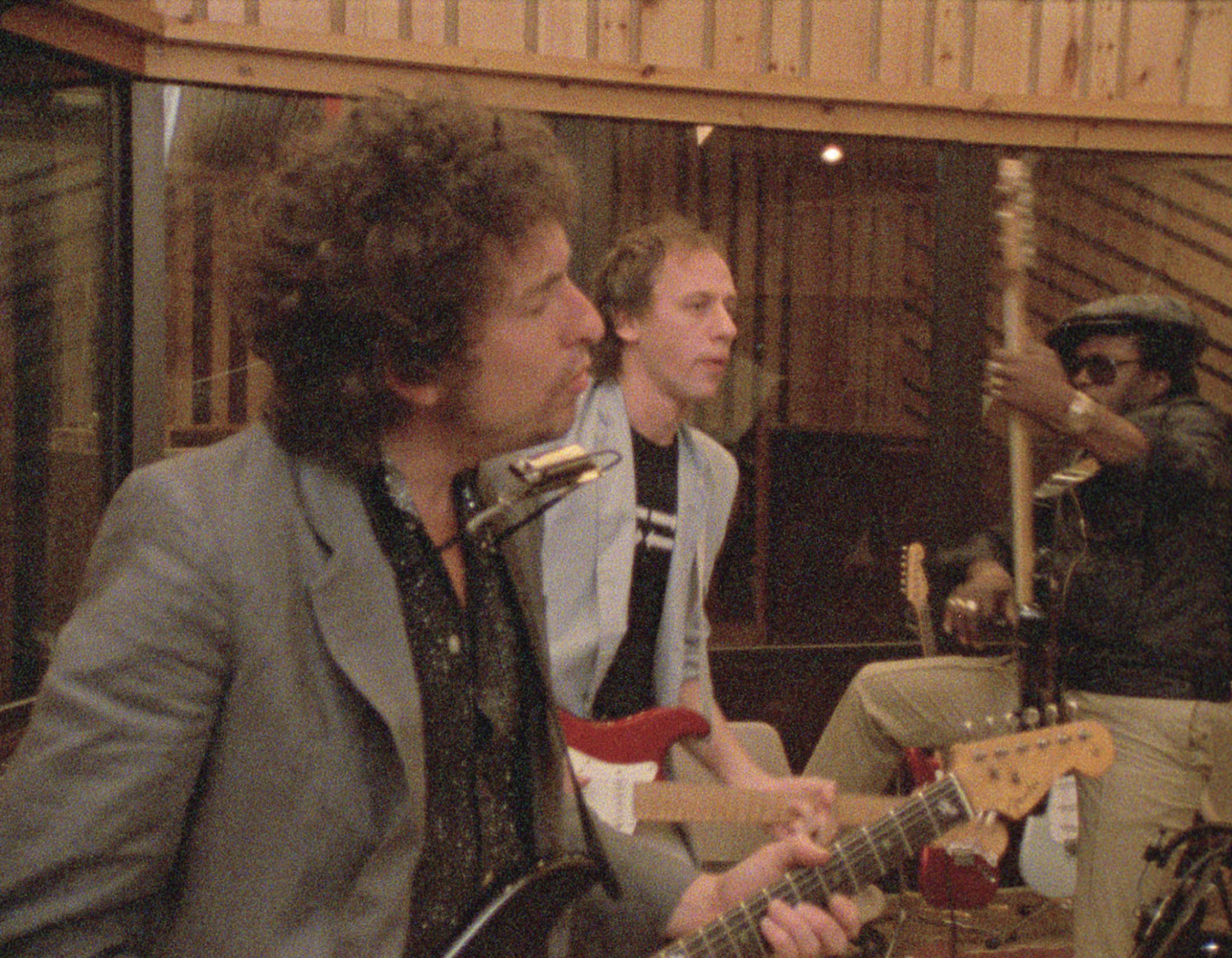 'Clean Cut Kid' is a 1950s song, like many on Springtime In New York are or feel to be, set in the wake of the Me Decade that had just ended, and in the wake also of the Vietnam War. With its napalm and Russian roulette taken, perhaps, from The Deer Hunter, this version of a song Dylan revised for Empire Burlesque also made me see Jamie Wyeth's painting Draft Age.
Get ready for the loveliest 'Sweetheart Like You' you've never imagined. The lyrics are quite different. She's got a cute pair of boots, with that internal rhyme, here; and
"A conman don't meet strangers, to them there are none
Within a quarter of an hour they are on good terms with anyone
In order to deal, got to make the queen disappear,
It's done with a flick of the wrist.
Advertisement
They say that oppression is a cruel tutor
And injustice is a nurse…"
The last verse, though, he's already perfected:
"They say that patriotism is the last refuge
To which a scoundrel clings
Steal a little and they throw you in jail
Steal a lot and they make you king
There's only one step down from here, baby,
It's called the land of permanent bliss
What's a sweetheart like you
doin' in a dump like this?"
ENOUGH IS ENOUGH AT SLANE
The Infidels hits keep coming. Well, hel-lo Jimmy Reed! 'Baby What You Want Me To Do' is a snaky, sexy rehearsal moment, or out-take, that scorches, thanks to Knopfler and Taylor, Sly and Robbie, Alan Clark on keyboards, and most of all to King's duet with Dylan. 'Tell Me' becomes a Jamaican beach song, thanks to Dylan's wistful harmonica and Dunbar's syncopated drums, played in the style born of steel drums late in the night. 'Angel Flying Too Close to the Ground' is one of my favorite Willie Nelson songs. Dylan sings it solo here, with heart and soul. He pronounces it "an-gel," as he did not so long before, on 'You Angel You'. His harmonica continues to be delicate and sensitive.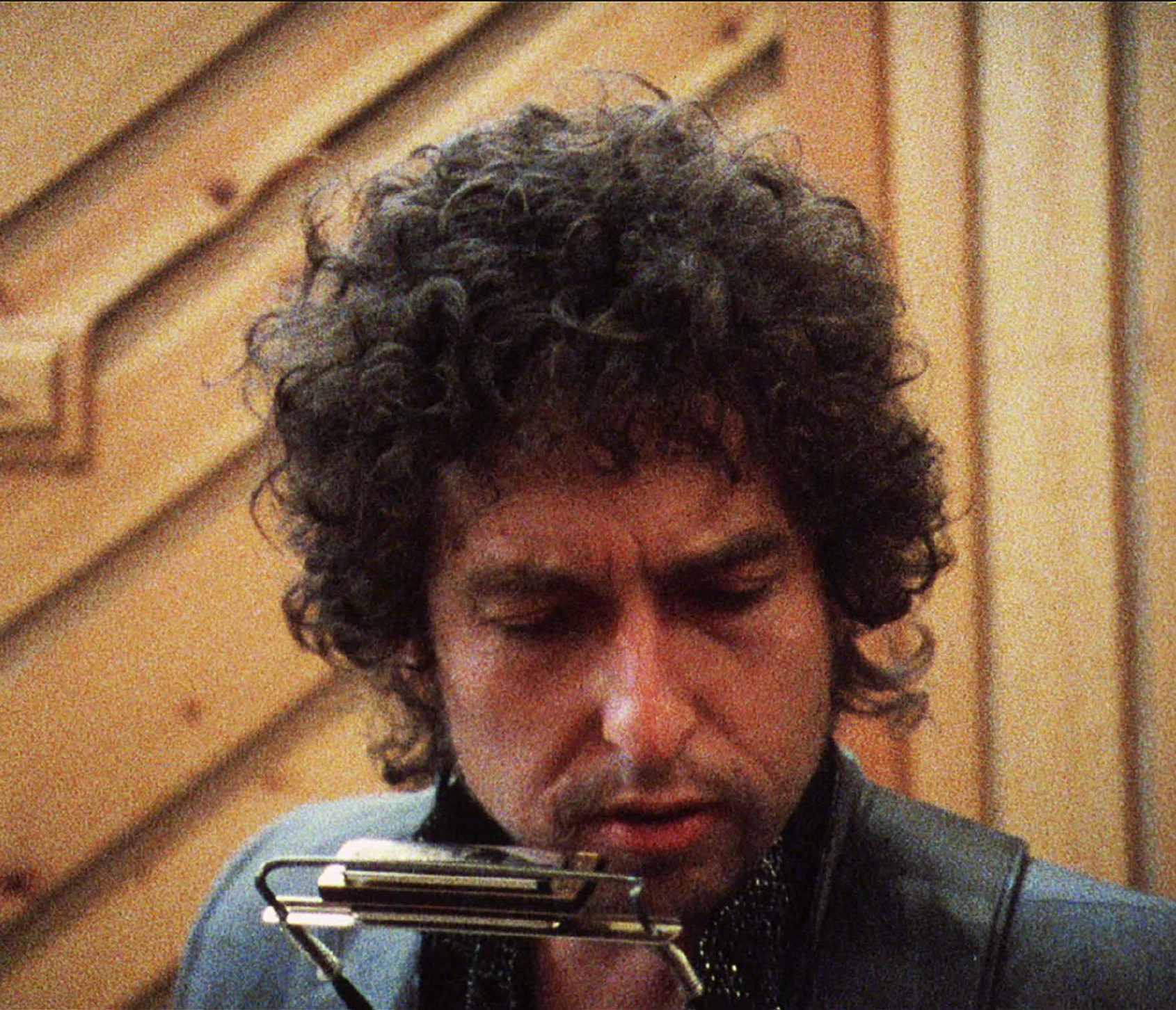 A country-tinged rocker, 'Julius and Ethel', is akin to 'Hurricane' in its championing of those Dylan felt to be denied justice or railroaded. Julius and Ethel Rosenberg were executed at Sing Sing in 1953 (not 1951, as the liner notes state) for spying for the USSR and supplying Russia with American defense secrets. An underground, muddy-sounding copy of this song has been circulating for years. Its hard-hitting lyrics punch more cleanly now: "Someone says the Fifties was the age of great romance / I say that's just a lie, it was when fear had you in a trance."
Advertisement
An apt follow-up to 'Julius and Ethel', the dismal prison lament 'Green, Green Grass of Home', written by Curly Putnam, was a huge country hit for Porter Waggoner in 1965. Tom Jones learned it from Jerry Lee Lewis's version and had a chart-topping time with it in England the following year. Dylan's take, sung as a duet with King and accompanied by his own piano playing, is almost a swing tune.
'Union Sundown' rocks hard. In this one, his pants are from Malaysia, and perfume is from China. The lyrics are notable and notably different from the Infidels take – much more pointed and severe, giving no quarter, even damning.
"They call it religious capitalism / Under corporate command," he sings. "Well, the drug dealers are makin' big profits, oh yeah they said times were tough for a while / When the Russians bomb Las Vegas, they'll be on a desert isle." And then there's this too-prescient verse — Dylan always gives good prescience:
"Need a man in a mask in the White House
Who's got no name or important ties
Just as long as he understands the shape of things to come
He can stay there till he dies."
Damn.
'Lord Protect My Child' has harmonica work to weep for, and is one of the sweetest blues Dylan ever wrote. His voice is raw and impassioned and true in this loving view of a little boy growing up. 'I and I' is faster, and inexorable, as the grim lyrics spin out. 'Death Is Not the End' is the longer, full version of the song released in 1988 on Down In the Groove. Dylan's voice, backed by scant instrumentals, is joined by Clydie King's at first, and then by the R&B group, Full Force.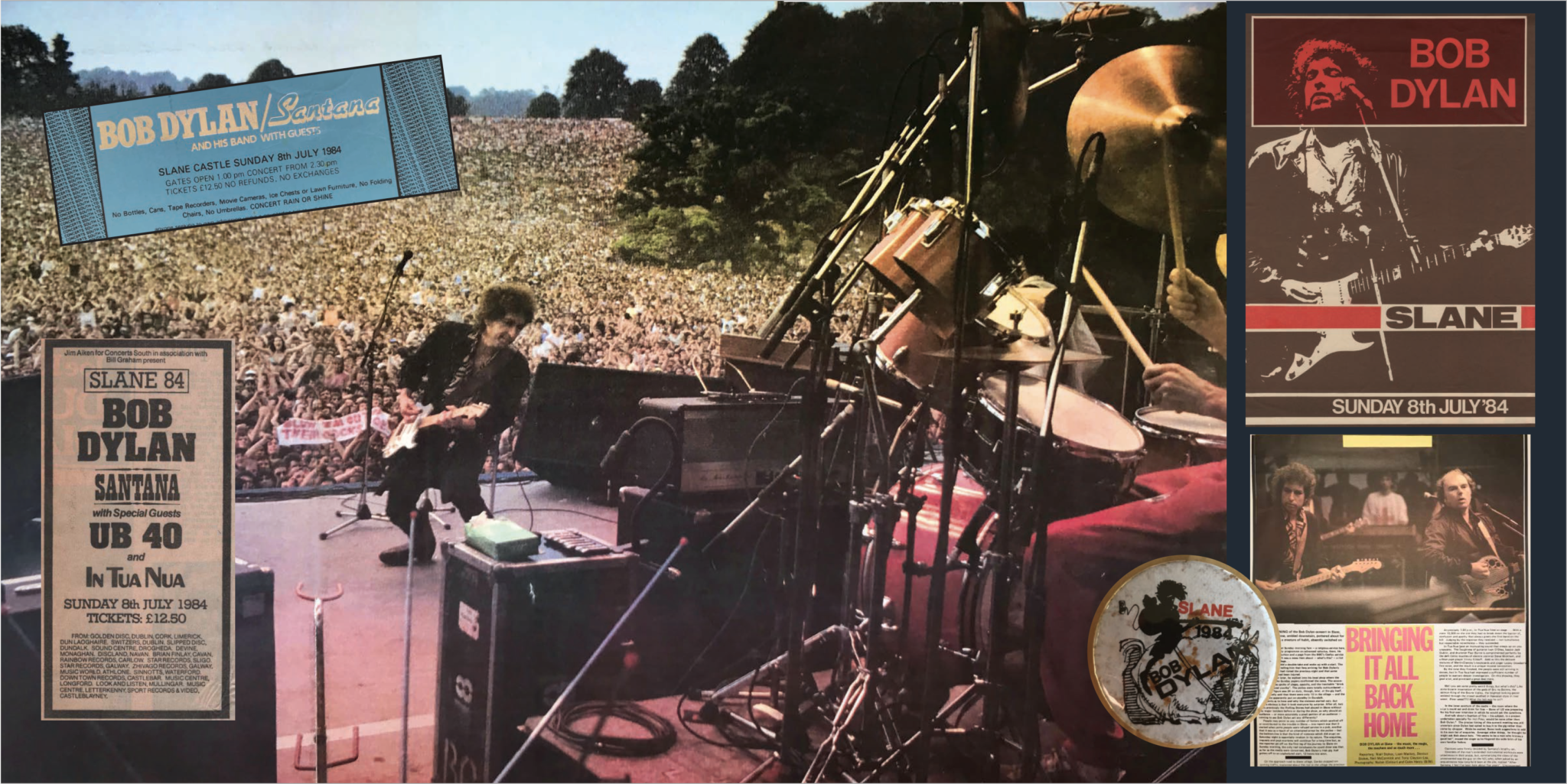 Advertisement
So much material from the Infidels sessions is overwhelming. You need a break or breather, and, sure enough, the 5th and last disc begins with a live recording from Dylan's appearance at Slane Castle, Ireland, on July 8, 1984.
The Slane show has been much bootlegged, but never in full. 'Enough Is Enough' is one that got away, apparently written on tour and played just nine times, with changing lyrics. "Thank you, woah, you're a pretty, pretty decent crowd tonight," Dylan laughs at the beginning. He's more than glad to be in Ireland, continuing, "just like home. Yeah, just like, just like home." Then they rip into the song, fueled by Colin Allen's drums and Mick Taylor's guitar, and ending with Bob's "Ohhh, yeah." It marks the last time Dylan's performed the song on stage, to date.
FOR ALL SEASONS
How lovely it is to have a clean, clear set of Empire Burlesque songs, stripped of the bells and whistles of over-production. Thank you, Jeff Rosen and Steve Berkowitz. The eight alternate takes of the album's songs carry you on a rollercoaster up and down, from songs of love lost, to almost too-boppy breakup tunes. 'I'll Remember You' is one of his most crystalline takes on the former. For ten years, Dylan played it in concert, hundreds of times. I'm hoping now for a live and in person resurrection of this beauty.
'Tight Connection To My Heart (Has Anybody Seen My Love)', with its upbeat repeated plea in parentheticals serving as the refrain, survives its MTV Japanese-film-noir video self to find new life here. 'Seeing The Real You' is as savage as 'Emotionally Yours' is sweet. 'Straight A's In Love' is a smashing out-take, previously unreleased, and why?
Why? That's a question you keep asking yourself for every single one of the new songs on this bootleg — how in the world could they have been left off albums when they were recorded? Dylan pours out an embarrassment of riches, here – in the midst, as it was, of a decade that has been given such scant love by his fans and music critics alike.
'When The Night Comes Fallin' From the Sky' is far better, here, in both the alternate takes, than on the album version. Hats off to the backup singers — Queen Esther Marrow, Debra Byrd, and Carolyn Dennis — and Little Steven on guitar. 'New Danville Girl' is downright revelatory: Dylan's voice sounds superb as he speak-sings, rapping, talking like Rex Harrison singing a song. Fans of this Western movie of a song already love the later version called 'Brownsville Girl', but I'll take 'New Danville Girl' on the road with me. Thanks to Dylan and his co-writer Sam Shepard, much missed, for this utter gem.
Advertisement
Just as it ends Empire Burlesque, 'Dark Eyes' ends this bootleg. Here is a Dylan solo for you: just Bob, his harmonica, guitar and voice, like the earliest days. This gentle lyric, with its sound and words that seem to come from before the flood, is a gift.
At the start, Dylan has a long harmonica line, interrupted only by his pause for a strong indrawn breath you can hear. After his last, soft "dark eyes," he lets the harmonica, and then his acoustic guitar, finish for him, and you're next to that campfire with him, or under the dim light of a kerosene lamp, streaming out the windows to the front porch, late in the warm nighttime.
The record may be called Springtime In New York, but it is for all seasons — and particularly for this one, of summer fading into autumn, as hard times go on. We need both excitement and comfort right now, but we need comfort more.
Here you go: you'll find it here.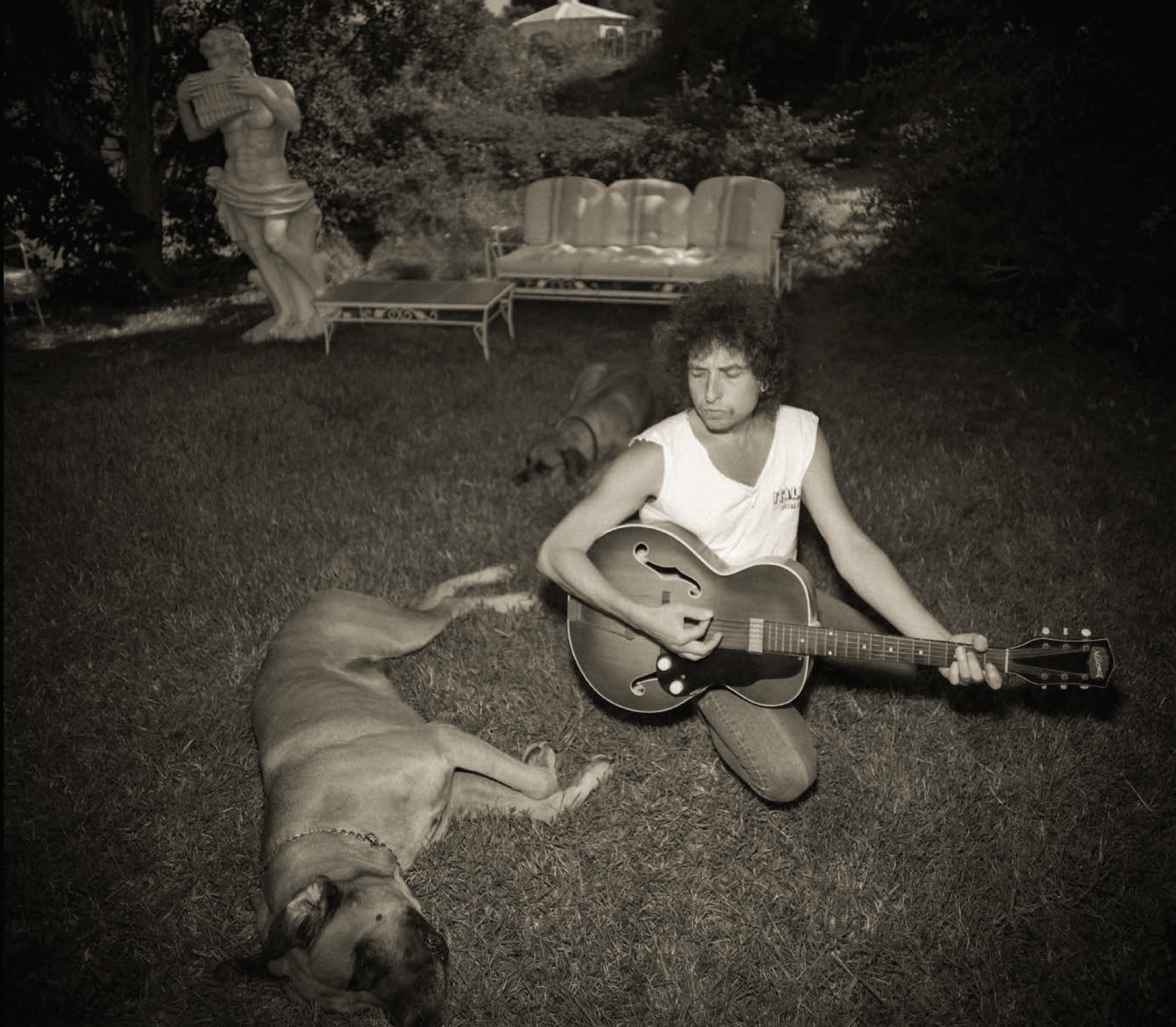 • BOB DYLAN: Springtime In New York: The Bootleg Series Vol. 16 (1980-1985) will be released on September 17.
• All images from Bob Dylan, Springtime In New York: The Bootleg Series Vol. 16 (1980-1986) courtesy of and © Sony Music Entertainment."
Advertisement