Mick Flannery & Susan O'Neill on In The Game: "Music always puts you into vulnerable situations..."
Mick Flannery and Susan O'Neill have teamed up for In The Game – a concept album exploring the troubled relationship between two fictional musicians. They discuss inspirations, politics in love songs, recording in lockdown, and mohawks... Photography: Michael Conlon.
They may have crafted an album that's overflowing with glamour, ego, heartbreak and the dark allure of stardom, but Mick Flannery and Susan O'Neill assure me they've left the showbiz drama strictly inside the world of In The Game.
"I don't think we had any fights, did we?" Mick asks the Co. Clare artist.
"Not yet," she shoots back with a smile.
The collaborative concept album finds the pair taking on the roles of star-crossed lovers, depicting the one stormy relationship across 14 tracks. It's a project that cements Mick's status as one of most captivating, and deeply human, songwriters in the country – while also showcasing the profound talents of Susan, whose warm, smoky vocals bring the enigmatic starlet of In The Game to life.
In the run-up to the release, the pair are – in contrast to their characters – as grounded as ever. Mick's keeping busy fixing up a small cottage in Ennistymon for himself and his girlfriend – though he'll be hopping in the car right after our interview, for his next set of socially-distanced shows.
Advertisement
"That's starting to become a common thing now – they ask you to do two gigs, because of the capacity restrictions," he notes. "Which is alright. I just tend to be a little bit tipsy for the second one the odd time..."
While Susan's also grateful to be returning to the stage, she admits that the Covid-induced hiatus left her feeling "slightly rusty."
"Some of those cobwebs are only being brushed off now, and that's a couple of gigs in," she resumes. "There are nerves that had been pacified previously, and now they've found their place back in the body again, pre-gig! It's been an eye-opener as to the muscle and the memory that's created from repetitively doing something. So those things are going to have to be worked out again – it's just a matter of doing them.
"In general, it's been great," she adds. "And so far, the audiences have seemed to be really moved by hearing any music. It's cool. Essential service!"
The roots of In The Game stretch back before lockdown, with the pair initially collaborating on 'Trouble' and 'Baby Talk'. For both Mick and Susan, working together on the project felt remarkably intuitive.
"We have similar tastes," he explains. "John Prine, Bob Dylan, Leonard Cohen, Neil Young."
Advertisement
Inspiration also came from some of the classic duet albums.
"I kept the Robert Plant and Alison Krauss one [Raising Sand] in mind, alright," Mick reflects. "There was an album that we used to listen to as kids as well – my mother used to play Emmylou Harris' Duets. It was her and a mix of male singers. John Prine did a few duets as well, like 'In Spite Of Ourselves' with Iris DeMent.
"So we tried to do it, but as a concept album," he continues. "Playing the same characters throughout, getting into various different types of relationship difficulties. It was fun to write that way. It was like a little puzzle to figure out. The song could take the plot somewhere that you didn't necessarily expect it to go."
"It was cool to use the characters as these vessels," Susan nods.
And the inspiration behind the characters?
"Sometimes I steal from my friends – what they tell me," Mick grins. "Or from just watching TV, or watching movies, and the general themes of jealousy and insecurity. My character was jealous of Susan's character. We're both playing musicians, but my guy is just not as talented as Susan's character. He's pissed off a little bit! So I tried to put that kind of insecurity in."
Insecurities and other vulnerabilities are poignantly explored across the album, with a disarming honesty. As Susan notes, "Music always puts you into vulnerable situations, especially if you're writing lyrical content about love, from the heart.
Advertisement
"It feels like a lot of musicians are used to having strips pulled off them," she continues. "They lay themselves bare for an audience. This felt really honest, and really nice. But again, the characters helped, in being able to disassociate.
"Every time you collaborate, on any level, it will be testing in some way, and it will invite you to try something new," she adds. "If you're coming to the table with that kind of an attitude, you have so much room to take something into places that you couldn't have predicted or expected yourself. That's where the real beauty is, and that happened on a couple of tracks on the album."
Although she's worked with her fair share of iconic acts in the past, including Sharon Shannon and King Kong Company, Susan found that collaborating with Mick felt particularly meaningful.
"When we were singing sometimes, these nice inflections would happen, that you wouldn't expect," she recalls. "Without saying anything, we might both decide to bend a note in the same place, or cut something off at the same place. These lovely synchronicities started to happen.
"Mick's amazing at the lyrics, and has a totally different approach to it than what I would've had before," she continues. "We'd debate on the themes. It's really nice to do that with somebody else, and find a place in the middle that feels like it represents both people honestly at the same time."
The album's themes are largely tied up in the central relationship – but Mick reveals that he also used the couple's issues as a way of addressing what was happening in the wider world.
Advertisement
"We tried to tie in small personal disputes, and how they extrapolate outwards, to bigger problems," he elaborates. "On 'Are We Free?', the characters are at their worst, bickering with each other. But I tried to write that song semi-politically as well. I tried to have one voice be individualism, and one voice be socialism.
"And then the chorus is the question: 'Are we free to understand, or bound to repeat again, all the wars of before?'  Are those sides of human philosophy always going to be butting up against each other, and repeatedly at war with each other, about what way the world should be set up? Should it be individualism, almost capitalism, or should it be more of a socialist or communist-type of arrangement?"
Was there a particular world event that sparked that direction?
"I guess American politics – because we get a lot of American news over here," he considers. "There seems to be a resurgence of socialism and Marxist thinking in America, and it's butting up against the Republican individualist ethos. It seems like a conversation that's coming up again and again."
The pandemic also had some bearing on the project, as LA-based Australian producer Tony Buchen worked on the album remotely, from a different time-zone.
"We would do four or five takes of three or four songs in a day," Mick recalls. "So that would be a day's work done – but the producer would only get to hear it in our evening time, and he'd come back with his notes then. You'd find yourself possibly going through all those songs again the following day.
Advertisement
"But Tony did a great job for the restrictions that he had," he adds. "The recording was still a really cool experience. We went to Cork to finish it off, in Monique Studios, and we got to do a few live takes there with the band. Having everybody playing together added a lot. That experience was great, especially at the time, because there was no live music. We hadn't played with another musician in a long time, so everybody was up for it."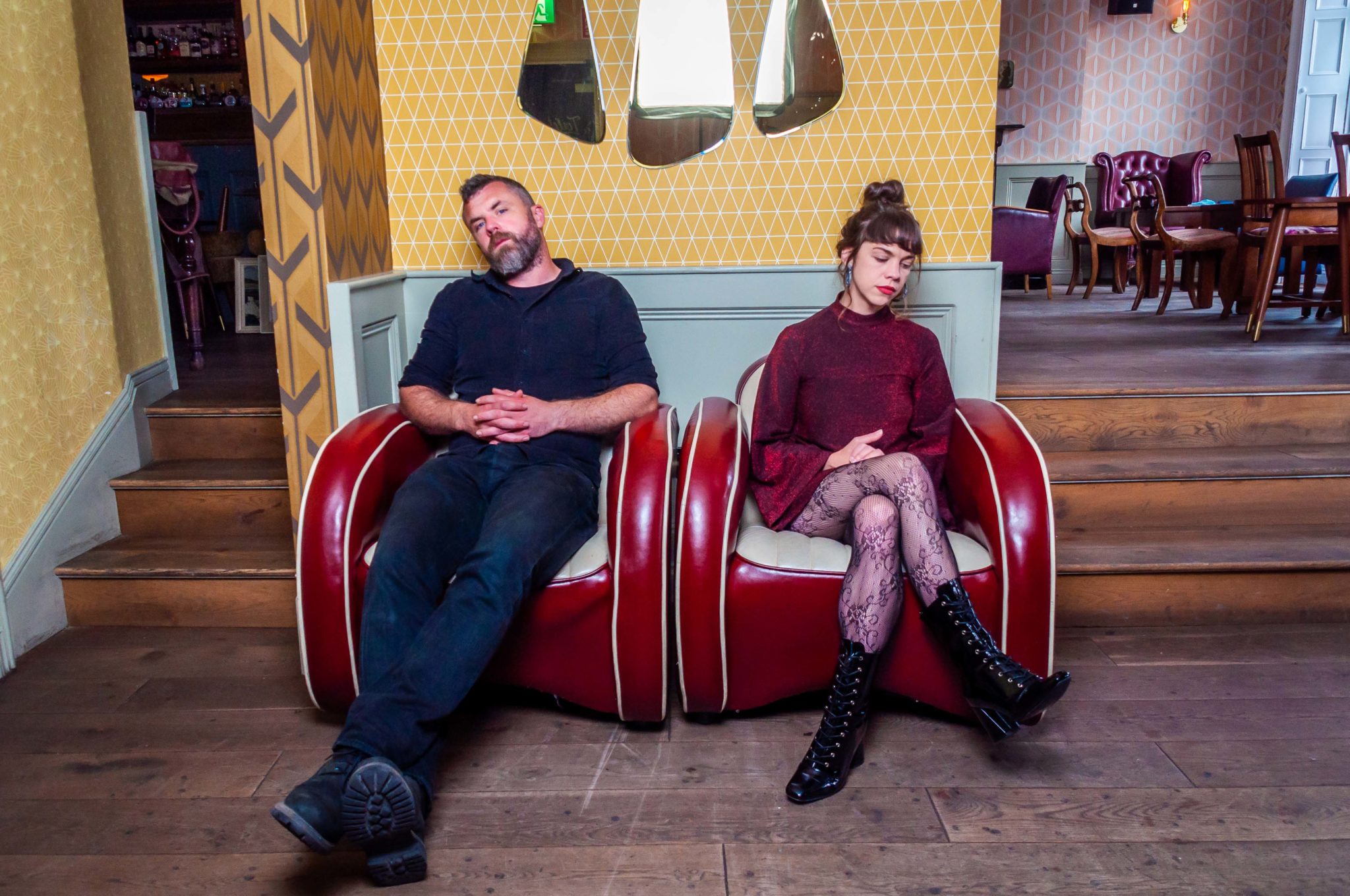 With the gradual return of live music, the pair are touring the album across the US, Ireland, Europe and the UK over the coming weeks. The shows are likely to add a whole new layer to the concept. In fact, it wouldn't be hard to imagine In The Game adapted as a musical for the stage, as Mick's debut album, Evening Train, was in 2019.
"We might figure out some way of telling the story between the songs," Mick says of the upcoming shows. "We might figure out a setlist where we can kind of do a play – not that there will be scripted acting or anything like that! But just so that it happens in sequence. So everything falls apart in some running order."
The mohawk Mick sports on the album cover might just make an appearance at the live shows too...
"This is the reason I have the hat on now," he laughs – pulling off his cap to reveal a freshly buzzed cut. "I got a bazzer yesterday!"
So the new look is all part of Mick's staunch dedication to the role?
Advertisement
"It could be," he smiles. "Having any type of hairstyle was never my thing, so maybe that's a reflection of the vanity of the character!"
Like Mick's most recent solo album, In The Game is being released independently – having parted ways with his previous label following 2016's I Own You.
"It makes it feel a bit better in general, that we'll own the recordings," he nods. "I'm sure you're aware of how those record contracts are set up. A record company will give you a loan to record, and even after you pay back the loan, you still don't own the recordings. They own them forever. It's just a bit of a depressing set-up. So I find it much better to do it this way. You can have control over the recordings you've made, and nobody can take them out of print."
Speaking of recordings, the pair are already thinking about their next projects following the release of In The Game – with Mick having "built up an album of stuff over lockdown."
"I'm tipping away on some songs at the moment," Susan reveals. "A few of them Mick has also co-written with me – so there's more in the pipeline…".
• In The Game  is out now. See inthegame.ie for details of Mick Flannery and Susan O'Neill's tour.
Advertisement