Locals don't want a depot built near the Guinness Storehouse. They seek more recreational spaces for people living and working nearby
Dublin City Council are planning to build a super-depot on Marrowbone Lane in the heart of the Liberties. The plan includes 100 residential units and two small all-weather pitches. But residents say it's not suitable and lacks sufficient recreational space for the community.
Green areas in the Liberties are far below recommended guidelines. On average, residents have 0.7 square metres of quality public green space per person compared to an average of 49 sqm elsewhere in the city (See photo below).
That means a person living in Dublin City has 70 times more green space available to them compared to someone living in the Liberties. Ten local schools (approximately 2,500 students) within walking distance of Marrowbone Lane have no access to any green space. In the greater Liberties area of Dublin 8, there are three times more derelict or vacant land than green space, and about 30 hectares of derelict or vacant land.
Zoe Obeimhen, a community activist and mother of four is fronting a campaign against the Dublin City Council (DCC) plan. On Thursday, she delivered a petition to DCC stating their plans aren't adequate and the space should be used for a full-sized sports pitch:
"Even though there are some residential plans, it is actually against housing. There are 100 social houses planned for the depot site yet it's eleven acres. You could fit 500 houses on that site. This isn't a we don't want housing situation. It's different. The depot plan is anti-housing. We want housing instead of a depot"
Advertisement
In 2016, a campaign for a full sized pitch called Sporting Liberties was run by Graham Jones, founder of Liberty Saints Rugby Club. He has since passed away from cancer, and Zoe doesn't want his hard work to be in vein:
"He was a person that believed in hope, young people and the transformative potential in sports. A few months ago, I found out that he had cancer and that the work that he had achieved in the re-zoning and supporting the liberties was under threat."
"There are so many pressures on young people. They need coaches, mentors and encouragement to help them go the right way in life and sport is one of those simple things. In the liberties, 50,000 people don't have access to sporting facilities."
"There's been a fundamental misunderstanding here, the pitch has got to be full size - 140 metres by 90 metres. Then the rugby club Graham started can realise its potential, have competitive games, be in a league, have a home ground."
"There's a huge amount of diversity in the area now, we need something new, more innovative and cosmopolitan. I really feel if we are given a full-sized pitch the things that are more antisocial will fall away because people won't be interested in doing them. Young people will actually have a choice to do sports."
Green Party Councillor for the North Inner City, Ciarán Cuffe believes: "The issues around the availability of green space are very similar in the North and South inner city. I think it's important that we provide adequate green space. A balance has to be drawn between the housing needs in the middle of a housing crisis, and the needs of green space that are really important for so many people."
"I hope the city council will sit down with everyone and look at the green space that we have and the housing needs we have and try and find a solution. We need to look at these sites and think about how to maintain both allotments, community gardening space along with providing the housing we so desperately need."
Advertisement
Long-time Liberties resident, Kieron Doyle O' Brien chimed in, saying: "Access for vehicles to the Marrowbone lane site is extremely narrow. It seems that having more vehicles going into an enlarged depot is an extremely bad idea.
"A super-depot for the South City should be located in an industrial estate well away from housing. I think the idea of more housing is what the area needs, but also the idea of green spaces, playing spaces. In the past, there has been a lot of positive work done by local communities supported by the City Council, for both people living there, for people that want to visit and people who want to do business there. But this flies in the face of all of that good work."
Aaron Jewell is Climate Ambassador of Ireland who was awarded an outstanding achievement for his actions and teaching, a project manager working in conservation and environmental design, a living soils consultant, and he sits on the board of the Dublin Food Co-operative and the Dublin Community Environmental Network, he said:
"I live in Dublin 8. I know the importance of green spaces in any context especially in over developed areas as well as spaces that need to be developed to cater for our natural environment and needs. Dublin 8 already has the lowest percentage of green spaces in Dublin. People of Dublin 8 should have an option to use green spaces for recreation, learn about food, space to grow food, connect as a community and have natural infrastructure for health reasons."
A local election candidate for the Green Party, Michael Pidgeon agrees it is a wasted opportunity: "The council are missing a golden opportunity here. This could really lift the Liberties and give us housing, open space and room for sports. Instead they want to park council lorries here."
"There's no vision behind this. This part of town is crying out for green space. There's nowhere left for kids to play or kick a ball about, and the local GAA team is already being forced out. People in Dublin 8 have 70 times less green space than the average Dubliner. The super depot belongs in an industrial estate, not in the heart of the city. The lanes around the site are already small and clogged. It'd be a real betrayal to waste this land on a depot."
And Samantha Caffrey from Save Weaver Community Garden says: "We want to take care of our sanctuaries and green places by leaving them alone and cultivating more as well as more affordable social housing. We want more long term planning for the Liberties. The people who live here or who will live here and raise their children here deserve to have green air to breathe."
Advertisement
"We need affordable social housing in Dublin 8 right now. We agree. But let's look at the context. We are getting hotels and luxury student accommodation. We are not saying - don't build housing, we are asking the important question of where and ensuring that it is thought through in terms of location and sustainable living. Unless we enshrine in principle an apartment/green space ratio in our area, we are in trouble long term."
"People need access to green spaces to live and thrive and breathe and play. Or else our own health and our city's internal climate are in deep trouble. We would like to see health reports on green ratios for human liveability in an urban area. Green spaces and recreational green activities are a huge contributor to mental health. Surely city planners need to take that into consideration."
Another Liberties resident, Pamela Butler argues that one of the most vulnerable parts of the city should not be forced to accept a super-depot to facilitate the needs of more affluent and better resourced parts of the city:
"A question to do the dudes and dames of Donnybrook, how would they feel night and day to be smelling, listening to, and concerned about dumpster tucks, in their backyard and driving up and down the fire hazard, the smell, the noise 24/7, it's appalling. Why don't they put the lovely dumpster depot down by the dodder?"
Kieran Rose, former city council planner and human rights activist said: "If a super-depot is provided here I think it will be seen in the future as the greatest mistake the city made in the first decades of this century, a phenomenal missed opportunity to provide a new world class residential and mixed use quarter."
When contacted, Dublin City Council were unable to comment. Pictured below: 0.7 sqm, the average green space available to Liberties residents. Photo by Zoe Keating.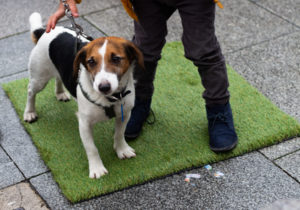 Advertisement