Interview: Shaughn McGrath On Designing The U2 Stamps And All That You Can't Leave Behind
Innovation Is The Sincerest Form Of Philately: Shaughn McGrath has designed for U2 on everything they've released since Achtung Baby – so when An Post decided to honour the Irish fab four with a quartet of stamps, they knew who to call. Interview: Pat Carty. Portrait: Maria Kane.
Design, artwork and photographs have always been vital to U2. It is, of course, initially all about the music. But the release of an album involves the opportunity to play with other elements that have the potential to immerse the audience in a wider expression of what an artist or a band is driving at: how they want to be seen, as well as what they are trying to say.
If you think fondly of the Day-Glo mash up of Lichtenstein and Kmart that was the essence of Pop, or the pleasing lines of The Joshua Tree box-set, then designer Shaughn McGrath is one of the people you need to thank. We may now also praise him for An Post's brand new set of U2 stamps, which are more objet d'art than mere proof of postage paid.
Shaughn explains how the whole thing came about.
"I think An Post want to broaden their landscape as a business," Shaughn observes, "and with the stamp programme, I think they want to give it a more poignant meaning in people's lives rather than just being a functionary service. I had designed another set of stamps, called Great Irish Songs, and one of those was for 'With Or Without You', so there was a relationship there. I'm both An Post's designer and U2's designer."
 
It Was The Questions We Got Right
It doesn't take a Paul Rand or a Milton Glaser to observe that the combination of the constraints of the medium – stamps are rather small, after all – and the breadth of the subject, presents its own special challenges.
"How do you sum up the band's career in four very small canvases?" Shaughn asks. "Do you pick four albums? Do you go by decade? I combined both approaches, with a significant album from each decade, in an attempt to cover the incredible legacy and career of the band."
Advertisement
"Do you use a photograph? Could we make it more of an exceptional and unique thing in itself? The idea of reinvention is really important to U2: we don't repeat. The creative process, approached anew each time, is a driving factor in how everyone involved with the band operates."
There's a strong iconography associated with every U2 campaign and release, but certain eras stand out.
"The idea was to take icons associated with albums that have a particular meaning for U2 fans and music fans alike. If you consider the band's incredible output in the 1980s, we couldn't but agree that The Joshua Tree is a high mark, and the icons that have come to represent those ideas are well known in themselves – like the tree from the photograph by Anton Corbijn. That became the pathway to try and explore, for the rest of the decades."
The 1990s were next. 
"The Achtung Baby baby was originally a spray drawing on Windmill Lane wall by Charlie Whisker. Going back to the original design, I then set about creating a whole suite of icons for the Zoo TV Tour, and they've kind of taken on a life of their own.
"Likewise on the All That You Can't Leave Behind album, I made icons for each song, and then an icon for the album itself. From Songs Of Experience, the silhouette of the photograph of Bono's son and Edge's daughter has become another icon that fits the remit we have going on." 
McGrath is quick to share the kudos for the specialness of U2's imagery.
Advertisement
"In the background of all this is Anton Corbijn's work, his incredible visual concepts that have represented the band, right back to his first work for Unforgettable Fire. He has been a constant part of U2's visual catalogue."
We should also acknowledge the great Mr Steve Averill here, whose design work was such an integral part of the band's impact, right from their early days. The decision to use icons over actual photographs in the stamps was an aesthetic rather than a technical one.
"Stamp print technology is something to behold," Shaughn says. "But this was a chance to explore a different representation of the band, another way of creating a visual legacy. Part of that was the shape of the stamps themselves. I always loved the fifty pence piece, a unique Irish coin, and I got a chance to use that. Would you like to make something that's unique and interesting? Of course you would. That falls under that brief of making good graphic design, which represents Ireland. Ireland doesn't have an honours system – but the band being represented on a set of stamps is a great honour, for everyone involved."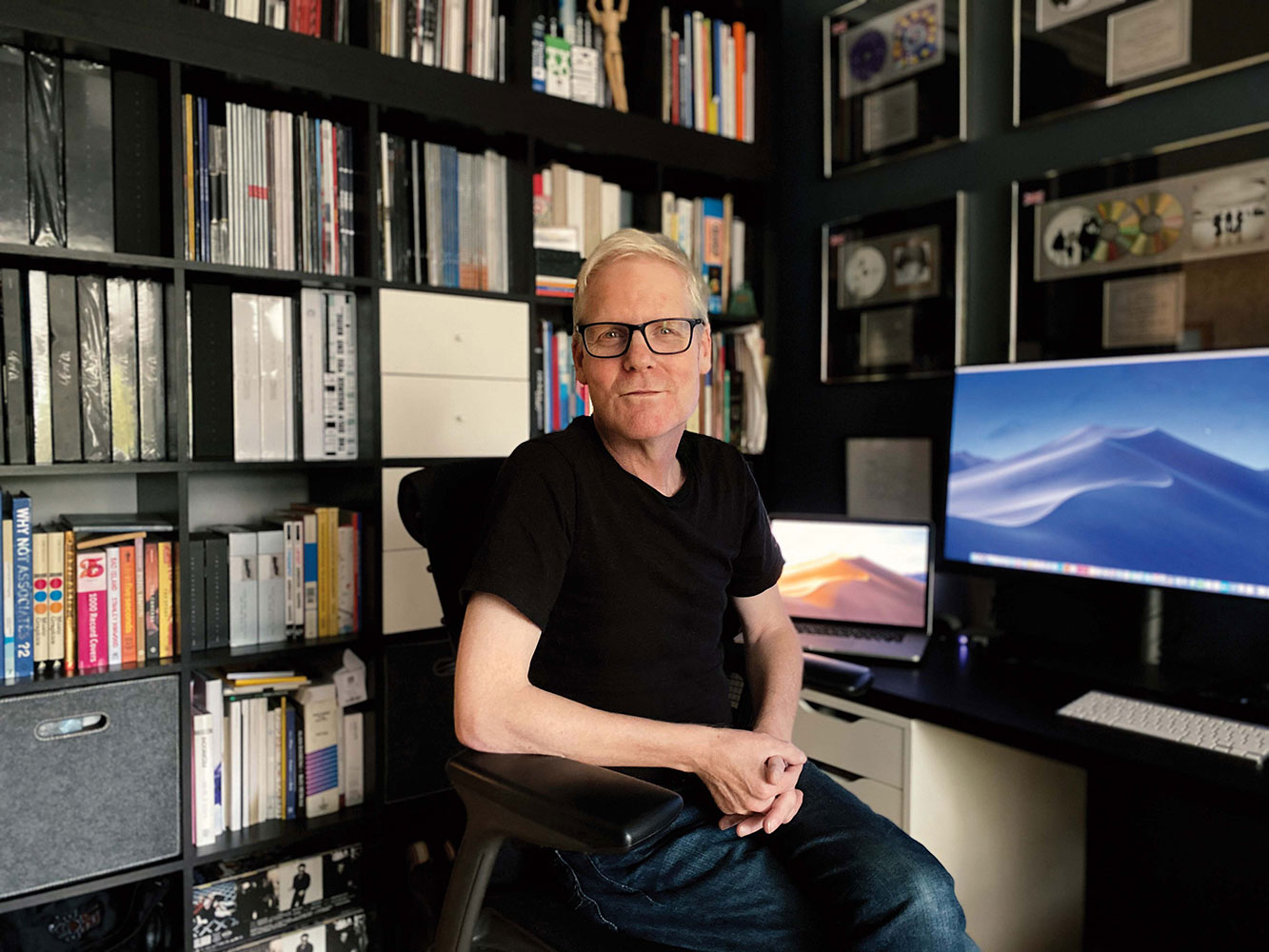 All That You Fashion
Shaughn expanded on the concept behind, and the realisation of, the All That You Can't Leave Behind sleeve, a volte-face after the intentional excesses of Pop's art.
"Oddly enough," Shaughn tells me, "this year, I was working on both the U2 stamps, and the All That You Can't Leave Behind 20th anniversary box-set, with one informing the other. People consider Baby, Zooropa and Pop to be a kind of a trilogy, and visually, as well as musically, they were ultra-colourful, exploring different genres."
"Other people would know way better than me about the idea of returning to their roots, etc. for All That You Can't Leave Behind. One of the notions they had, and again, Anton Corbjin and Gavin Friday were part of this, was to explore the idea of travelling. What can you bring with you? What can you leave behind?"
Advertisement
"That photo shoot happened in real time, travelling in the real world," he adds. "In the space of an hour, the photographs were taken in Charles de Gaulle airport in Paris. What's captured just superbly by Anton is that real moment of the band waiting for their connection, like any other passengers. And then, throughout the album packaging, you see the band moving from terminal to terminal. It's certainly not 'everyman', but there's a sense of reality and monochrome honesty, without the dressage of some other photo shoots, which matched the tone and mood of the album."
Even the choice of type has to be carefully considered.
"With All That You Can't Leave Behind, I got to nerd out," he confesses, "and use a font called Fruitiger, which was actually designed for the signage of de Gaulle airport. The airport also gave us the idea of creating little information signs and logos, something that might be universally understood – a series of icons to represent the album. This, then, kind of joined the legacy of icons: a strange U2 language that we've made throughout the years."
That All That You Can't Leave Behind stamp, with the image of the the heart and the suitcase, is particularly effective. McGrath lays out the thinking behind it.
"After we had the song icons, we needed an icon to represent the album," he recalls. "That came last, and was probably the most difficult one: like, 'How do you sum this up?' For the idea of travelling, we had a suitcase: that made sense.  If you could only carry one thing everywhere, you'd carry the most significant thing in your life. For me, the heart image represents the most important, beloved thing you own. It could be a photograph of a loved one. It could be your own sense of integrity. It's open-ended."
My design lecturer used to tell me that simplicity is best, and that icon is indeed beautiful in its simplicity. 
"Thank you. In many ways, the stamps were about paring everything back, making four unique objects, four unique shapes, with a minimal amount of messaging, and a minimal amount of colour. I hope we've captured something that represents the ridiculously incredible career of this Irish institution, U2."
Advertisement