Phil(ately) Lynott and Thin Lizzy are honoured by The Nation on a night which finds the GPO rocking more than at any time since the 1916 rising...
In his warm introductory speech, David McRedmond, CEO of An Post, wisely made the point that, while they're not quite rock n' roll, stamps really matter in our republic because we have no honours system. "This is how the state recognises great national achievement."
A series of stamps was issued during the last Millennium, which included Van Morrison, Rory Gallagher, U2 – and Philip Lynott. And now that we're back to honouring musicians – Philip Lynott and Thin Lizzy are getting another nod.
Is there anyone in the history of Irish music who deserves it – sit down Hewson, your time will come! - more than Philip Lynott? Long before Bono even owned a pair of sunglasses or Glen Hansard had hairs on his chin, Lynott was out there, fist raised, The Rocker. And with the greatest respect to Van and Rory, the other great Irish rock pioneers, Phil Lynott looked cool just walking to the shop for a pint of milk. Look up Bob Geldof's story about Philo getting a limo around the corner to an awards show, or Dave Fanning standing in awe backstage at Slane Castle as Philo, this rock god, descended from a helicopter. He was a rock star when he was taking out the bins.
The great and the good gathered in the GPO on an elementally wild night to celebrate the launch of a pair of €1 stamps that An Post are issuing to honour Philo's, and Thin Lizzy's, legacy. One shows the cover of 1979's Black Rose album, the other a portrait by his old pal, the great Jim Fitzpatrick. There's a point, a valid, worthwhile, and important point, to be made here about celebrating Ireland's first prominent black man in the birthplace of the Republic, about how far we've come and all that, but it might be more in the spirit of the man himself to listen to McRedmond tell the story of how he and his first girlfriend clubbed together to buy Live And Dangerous. They broke up shortly after, but he tells us that he got to keep the record, which raises a loud cheer. Along with acknowledging Fitzpatrick, designer Steve Averill, and Lynott's family, McRedmond also addresses the elephant in the room – a letter in the Irish Times claiming the anniversary was temporal error – by taking delight in the fact that this is the first time An Post has ever been accused of delivering early. Well played.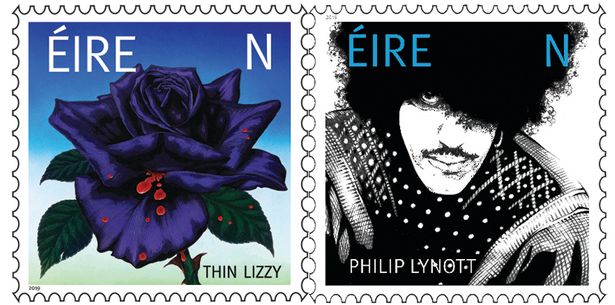 Advertisement
Jim Fitzpatrick is to Thin Lizzy as Anton Corbijn – and Steve Averill – are to U2. His images of Phil and those great album covers are forever linked in the mind's eye to that immortal music. Fitzpatrick beams as he tells us what an honour it is to be here, before reminiscing about his friend. In a heartfelt speech, he touches on Phil's patriotism, his love of Irish history, James Clarence Mangan's poetry, the idea for the blood on the black rose that came from Joseph Mary Plunkett,  and the tonsorial link between Dennis The Menace, Prince and Philo. Fitzpatrick's only regret is that "Philip isn't beside me breaking his crap laughing."
Another man who was there, beside Lynott through it all, was Brian Downey. His band Alive & Dangerous gloriously celebrate the most important thing about Philo – the music. Right from their kick-off, with 'Jailbreak', the room is hopping in a way it probably hasn't been since that dust-up at Easter, 103 years ago. The band are great value, flying through 'Rosalie' before bassist/man who's singing the songs for Philo while he's away, Matt Wilson, laughs in his thick Belfast accent that the last time he was in a post office, he had a pair of tights on his head. On a more serious note, he sees Lynott as Behan, Joyce and Hendrix all rolled in to one, and it's hard to argue with that. 'Dancing In The Moonlight' has the crowd, which ranges from young children to the smiling septuagenarian beside me leaning on a stick, bipping and bopping. 'Still In Love With You' earns a roar of recognition with its first note, Brian Grace's Les Paul sings through a Marshall that owes him very little money at this stage, and his harmony playing with Phil Edgar, who brings both the flair and the hair, is near perfect. Close your eyes and sure you know yourself…
How about 'Emerald' for a history lesson of sorts at the spot where our nation was born? They probably don't normally get a lot of head-banging here, but they're getting it now, and behind the Les Paul wall of sound, Brian Downey is as solid as Everest, as dependable as the rain, and as reliable as Christmas. Not a single step has been lost in the intervening years.
Advertisement
'Don't Believe A Word' is driven by that Fender Precision throb, before a 'Cowboy Song' dedicated to Ms. Philomena Lynott, "The Queen of Dublin." The last chord goes, of course, into 'The Boys Are Back In Town'. That riff! That chorus! That chick who doesn't want to know! That punch-up at Dino's! While we're here, why don't we just announce this as our new national anthem? 'Whiskey In The Jar' has everyone whacking for their daddios, and it had to be 'The Rocker' to finish, Lynott's lascivious anthem ("I'm a roller too, honey!") that would put a smile on the most sour of pusses.
A huge hats off to all at An Post for bestowing this most worthy honour, and hosting such a fine celebration of Phil Lynott and Thin Lizzy. Lizzy's 'The Farmer' plays over the P.A. as we start to file out. It's Lynott's face that still keeps us warm, visible on every wall in Fitzpatrick's artwork and Averill's designs. The main man if you're looking. The Rocker.