Hazel Chu: "I can change policies, I can change ideas but I can't change my skin colour"
Hazel Chu becoming Lord Mayor of Dublin has infuriated Ireland's far-right whose racism and misogyny she's called out. Drugs, prostitution, the church, social media abuse, Sinn Féin, policing, your right to party and the battle for the soul of the Greens are also up for discussion as she shares a Zoom with Stuart Clark for this issue's Hot Press Interview. Photography: Conor McCabe
Before we go any further Hazel Chu would like to make it known that she's talking to Hot Press today as the Lord Mayor of Dublin rather than as Chair of the Green Party. The reason for the distinction will become apparent later.
Meanwhile, I would like to make it known that the 41-year-old is that rarest of beasts, namely a politician that gives straight answers to straight questions – including ones about illicit drug use – and admits when she doesn't know enough about something to make an informed comment. Which during the course of our hour-long chat isn't very often.
Chu is also the first elected representative I've spoken to who ranks Laurent Garnier in the RedBox as one of the best nights of her life.
Born in the Rotunda Hospital to parents who arrived separately in Dublin from Hong Kong during the 1970s, Hazel had a happy childhood, she says, steeped in both cultures.
After primary she went to first Rathdown School in Glenageary and then as a border to Mount Sackville in Chapelizod where she did sufficiently well in her Leaving Cert to get into UCD where she studied Politics and History while holding down two jobs.
Advertisement
Part of her time out at Belfield was spent chairing the Politics Society, which acclimatised her to standing up in a room full of often hostile people and having her say.
After completing a legal diploma and barrister-in-law degree at the King's Inns, she in 2007 became the first person of Chinese descent to be called to the Irish Bar.
Eventually deciding that a full-time career in law wasn't for her, Chu variously worked as a volunteer teacher in Hong Kong, a fundraiser for St. Michael's House, in marketing and communication for Bord Bia and Diageo, and with the national policy advisory board for enterprise, trade, science, technology and innovation, Forfás.
Along the way she met her partner, Patrick Costello, and managed the campaign that saw him elected to Dublin City Council in 2014. Hazel was also in the thick of things last year when Costello became a TD for Dublin South-Central.
She made it onto Dublin City Council herself in 2019 by topping the poll in the Pembroke LEA with 33.1% of the first preferences. Later that year she was elected Chair of the Green Party, and in June 2020 became the first person of colour to move into the Mansion House.
The last detail has greatly irked Ireland's far-right who already disliked Chu for her robust calling out of their racism and misogyny.
The online and in person abuse she's received in return ranges from the lame (chicken flied lice references) to the disturbing (protests outside her home and sexualised comments about her young daughter, Alex).
Advertisement
The (anti) social media trolling that Hazel and other high profile figures like Yemi Adenuga, Dr. Ebun Joseph, Emma Dabiri and Denise Chaila are routinely subjected to is something she's raised recently with Twitter.
We'll delve into that later, but first our dance music loving First Citizen has been fighting for the right of the next generation of club kids to party.
STUART CLARK: You're a member of Minister Catherine Martin's Night Time Economy Task Force, which is proposing a major revamp of Ireland's licensing laws, and before Christmas appeared in the Clubbing Is Culture documentary that can be seen on YouTube.
HAZEL CHU: I love everything to do with clubbing. I was a big fan of The System nightclub on South Anne Street. I may not have told my parents that I was a regular there before it closed! After that, I went to The Kitchen and the RedBox. I loved the vibe of the community. You'd always find someone you'd seen the previous week in a club and start chatting. What we're trying to do with the Task Force is come up with a roadmap to protect and develop the nighttime economy, which is every bit as important to Dublin as the daytime one. Rory O'Neill, AKA Panti, was on The Six O'Clock Show the other day talking about how the industry is seen as being a bit frivolous and disposable whereas actually it's a major source of employment and attracts tens of thousands of visitors to Dublin. I chaired the International Best Practice Subgroup with ten speakers from all around the world including Sacha Lord from Manchester who co-founded the Warehouse Project and the Parklife festival; Jo Cox-Brown from Nottingham who's experienced in bringing all the different stakeholders – promoters, venues, police, local authorities – together; and the Mayor of Darwin, Kon Vatskalis, who's really promoted the idea of the nighttime economy in Australia.
I've never been to Darwin, but Manchester and Nottingham are both cities where you can party round the clock at weekends.
Sunil Sharpe and Robbie Kitt from Give Us The Night are also on the Task Force, which is great because I've worked with them before, and their big thing is that we need to reform the licensing laws. People may argue, "Well, at three o'clock you should be bloody going home" but I lived in New York where at three o'clock you'd be able to either stay in a club or go on to somewhere else. And it wasn't necessarily clubbing. It might have been a gallery or a theatre space. You have a large part of society that doesn't work nine-to-five jobs. I used to help out in my mum's restaurant and by the time we'd finished up everywhere in town was closed. We wanted to go out but couldn't.
You would also stop this thing of people skulling triple-whiskeys because the bar's about to close and then becoming embroiled in World War III when everyone spills out on to the pavement together.
Advertisement
That's exactly what Jo Cox-Brown said to us. Previous to her group coming along and helping to change things, there was a real fear connected to going out at night in Nottingham. She said, "If you stagger people leaving, you don't have those pinch points, which can lead to trouble." It's not that everyone's going to get into a fight, but when you're at that stage with a few pints on, you never know what might happen. Most of the speakers from abroad said the same thing: "Don't have all the clubs closing at the same time because it creates a mosh that can't always be controlled."
Where do the Gardaí stand on all of this?
The justice side says, "Listen, these things take time. It may be a year or two before the licensing laws are changed." But there needs to be more pressure to make that time shorter.
You've mentioned the former Dublin Electronic Arts Festival as the sort of event we ought to be encouraging in the capital.
(Laughs) The t-shirt I was wearing yesterday was from DEAF! I remember part of it taking place in the little rooms downstairs at Ukiyo. You had people coming in from abroad for that. If you had those sorts of nights every week in multiple venues, Dublin would soon get a reputation for its DJs and club culture rather than it just being stag or hen parties in Temple Bar.
The government tender to operate Dublin's pilot medically supervised injecting facility was awarded in February 2018 to Merchant's Quay. More than three years later it's still not open. Disappointing?
Massively so. My other half used to work for the Ana Liffey Drug Project and would come home saying, "Listen, we need harm reduction." The supervised injecting facility has been approved but there have been objections to the planning. I get that people are always going to have issues with this. The location is the problem rather than the actual usage, so while the stationary one's being sorted out why don't we start up a mobile injecting unit? Especially in light of the pandemic when people can't move around. It's something I'd like to talk to Merchant's Quay and others about.
Advertisement
Aodhán Ó Ríordáin, whose baby it was when he was Minister for Drugs, says the problem is a lack of desire from civil servants and their political masters to get the job done.
My response (to the location of the permanent injecting facility) is, "Why the hell do things in this city need to be based on a postcode lottery?" You have it in everything from cycle lanes to schools to safe injecting centres. Some postcode areas have more of these services; some have less. It's up to everybody, including government, to get this facility open.
The Green Party policy at the last election was to decriminalise all drugs for personal use. A lot of otherwise perfectly reasonable people hear that and go, "They're telling my children it's okay to take drugs." How do you combat that?
It's an emotive issue and will continue to be so. I would like to acknowledge the concern aspect. As a parent, I get where other parents are coming from. But we tend to be overcautious with our approaches. We say, "Okay, there's a risk factor so we're not going to do it. Full-stop." Like a lot of issues in our city, drugs aren't one-size-fits-all. The first step is to have more open conversation about drugs, about decrminalisation, about enforcement, about community and how they all tie together. We tend as a nation to sweep things we don't like under the table and go, "We'll ignore this." But you can't keep ignoring a drug problem, which has ended thousands of lives and ruined many, many more. Those conversations need to start today.
Are you in favour of people being able to get their drugs tested in clubs and at festivals?
Yes, very much so. I was working at the Electric Picnic when an older teenager passed away. It was the year the Chemical Brothers headlined. A friend of mine had to make that call to the parents. It was heartbreaking. The amount of things I've seen in clubs – what can and does go wrong with people. I know the argument is, "Oh, you're just legalising and rubber-stamping things." No, you're not encouraging. You're providing safety and support.
I'll ask you the question we asked Leo Varadkar all those years ago – and that got him into lots of trouble – which is have you taken drugs yourself?
Advertisement
I would have smoked weed. I'm not going to lie about it. I was in college, so yeah.
In the UK, a Chief Constable can turn around and say, "This policy isn't working, we need to change it." Here, senior Gardaí aren't allowed to publicly express an opinion. Isn't that a nonsense?
Yes, I agree. The Guards would say that in lots of situations their hands are tied. I understand the "no comment" when it might interfere with their investigations, but with something like the decriminalisation of drugs they as the enforcement agency should have a buy-in. They're the ones directly dealing with these issues. Community Gardaí, especially, would know the people using drugs better than perhaps anyone else. There's a lot of knowledge there to be shared. They may be sharing it behind closed doors, but it would be useful if sometimes they were able to inform the debate by speaking out publicly.
Most people were deeply saddened and troubled by the George Nkencho shooting. As Lord Mayor are you able to pick up the phone to the Assistant Garda Commissioner and say, "Look, can I talk to you about this?"
Yes. After the tragedy I paid my respects online to George's family over his passing, and immediately there were lots of people saying, "What about the Guards? What about the Spar worker?" Before that tweet went out, I had contacted the Superintendent in the area and reached out to George's family and friends. I also tried to contact the Spar employee through one of the workers' Facebook pages. In terms of the Gardaí, I conversed with the Superintendent and also talked to the Assistant Commissioner about the wider issues.
Advertisement
Which were?
It wasn't my place to ask anything in relation to the investigation as it was on-going. It was, however, my place to ask: "What can we do better in terms of the tensions and the community side of things?" There's work being done on these sensitive issues by all sides, which I commend. There were peaceful protests around the city, which the Guards I spoke to at Pearse Street were fine with.
Has the George Nkencho shooting done permanent damage to race relations in Dublin?
The damage was done by the various far-right groups whipping things up with the misinformation they put out about George having 32 convinctions. Then there was the photo of the guy whose face had been slashed, which was really a picture of an Everton fan from two years ago. Those things were designed to raise racial tensions. On the one hand, you had a group who'd already suffered a tragic loss thinking that things were being made worse for them. On the other, you had people picking up this misinformation and wondering why there are protests for this man who has carried out so many crimes? Certain groups fed out lies to try and make it a race war.
We tend to think of racists as all being knuckle-draggers, but somebody was Machiavellian enough to pretty much immediately stick out a tweet that did the damage it was intended to do.
I'm loath to give them compliments, but they're clever and getting more organised as well. It's almost as if they've coordinated and decided, "Right, this is the person that produces the content. This is the person that pushes it out." I remember writing about this two years going, "Listen, we need to address these dog whistle politics or it'll become worse like it has in the US, the UK and Sweden." People say, "Ah no, they're just a minority, they're fine. They're not organised." They are organised and getting progressively more so. What happened in the likes of Oughterard and Achill is that the far-right infiltrated local groups who had genuine concerns about Direct Provision centres being placed there. Their attitude is, "Whether it's true or a lie, we just keep on pushing it and we can gain momentum." Again, they're being clever in how they're framing it. It's no longer the extreme of, "The immigrant is taking your home or your job." It's, "Oh, you don't have a job, you don't have a home. Why do you think that is?" They're pointing in a direction and people are following.
In January, you were harassed outside the Mansion House by a group of far-right protesters. What exactly happened?
Advertisement
As well as my office here, we have half of the apartment upstairs so it's our home. There was an event outside that takes place peacefully every year, which these 30 or so people hijacked. There'd been a petition going around a few weeks beforehand calling for my resignation – "People like Hazel are taking jobs from the Irish etc. etc." – which I ignored, but then there were postings on Facebook calling for a protest at the Mansion House at the same time as this event. I went, "Ah sure, that's nothing again." I'd just been talking to the Guards when four people came up to me, and started saying all sorts of things. A woman offered me her hand to shake, which I politely declined to do because of Covid restrictions. Her reaction was, "Those are the guidelines not the law." Somebody shouted, "When you turn into a shape-shifting dragon, we will catch you!" I just went, "That's a bit bizarre."
Did you feel physically threatened?
No, the Gardaí were right across the road. What did make me feel uncomfortable were their reasons for being there. It obviously wasn't my politics because no one else in the Green Party has been targeted like that. I can change policies, I can change ideas but I can't change my skin colour.
Denise Chaila was telling me she's received tweets saying, "I know where your parents work, it's not hard to find out where you live." Are the big tech companies, many of whom have their European headquarters in Dublin Docklands, doing enough to police their platforms?
No, and I said this to Twitter. I had a very good meeting with their senior policy people in Ireland and I didn't mince my words. I said that they need to do more and they understood that. I asked for transparency about policing so that people experiencing abuse know how it works. They had a reasoning as to why certain things aren't made public because they're worried that trolls will use them to their advantage. I said, "Well, that's not good enough in terms of reassuring people that reporting abuse will help them." My takeaway from the conversation is that they will have a new system in place called Birdwatch, which will monitor interactions. They also agreed that they will come on board and do whatever is needed to train people in how safety and reporting works. I want to be able to do that for various people in the community who are being targeted and feel at risk. Facebook I'm due to meet. TikTok I can't even get a contact for.
We had the tragic case of Garda Alan Leblique who died from suicide after being pilloried on social media by a conspiracy theorist.
I was really sad when I saw his picture and his colleagues' posts about how amazing he was. It was just heartbreaking to see how someone felt so trapped and harassed and bullied. One of the things that I conveyed to the tech companies is that there's an onus on them to do better in terms of controls and providing a safer community. There's an onus on me as a politician to make sure that we highlight these issues and try to form safer spaces for people. And there's an onus on everyone else not just to be a bystander but also to call out abuse when they see it.
Advertisement
How bad have the social media attacks on you been?
There were a couple of weeks where every time I looked at my phone it was messages like, "You're a yellow bitch." A man posted a reference to our daughter Alex saying: "Oh, Hazel Chu had better watch herself or her kid's going to get wanked over by an asylum seeker." I was really angry but you know what, it made a lot of people stop. I got a message from one of my usual trolls saying, "Listen, I'm sorry. That crossed a line. I'm going off Twitter now."
Twitter was also used to stir up hatred towards the Brazilian community after a man was arrested in connection with the fatal stabbing in January of 16-year-old Josh Dunne.
There are certain groups that may be small but they're vocal and driving certain narratives. Part of that would be to pitch it that people from different backgrounds are against each other. I'm sure some of your readers will read this and go, "That's ironic coming from Hazel Chu who is the biggest race-baiter ever." But whenever I say, "There's racism in this country", I highlight the issues rather than going "It's Irish people against black people" or "It's black people against Chinese people." It's not like that. You can't categorise any group based on just one person or incident. To focus on Josh: I'm sure his parents are heartbroken. He sounds like a wonderful young man. They were looking forward to the next generation being better. Right now, it isn't but I'm hoping by the time Alex grows up there will be none of this shit.
Joe Biden has made a big thing of his cabinet looking like America. Our government certainly doesn't look like the modern Ireland. Are you worried that the abuse you're experiencing will make other people of colour reticent to go into politics?
There's the line Kamala Harris uses a lot: "I'm the first but I can't be the last." I can't be the last Lord Mayor who is of a different colour. How you normalise things is to have more people of diversity in office. Until that happens the likes of myself and Yemi and Ewun are going to be abused in public and possibly in private as well. There's a certain element of us standing our ground and also having others support us. There's a huge amount of allyship that's been happening. But every party needs to say, "Listen, we're not taking this crap. We're going to actively go out and seek people from different backgrounds and run them in elections." That's something I've been saying to my party. It takes time but I'm kind of running out of patience.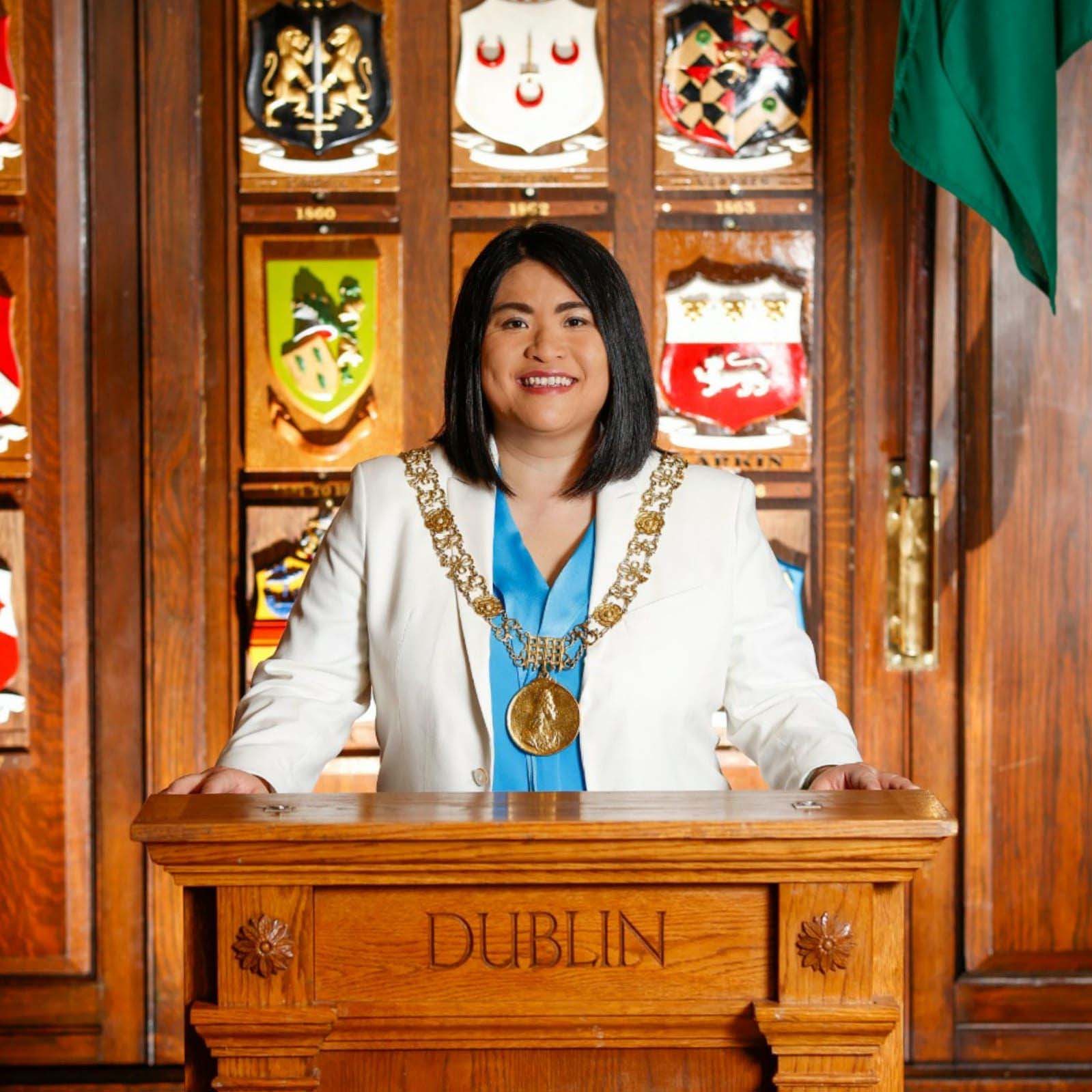 Advertisement
You said before Christmas that you'd had conversations with Gary Gannon about possibly joining the Social Democrats. What came of that?
Well, Gary and I had a chat… At the end of the day, I want to stay in the Greens. But, when it comes to issues in our party like bullying, diversity and how members interact, I can't stay on forever if those things don't get fixed. I can't say I would never leave. And if I do leave, I will most likely go independent.
It's been suggested that there's a massive disconnect between activist Greens like Saoirse McHugh, who quit the party last year, and – what's a good name for them? – the Champagne Greens or the Bicycle Greens.
(Laughs) You're painting an image of someone shaking a bottle and going, "Here you go, Greens, have some champers with your elderflower wine!" When you say bike as well I laugh because my other half is a cyclist but then equally he worked with the Ana Liffey Drug Project, he worked in wet hostels and as a child protection social worker. So, I can't really call him a 'Champagne Green'. That image is going to be stuck in my head, Stuart! We, as a party, had always said we are broad church, and we continue to some degree as a broad church. That's why I got involved with the party. By the way, can you put in I'm speaking on behalf of me, Hazel, Lord Mayor, rather than the chair of the Green Party?
Absolutely.
Just in case I get into trouble especially with my comments on bullying and diversity… I was involved in canvassing with the party from 2010/11 but didn't join until 2016. I said, "Is this party right for me?" Then I saw a huge push on not just green issues but on social ones like ending Direct Provision. So, I went, "Okay, cool, let's go for this." And I think that's what persuaded Saoirse and other people from an activist background to go, "Right, let's give this a shot." The compromise that had to happen when we went into government has not gone down well. You can see it with the likes of Ceta (the Comprehensive Economic and Trade Agreement with Canada) – as a matter of policy the Green Party is against it. So suddenly you have this broad church that encompassed left, centre, right and whatever closing in on itself. Direction-wise it's a bit more, shall we say, focused, which some people didn't sign up to.
Very few junior partners come out of coalition in better shape than when they went in. Would you be concerned about losing the gains you've made in the next election – which could be fairly soon.
Advertisement
Yeah, absolutely. I was one of those with the other half that was quite adamant about not going in with this coalition. However, now we're in it we must do the best we can because that's our job. You're in there to govern, so govern well and whatever losses you have as a party, that's what you need to suffer. As a member of the party, I would like to see us do more than that. I would like us to stand over what we campaigned and canvassed on. I'm trying to make sure we have some spiky elbows in there! To your question of do I think there will be losses when we come out of power; that's what happened in 2011. That might happen this time round. I hope it doesn't.
This isn't very scientific but I know a lot of people who were tempted to vote for Sinn Féin but were queasy about their past and went Green instead. If the circumstances arose, would you consider going into coalition with Mary Lou & Co.?
I would. I was not in favour of this government and campaigned against it. One of the things I was very much in favour of with Patrick and Catherine (Martin) and the others was a unity government. So, in the future, if Sinn Féin or any other party comes to us and we're still a party that has TDs, I wouldn't be averse to talking to them.
Do you have a problem with Sinn Féin's historical legacy?
There's baggage there. I'm old enough to know but young enough not to have those deep scarring memories that a lot of my elder relations and friends would have. We all know that every party and group changes. There's a lot of Sinn Féin policies that will be beneficial to society at large. Whether people want to judge them on that or just the baggage is up to them. It will still be an issue for some, but I'd like to see what they present at the table. I come from a background where you can't just say "No" because of what's happened in the past.
Given that you seem to share a lot of the same views, would you consider joining Sinn Féin?
You know, on the local council level, I've worked well across the board with all the parties but really well with Sinn Feín. Críona Ní Dhálaigh has got to be one of the best Lord Mayors for the city. She listened, she engaged. But like I say, if I was to go anywhere I would like to have some time to clear my head and be independent.
Advertisement
One of the election pledges that the Greens look set to deliver on is an end to Direct Provision. Did you know the contents of last week's White Paper before it was published?
No, but when I asked Roderic O'Gorman and his team, they were very clear that they were looking not just to reform the system but end it. I genuinely believe that Direct Provision will become another Mother and Baby Homes or another Magdalene Laundry. It will be a stain on our society. I know people who have just got out of Direct Provision. They say it's this surreal feeling of being held in almost a prison environment. It's deeply damaging to not just adults but to children. It's also creating massive divisions when it comes to racial relations. You can't say that a group of people are equal when you're keeping them segregated like that.
I know you have Mayoral business to take care of, so I'm going to do a quick fire round. Are you in favour of legalising prostitution?
Talking to some people I would say "yes", talking to others "no." I'm not trying to be on the fence here. I would be more inclined to say "yes" based on the dignity and safety aspect of things. But I would also like to take into account the learnings of Amsterdam and the other countries who've legalised it and understand what the pitfalls have been and, most importantly, the impact on the workers themselves. There has to be a human benefit.
Lockdown has shown how under-populated parts of the city-centre are when you take hotels and Airbnb out of the equation. Is Dublin in danger of losing what makes it special?
Yes. Dublin is like a ring donut – it has a hole in it. We built our city-centre for tourism and workers travelling in rather than for people to live in it. You can see it by its desolation right now. We're in Lockdown of course, but even before it you'd have empty streets after six o'clock when the office workers had gone home. You can't just rely on tourists and office workers; you need to have residential within your city. A major issue at the moment is mass blocks of student accommodation empty. We need to use those in different ways now. One of the things I proposed to the housing department was using them as homeless accommodation. We need to look at how the city's been sown and go, "Can we make sure that there's proper zoning for housing and not just hotels or student accommodation?" Can we make sure that when we sell off land – like Cathal Brugha up in Rathmines – the green spaces go back into the public realm because we're running out of outdoor space for amenities.
One of the biggest owners of land in the city is the church. They still owe a small fortune in compensation to abuse victims. Is that something that should be pursued?
Advertisement
Yes, and I'd like to preface it by saying I'm Catholic. Reparations need to be made sooner rather than later. I think the church needs to put their hand in their pocket and go, "Hey, here you are." Be it for housing, for community spaces – the whole lot.
Finally, having enjoyed free board and lodgings in the Mansion House would you fancy up-scaling and spending seven years in the Phoenix Park?
(Laughs) I don't think people would vote for me. I would like to get into the Dáil though. When we talk about normalising people, I have to put my money where my mouth is and run.
The Hot Press Interview with Hazel Chu features in the current issue of Hot Press – out now: