Harry McGee on The Murderer And The Taoiseach: "It would do a disservice to Haughey to compare him to Donald Trump, but he was very like Trump... People were either repelled by him, or thought he could do no wrong"
After the success of his seven part podcast series GUBU, Irish Times Political Correspondent Harry McGee has now penned The Murderer And The Taoiseach, a fascinating new look at the notorious Malcolm MacArthur case.
I t's clear that Irish Times political correspondent, Harry McGee, remains utterly fascinated by the notorious Malcolm MacArthur case of 1982. First through the GUBU podcast and now his new book, The Murderer And The Taoiseach, McGee has injected new life into a tale that he describes as being "like a Harlan Coben Netflix plot."
The book's power lies in its telling. It is a true story, of course, but McGee writes much of it like a crime fiction novel.
"MacArthur grew up in a gilded cage," McGee reflects. "The only son of rich parents, he was always an outsider. People described him as aloof, an oddball."
McGee spoke to MacArthur before writing the book, and although MacArthur was legally prohibited from talking about the case, there was still much for McGee to observe.
"He would remind you of a retired high court judge," says the author. "He dresses very well, he presents himself well, is very academic, and I think he has a high opinion of himself. But he's a distant person, and he wouldn't divulge much about what makes himself tick."
Advertisement
In some ways, despite having spent 30 years in prison, MacArthur appeared much the same as he had four decades ago. Back then, a socialite and flaneur of sorts from County Meath, he frequented expensive restaurants and bars in Dublin, read in university libraries, and despite dwindling finances, maintained the appearance of a wealthy man.
As his inheritance drained to almost nothing by mid-1982, MacArthur's obsession with maintaining the lifestyle to which he had become accustomed seemed to trip a switch. He hatched a plan to restore his finances. Having read of several IRA bank robberies in the papers, while on holidays in Spain with his family, MacArthur decided to stage a bank robbery himself. The scheme would backfire brutally, with tragic consequences.
"He didn't know any criminals," says McGee. "He didn't know how to get a gun. He didn't even know how to steal a car. He seemed to have a notion that if he wanted to steal a car and get a gun, he had to kill. There was obviously a detachment from reality. I think he would've killed as many people as he needed to restore his fortune."
A MILLION CONSPIRACIES
In the space of three days, in July 1982, MacArthur ended the lives of two people, becoming one of the most notorious killers in the history of the State. The shocking saga began on Thursday 22 July, when he went to the Phoenix Park to steal a car. There, he bludgeoned a 27-year-old nurse, Bridie Gargan, viciously, before bundling her into her own car. The full bloody and absurd horror of what happened is pulsatingly recounted in the book.
Three days later, on Sunday 25th, MacArthur went to Offaly, ostensibly to buy a gun from 27-year-old farmer Dónal Dunne. With the weapon in his hand, he murdered Dunne with a single shot to the head. Bridie Gargan succumbed to her injuries the following day in a Dublin hospital. Now, there were two people dead. Inevitably, the story claimed front page headlines in the media. The public were horribly alarmed.
A massive manhunt began, once the Gardaí started to join the dots: this looked like the work of a serial killer, who might yet wreak further havoc. The search eventually lead them, astonishingly, to the front door of the Attorney General, Paddy Connolly. The AG was a close friend of MacArthur's wife, and unaware of his crimes, had invited MacArthur into his home.
Advertisement
The other main player in McGee's story is former Taoiseach, Charles Haughey.
"Charlie Haughey was the dominant political figure of his day," says McGee. "It would do a disservice to Haughey to compare him to Donald Trump, but he was very like Trump in the way that people were either repelled by him, or thought he could do no wrong. He was a larger than life character."
A famously divisive politician, the surreal circumstances under which MacArthur was found in his Attorney General's house ultimately cost him his government.
"Haughey's government was hanging by a thread," says McGee, "and barely made it to the summer, when Haughey managed to get away on holiday to his island, Inishvickillane. Connolly rang him on the Friday after MacArthur was arrested, but whether Haughey had had a few drinks or there was a bad line, the message did not come across."
Haughey only learned the full, bizarre reality of the situation the following day, by which time Connolly had decided to jet off on his own holidays.
Advertisement
"Connolly had been completely oblivious to the fact that Malcolm MacArthur had killed two people," McGee explains, "but his big mistake was going on his holidays the next day. Once the story became political, it spawned a million conspiracies. Connolly was chased all the way to New York and the American media hammered him."
Connolly was called back to Ireland, and resigned under much pressure from the Taoiseach. Haughey tried to hold it all together, calling a now infamous press conference in which he described what happened, deploying the terms grotesque, unbelievable, bizarre and unprecedented.
KNOCKING ON DOORS
In response, the former Labour Minister, Conor Cruise O'Brien, coined a term that has been immortalised in Irish political history: GUBU. Haughey's ramshackle government collapsed soon afterwards. Although the likes of Paddy Connolly, Garda Superintendent John Courtney, who was at the centre of the investigation, and of course Haughey have passed away, many of the important voices in the story are still alive more than 40 years on.
Researching the book, Harry McGee spoke to many individuals who were close to the oction in July '82, including Irish Times journalist Peter Murtagh, several Gardaí, and even the Phoenix Park gardener who witnessed Bridie Gargan's death, and confronted Malcolm MacArthur.
"Paddy Byrne. I was very proud to interview him," says McGee. "He's 85 now and has no social media. I knew he lived somewhere in Cabra, but you can imagine finding Paddy Byrne in Cabra was difficult. I started knocking on doors until I found him. He was very willing to speak to me, and even showed me the exact spot in the Phoenix Park where he saw MacArthur in Bridie Gargan's car. I knew at that moment that the book would happen."
McGee himself is creatively restless.
Advertisement
"I have one or two ideas about what to do next," he says. "I'd like to do one more historical podcast. I'm going to try to get that off the ground in the next month or two."
He is thinking about a podcast that would focus on a big topic like the rise of the right-wing, or homelessness. He also cites author Robert Harris as an inspiration for his first venture into fiction.
"I have a book half-written which I may now try to finish off," he says. "I'd like to write fiction that would have some kind of anchor to a real political event."
• The Murderer And The Taoiseach is out now.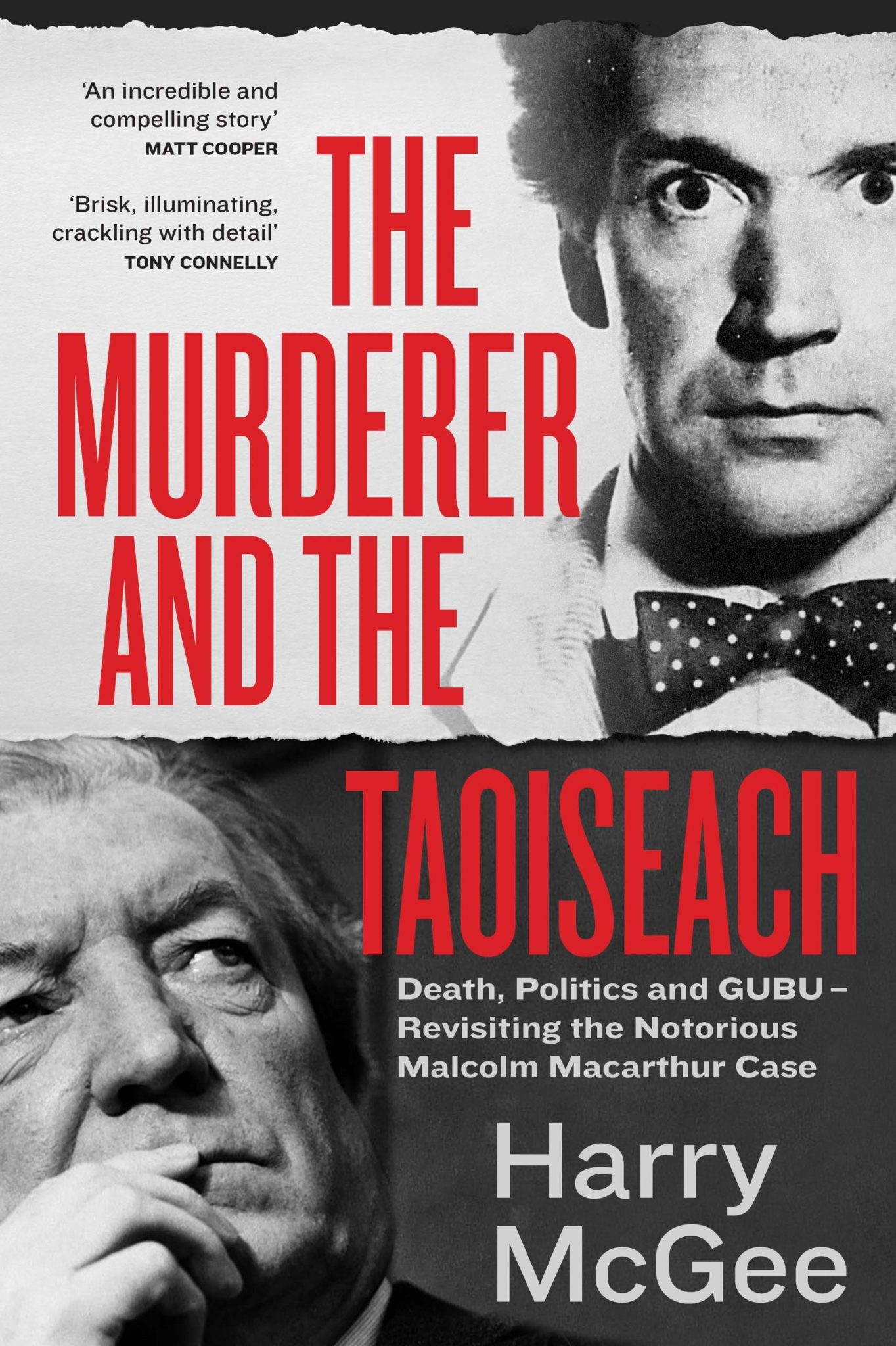 RELATED
Lifestyle & Sports
04 Dec 23