Asylum Seekers in Cahersiveen Say Thanks in Letter to Minister for Justice Helen McEntee
In a letter to the Minister for Justice Helen McEntee and the Junior Minister at the Department, Roderick O'Connor, the residents at the Skellig Star Hotel in Cahersiveen have confirmed that the hunger strike on which they embarked has been ended – and expressed their gratitude to the Minister. They have also thanked the media for their role in exposing conditions in the Skellig Star – and the local people who gave their support to protests. Main pic by Jaco Bronkhorst
The residents of Skellig Star Hotel, have penned a letter of gratitude to Minister for Justice, Helen McEntee TD, for green-lighting their transfer from the controversial centre.
Following the approval of their demands by the Department of Justice, the Kerry-based asylum seekers have also confirmed the suspension of their hunger strike, originally announced on July 30.
In the letter to Helen McEntee, they have also thanked individual journalists and politicians who highlighted their plight, speeding up the process of change (see the letter in full below).
The residents went on hunger strike on Monday of last week, demanding a speedy transfer to appropriate accommodation, as well as access to mental health professionals and social workers. The strike lasted three days and was 'suspended' when Minister Helen McEntee promised to gradually move all residents from Skellig Star Hotel, in the coming months.
Two families, who had received their transfer letters last Thursday, left Cahersiveen for Tullamore Direct Provision Centre on Tuesday.
Restless and Happy
Advertisement
Hot Press visited Cahersiveen on Monday. Skellig Star residents told us about their feelings of both excitement and restlessness, as they waited to receive their letters of transfer. Clearly the decision made by Helen McEntee was having a very positive effect on morale.
Chantel, a single mother and asylum seeker from South Africa (pictured below with her two-year old daughter), said she was 'excited' to leave the Skellig Star, and put the trauma of living in the controversial centre behind her.
She said that she was happy to see that residents were smiling again, and that a jovial atmosphere had taken hold at the once coronavirus-stricken centre.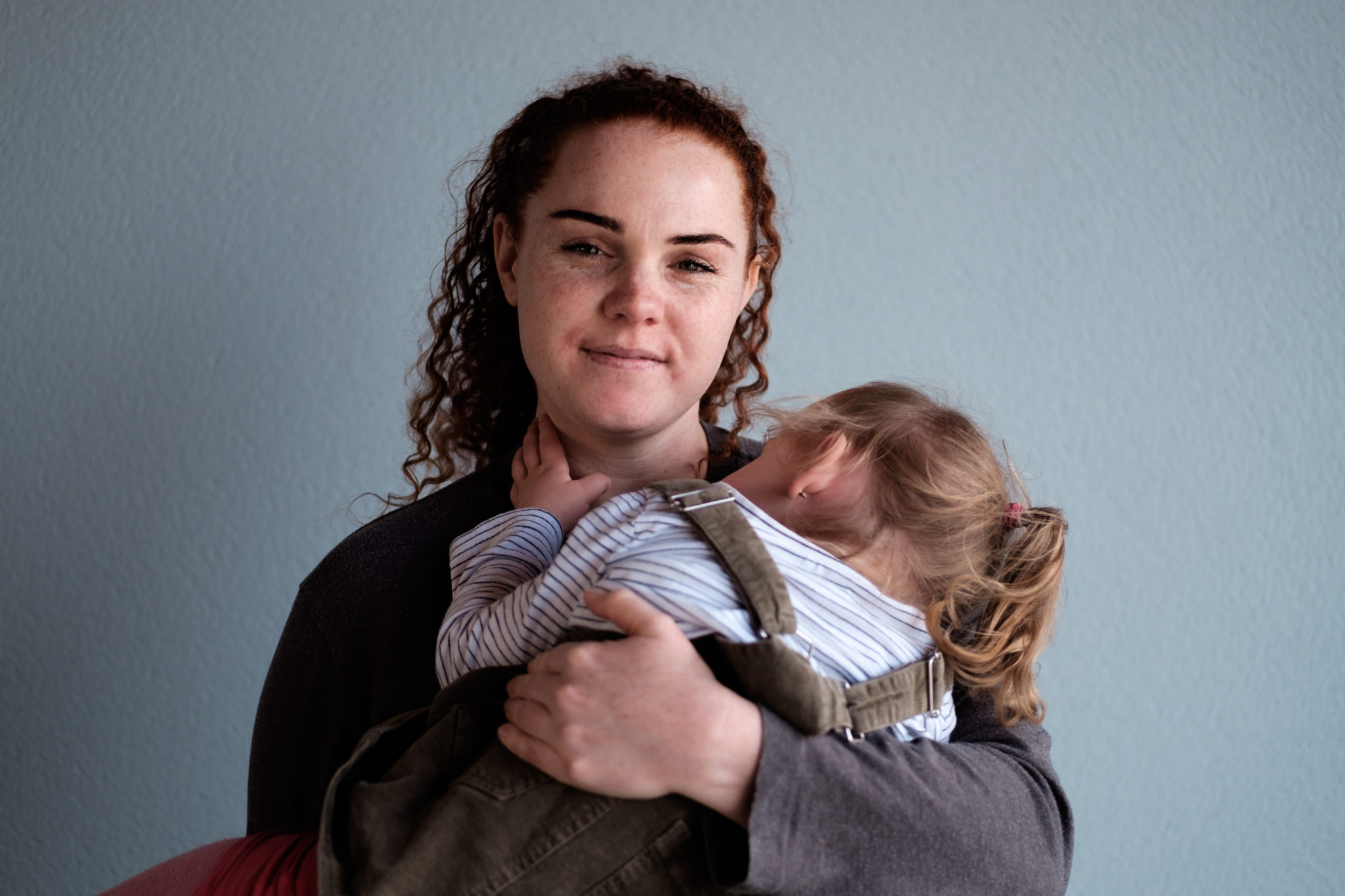 On Monday night, locals in Cahersiveen celebrated the new happiness of the families who were set to leave for Co. Offaly the next day by serving cake and sweets.
Locals had erected signs in front of the centre with the words, "Bye Paul" and "Bye Tanya" inscribed on them – apparently referring to Skellig Star's owner Paul Collins and his daughter who oversees the operation.
The residents expressed the hope that, as Minister, Helen McEntee would keep her promise and move all of the remaining asylum seekers from the centre over the next month or two.
Advertisement
They stressed, however, that they would resume the hunger strike if the Department of Justice fails to deliver on its promises.
Skellig Star Hotel made national headlines in April after the Department of Justice, with approval from the HSE, transferred over 100 asylum seekers to Kerry, from Dublin and Leitrim, during the height of the coronavirus pandemic.
The HSE later conceded that it had failed to inform the Department of Justice of a coronavirus outbreak in a Swords hotel from which some residents were moved to Kerry.
The Department of Justice also later apologised for its lack of transparency in regards to the details of the outbreak in Cahersiveen.
The Department is in a year-long contractual agreement with Skellig Star Hotel, a reason cited by the former Minister for Justice Charles Flanagan as an obstacle when demands were first made for its closure.
The Resident's Letter
The letter was sent to the Minister for Justice Helen McEntee, and to the Minister for Children Roderick O'Connor.
Advertisement
We started our hunger strike on July 28, and we suspended our hunger strike on July 30 at 6.30 pm with the announcement made by Minister in the parliament. We believe the government will keep the promises and move all the residents to appropriate accommodation.
We have gone through a hard time from mid of March up till the present day (5 months). Having been traumatised before arriving here and traumatised again here in Skellig star.
To recover from the trauma, we must be moved out of the environment that traumatised us. We are requesting to be moved to accommodation centres below which are suitable for recovery from what we have gone through in the last five months.
• Mosney accommodation centre for families
• Tullamore for families/Singles
• Central Inn for Singles/Elderly with underlying medical issues etc.
We can confirm that there are enough spaces available to accommodate all the residents remaining in Skellig Star hotel.
"CHANGE OF ENVIRONMENT IS ESSENTIAL IN TREATING TRAUMA" Not by improving the facilities here and forcing them to stay.
Our sincere appreciation goes to Councillor Norma Moriarty, Councillor Cleo Murphy, Chairman of the Caherciveen Community and Business Alliance Mr. Jack Fitzpatrick, Deputy Pa Daly, Minister of Education Deputy Norma foley, Deputy Brid Smith, Deputy Joe O' Brien, Deputy Roisin Shortall, Deputy Mick Barry, Deputy Peadar Toibin, Deputy Marian Harkin, Deputy Catherine Connolly, Deputy Thomas Pringle, Deputy Catherine Murphy, Deputy Paul Murphy, Minister of Equality and Integration Deputy Roderic O'Gorman and Minister Of Justice Deputy Helen McEntee.
Advertisement
Also, we would like to thank MASI team led our able leader Lucky Khambule, NGOs Doras, NASC, IRC, ICCL.
Special thanks to Media houses*:
Irish Examiner Alan Landers
Hot Press Shamim Malekmian
Irish Examiner Michael Clifford
Joe.ie Rob O'Hanrahan
Kerry Eye Aidan O'Connell
Radio Kerry Treasa Murphy
[Radio Kerry] Jerry O' Sullivan
[Radio Kerry] Joe McGill,
Irish Examiner Ann Lucy,
Irish Examiner Neil Michael
CNN Eliza Mackintosh
RTÉ Paschal Sheehy
RTÉ Radio John Cook & Carole Coleman
Newstalk Josh [Crosbie]
Cork 96 FM Nicole
Independent Ellen [Coyne]
Irish Times Brian [Hutton] & Sorcha [Pollak]
Sunday Times Justine McCarthy
Virgin Media Eric Clarke
Lastly, we would like to thank the entire people of Cahersiveen who supported us in every way since our arrival here, we wouldn't have the hope to stay alive without their unfading love and tender care is given to us at any time of the day.
We would like to show our gratitude to Irish people who stood behind us individually and collectively. Go raibh maith agat.
* Surnames in brackets have been added
• Main pic and pic of Chantel with her daughter by Jaco Bronkhorst
Advertisement