Hot Press coverage of the grave situation at the Skellig Star Hotel in Cahersiveen, where Covid-19 has gained a foothold in the direct provision centre established there, sparked a debate in the Dáil yesterday. Residents of the centre were not impressed by what they heard from Charlie Flanagan. Main photograph by Alan Landers.
Justice Minister Charles Flanagan TD was in the eye of a storm yesterday, over his Department's controversial handling of the ongoing situation at the coronavirus-ridden Direct Provision Centre in Cahersiveen, Co Kerry.
Reporting on the issue has been led by Hot Press. We have carried a series of articles on hotpress.com, about what is an increasingly grave situation for asylum seekers across Ireland, who are being housed in direct provision centres, in many of which social distancing is almost impossible to maintain effectively. The worst of these is at the Skellig Star Hotel in Cahersiveen, Co. Kerry – a situation which has seen local people take to the streets in protest.
During a heated Dáil Éireann debate yesterday, Minister Flanagan was dogged by questions about his department's role in deciding the fate of the nearly 70 migrants, who are still being contained inside Skellig Star Hotel, where the coronavirus has been spreading steadily.
Over 24 people in the Cahersiveen direct provision centre have already tested positive for Covid-19, the disease caused by the coronavirus.
A resident at Skellig Star Hotel has now demanded a meeting with the Minister – to be conducted online, of course. The asylum seeker told Hot Press that watching the Minister's remarks in the Dáil yesterday prompted fury – and considerable disappointment – among residents there.
Advertisement
"It is ridiculous and very shameful to watch the Minister," the asylum seeker told us. "He should have a Zoom meeting with residents to see the facts for himself."
Over the past few weeks, as extensively reported in Hot Press, the asylum seekers in the centre have been exhorting the Department of Justice to transfer them to a clean, self-contained facility.
POORLY PLANNED
In his opening statement to the Dáil, the Minister commended the work of his team at the Department of Justice for providing accommodation for 7,700 people who are currently seeking international protection in the country.
"I want to acknowledge the leadership," the Minister said. "Working in a collaborative manner has enabled us to quickly develop policy responses for the benefit of everybody."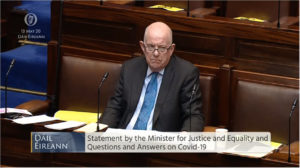 Charlie Flanagan (pictured in the Dáil yesterday) insisted that the need for offsite self-isolation facilities for those asylum seekers who caught the virus was promptly recognised by his Department and his team identified "four suitable premises in Dublin, Cork, Limerick and Dundalk with a capacity for 299 people."
Advertisement
As is often the case with parliamentary answers, the Minister was supplied with figures by the Department, which were intended to sound impressive.
"Since the start of this year, over 1,550 permanent and temporary new beds have been procured in the new centres," he said, "Over 600 residents have been relocated to support social-and-physical-distancing and cocooning measures. We have reduced the number of people sharing a room to a maximum of three and such shared spaces constitutes household in line with the HSE's national guidance and congregated settings."
Nevertheless, several TDs – familiar with the reports in Hot Press – strongly suggested that poorly planned relocation of asylum seekers during the pandemic has jeopardised their safety, as most prominently manifested at Skellig Star Hotel in Cahersiveen.
COMMUNICATIONS PROBLEM
Sinn Féin TD for Sligo-Leitrim, Martin Kenny, was among those who spoke. He urged the Minister to avail of empty accommodation across the country to house migrants who are trapped inside coronavirus-ridden centres.
"The problem we have is, and I make an example of Cahersiveen for instance, that there has been offers to use holiday cottages which are not being used at the moment at all," Martin Kenny said. "There are also student accommodations, which are empty, that can be used in some cases. Or there is the possibility to thin out those numbers to ensure that correct social-distancing measures could be employed in Direct Provision centres."
Deputy Kenny said he is aware of the thorny nature of the issue. "I know work has been done," he said, "but I think in some cases more imagination can be used and some of the guidelines and rules need to be stretched a little more in order to ensure that we can resolve those issues."
Advertisement
He also made the point that the style of communication adopted with asylum seekers is important.
"Sometimes, it's a communications problem," he observed. "[Residents] have been told that, because of the Covid-19, they have to self-isolate, that they have to be controlled, and that's something they're trying to get away from. These were the reasons they came to this country in the first place."
FUNDAMENTAL BREACH
Green Party TD for Dublin South-Central, Patrick Costello said that the challenges facing the Minister's Department in relation to accommodating asylum seekers were inherently predictable.
"The reality is that the Direct Provision has been with us for quite a long time," he said. "These problems that we are seeing were deeply predictable, and the slow pace for any reform, or any move to reform, has made these problems worse. Maybe not made them worse but certainly made them inevitable."
Patrick Costello said that the country's chief medical officer, Dr. Tony Holohan, has 'clearly' advised against people sharing rooms with non-family members during the coronavirus crisis, yet the Department of Justice continues to disregard his recommendations when it comes to refugees and asylum seekers.
"Creative solutions have been suggested by other deputies, and I think we need to embrace those."
Advertisement
Green Party TD for Dublin West, Roderic O'Gorman, said that he understands that there is an acute sense of distrust between the residents and management at Skellig Star Hotel. He argued that the centre should be closed.
Earlier this week, Hot Press reported that residents at Skellig Star Hotel, told us that they viewed the management's actions – including the distribution of gifts among residents in recent days – through a lens of distrust.
Responding, Charlie Flanagan disagreed with the Green Party TD.
"I would say to deputy O'Gorman that I take issue with him when he states that there is a fundamental breach of trust between management and residents in any Direct Provision Centre," the Minister said, "but I do acknowledge that there is an issue here, which to assure him in the House, that Minister [David] Stanton and I are engaged in this as a priority."
David Stanton is the Minister for Immigration and Integration at the Department of Justice.
BIZARRE LETTER
More dramatically, Social Democrats TD for Kildare North, Catherine Murphy, asked Charlie Flanagan to confirm or deny his Department's knowledge of an outbreak of coronavirus in Travelodge Hotel. It is believed that a number of refugees were transferred from there to Cahersiveen, on March 18. A guest at the hotel – who had travelled from Italy – had become ill with coronavirus earlier that month, precipitating an outbreak at the hotel.
Advertisement
"Minister, on the date, was your Department made aware of [the outbreak in the hotel]?" deputy Murphy asked.
Charlie Flanagan firmly denied any previous knowledge of the outbreak of coronavirus at Travelodge. He stated that the premises at Cahersiveen had been assessed by "senior officials" in his Department in September. "It was deemed appropriate in early March at the early stages of the pandemic, to move residents from a number of Dublin hotels," the Minister said.
Mr Flanagan said that all the hotels from which migrants had been moved to Cahersiveen were used to house refugees only on a temporary basis, making their transfer inevitable.
"These premises were not in the exclusive use of the Department," he stated, "and it was our considered opinion that there was a potential risk from a public health perspective. In that regard, it was decided that there would be movement. I want to be clear to Deputy Murphy that no resident was awaiting tests or test results at the time of the transfer. Neither was I or anybody in the Department of Justice aware of any guests in any of those hotels who was either a suspect or a confirmed case."
Minister Flanagan went as far as saying that he'd first heard about the outbreak in Travelodge from Deputy Murphy's office.
However, the same question was posed to the Minister again by Independent Kerry TD, Danny Healy-Rae, toward the end of the session.
People before Profit TD for Dublin south-Central, Bríd Smith, expressed concerns about a somewhat bizarre letter recently sent to residents – as reported exclusively by Hot Press –in which the migrants are blamed for the continuation of the coronavirus outbreak in the centre.
Advertisement
"Because social-distancing is not being followed by everybody, the period of self-isolation has to be extended for a further 14 days until 20th May 2020," the letter stated.
Hot Press had previously tried to verify the authenticity of the letter with the HSE, as it lacked any letterhead, a signature and a date – and its contents seemed uncharacteristic of the health authority's general communications. Having failed to acknowledge its source to Hot Press, the HSE finally confirmed to Joe.ie. that the letter had been sent by them.
SIX DAYS NOTICE
Ratcheting up the tension in the Dáil, local Kerry TD Danny Healy-Rae accused the Department of Justice of either failing to consult with the HSE before transferring migrants to Cahersiveen or OF simply ignoring its advice.
"People of Cahersiveen are extremely upset over this," he said. "They genuinely are. They have nothing in the world against people seeking asylum in this country, nothing, but they don't agree with the whole idea of putting people in a hotel setting."
Danny Healy-Rae challenged the Minister to go on Radio Kerry to address controversies surrounding the centre to locals.
"I now respectfully ask you, I think you owe it to the people in Kerry, you owe it to the people in Cahersiveen, to hear the [the radio] presenter ask you questions on the record," he said.
Advertisement
Danny Healy-Rae said that developer and director of Swords-based investment company Remcoll Capital Ltd, Paul Collins, who owns Skellig Star Hotel, had told him that the Department had given him a mere six-days' notice before moving refugees to the centre.
Healy-Rae castigated the Minister for what he described as his Department's failure to consult with the public before transforming "an active hotel" into a Direct Provision centre.
"It's very clear that the people in Cahersiveen want the centre closed," Danny Healy-Rae said. "It is evident, Minister, that the Skellig is not suitable, they are packed in there on top of each other, three or four in a room, that's not acceptable.
"I am asking you, on the record of the Dáil, will you confirm here today that you're going to close down this centre either very, very soon or in the very short-term – because this is simply not working."
In response, Charlie Flanagan said that he had spoken to locals. "I'm not going to confirm on the level of consultation," he added. "We are dealing with a public health emergency.
"What I will say to Deputy Healy-Rae is exactly what I said to Deputy Catherine Murphy, earlier: we didn't have any knowledge of any health conditions in respect of Covid-19 on anybody being transferred."